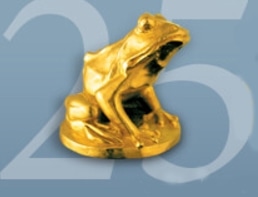 IMAGO par­tic­i­pat­ed in 3 occa­sions at this fes­ti­val. A joint pho­to ini­tia­tive with ASC. The pho­to exhi­bi­tion «Fram­ing the World» and a pan­el dis­cus­sion about «The impor­tance of Cinematographer´s Col­lab­o­ra­tion beyond the Bor­ders». The activ­i­ty end­ed on Fri­day with the imi­ta­tive in con­junc­tion with Illu­mi­na­trix «Focus on Diversity».
Fram­ing the World


«Fram­ing the World» was an exhi­bi­tion of 100 pho­tographs a joint imi­ta­tive between ASC and IMAGO to cel­e­brate the 25 anniver­sary of Camer­im­age. This way ASC and IMAGO found an orig­i­nal way to deploy the vision of the cin­e­matog­ra­ph­er. The cin­e­matog­ra­ph­er doesn't record mov­ing images only. Still pho­tog­ra­phy is as well a good tool of expres­sion for the cin­e­matog­ra­ph­er.
IMAGO dis­played 49 pho­tographs sup­plied by the soci­eties mem­bers of IMAGO. The beau­ti­ful cat­a­logue can be seen HERE These pic­tures are now in auc­tion until mid­night Lon­don time of 15th of Decem­ber. Place tour BID HERE and help the SOS Children's Vil­lages in Poland. MORE INFO HERE. IMAGO and Pol­ish chil­dren in need will thank you for your generosity.
ASC and IMAGO Pan­el dis­cus­sion: The impor­tance of Cinematographer´s Col­lab­o­ra­tion beyond the Borders.


The ASC/IMAGO pan­el was very rich by address­ing sev­er­al sub­jects con­cern­ing cin­e­matog­ra­phers. Stephen Lighthill was the mod­er­a­tor of the pan­el. Points debat­ed was secu­ri­ty on set, pre­sent­ed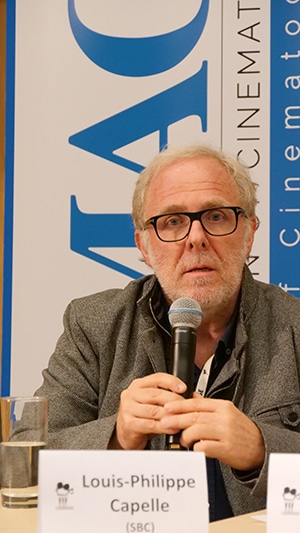 by Steven Poster ASC who showed a text video demon­strat­ing how dan­ger­ous is for a cam­era­man inside a car if the air bag deploys. To keep secure is a mat­ter of the cin­e­matog­ra­ph­er but as

well of the film crew also. The IMAGO Tech­ni­cal cre­ative com­mit­tee by Philippe Ros AFC showed the need to find a com­mon def­i­n­i­tion terms for cam­era set­tings by the man­u­fac­tur­ers and Rol Coulanges about the sharp­ness and tex­ture a series of tests per­formed by the com­mit­tee in the last few months. Jan­nicke Mikkel­son FNF win­ner of the IMAGO Tech­ni­cal award recent­ly has sug­gest­ed why only square sen­sors in case of work­ing with 360 degrees and VR? The future the­atre cin­e­mas must sure­ly adapt to the new real­i­ty by get­ting wider screens and pos­si­bil­i­ty for the view­er expe­ri­ence vir­tu­al real­i­ty. Anoth­er aspect it as well the fact that the qual­i­ty of the equip­ment for the 360 degrees is still very poor and needs improve­ment by the man­u­fac­tur­ers. There are not yet pro­fes­sion­al VR cam­eras in the mar­ket. Joe Dun­ton the oth­er recip­i­ent of the IMAGO Tech­ni­cal achieve­ment award men­tioned a mov­ing sen­sor to avoid the con­stant fixed posi­tion of the pho­to­cells. This move­ment can approach and emu­late the film look with its grain and avoids the image to appear so sharp and elec­tron­ic along by sug­gest­ing the need of qual­i­ty screens to be imple­ment­ed and as well larg­er than they are now. Plus, he has pur­posed a per­pet­u­al man­u­al of deal­ing with equip­ment. Which needs to be nec­es­sary to avoid the huge rate of dam­age of equip­ment as rental hous­es are now fac­ing.
The need of more edu­ca­tion was a theme that was com­mon to all pan­el­lists. Louis Philippe Capelle SBC as he has opened the pan­el by men­tion­ing the need for more education.
FOCUS ON DIVERSITY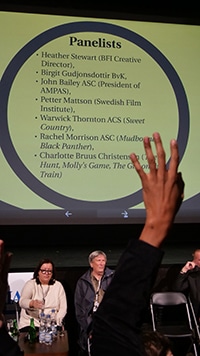 Focus on Diver­si­ty was a full day pro­gram in the morn­ing with a pan­el debate called The next lev­el fol­lowed by the screen­ing of MOLLY'S GAME cin­e­matog­ra­phy by Char­lotte Bru­us Chris­tensen with a work­shop in the after­noon and at the end of the day a pan­el dis­cus­sion to debate the impor­tance of diver­si­ty.
This imi­ta­tive in asso­ci­a­tion between IMAGO and Illu­mi­na­trix. Illu­mi­na­trix http://www.illuminatrixdops.com is a col­lec­tive of female cin­e­matog­ra­phers based in the UK and aims to pro­mote women as cin­e­matog­ra­phers.


The aim at first is call for the atten­tion for the fact that women are still a large minor­i­ty com­pared to men to get into the fea­ture as cin­e­matog­ra­phers. The diver­si­ty doesn't con­cern only women as minor­i­ty work­ing but for coloured peo­ple or peo­ple where their ori­gin are from oth­er parts of the world.
It was a rich debate. The pas­sion­ate pan­el­lists and audi­ence defend­ing their points of view demon­strates the need to be more open to these minori­ties who are dis­crim­i­nat­ed not in delib­er­at­ed terms but as a social stig­ma. The debate demon­strat­ed as well that try­ing to get in because some­one is part of minor­i­ty was reject­ed by most of the audi­ence and the pan­el­lists. The focus should be in fact, pro­mo­tion either by self-pro­mo­tion which is not well seen by soci­ety for the fact that gives some dis­com­fort, and by demon­strat­ing qual­i­ty and artistry.
Marek Żÿdow­icz received from the hands of Louis Philippe Capelle the IMAGO Con­tri­bu­tion for cin­e­matog­ra­phy award as Marek couldn't attend in Helsinki.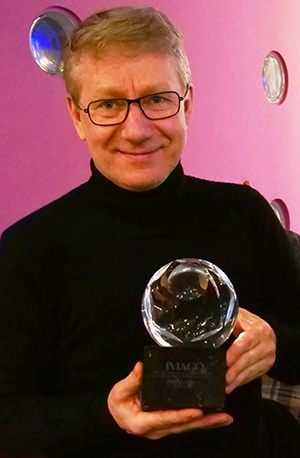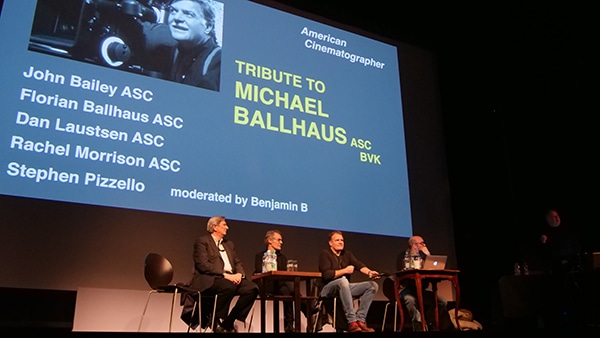 The ASC trib­ute to Michael Ball­haus ASC BVK was a fan­tas­tic learn­ing expe­ri­ence to film mak­ing. The spir­it of cre­ativ­i­ty, impro­vi­sa­tion and artistry was very well depict­ed in the pan­el well con­duct­ed by Ben­jamin B and the sev­er­al pan­el­lists. A very inter­est­ing and edu­ca­tion­al session.