Cin­e­matog­ra­phers from all cor­ners of the world have seen many inter­est­ing com­po­si­tions of life through their viewfind­ers and record­ed them to share with us all. For the first time, this unique pho­to exhi­bi­tion unites vir­tu­al­ly all the inter­na­tion­al cinematographer's soci­eties under the ASC – IMAGO col­lab­o­ra­tive umbrella.
IMAGO (the Euro­pean Fed­er­a­tion of Cin­e­matog­ra­phers) is cel­e­brat­ing its 25th anniver­sary in col­lab­o­ra­tion with the ASC (the Amer­i­can Soci­ety of Cin­e­matog­ra­phers) with an exhi­bi­tion of still pho­tographs sub­mit­ted by its mem­ber soci­eties from around the world. CAMERIMAGE and Gale­ria Miejs­ka BWA have offered a superb exhi­bi­tion space for this exhi­bi­tion, which will take place on 12th – 19th November.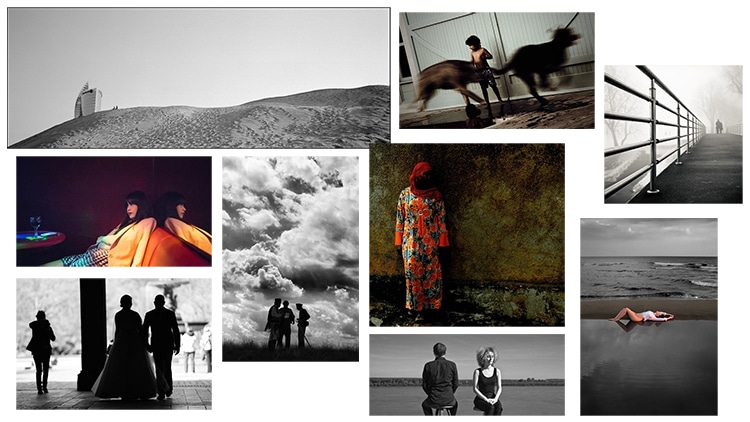 Enjoy the var­ied artis­tic pho­to­graph­ic views from a unit­ed world of cin­e­matog­ra­phers. Join us for a cel­e­bra­to­ry drink on Wednes­day, 15th Novem­ber at 19:00.
Since the best birth­day gifts are the ones you give, if one of the IMAGO pho­tographs inspires you, bid on it at the auc­tion via IMAGO web­site – CHECK CATALOGUE HERE – 100% of the win­ning bids will go to SOS Children's Vil­lages in Poland and world­wide. PLACE YOUR BID HERE
The Frozen World of Cinematographers
"Usu­al­ly cin­e­matog­ra­phers frame mov­ing action at 1/25th of a sec­ond. In this still pho­to exhi­bi­tion, they freeze real­i­ty at up to 1/1000th of a second.
IMAGO's mem­bers are cin­e­matog­ra­phers, but more often than not they are artists of still pho­tog­ra­phy as well.
For sev­er­al years we have become accus­tomed to see­ing many of their films and how they expert­ly frame mov­ing images. Here at this unique Camer­im­age exhi­bi­tion, we will get the oppor­tu­ni­ty to see how they choose to frame still-life images through their cam­era lens­es, and what motifs and angles fas­ci­nate them most.
Many of the artists that have cre­at­ed the images are already cin­e­matog­ra­phy leg­ends. To see how the great visu­al expe­ri­ence of cin­e­matog­ra­phers from around the world trans­fers to still images is an expe­ri­ence you should not miss."
Paul René Roes­tad, FNF, Pres­i­dent of IMAGO
"It is my hope that Camer­im­age has helped cin­e­matog­ra­phers become more recog­nised and appre­ci­at­ed as artists. For 25 years now, we have been explain­ing to our audi­ences how the cinematographer's work com­pletes a film in ways inac­ces­si­ble to dia­logue, act­ing, direct­ing, set design, and editing.
In this line of work, every­thing starts with the skil­ful place­ment of the cam­era and cre­at­ing the right com­po­si­tion of the frame. That is why I encour­age you to see the exhi­bi­tion of stills by cin­e­matog­ra­phers of the ASC and IMAGO. I would like to stress that the first meet­ing of these two asso­ci­a­tions took place dur­ing the open­ing of our Fes­ti­val in 1993. It was then that IMAGO was cre­at­ed, ini­ti­at­ed by Vit­to­rio Storaro, who presided over the jury. Anoth­er mem­ber of the jury was Vic­tor Kem­per, Pres­i­dent of the ASC. He took the oppor­tu­ni­ty to encour­age a dia­logue between cin­e­matog­ra­phers from Europe and the US – a dia­logue con­cerned with copy­rights and occu­pa­tion­al require­ments as well as the artis­tic val­ues and tech­no­log­i­cal con­di­tions of the art of cin­e­matog­ra­phy. I am glad to know that this coop­er­a­tion has been flour­ish­ing now for 25 years. I would also like to take this oppor­tu­ni­ty to wish all the mem­bers of IMAGO many artis­tic suc­cess­es, Gold­en Frogs at the upcom­ing instal­ments of the Camer­im­age Fes­ti­val, Oscars, and many oth­er awards at fes­ti­vals which have fol­lowed in Camerimage's foot­steps and begun to recog­nise and appre­ci­ate the cre­ativ­i­ty of cin­e­matog­ra­phers."
Marek Żydow­icz, ASC, bvk
Camer­im­age Fes­ti­val Director