Canon Europe recent­ly announced the launch of two solu­tions which address the chang­ing needs of the broad­cast and pro­duc­tion indus­tries, includ­ing the com­pact, yet pow­er­ful XF605 pro­fes­sion­al 4K cam­corder and 10×16 KAS S 8K BCTV zoom lens.
Designed with solo shoot­ers in mind, the XF605 builds on the renowned XF series, mak­ing this portable cam­corder a pow­er­house for news gath­er­ing and stu­dio pro­duc­tions. Meet­ing indus­try stan­dards, these new prod­ucts offer pro­duc­tion teams a suite of solu­tions capa­ble of achiev­ing high image-qual­i­ty in any shoot­ing environment.
XF605: Uncom­pro­mis­ing performance
The XF605 rep­re­sents the next gen­er­a­tion of Canon's XF series, a fea­ture-packed cam­corder capa­ble of achiev­ing impres­sive 4K 60p/50p 4:2:2 10-bit image qual­i­ty and FHD up to 120p high frame rate in a small form fac­tor. Pow­ered by a 1.0 TYPE CMOS sen­sor and DIGIC DV 7 proces­sor, this cam­era per­forms at the high­est lev­els demand­ed by today's pro­fes­sion­als. The XF605 offers a vari­ety of cus­tom pic­ture options which can be adjust­ed to suit dif­fer­ent needs and offer greater flex­i­bil­i­ty in post-pro­duc­tion or in the field, includ­ing HDR (HLG/PQ), Canon Log3 and user-cre­at­ed Look Files.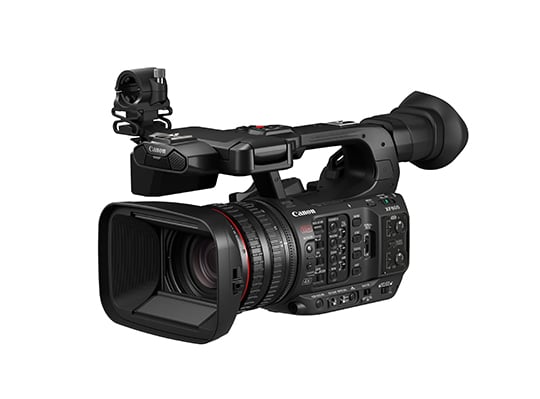 Employ­ing the same 5‑Axis image sta­bil­i­sa­tion sys­tem found in Canon's XF and XA series, the XF605 pro­duces smooth footage, even in dynam­ic shoot­ing sce­nar­ios. There are four IS options avail­able by com­bin­ing dif­fer­ent set­tings in Stan­dard, Dynam­ic and Pow­ered IS, allow­ing users to select the most suit­able and effec­tive IS oper­a­tion for their shoot­ing envi­ron­ment. With a high mag­ni­fi­ca­tion 4K L‑series lens, the XF605 achieves a 15x opti­cal zoom in 4K and 30x advanced zoom in FHD, great for cap­tur­ing dis­tant subjects.
The XF605 employs Canon's fast and accu­rate Dual Pix­el CMOS Auto Focus Sys­tem which brings Eye Detec­tion AF and Canon's EOS iTR AF X intel­li­gent head detec­tion and track­ing func­tion­al­i­ty to the XF series for the first time. This advanced focus­ing sys­tem main­tains sharp focus on an indi­vid­ual even if they turn away from the cam­era. A new Direct Touch user inter­face allows users to quick­ly and intu­itive­ly select sub­jects to focus on, as well as con­trol on-screen set­tings, menu nav­i­ga­tion and play­back control.
Ver­sa­tile and sim­ple, for stream­lined workflows
Rough­ly 10 per cent small­er and 600g lighter than the XF705, the XF605 weighs approx­i­mate­ly 2kg¹ – for a con­ve­nient, hand-held cam­era that takes the effort out of shoot­ing on the go. Designed with sin­gle oper­a­tors in mind, it mar­ries porta­bil­i­ty with a handy new mul­ti-func­tion acces­so­ry shoe designed to expand the capa­bil­i­ties of the XF605 through future acces­sories, the first being the CA-XLR2d‑C high def­i­n­i­tion XLR micro­phone adapter from TEAC. The adapter makes it pos­si­ble to assign XLR inputs to all four audio chan­nels that the XF605 offers, pro­vid­ing greater flex­i­bil­i­ty for cap­tur­ing audio. The cam­corder also address­es the rise of live-stream­ing over the last year, with IP stream­ing capa­bil­i­ty that sup­ports mul­ti­ple pro­to­cols, remote con­trol for mul­ti­cam­era oper­a­tion along­side Canon's range of PTZ cam­eras and the addi­tion of the UVC for sim­ple web­cam use via USB‑C.
The XF605 is a flex­i­ble cam­era, that seam­less­ly fits into exist­ing work­flows. With dual SD card slots and mul­ti­ple record­ing options, it can record dif­fer­ent file for­mats, res­o­lu­tions, colour sam­pling and prox­ies simul­ta­ne­ous­ly to sep­a­rate cards. It is also pos­si­ble for the image to be simul­ta­ne­ous­ly out­put to both 12G-SDI and HDMI con­nec­tions, which can be fed into any com­bi­na­tion of mon­i­tors, broad­cast and record­ing sys­tems to sup­port both live and pre-record­ed work­flows. Ide­al for shoot­ing on the go, the XF605 is com­pat­i­ble with Canon's new Con­tent Trans­fer Mobile (CTM) app² which allows users to edit news meta­da­ta pre and post cap­ture and import the footage from the cam­era to the phone, enabling instant trans­fer to broad­cast sta­tion servers, for example.
10×16 KAS S: Pow­er­ful yet portable
The 10×16 KAS S is proof of Canon's excep­tion­al opti­cal tech­nol­o­gy, meet­ing the demand for high-res­o­lu­tion 8K pro­duc­tion in sports and doc­u­men­tary. Expand­ing Canon's line-up of ultra-high-res­o­lu­tion 1.25" 8K broad­cast cam­era lens­es, which includes the UHD-DIGISUPER 51 and 7×10.7 KAS S, the 10×16 KAS S offers impec­ca­ble opti­cal per­for­mance in a com­pact form fac­tor. Equipped with spe­cial glass ele­ments such as flu­o­rite, Hi-UD lens­es and wide-diam­e­ter aspher­i­cal lens­es, the 10×16 KAS S helps reduce chro­mat­ic aber­ra­tions, spher­i­cal aber­ra­tions and oth­er effects that dimin­ish image qual­i­ty. Weigh­ing just 2.94kg, the 10×16 KAS S is pre­cise­ly engi­neered to achieve 8K per­for­mance in such a portable and durable lens.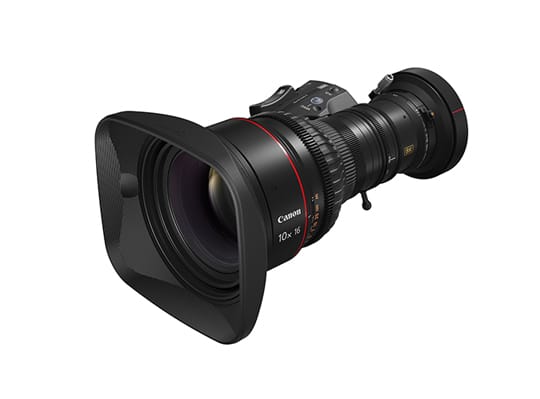 With a 10x opti­cal zoom from 16mm – 160mm and a con­stant f/2.8 aper­ture, this lens achieves con­sis­tent image qual­i­ty across the entire zoom range, from wide to tele­pho­to shots. Along with the full range of Canon's 4K broad­cast lens line up, the addi­tion of the 10×16 KAS S in the 8K broad­cast lens range address­es the cur­rent demands of the indus­try, while sup­port­ing the pro­duc­tion needs of the future.
For more infor­ma­tion please vis­it:
https://www.canon.co.uk/video-cameras/xf605/
https://www.canon.ie/video-cameras/xf605/
The XF605 will retail at: £3,599 / €3,999 ex VAT
The 10×16 KAS S price is avail­able on request
1.0 Type CMOS Sen­sor and DIGIC DV7 Processor
4K UHD 60p/50p 4:2:2 10-bit in XF-AVC, and MP4
4K L‑Series, 15x Opti­cal Zoom Lens with 30x Advanced Zoom in FHD
Dual Pix­el CMOS AF with Eye Detec­tion AF and EOS iTR AF X
Sup­ports PQ & HLG HDR formats
Simul­ta­ne­ous record­ing ver­sa­til­i­ty, includ­ing Proxies
Pro­fes­sion­al con­nec­tiv­i­ty includ­ing 12G-SDI, HDMI, XLR inputs, Eth­er­net, Wi-Fi, USB‑C, and more
CTM App for easy file trans­fer to mobile phones and edit­ing news metadata
10×16 KAS S key features:
1.25" hand-held 8K broad­cast lens
10x opti­cal zoom from 16mm – 160mm
Con­stant f/2.8 aperture
Weighs just 2.94kg
1 This weight is for the cam­era body only
2 Avail­able only on iPhone