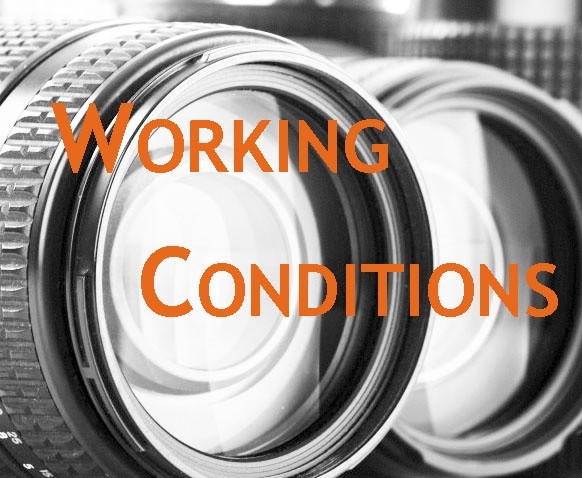 By IMAGO President Paul René Roestad fnf
In collaboration with FERA (the European Federation of Film Directors) IMAGO initiated a broad two day Conference on Working Conditions in Vienna in the last week of January.
The conference was organized in partnership with EU-XXL and Mercedes Escherer, and the conclusions of the Conference and the views of the participating cinematographers, film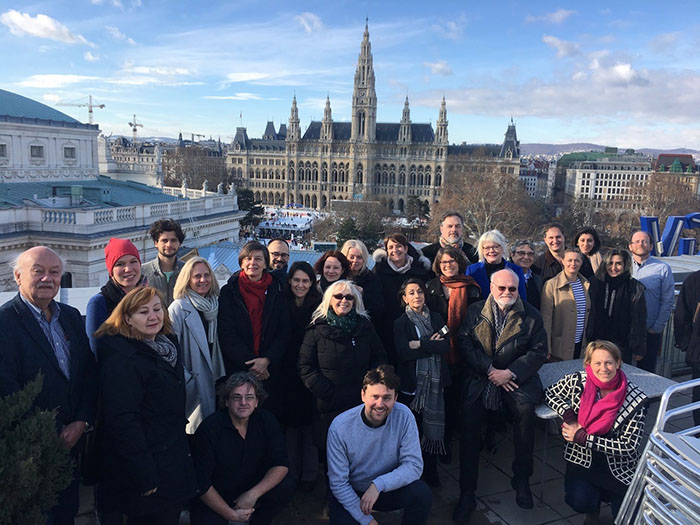 A few of the participants of the two day IMAGO/FERA Conference on Working Conditions in film production in Vienna. Photo by Richard Van Oosterhout NSC.
directors and film workers will be brought to EU ministers in a follow up meeting in the EU Parliament in Brussels early April this year.
Apart from cinematographers and film directors, representatives from all parts of film production participated, to hear each others views, challenges and suggestions for solutions. Representatives from European film editors-, script-writers-, actors-, production and costume designers-, sound designers, film financing institutions, production personnel and producers federations and more where present, (in additions to a broad representation of cinematographers and film directors from IMAGO and FERA) and also representatives from European national film Unions were present to discuss the serious challenges and finding the best road to an acceptable solution.
Many topics where naturally brought on the table with so many participants present with also many different challenges, but one challenge all could see as the main problems are working hours and safety on set. A more than 10-12 hours working day is seriously influencing and strengthening other serious problems in our business: the gender and diversity issue (who can have children with a more than 10-12 hour working day – who over 50 can base their life and income on 15-17 hour days), and still maintain the high quality standard of their work, avoid heart attacks, other illnesses and divorces, and of course not least, long working hours strongly influences safety on set!
As we know, since the campaign "12 on 12 off" was launched in 2004, and the film "Who needs sleep", made by Haskell Wexler ASC, was released in 2006, little or nothing has happened.
IMAGO´s philosophy is based on the firm belief that international collaboration over the national borders makes us solve many of our challenges and reach our goals faster. Our philosophy is really quite simple: Together we are vastly stronger.
The time has come to organize a World-wide collaborative campaign to end the 15-17 hour working days. IMAGO believes we must collaborate with not only world-wide federations or societies of colleague film production workers/artists, we must collaborate also with national Unions to reach our goal. Societies and Federations do not have negotiating rights and/or right to initiate legal actions to reach our goals should that be necessary. Many representatives of our member Societies tells us the Unions the majority of their members are members of are fully absent or sits completely still when it comes to the major challenge in film production: working hours and working conditions. If so, I say: Look to Germany.
The BVK (The German Society of Cinematographers) and their members are in the process of
leaving their present union to join another union that takes their problems seriously.
An example to be considered also by others.
A strong focus on working conditions will be one of the major priorities for IMAGO in the time to come.