While in Moscow for the CILECT Con­fer­ence I was invit­ed by the RGC team to vis­it their head­quar­ters and to have a chat about cinematographer's author­ship rights. I was received with a very warm wel­come by a group RGC cin­e­matog­ra­phers along with gen­er­al sec­re­tary Tatiana Plakho­va who organ­ised the meet­ing includ­ing a translator.
The meet­ing was pro­grammed to be in the evening and while talk­ing we would have inevitably a lot to drink and to eat.
Con­cern­ing the author­ship, the Russ­ian cin­e­matog­ra­phers are also in the same sit­u­a­tion as every­one else. Dif­fi­cul­ties of recog­ni­tion, includ­ing from the local col­lect­ing soci­ety that seems not to be in place, con­trac­tu­al con­di­tions and also some over­lap­ping tasks tak­en by oth­ers like not being present as the cin­e­matog­ra­ph­er in the col­or grad­ing booth.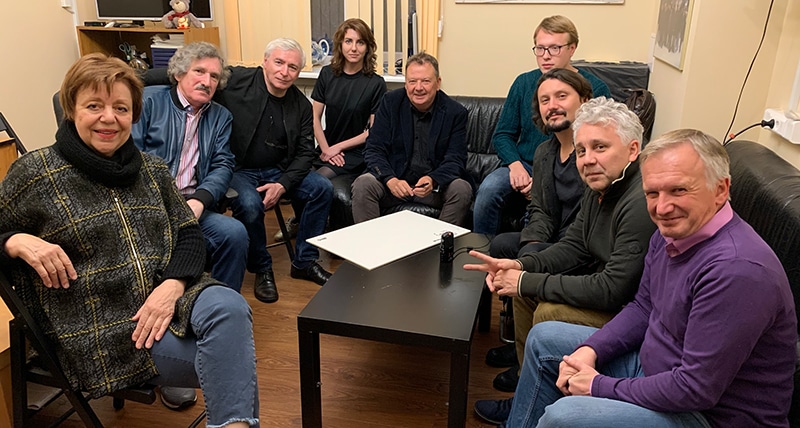 From Left to right: Tatiana Plakho­va, Vladimir Klimov, Sasha Ilkhovsky, Tatiana Makovskaya (stu­dent), Tony Cos­ta, Alexan­der (trans­la­tor), Denis
Alar­con Ramirez, Alex­ey Fedorov and Sergey Akopov.
It was explained that it was a very com­plex mat­ter that starts by the fact that the law only recog­nis­es three major ele­ments of the film pro­duc­tion. Director/Writer/musician. The cin­e­matog­ra­phers could in cer­tain cas­es get sec­ondary rights through­out our local col­lect­ing soci­eties to get some «roy­al­ties» from retrans­mis­sion rights, copies and oth­ers. To be able to get that we cin­e­matog­ra­phers need to be recog­nised first as authors of the pho­tog­ra­phy by the col­lect­ing soci­ety. It seemed by the con­ver­sa­tion that is not the case in Russ­ian and the cin­e­matog­ra­phers must first approach the local col­lect­ing soci­ety and become members.
The pro­ce­dure of tak­ing these steps can vary from coun­try to coun­try but the major obsta­cle is in fact the non-recog­ni­tion of the cin­e­matog­ra­ph­er as an author in the fea­ture nar­ra­tive films by the law of authorship.
Luciano Tovoli AIC ASC founder of IMAGO is lead­ing the author­ship com­mit­tee to rein­force the need to have more action in this field. It is impor­tant for cin­e­matog­ra­phers to reach a lev­el of recog­ni­tion that can pro­tect their intel­lec­tu­al work and cre­ativ­i­ty input giv­en to into the films and not rather be considered.
IMAGO has been pur­su­ing the objec­tive of reach­ing one day author­ship recog­ni­tion for the cin­e­matog­ra­phy and you can read some doc­u­men­ta­tion and info in this sec­tion of the web­site Read author­ship https://www.imago.org/index.php/authorship.html
Tony Cos­ta aip
Yuri liub­shin arrived a few min­utes later
Cheers to IMAGO
The build­ing where RGC has its own headquarters
Sasha Ilkhovsky explains the plaque that is right at the
entrance of the build­ing hon­our­ing Vladimir Lenin.
The plaque marks the place where
Lenin has giv­en a speech dur­ing the ral­lies in 1918.
At the entrance of the build­ing we can see a gallery of
pho­tographs from Russ­ian film sets.
A counter also where there is a book shop with cin­e­ma books.
Also a bit aban­doned a few film cans on the floor.
The first Pres­i­dent of the Guild of cin­e­matog­ra­phers Alexan­der
Knyazhin­sky (worked with Andrei Tarkovsky
The RGC was found­ed in 1989 and in the office walls
there are depict­ed sev­er­al group pic­tures of Russ­ian
cin­e­matog­ra­phers tak­en all through­out the years