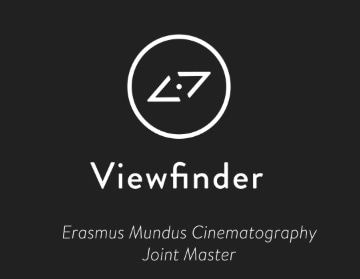 Appli­ca­tions for Viewfind­er Cin­e­matog­ra­phy MA 2019⁄2021 intake are now open.
VIEWFINDER is a Eras­mus Mundus Joint Mas­ter Degree in Cin­e­matog­ra­phy pre­sent­ed by a con­sor­tium of part­ners made up of Baltic Film, Media, Arts and Com­mu­ni­ca­tion School of Tallinn Uni­ver­si­ty, Esto­nia, (BFM), The Uni­ver­si­ty of The­atre and Film Arts, Budapest, Hun­gary (SZFE), Nation­al Film School at the Insti­tute of Art, Design and Tech­nol­o­gy, Dun Laoghaire, Dublin, Ire­land (IADT).
VIEWFINDER is a 2 year, full time, 120 cred­it inter­na­tion­al pro­gramme award­ing a joint/multiple MA Diplo­ma (EHEA-QF Lev­el 7). A max­i­mum of twen­ty-four stu­dents from all around the world will study in Dublin for the first semes­ter, in Budapest for the sec­ond semes­ter and in Tallinn for the third semes­ter. In the fourth semes­ter the stu­dent body will be divid­ed equal­ly across the three schools.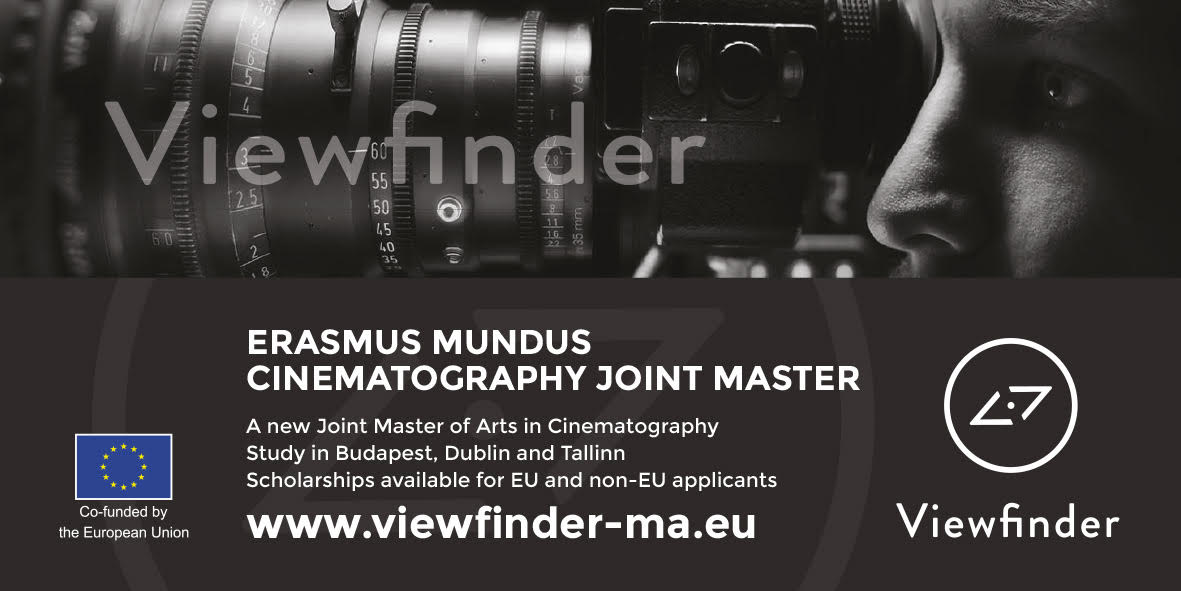 VIEWFINDER will pro­vide an MA in Cin­e­matog­ra­phy through prac­tice based learn­ing. The course pre­pares the stu­dents to work as a Direc­tor of Pho­tog­ra­phy and as a Cam­era Oper­a­tor. Grad­u­ates will gain a thor­ough under­stand­ing of the skill of visu­al sto­ry­telling allow­ing for the clos­est of col­lab­o­ra­tion with direc­tors in their future careers.
VIEWFINDER seeks appli­cants who are already expe­ri­enced in film pro­duc­tion pho­tog­ra­phy as cin­e­matog­ra­ph­er, cam­era oper­a­tor, cam­era assis­tant, stills pho­tog­ra­ph­er etc. and who are well versed in set pro­ce­dures and col­lab­o­ra­tive nature of film mak­ing. The course aims to offer the appli­cant with work­ing expe­ri­ence the oppor­tu­ni­ty to fur­ther their per­son­al devel­op­ment as a cin­e­matog­ra­ph­er as part of an inter­na­tion­al class but with­out the pres­sure of shoot­ing to a pro­duc­tion dead­line. It is an artis­tic learn­ing jour­ney and a cin­e­matog­ra­pher's Clois­ter allow­ing time to reex­am­ine, rede­fine and enhance one's prac­tice of cinematography.
Par­tic­i­pa­tion in the Viewfind­er Mas­ter Course is pos­si­ble either with a schol­ar­ship award­ed by the Eras­mus Plus pro­gramme, or as a self-paid student.
Mobil­i­ty in between the schools is mandatory
Appli­ca­tion dead­line Jan­u­ary 3rd 2019
More info:
http://viewfinder-ma.eu/
–
Mart Raun
Kino Eyes & Viewfind­er Mas­ters Head of Cur­ricu­lum & Lecturer/ KinoEyes & Viewfind­er mag­istrikur­suse kuraa­tor ja õppe­jõud
Baltic Film, Media, Arts and Com­mu­ni­ca­tion School / Balti fil­mi, mee­dia, kun­stide ja kom­mu­nikat­siooni insti­tu­ut
Tallinn Uni­ver­si­ty / Tallinna Ülikool
tel. +372 56 989 688