Text by Tony Costa
IMPRESSIONS FROM THE LAST VISIT TO MOSCOW
CILECT CONGRESS
Since Octo­ber many weeks have already passed since my vis­it to Moscow. But still remains a fresh mem­o­ry, despite being busy with many oth­er IMAGO activ­i­ties. Only now there is some time to remem­ber and report the vis­it to VGIK and to RGC head­quar­ters in this web­site. The motive that took me to Moscow was the CILECT CONGRESS which took place in Moscow between 6 and 12 of Octo­ber. The con­gress was held on the occa­sion of the 100th anniver­sary of the world's old­est film school VGIK (The Russ­ian Fed­er­a­tion State Uni­ver­si­ty of Cin­e­matog­ra­phy named after S.A. Gerasimov).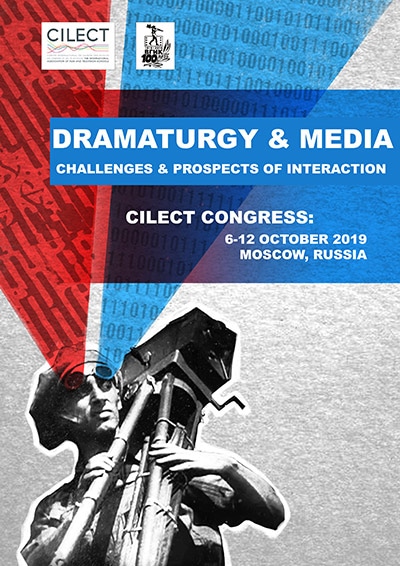 My pres­ence in the CILECT con­gress was due to the fact that I am actu­al­ly pur­su­ing a PhD degree with a the­sis work on cin­e­matog­ra­phy and I have sub­mit­ted a paper which was accept­ed to present dur­ing the Congress.This work has been going on for already three years and is based in prac­ti­cal essay called «One Film, Three Visions». This essay was shot in HFF Munich Film school whre 3 cin­e­matog­ra­phers Rober­to Schae­fer ASC , Axel Block BVK and Nina Badoux have shot all diret­ed by Ilse Hof­mann and pro­duced by Katrin Richthofer, which as soon as pos­si­ble I will make it pub­licly for con­sul­ta­tion and use for my fel­low teach­ers and col­leagues in these pages.
This was my first time attend­ing a CILECT con­fer­ence. For those who don't know CILECT is the fed­er­a­tion of High­er Edu­ca­tion film schools from all over the world. The Inter­na­tion­al Asso­ci­a­tion of Film and Tele­vi­sion Schools (Cen­tre Inter­na­tion­al de Liai­son des Ecoles de Ciné­ma et de Télévi­sion – CILECT) was found­ed in Cannes, France, in 1954. The asso­ci­a­tion declared as its main aim the coor­di­nat­ed coop­er­a­tion between the above insti­tu­tions and the improve­ment of edu­ca­tion via inter-insti­tu­tion­al exchanges of knowl­edge and expe­ri­ence. Today rep­re­sents about 180 edu­ca­tion­al insti­tu­tions from 65 coun­tries on 6. The fed­er­a­tion is divid­ed in dif­fer­ent coun­sels by region as dis­played below:
CAPA – (Asia-Pacif­ic Asso­ci­a­tion) is the region­al asso­ci­a­tion of the CILECT mem­ber schools in the Asia-Pacif­ic Region.
CARA – (African Region­al Asso­ci­a­tion) is the region­al asso­ci­a­tion of the CILECT mem­ber schools in the African Region.
CIBA – (Ibero Amer­i­can Asso­ci­a­tion) is the asso­ci­a­tion of CILECT film and tele­vi­sion schools in the Cen­tral & South Amer­i­can Region as well as in Mexico.
CAN – ( North Amer­i­ca) is the asso­ci­a­tion of CILECT schools in the North Amer­i­can Region.
GEECT ( Euro­pean Group­ing of Film and Tele­vi­sion Schools) is the asso­ci­a­tion of CILEC­T's Euro­pean mem­bers as well as schools in Israel and Lebanon.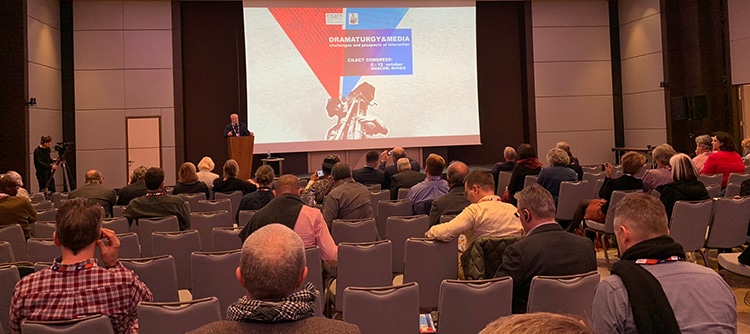 The main con­fer­ence Hall
Dur­ing the Con­gress these region­al asso­ci­a­tions get togeth­er and held their gen­er­al annu­al assem­bly. This orga­ni­za­tion is maybe some­thing for IMAGO to look for­ward to in the future as an inter­nal orga­ni­za­tion­al sys­tem of rep­re­sen­ta­tion. Once IMAGO has become Inter­na­tion­al and more and more soci­eties are becom­ing mem­bers it is prob­a­bly a solu­tion that should be tak­en into con­sid­er­a­tion in order to get soci­eties more involved and this way more active, short­en­ing the dis­tance gap. There is anoth­er aspect that should be also looked at is the cul­tur­al dif­fer­ences from con­ti­nent to con­ti­nent and the diver­si­ty. A fact that enrich­es our federation.
CILECT also gives awards. Every year is dis­trib­uted to all mem­ber schools works done by stu­dents from the var­i­ous mem­bers in thje cat­e­gories of doc­u­men­tary, ani­ma­tion and fic­tion total­iz­ing more then a 100 films.
GEECT Gen­er­al Assembly
This edi­tion of CILECT con­gress was focused in – Dra­matur­gy & media chal­lenges & prospects of inter­ac­tion. «The con­tem­po­rary media cul­ture over the past few decades result­ed in the devel­op­ment of a new infor­ma­tion-ori­ent­ed soci­ety shift­ing from peri­od­i­cals to cin­e­ma, tele­vi­sion, and online news media and on to the new media and mobile appli­ca­tions. In this chang­ing con­text a major role is played by the Inter­net which expands the media cul­ture uni­verse not only by enrich­ing the capa­bil­i­ties of one-way com­mu­ni­ca­tion but also by estab­lish­ing quite a new form of dra­matur­gy – a dia­log­i­cal, an inter­ac­tive one» This was the theme in dis­cus­sion dur­ing the congress.
The rapid­ly devel­op­ing film and tele­vi­sion indus­tries needs the out­most atten­tion from schools insti­tu­tions. Present­ly, this involves the devel­op­ment of nov­el com­bined strate­gies and edu­ca­tion­al pro­grams which will train experts capa­ble of work­ing effi­cient­ly with dif­fer­ent media forms evolv­ing with­in the indus­try. This is one of the main task of con­tem­po­rary edu­ca­tion. Some of the key speak­ers have addressed the dif­fi­cul­ties of the num­ber of films at people's dis­pos­al and the fre­net­ic view­ing that doesn't allow a more con­tem­pla­tive expe­ri­ence by watch­ing films. Yuri Arabov Russ­ian writer and poet addressed the dif­fi­cul­ty in includ­ing art films (avant-garde films) into the fre­net­ic world of images. The genre cin­e­ma pre­vails over the anti-for­mat cin­e­ma because audi­ence iden­ti­fies eas­i­ly with the first and rejects the sec­ond. This is one of the effects of the new ways of see­ing con­tent. In con­tin­u­a­tion Lay
Vladimir Khoti­nenko giv­en the clos­ing speach of the Congress
Manovich from New Yok is a the­o­rist who has pub­lished sev­er­al books pre­sent­ed a form of com­pu­ta­tion­al meth­ods can be used for the analy­sis of films by using data sci­ence, data visu­al­iza­tion and on and on in search of a com­mon world media cul­ture. Vladimir Khoti­nenko VGIK pro­fes­sor stat­ed that very recent­ly "the shoot­ing process was a cum­ber­some and elit­ist occu­pa­tion; with­in the advents of gad­gets the pro­ce­dure has become so «demo­c­ra­t­ic» that it now threat­ens to elim­i­nate the bound­aries between ama­teur and pro­fes­sion­al film­mak­ing. Today EVERYTHING is cin­e­ma and cin­e­ma is EVERYWHERE. It is the next to impos­si­ble to pre­dict the con­se­quences of the rad­i­cal changes in film pro­duc­tion and film screen­ing. But we have no right to dis­re­gard these new "rules of the game". As the indus­try advances in new forms also per­cep­tion and prac­tice fol­lows new paths. Per­haps Wal­ter Ben­jamin the Ger­man philoso­pher and essay­ist was all the way right when he quot­ed "The illit­er­ate of the future will not be the man who can­not read the alpha­bet, but the one who can­not take a pho­to­graph" One step ahead took Karen Palmer artist from UK, who says that the exces­sive infor­ma­tion have divid­ed soci­ety as nev­er before. In her pre­sen­ta­tion Karen talked about her essay film Riot & Per­cep­tion an expe­ri­ence of the play­er fac­ing his own acts and atti­tudes. An essay of Arti­fi­cial Intel­li­gence. In the CILECT Book­let says« her lat­est project Per­cep­tion Input Out­put Explor­ing the inter­sec­tion of AI, neu­ro­science, behav­iour­al psy­chol­o­gy, film, facial emo­tion detec­tion, eye track­ing, bias and social jus­tice this immer­sive sto­ry­telling expe­ri­ence reveals how a person's gaze and emo­tions influ­ence their per­cep­tion of reality.»….«How com­fort­able are you with the idea that your per­cep­tions of real­i­ty have real-life con­se­quences? Are you ready?»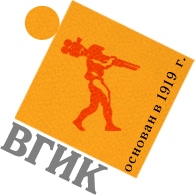 A vis­it VGIK – 100th anniver­sary.
VGIK opened on 1st of Sep­tem­ber of 1919. Two years after the Octo­ber Rev­o­lu­tion that installed the com­mu­nist régime in Rus­sia. The school's first prin­ci­pal was Vladimir Gar­den a Russ­ian actor who was joined by Lev Kuleshov who have intro­duced sig­nif­i­cant stud­ies to the per­cep­tion of cin­e­ma. The his­to­ry of VGIK is insep­a­ra­ble from the his­to­ry of cin­e­ma. Names like Vsevolod Pudovkin, Sergey Eisen­stein, Andrei Tarkows­ki, Niki­ta Mikhalkov just to men­tion a few have con­tributed for the his­to­ry and devel­op­ment of cin­e­ma as we know today.
VGIK today is a nation­al mul­ti-dis­ci­pline insti­tu­tion of grad­u­ate and post-grad­u­ate edu­ca­tion. It trains high­ly qual­i­fied staff for film indus­try, television
The cen­ter hall of the old building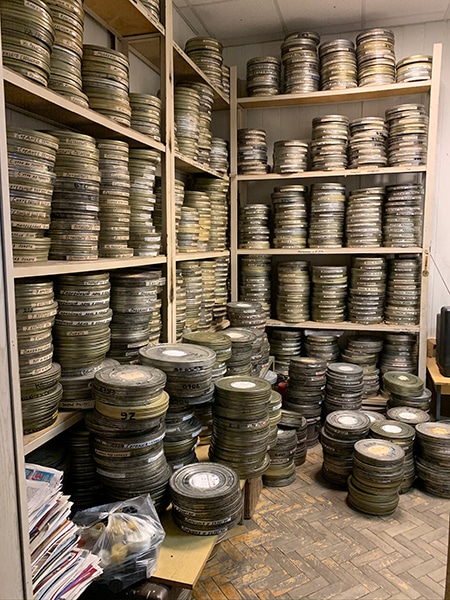 The room where film rolls from his­tor­i­cal movies are archived. Stu­dents
watch films pro­ject­ed in their orig­i­nal format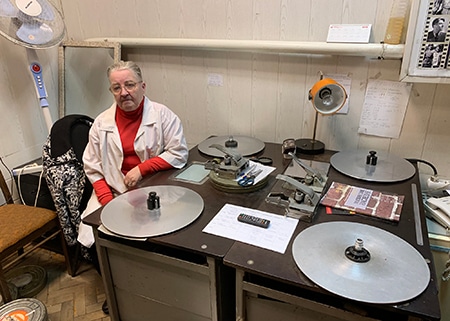 Lady in her place to ensem­ble the dif­fer­ent rolls for projection.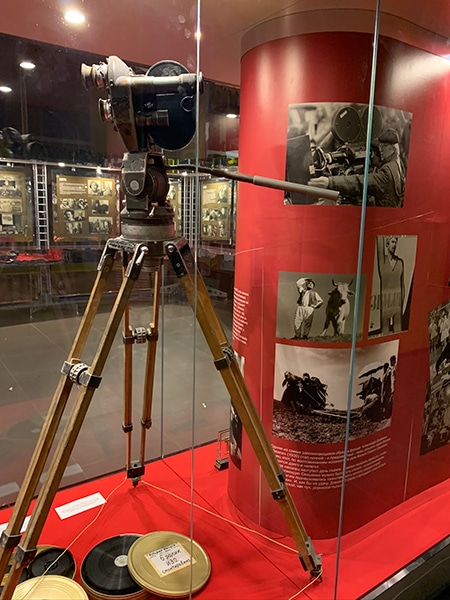 The VGIK Muse­um cel­e­brat­ing 100 years. The muse­um depicts
some equip­ment used by famous alum­ni along with pic­tures and
books pub­lished by pro­fes­sors.
The first book on direct­ing prin­ci­ples pub­lished by Eisen­stein is part
of the collection.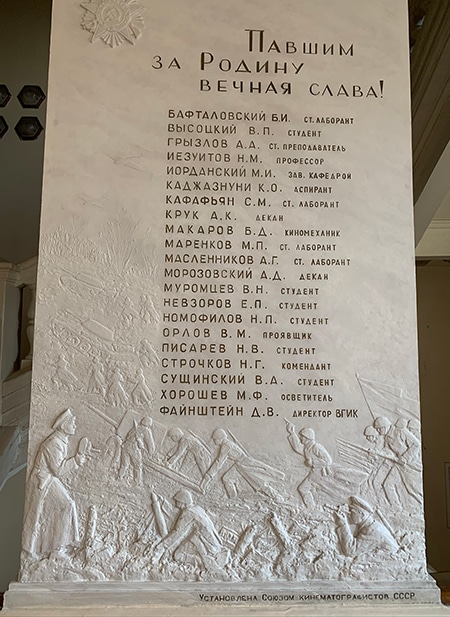 In the hall­way there is plaque remem­ber­ing the 21 VGIK stu­dents and
teach­ers per­ished dur­ing World War II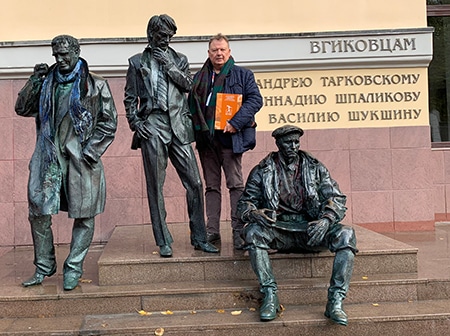 A tourist pho­to oblige at the mon­u­ment to Sovi­et film­mak­ers Gen­nady
Shpa­likov,
Andrey Tarkovsky and Vasi­ly Shuk­shin at the school
entrance
and oth­er visu­al media at sev­en Depart­ments: Act­ing, Direct­ing, Screen­writ­ing and Cin­e­ma Stud­ies, Cin­e­matog­ra­phy, Ani­ma­tion and Mul­ti­me­dia, Pro­duc­ing and Man­age­ment, Pro­duc­tion Design.
The stu­dents receive a high­er pro­fes­sion­al edu­ca­tion, the dura­tion of the course vary­ing from 4 to 6 years. Those hav­ing the Bach­e­lor degree can take Mas­ter pro­gram at Screen­writ­ing Depart­ment. VGIK is famous for its sys­tem of work­shops; it has become a prac­ti­cal sys­tem of edu­ca­tion allow­ing con­stant per­son­al con­tacts and col­lab­o­ra­tion with the mas­ter-head of a work­shop who super­vis­es the stu­dent prac­ti­cal work.
VGIK has spe­cial pro­grams in dif­fer­ent aspects of film train­ing. Since 2009 annu­al­ly VGIK holds Inter­na­tion­al Sum­mer School where for­eign film­mak­ers coop­er­ate with VGIK stu­dents on shoot­ing films at Doc­u­men­tary and Ani­ma­tion sections.
I had the priv­i­lege to have a tour in such a famous school with the guid­ance of Tatiana Tur­son­o­va respon­si­ble for the Inter­na­tion­al Affairs of the school and also for the sum­mer school recent­ly cre­at­ed by VGIK.
To walk through these cor­ri­dors is a kind of mag­i­cal process. An memo­r­i­al place where real facts hap­pened in his­to­ry. It is like going to an his­tor­i­cal site where some­thing very impor­tant have hap­pened that has changed the course of human­i­ty. The same feel­ing I felt when cross­ing the cor­ri­dors see­ing the gallery of many men who have writ­ten such an impor­tant page in film his­to­ry as we all know since our ear­ly studies.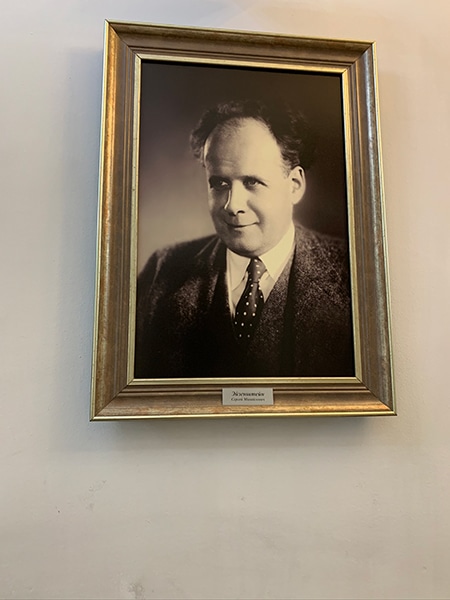 Sergei Eisen­stein, direc­tor of icon­ic films such: Bat­tle­ship Potemkin; Ivan
the Ter­ri­ble; Strike. He was also a the­o­rist he has devel­oped the so called
"meth­ods of mon­tage" Met­ric, Rhyth­mic, Tonal, Over­ton­al and Intellectual.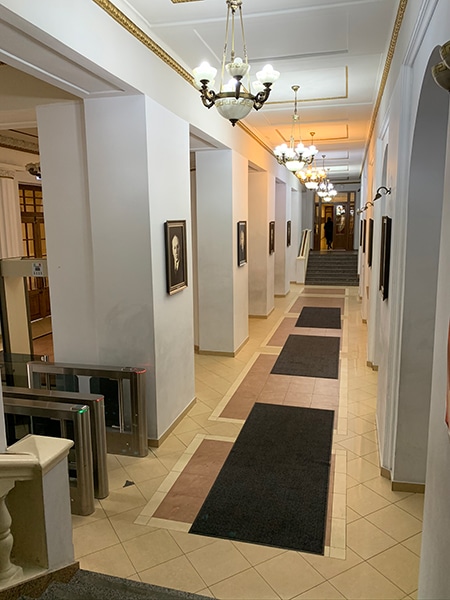 The long cor­ri­dor of the old part of the school with pic­tures hang­ing with
the schools most impor­tant teach­ers and stu­dents who made history.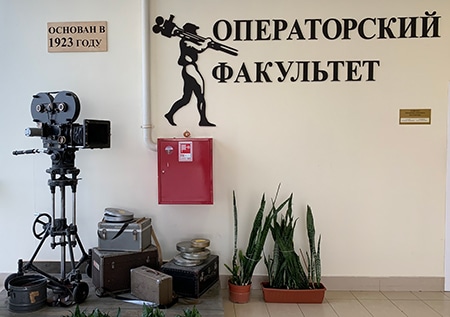 The cin­e­matog­ra­ph­er depart­ment sits on the 7th floor of the new build­ing of
the school.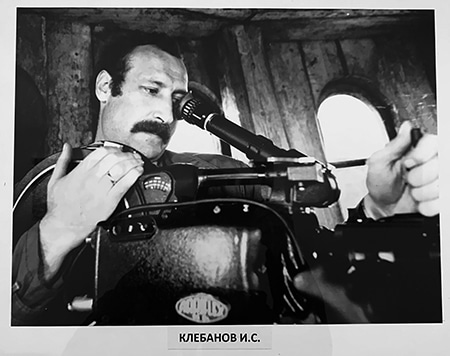 Pho­to­graph on the walls of the VGIK cin­e­matog­ra­phy depart­ment of
Igor
Kle­banov RGC a long time IMAGO friend. He was also at the
CILECT Congress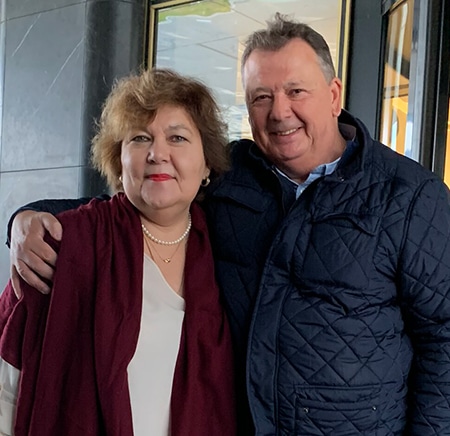 Tatiana Tur­son­o­va VGIK inter­na­tion­al rela­tions was the best guide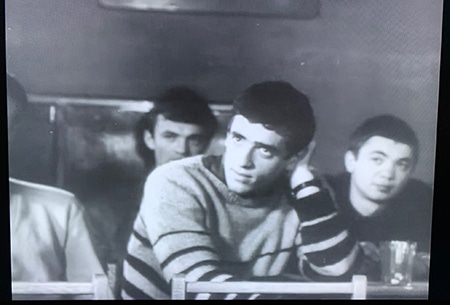 An old doc­u­men­tary footage was pass­ing in a loop in the
muse­um in a
Tv screen and we found our good find a very young
Yuri Ney­man on
right side of the pic­ture. He is now the direc­tor of the
Cin­e­matog­ra­phy Glob­al
Insti­tute in Los Ange­les a school which found­ed
with late Vil­mos Zsigmond.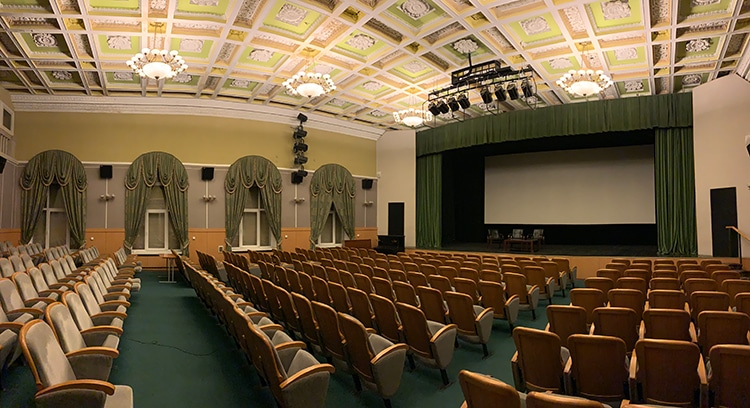 The beat­i­ful cin­e­ma pre­serv­ing its orig­i­nal style