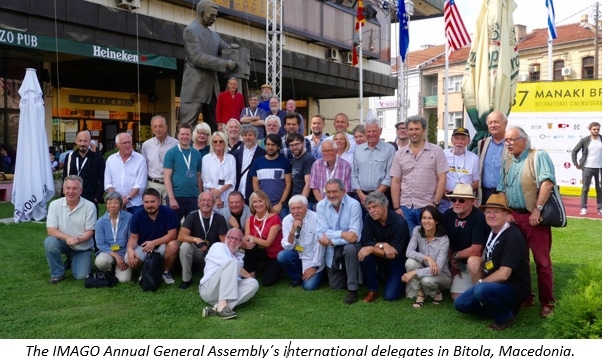 The old­est Fes­ti­val in the World devot­ed to the Craft of Cin­e­matog­ra­phy is the Man­a­ki Broth­ers .This year it is cel­e­brat­ing the 40th Anniver­sary in its birth­place, the North Mace­don­ian city of Bito­la. The pio­neer­ing film­ing of Broth­ers Mil­ton and Yana­ki is cel­e­brat­ed in this Balkan cross­roads with a pas­sion and love for cin­e­matog­ra­phy reach­ing into the very heart and soul of film. When the Broth­ers pur­chased the Camera300 in Lon­don in 1905 there exist­ed no man­u­al guide or Amer­i­can Cin­e­matog­ra­phy mag­a­zine to help them as they explored the mag­ic of their new art of film mak­ing. The first Balkan cin­e­matog­ra­phers were their own direc­tors, their own edi­tors and pro­duc­ers. They were true pio­neers of their craft and it is to their mem­o­ry and hon­our that this Fes­ti­val is held. The skills they learnt are embod­ied in the make- up of all cinematographers.
Many great cin­e­matog­ra­phers of the World have been hon­oured in Bito­la: Sven Nyquist from Swe­den, Vadim Yusov from Rus­sia, Vil­mos Zsig­mond from Hun­gary, John Seal from Aus­tralia, Wal­ter Car­val­lo from Brazil, Roul Coutard and Pierre L'homme from France, Vit­to­rio Storaro, Del­li Col­li from Italy, Fred­die Fran­cis , Chris Menges 'Bil­ly Williams and Roger Deakins from the UK. Jose-luis Alcaine from Spain, Chris­t­ian Berg­er from Aus­tria and many oth­ers. It is fit­ting for the Fes­ti­val to hon­our in this his­toric year for North Mace­do­nia the renowned Greek Cin­e­matog­ra­ph­er, Yor­gos Arvani­tis . The Man­a­ki broth­ers today lie in peace, unit­ed in grave­yards one in Thes­sa­loni­ki the oth­er in Bito­la. The first Amer­i­can born recip­i­ent of the Cam­era 300, will be Ed Lach­man who was hon­oured by Ima­go in Bel­grade this year, as indeed was the Man­a­ki Fes­ti­val.
IMAGO as the World Fed­er­a­tion of Cin­e­matog­ra­phers is grate­ful to the North Mace­don­ian Pro­fes­sion­als Asso­ci­a­tion for sup­port­ing this Fes­ti­val. It is a reminder to film lovers of the impor­tance of the role of the cin­e­matog­ra­ph­er. IMAGO is indebt­ed to the Fes­ti­val for hold­ing annu­al­ly a Balkan Con­fer­ence which brings togeth­er in friend­ship nine Soci­eties in the region: The for­mer nations of Yugoslavia, plus Greece, Bul­gar­ia , Roma­nia, Alba­nia and Turkey annu­al­ly meet in Bito­la to. com­mu­ni­cate and improve stan­dards of cin­e­matog­ra­phy.
To assist the Fes­ti­val for over a decade has been for me a tremen­dous priv­i­lege. When appoint­ed Pres­i­dent of the Inter­na­tion­al Fed­er­a­tion of Soci­eties of Cin­e­matog­ra­phers I was advised some­what vague­ly to "look after" the Man­a­ki Broth­ers. The five direc­tors I have assist­ed have all shared a pas­sion for film and respect for the skills of our craft.
Cin­e­matog­ra­phers are for­tu­nate to be able to prac­tise their craft across fron­tiers. Our cam­eras are our free­dom. You, the view­ers of images are our audi­ence- whether watch­ing on ipod, lap top, tele­vi­sion or in the cinema.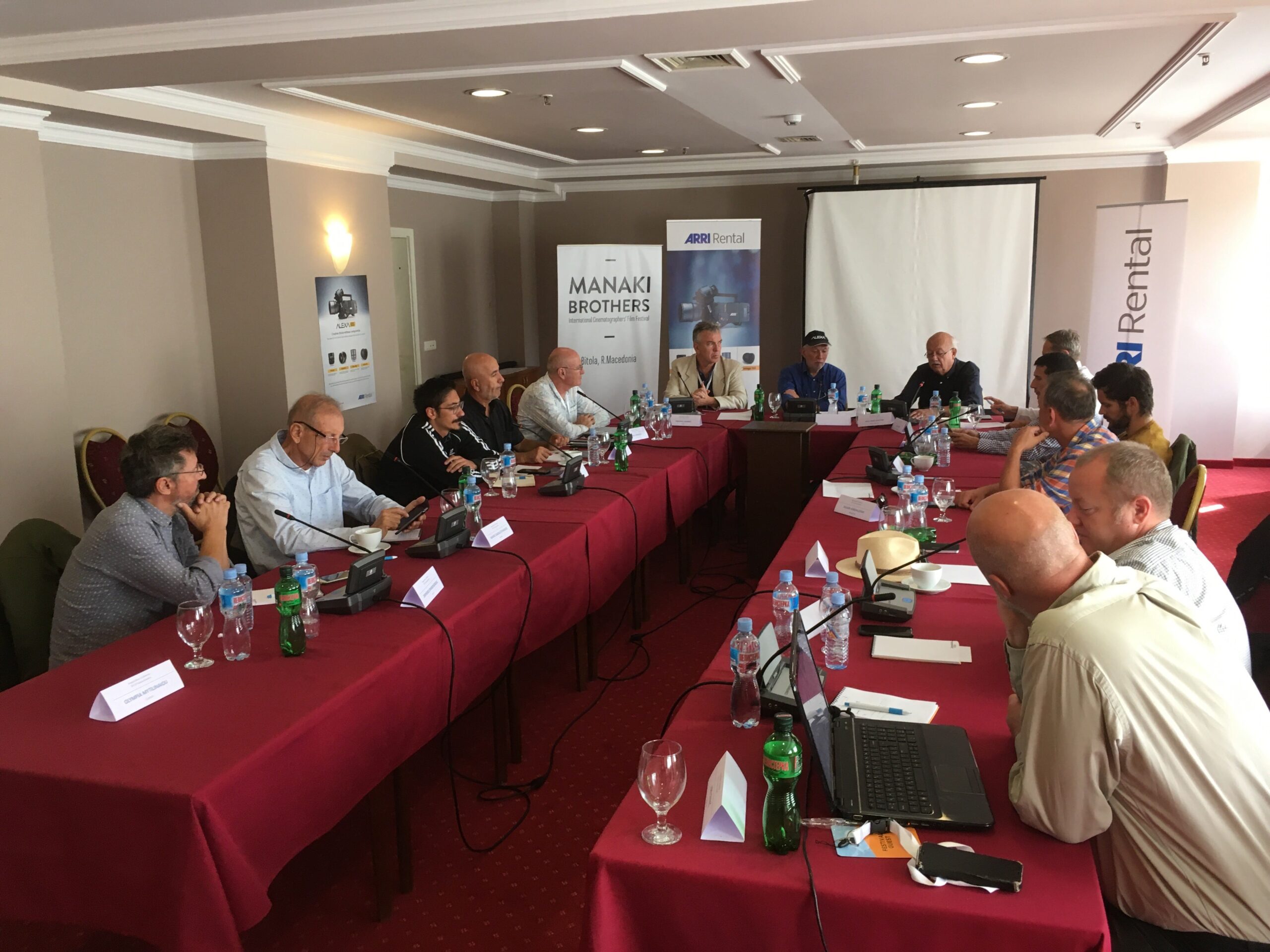 Aspect of the pre­vi­ous Balkan Meet­ings dur­ing the Fes­ti­val in Bitola.
The ini­tia­tive afford­ed to Ima­go sup­port the Balkan Con­fer­ences is an exam­ple of cin­e­matographs show­ing politi­cians the way through co-oper­a­tion to a pros­per­ous future by embrac­ing new tech­nol­o­gy. Cin­e­matog­ra­phers from the region helped each oth­er in many ways. The Serbs assist­ed the Bosni­ans in estab­lish­ing a Soci­ety, Mace­do­nians and Greeks have co-oper­at­ed in joint ven­tures, the Slove­ni­ans have estab­lished the balKam Film Fes­ti­val for all Balkan mem­bers. None of this would have been pos­si­ble with­out the sup­port of the North Mace­don­ian Pro­fes­sion­als and the sup­port of Fes­ti­val Direc­tors, Tomi Salkovs­ki, Labi­na Mitevs­ka, Blago­ja Kunovs­ki ‑Dore and the encour­age­ment of the present Fes­ti­val Direc­tor Gena Teo­dosievs­ka.
IMAGO and cin­e­matog­ra­phers around the world are appre­ci­at­ed to the Fes­ti­val cham­pi­oning the pio­neer­ing spir­it of Mil­ton and Yana­ki, in North Mace­do­nia and around the World
Nigel Wal­ters BSC Vice President