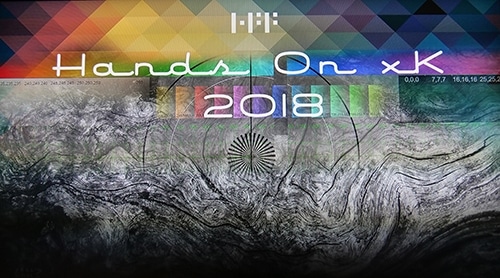 To put up a full week of sem­i­nars and work­shops is already a tra­di­tion in the HFF Film and Tele­vi­sion School in Munich. Every year in March dur­ing the semes­ter vaca­tion, stu­dios, audi­to­ri­ums and the facil­i­ties are open to receive dozens of lec­tur­ers and pro­fes­sion­als for a full week on exper­i­ment­ing equip­ment and to inter­change knowl­edge. The con­cept is not so much direct­ed to stu­dents but to pro­fes­sion­als and teach­ers to improve knowl­edge, to get acquaint­ed with new equip­ment, new trends and most of all to learn from each other's.
On stage all lec­tur­ers of the Hands On xK International
This year was spe­cial­ly dif­fer­ent. More work­shops, more com­pa­nies involved a lot more state of the art equip­ment sup­plied by the man­u­fac­tur­ers and rental hous­es. It was indeed a very hec­tic week. In the build­ing, every sin­gle stu­dio, sem­i­nar room, the­atre was occu­pied by a lec­tures in a total of 36 mas­ter­class­es run­ning at the same time. Almost all fields were cov­ered. Post-pro­duc­tion, VR, Advanced post, VFX, 360º degrees, Cam­era, Lens­es, Light­ing, Doc­u­men­tary Film, Sound, sound for 360º degrees, Pro­duc­tion, col­or grad­ing, green pro­duc­tion, green shoot­ing, the­sis shots for phd's research­es and exten­sive test­ing of cam­eras, lens­es done by many of the lec­tur­ers present.
The indus­try, let's say, the man­u­fac­tur­ers and rental hous­es sup­port the ini­tia­tive by sup­ply­ing large amount of equip­ment for exper­i­men­ta­tion and test­ing. This year was a record break­ing of a con­sid­er­able num­ber of lens­es. Rehoused from P+S Tech­nik; Van­tage with sev­er­al anamor­phic; spher­i­cal from Zeiss, ARRI, SW Sonderoptic/Leica and Fuji­non. More than 50 com­pa­nies amongst man­u­fac­tur­ers, rental hous­es, post-pro­duc­tion hous­es were rep­re­sent­ed dur­ing the week which cul­mi­nat­ed with the screen­ing of all tests and work­shops in the blue cin­e­ma room where atten­dees and lec­tur­ers shared their exper­i­men­ta­tions and tests.
To put all this togeth­er is only pos­si­ble with the sup­port of the SFT (Das Stu­dien­zen­trum für Filmtech­nolo­gie) which stands for – The Study Cen­ter for Film Tech­nol­o­gy – which is an inde­pen­dent insti­tute asso­ci­at­ed with HFF Munich. The aim of the Ger­man insti­tu­tion is to medi­ate between the users and man­u­fac­tur­ers of film equip­ment, sup­port­ing a wide range of exchange activ­i­ties of indus­try projects. The Insti­tu­tion sup­ports var­i­ous indus­try forums, in col­lab­o­ra­tion with the film trade asso­ci­a­tions and oth­er orga­ni­za­tions like Hands In Inter­na­tion­al lead by Katrin Richthofer and Peter Slan­sky head of the tech­no­log­i­cal depart­ment of the film school.
This is a unique event with edu­ca­tion­al pur­pos­es for advanced pro­fes­sion­als and teach­ers in the field of image cap­ture in the world with this pro­por­tions con­densed in one week.
One of the mas­ter­class­es dealt with LED light­ing its behav­iour
in colour space.

One of the exer­cis­es con­sist­ed of a exper­i­ment for a
Cin­e­mato­graph­ic the­sis and this is one of the moments of
this exper­i­ment which was shot by Nina Badoux, Axel Block
and Rober­to Schaefer.
Uli Mors in his stu­dio for mas­ter­class workflows
Impro­vised rental house for the week man­aged by Zeeno
David Stump ASC giv­ing his lecture.
Ben­jamin Bergery (The­film­book blog) test­ing flares on lenses
ARRI pre­sent­ed its recent large for­mat sen­sor cam­era.
Alexa LF
Philippe Ros amongst tons of lens­es to test. You can pick up
with long beard Tah­vo Hir­vo­nen spot­ted the photographer.
Michael Neubauer BVK Man­ag­er of BVK open­ing the usu­al
ses­sion on Wednes­days at HFF «talk­ing about a
cin­e­matog­ra­ph­er» with BVK pres­i­dent Johannes Kirch­lech­n­er.
In the cen­tre Rober­to Schae­fer ASC with Peter Slan­sky the host.
Dis­cus­sion mod­er­at­ed after­wards by Axel Block and Ben­jamin B.
Philippe Ros AFC and David Stump shar­ing their test
con­clu­sions in the last day.

Tah­vo Hir­vo­nen FSF the well humor­ous Finnish pres­i­dent slat­ing before
Johan­na Taufen­bach for a lens test.

Philippe Ros lec­tur­ing – Tests work­flows on texture.

Marc De Backer and Mar­ijke Van Kets prepar­ing a shot with by
using dif­fer­ent lens­es. Mar­ijke has just fin­ished a PhD degree
based on a research project about cin­e­matog­ra­phy called
«Emo­tion of the lens» Arti­cles to be soon pub­lished here in
this website.
All pho­tos tak­en by Tony Cos­ta aip
The huge list of com­pa­nies present at the event:
Adobe
ARRI Licht
ARRI Kam­era
AVID
Bebop
CANON
CINEPOST
CW Son­derop­tic GmbH
Dedo Weigert Film GmbH – Phan­tom
Dedo Weigert Film GmbH – Licht
Dedo Weigert Film GmbH – Str­ream­light
DJI
DOP Choice
DVEAS
DVE
DVEAS Testl­izen­zen Nuke
DVE‑X
EDIUS (3D-Schnitt)
EIZO
Film­light
Fuji­film
FUJINON – Vide­or E.Hartig GmbH
Hanse Innotech – s.MBF
HP
Jeti
Kam­er­aver­leih Licht & Ton KLT GmbH
K5600
Kinoflo
Lud­wig Kam­er­aver­leih GmbH
Mag­ic Mul­ti­me­dia
MBF Filmtech­nik
Mors Media
msf – Michael Sänger Film
NMAV- Cam­era
NMAV-Da Vin­ci
P&S
Pan­ther
Pana­son­ic Sys­tem Com­mu­ni­ca­tions Com­pa­ny Europe (PSCEU)
Pom­fort GmbH
Radeck-Film
RED
Renol­let Rantel Paris
ROSCO
Sennheis­er
Sony Deutsch­land
SMM Deutsch­land
Tel­tec
Van­tage Film GmbH
Video­ca­tion GmbH
VIDEOR
Vision 2 see
Vitec
ZEISS
21Unity
Sennheis­er: Ambeo VR Mic, Ambeo Smart Head­set
Neu­mann: KU100 Kun­stkopf (über Sennheis­er)
Zylia: Zylia Micro­phone ZA‑1 & Soft­ware
Schoeps: ORT-Cross Array
Ambi­ent: Recorder & Zube­hör
3DIO: Omni-Bin­au­r­al Microphone