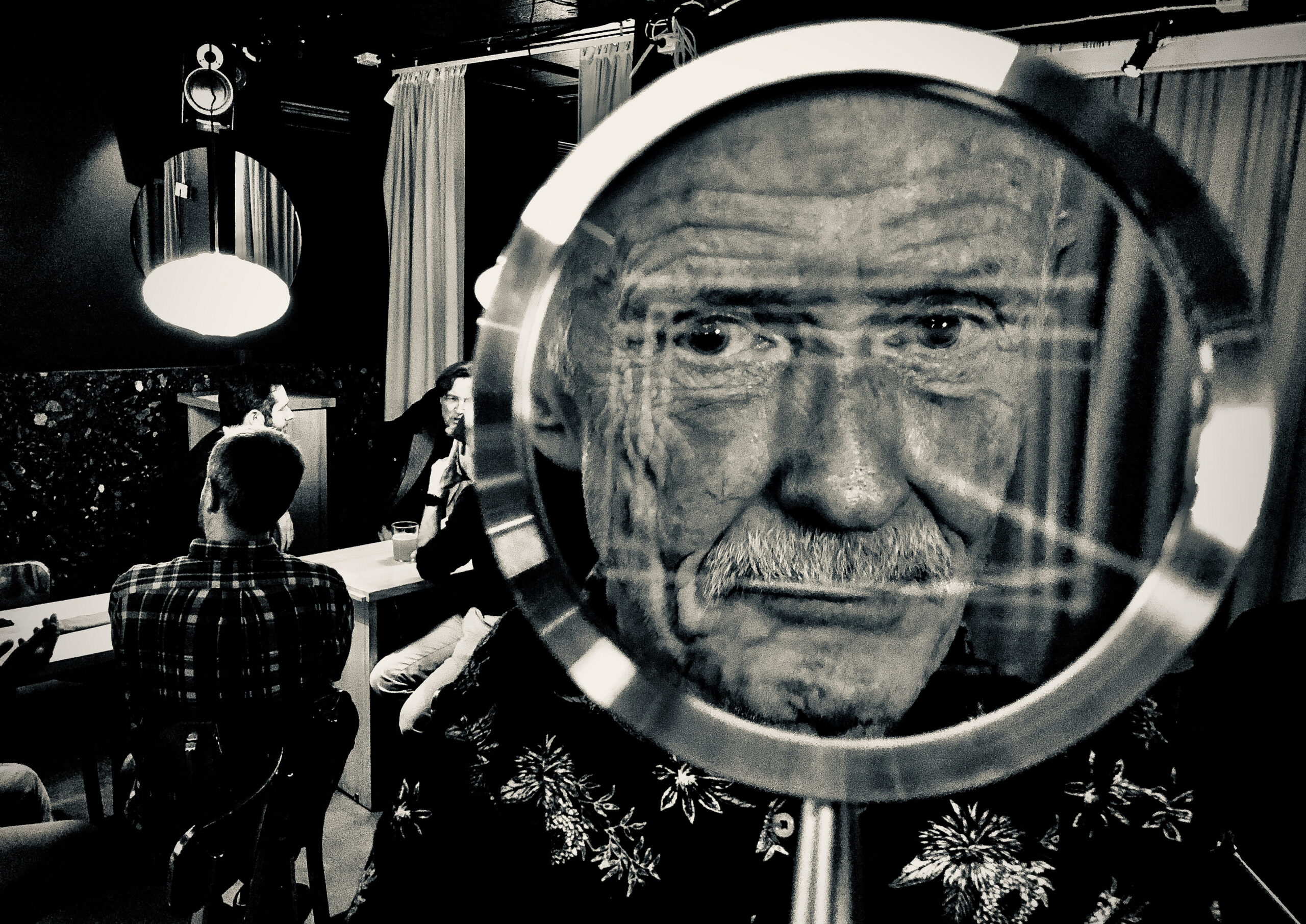 On Saturday, 13th November, some 50 members of the FSF gathered at the BarBro restaurant in Stockholm to celebrate the 60th anniversary of the Society of Swedish cinematographers.
The date was no coincidence, but rather the result of careful planning, since it was on November 13, 1961, that a group of Swedish cinematographers founded the FSF. The society's very first board was led by famous Swedish cinematographer Rune Ericson as chairman, and included Ragnar Frisk as secretary and Tony Forsberg as treasurer. The membership initially consisted of 48 cinematographers.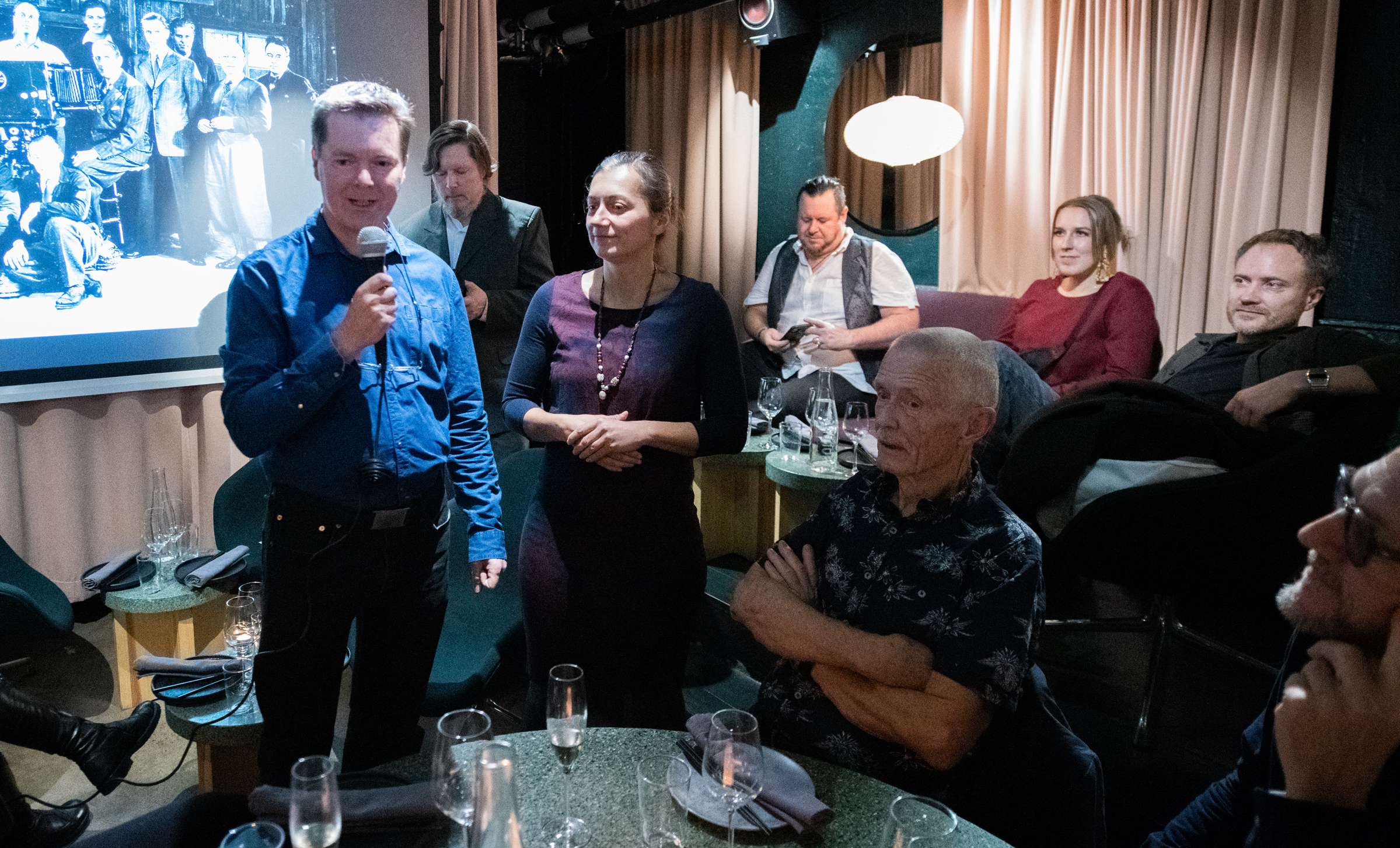 Alex Lindén FSF and Iga Mikler FSF, co-presidents of the FSF, bidding everyone welcome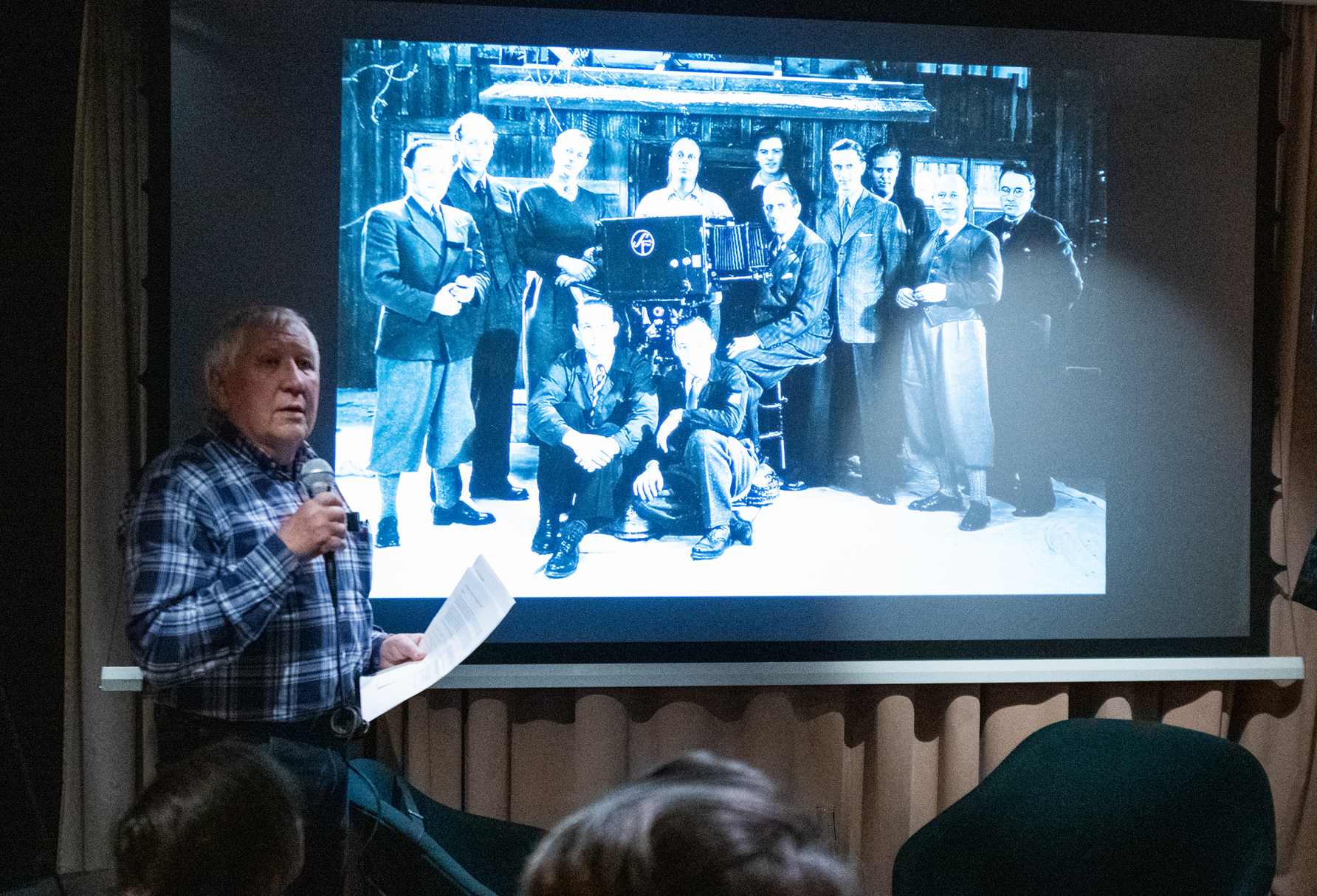 Roland Sterner FSF, one of the society's most venerable members, recalls the FSF's 60-year history.
The idea to form a Swedish society of cinematographers was suggested by the American cinematographer Lester Shorr ASC, who during a visit in Sweden met several Swedish colleagues, and noted that they all were employed by the handful of film studios active in Sweden at that point in time, and that they had little to no communication between them although they all shared the same challenges in their work, aesthetically as well as professionally.
The society has grown over the years to its current roster of 221 members, consisting of 113 active DoP:s, 25 honorary members and 52 retired members as well as 31 associated members. The FSF has been a member of IMAGO since 1995.
During the years 1982 to 2018 the society has annually awarded one of its members a special prize called the "Filmbanan" (The Film Gate), a trophy in the shape of an exact replica of a Mitchell 35 mm camera gate. The very first "Filmbanan" was awarded to famous Swedish cinematographer Jörgen Persson, and the last one was bestowed upon Hoyte van Hoytema three years ago now. Only 32 of these trophies were ever manufactured, and since they were truly works of art there was no viable way of trying to manufacture a second run of these.
The FSF therefore set out to design and manufacture a new prize, to be awarded annually to a Swedish cinematographer for an especially noteworthy effort. It was decided that a lens with aspect ratio markings inscribed on it was the way to go. World famous lens manufacturer Cooke ltd generously donated a set of single lenses to the FSF for this purpose.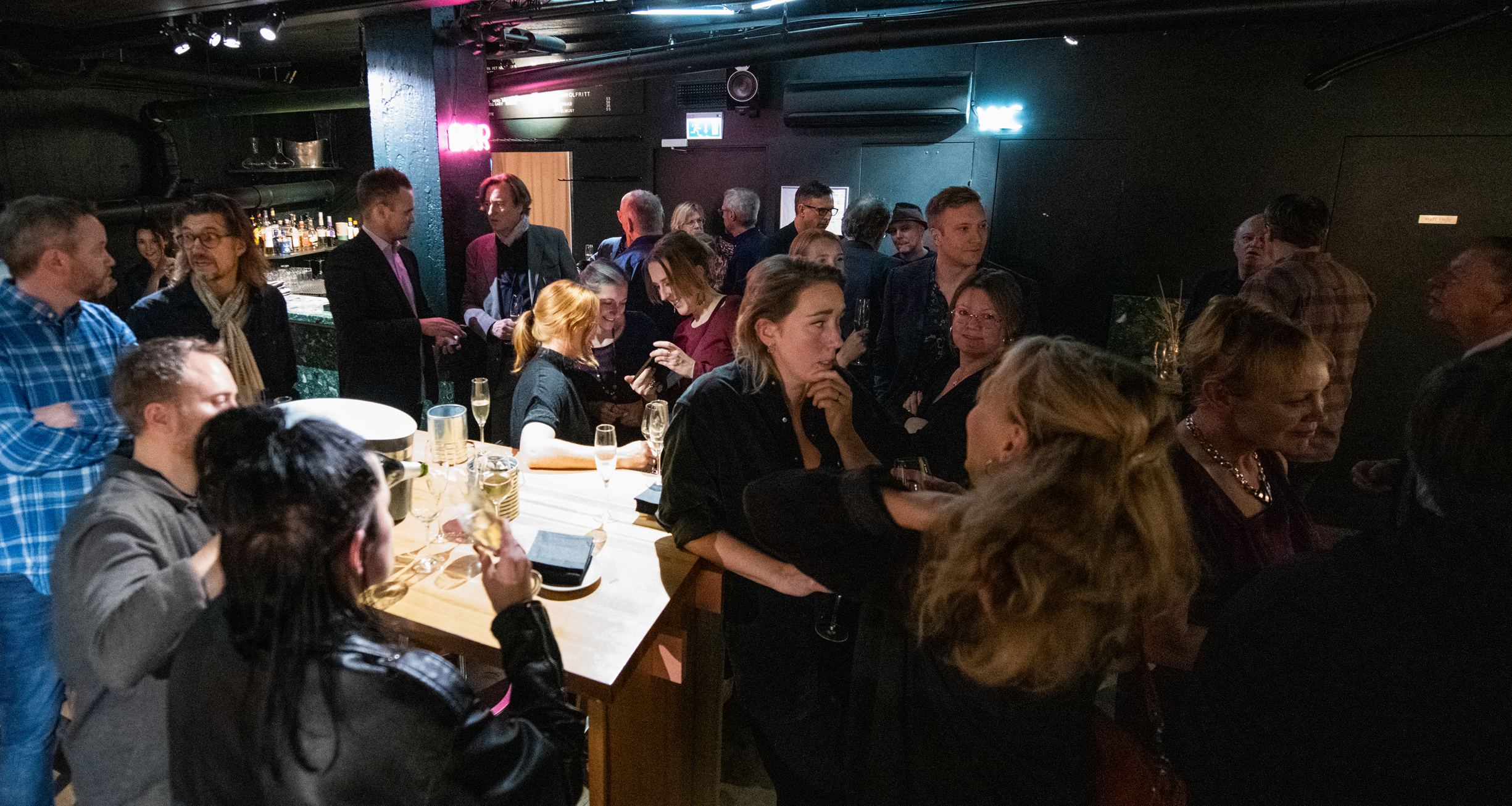 A sizable crowd of cinematographers and members of the Swedish movie business were in attendance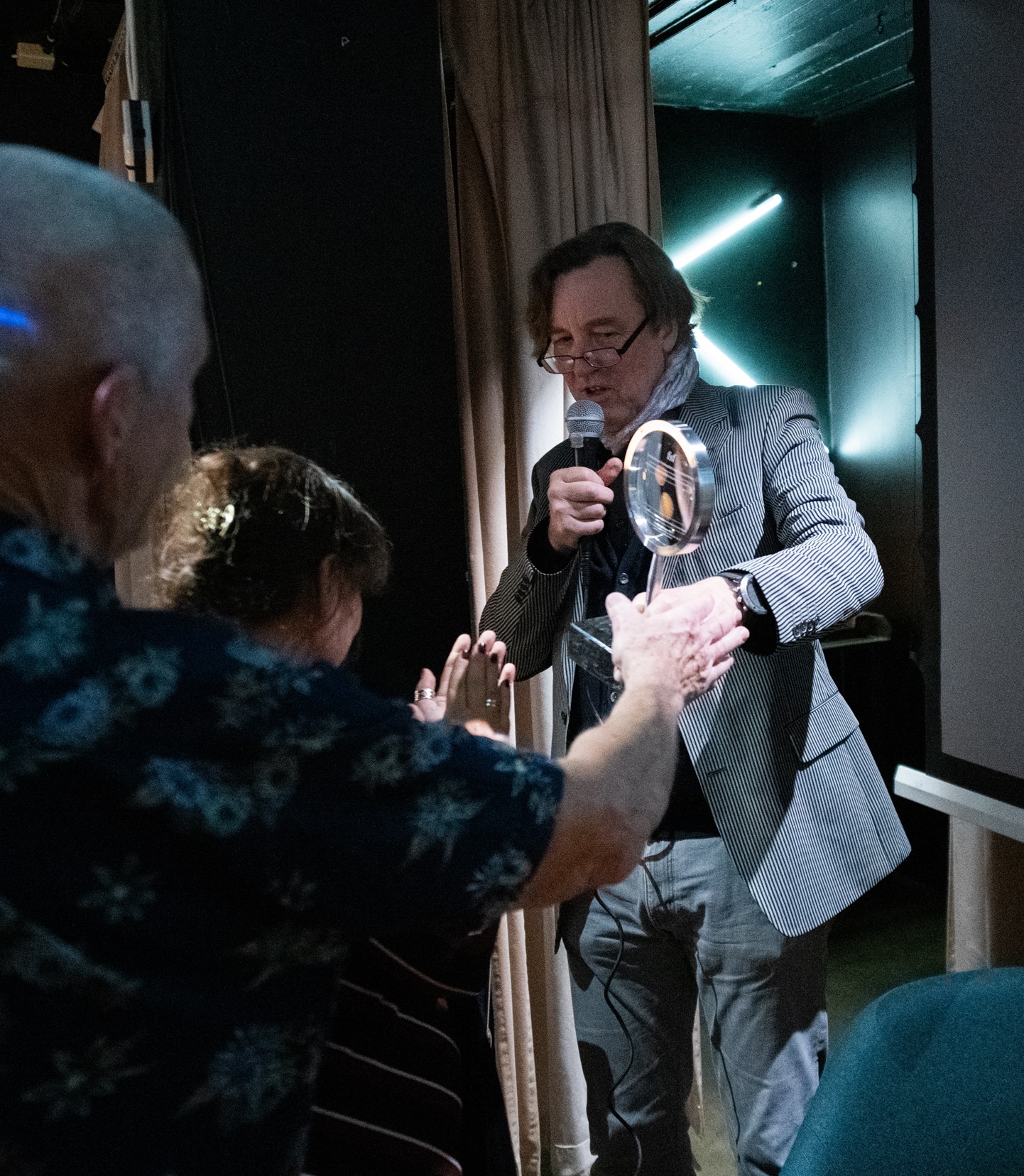 Ulf Brantås FSF presenting the 2021 FSF honorary award
And the very first recipient of this new FSF prize is Tobbe Andersson, a legendary assistant cameraman who has put in sterling work on countless Swedish productions since the 1970s, perennially keeping the shots in focus and the cameras running!
One could sense among the guests that there was a shared feeling of relief to be able to gather this way after almost 2 years of severe restraints concerning public gatherings, cinema screenings etc, due to the effects of the COVID-19 pandemic. Fellow cinematographers, friends and colleagues in the Swedish and international motion picture business, all had a wonderful time during an evening of conversation, laughter and mingling.
The FSF are especially grateful and elated to see among our guests this evening several of our most loyal sponsors from companies such as Mediateknik, RED Rental by MAAN, CameraTEN, BB&S and Camera Nordic, among others. To find out "who-was-there?" please see our enclosed photos.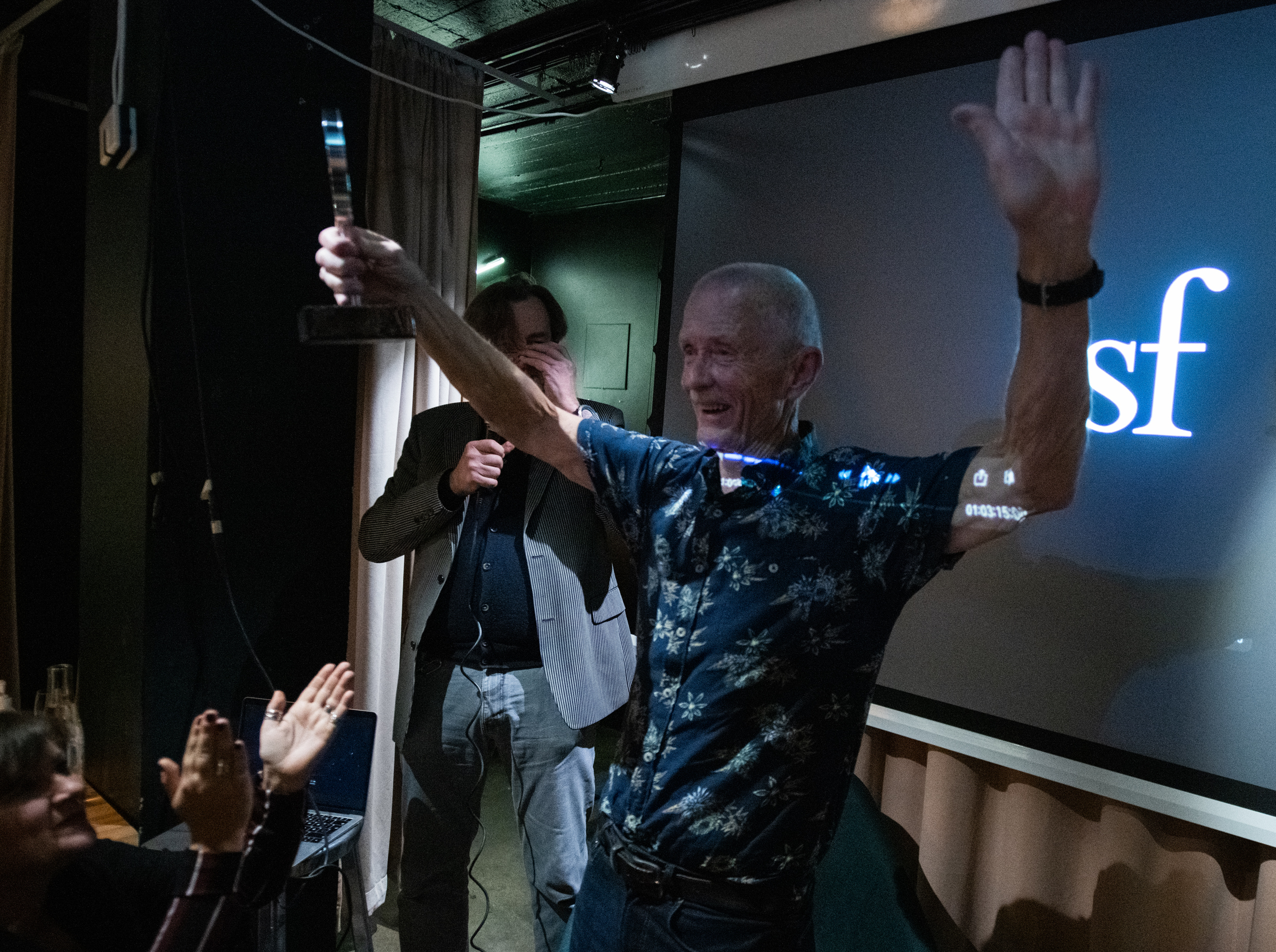 Torbjörn "Tobbe" Andersson was met by applause and cheers from the audience
Magnus Balte from RED Rental by MAAN AB in conversation with Olof Jonson, FSF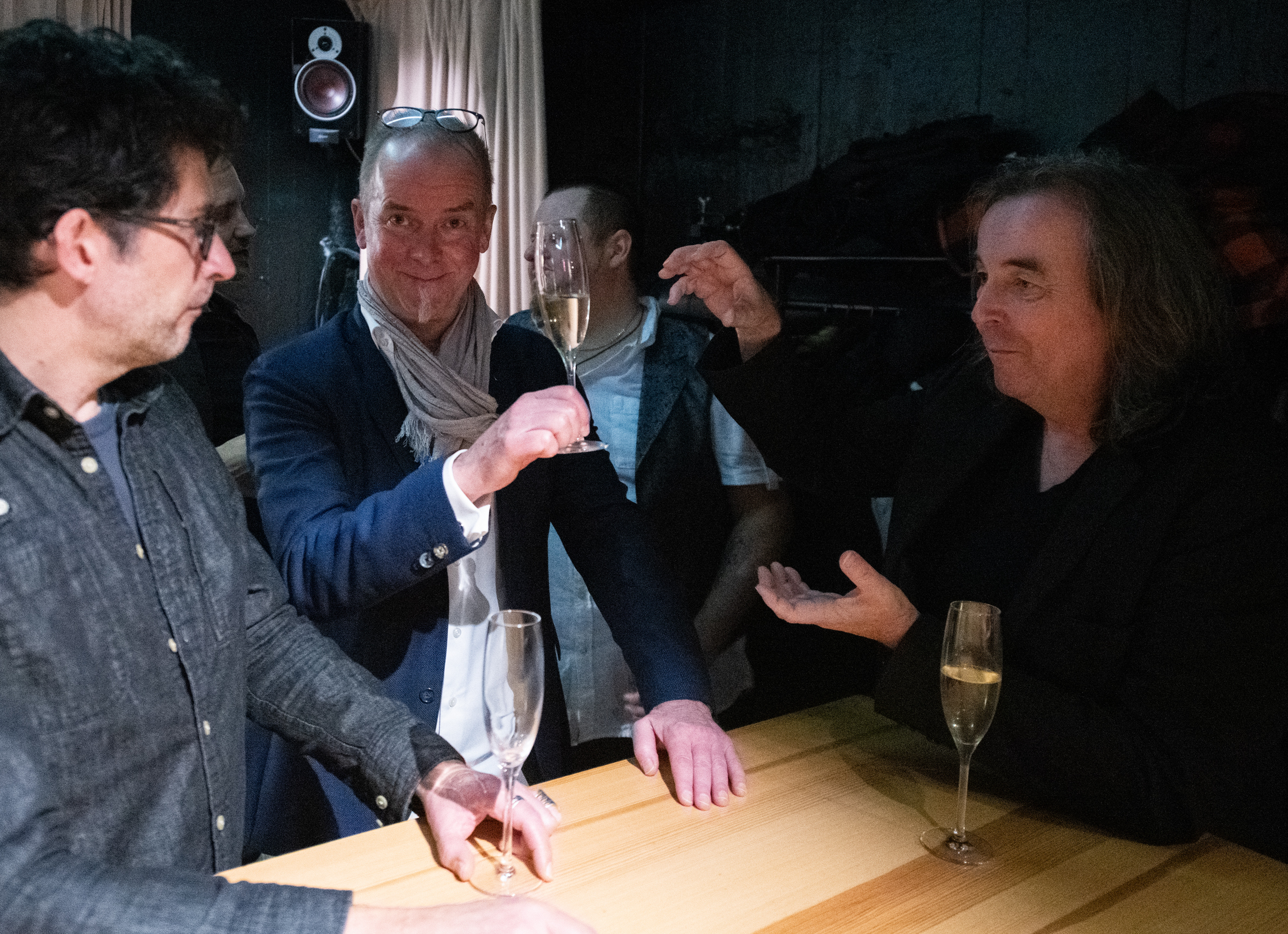 From left, Robert Blom, Ljud & Bildmedia AB, Stefan Sjönvall, Camera Nordic AB and Pelle Mellqvist, CameraTEN AB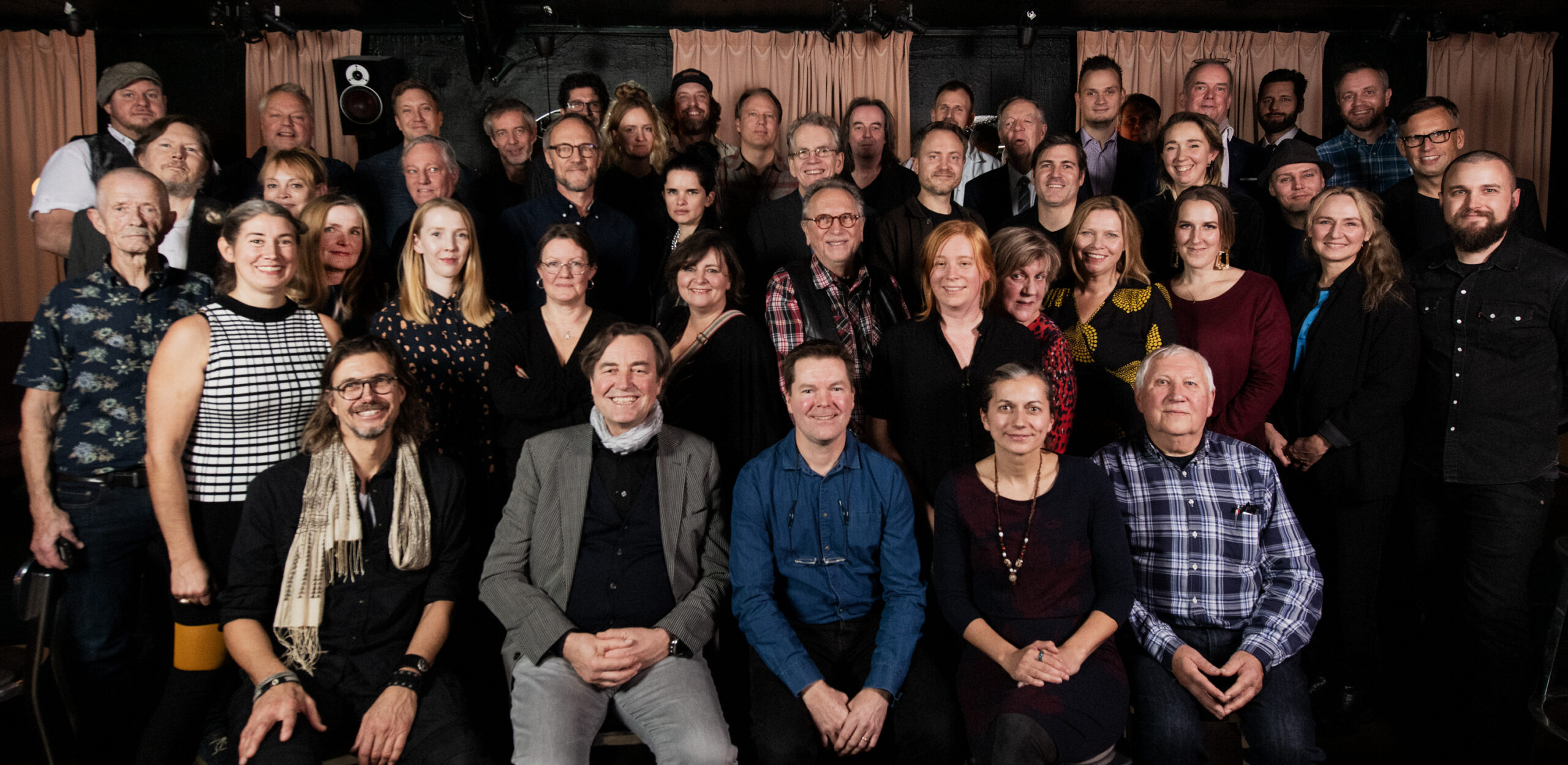 Group photo celebrating the FSF's 60th anniversary