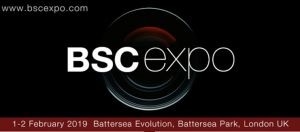 Heading for the 2019 edition of the BSC Expo, I had a mild feeling of trepidation and worried a bit what I was going to write about. What had received the most amount of beforehand attention seemed to be the new RED Ranger camera, which is not for resale but will only be available through certain rental houses.
When leaving the airport, London isn't exactly offering her most hospitable weather conditions either: it's around zero centigrades and we're greeted by a slight drizzling rain. As usual, there is a free shuttle bus from the Sloane Square Hotel to the Expo, and riding the bus into Battersea Park I realize I needn't have worried what to write about: there will be tons of stuff to report back home!
For starters, the 2019 BSC Expo is the biggest yet, and this is immediately apparent for two reasons. First, we must disembark the bus about three hundred yards before the Expo because there are simply too many coaches and trucks in front of us, and secondly, you can't even see the Battersea Evolution building because a gigantic tent has been erected in front of it to handle all the wardrobe and registration activity! The Expo itself fills the Evolution building to the rafters.
The Panataurus will allow you to set up a telescopic crane quickly in
almost any terrain.
To the right of the building, Panavision have their telescopic cranes in place, and last year's trend of self-ambulating cranes continues, only this year's models seem more extreme than ever. Not only can you get a telescopic crane in place without having to build one on the spot, now it seems not even hellish terrain remains a hindrance, as these new vehicles appear capable of negotiating a very rough landscape indeed!
Entering the Evolution building I immediately run into IMAGO president Paul René Roestad, FNF, and Richard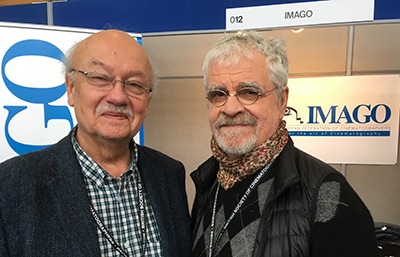 Paul René Roestad FNF and Richard Andry AFC
Andry, AFC. Richard tells me how the AFC have just been through a close shave with their Microsalon Paris, which was supposed to be held at La Femis in Montmartre in Paris – but shortly before the AFC were revving up to launch the event, the building was deemed unsafe by the authorities, and the AFC quickly had to find an alternative location! Luckily, they found one and all went well, but for a while there it was a really bumpy ride for them.
Paul René muses that Cine-events are now increasing rapidly in number, more and more countries arrange events like BSC Expo or Microsalon Paris, and this wouldn't be a problem if it weren't for the fact that sponsors can't support every such event – the sponsors reach a point where they have to decide which event to support and which to ignore, and therefore some of these Cine-events will face economic challenges.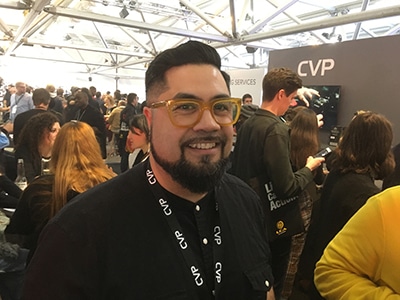 Aaron George from CVP
CVP, a large London-based reseller of all sorts of brands from the film industry, have taken over the entire top floor in the Evolution building. Aaron George from CVP explains: "we sell everything from small DSLR's all the way up to high-end Cine equipment. We sell to rental companies and to own-operators, we also sell online to consumers –basically we sell to anyone who wants to buy. Brexit is a possible concern for us, but no one knows what it's going to be like at this point, so since basically our core market is the UK anyway, what we would primarily be concerned with would be import tariffs, etc".
Scooting down the stairs from CVP, I run into Malcolm and Mylene Ludgate from the ACS, who are here to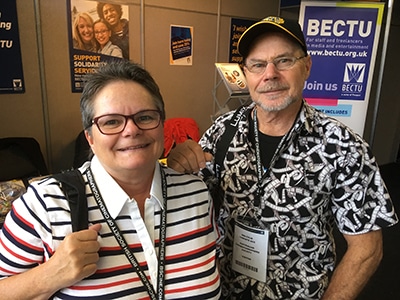 Mylene Ludgate and Malcolm Ludgate, ACS, from the Australian
Cinematographers Society, ACS. Check out Malcolm's shirt!
promote their Australian Cinematographic Society, and we have a nice little chat.
So what about the RED Ranger? Well, since Panavision launched their DXL2 camera (based on a RED sensor) at last year's BSC Expo, several rental houses expressed their desire to be able to rent out a similar camera. But the DXL2 was a unique deal between RED and Panavision, so RED simply decided to create the Ranger and to offer it for sale only to a select few rental houses. The Red Ranger is equipped with the MONSTRO sensor, can run on 24 volts and features a larger and quieter fan than it's predecessors. It is slightly smaller than the DXL2 and is not based on a modular design.
And speaking of cameras, at the other end of the spectrum we find the Logmar Magellan, the Danish 65mm motion picture camera first unveiled at Cine Gear in Los Angeles last year. Logmar is a Danish company led by Tommy Lau Madsen & Orla Vestergaard Nielsen and they first made a name for themselves a few years back when they constructed a revolutionary super-8 camera that yielded outstanding photographic results. Only 50 cameras were made – and quickly sold out – since manufacturing such small series is quite expensive.
Not surprisingly, Kodak approached Logmar when they were planning their own new super-8 camera, and Logmar was involved in this project building prototypes
So, why the Magellan? "Well", Tommy reveals, "actually it was my son who asked me 'why don't you build a 65mm camera?' So I gave it a thought, contacted Kodak to ask what the global demand for 65mm was like at that time, and right around then Tarantino made "The Hateful Eight" and the demand went up!"
Constructing a 65mm camera is an engineering challenge. About 30 years ago Arri launched their 765 camera, using several motors governed by electronics. The Panavision 65mm cameras are based on venarable Mitchell designs, relying on mechanics and the brute force of one motor. Logmar also decided to go with only one motor – and a very exclusive one at that: the Swiss Maxon motor, an electrical DC motor boasting 90 % energy efficiency. This motor was actually NASA's preferred choice when constructing the Mars Rover!
What kind of shutter to use was another important decision. A rotating mirror shutter would increase the size of the camera considerably, so Tommy decided to use the same concept as in their super-8 camera: a guillotine shutter. What the layman may not realize is that this kind of construction is subjected to severe G-forces, so minimum weight becomes a priority, and Tommy finally managed to find a mirror weighing only 5 grams, which is extreme, considering we're talking about a mirror that's 75 * 50 millimetres!
The camera is made and assembled in Denmark and Logmar will initially rent it out. A keen interest has already been shown in the camera, and DPs like Hoyte van Hoytema, ASC FSF NSC, and Linus Sandgren, ASC FSF, have asked Tommy to try to assemble at least 4 cameras as soon as possible for big studio projects that are about to begin principal photography.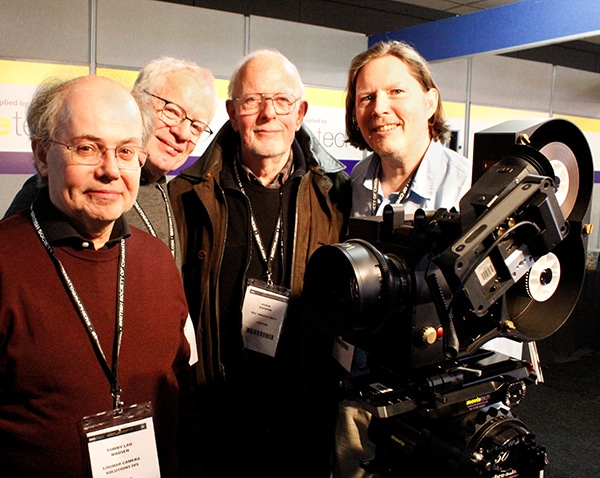 "Finally, a REAL film camera!" says living legend Rob Vidgeon, BSC (second from right). Flanked by
(left to right) Tommy Lau Madsen, Orla Vestergaard Nielsen and Lars Pettersson, FSF.
As you may have noticed, a lens from Whitepoint Optics is mounted on the Magellan camera in the photo, and as the Whitepoint lenses cover 65mm it seems like a match made in heaven. Alexis Pillai and Jussi Myllyniemi from Whitepoint Optics are here at the BSC Expo with not only their Hasselblad-based lenses, but also an exciting new project they run jointly with Will Bartlett from Cintek in the UK and Brian Caldwell in Los Angeles. They have designed Neo Super Baltars in nine focal lengths. The short focal lengths cover super-35 and the longer ones cover full frame as well.
They use the brand 'The Vintage Lens Company' to sell these lenses, and the glass is made in Los Angeles by Brian Caldwell (who worked at Bausch & Lomb when they made the original Baltars) and the lenses are assembled and housed in Helsinki. The lenses come with embossed leather caps to protect them, so the goal here is a nice retro feel. The Neo Super Baltars will be officially launched at Cine Gear in Los Angeles and will be competitively priced, perhaps initially offered at a special introductory price.
The CINTEK Lens Company also have in their portfolio anamorphic lenses designed by Brian Caldwell that cover full frame and have a 1,79 anamorphic compression.
From Logmar and Whitepoint, it makes sense to check out the Arri booths, and as usual they have two. At Arri Rental, it's interesting to note that they have, among all the digital cameras, an Arricam ST 35mm camera. As film-based production seems to be picking up momentum these days, it makes sense for Arri to offer an Arricam for rental since, after all, they invented it. Also, in the regular Arri booth, the focus is not singularly on a particular camera model this year, but rather you get the sweep of the full program from massive lights to accessories like matte boxes. And browsing through their brochures I notice they offer exotic stuff like a vertical format adapter for the Alexa Mini, to emulate the look of filming with a cell phone held upright!
Jonas Elmqvist of BB&S Inc feels it makes a lot of sense for Arri to focus on accessories like matte boxes, etc, because you can achieve really healthy profit margins by CNC-
The Arri Rental Booth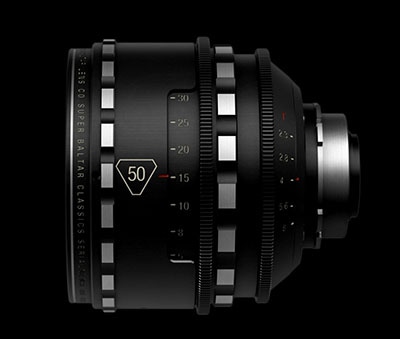 Neo Super Baltar lenses from The Vintage Lens Company
machining a block of aluminium into a matte box, as compared to the complexities of assembling a film camera.
For their part, BB&S are particularly proud of three new products in their portfolio this year. Firstly their 'Area 48' Bi-colour lamp, which is RGB-equipped so you can come up with any colour you like. "We're happy to have learned from other manufacturer's mistakes" says Jonas, "as many other lamps in this range have suffered from the problem that you could choose any colour you like at full effect, but when you started to dim the unit down, the colour would shift badly. So we've focused especially on a remedy to that problem when we made the 'Area 48' unit: you can dim it down and it will still hold it's colour very nicely".
Secondly, BB&S are very proud of their LED-strips. These are remote phosphor and one colour. 10 watts translates to a 1000 lumens at a distance of 1 foot. "We can make them up to eight feet in length and you can strap these together to create nice, even overhead light or put them behind cycloramas" Jonas explains.
And rounding out the BB&S portfolio of 'goodies' is the Compact Beam Light, which is a 40 watt unit which produces 95 lumens per watt. "I've started to build clusters of these" Jonas explains, "initially units built up of four, but I'd really like to make one built up of 16 of these units, that should produce just under 2 million lux at a distance of one metre!"
The Panasonic booth is right across the aisle from BB&S. I've made an appointment earlier with Oliver Newland from Panasonic and know I should have prepared some questions, but I haven't had time to do this and it looks like Oliver is between customers right now, so I ask if he's free for an interview.
Turns out he is, so we launch into a total improvisation: "only way I can work", Oliver jokes, but continues in a more serious vein, "it's been a good year for us in the UK, lots of Netflix shoots have chosen Varicam. There's "Afterlife" produced and directed by Ricky Gervais, it was a 4K HDR delivery and it looks fantastic. "Marcella" is another one, ITV studios produced it. There have also been lots of nature documentaries and of course the big global success "Crazy Rich Asians" which is one of our first big studio features. It was shot on a Varicam Pure, which is a modular camera design".
-Like the Sony Extension Unit? I suggest.
-"Hey, Sony copied our idea!" Oliver laughs, and rounds off, "in the high end range we're doing really well, so we're happy with the portfolio we have right now. All our flagship cameras are super-35, but the consumer division have just launched a new full-frame 4K Lumix".
I decide to make an extra round of the Expo floor to make sure I'm not missing out on anything extraordinary, and turning a corner, well waddaya know: it's The Helicopter Girls, "One Year On"! And there they are, prettier than ever, only now they've teamed up with the equally dashing mr John Marzano and this means together they now offer everything from large drones to full-scale helicopters! Emma had a baby girl since last we met them, and as soon as this little toddler can walk, she's going to be a drone pilot like mum.
But by now it's getting really late, it's near 5 pm and the Expo is about to close, so I start walking back towards the entrance again. Passing by the BB&S booth, I notice everyone there have shifted their full attention to the really important stuff in life: beer and football (Hey, they're Danish!)
Lars Pettersson, FSF
New ligths from BB&S: left to right, Compact Beam Light, LED Strip
and Area 48 Bi-colour Lamp
Oliver Newland is happy with the Panasonic Varicam portfolio.
The Helicopter Girls, Katya Nelhams-Wright and Emma Boswell