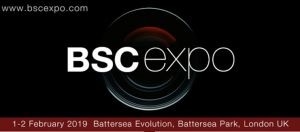 Head­ing for the 2019 edi­tion of the BSC Expo, I had a mild feel­ing of trep­i­da­tion and wor­ried a bit what I was going to write about. What had received the most amount of before­hand atten­tion seemed to be the new RED Ranger cam­era, which is not for resale but will only be avail­able through cer­tain rental hous­es.
When leav­ing the air­port, Lon­don isn't exact­ly offer­ing her most hos­pitable weath­er con­di­tions either: it's around zero centi­grades and we're greet­ed by a slight driz­zling rain. As usu­al, there is a free shut­tle bus from the Sloane Square Hotel to the Expo, and rid­ing the bus into Bat­tersea Park I real­ize I needn't have wor­ried what to write about: there will be tons of stuff to report back home!
For starters, the 2019 BSC Expo is the biggest yet, and this is imme­di­ate­ly appar­ent for two rea­sons. First, we must dis­em­bark the bus about three hun­dred yards before the Expo because there are sim­ply too many coach­es and trucks in front of us, and sec­ond­ly, you can't even see the Bat­tersea Evo­lu­tion build­ing because a gigan­tic tent has been erect­ed in front of it to han­dle all the wardrobe and reg­is­tra­tion activ­i­ty! The Expo itself fills the Evo­lu­tion build­ing to the rafters.
The Panatau­rus will allow you to set up a tele­scop­ic crane quick­ly in
almost any terrain.
To the right of the build­ing, Panav­i­sion have their tele­scop­ic cranes in place, and last year's trend of self-ambu­lat­ing cranes con­tin­ues, only this year's mod­els seem more extreme than ever. Not only can you get a tele­scop­ic crane in place with­out hav­ing to build one on the spot, now it seems not even hell­ish ter­rain remains a hin­drance, as these new vehi­cles appear capa­ble of nego­ti­at­ing a very rough land­scape indeed!
Enter­ing the Evo­lu­tion build­ing I imme­di­ate­ly run into IMAGO pres­i­dent Paul René Roes­tad, FNF, and Richard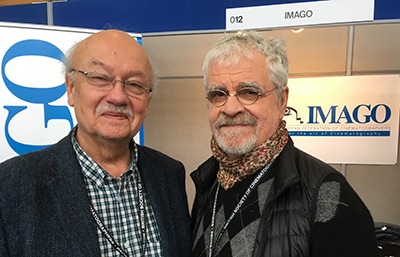 Paul René Roes­tad FNF and Richard Andry AFC
Andry, AFC. Richard tells me how the AFC have just been through a close shave with their Micros­a­lon Paris, which was sup­posed to be held at La Femis in Mont­martre in Paris – but short­ly before the AFC were revving up to launch the event, the build­ing was deemed unsafe by the author­i­ties, and the AFC quick­ly had to find an alter­na­tive loca­tion! Luck­i­ly, they found one and all went well, but for a while there it was a real­ly bumpy ride for them.
Paul René mus­es that Cine-events are now increas­ing rapid­ly in num­ber, more and more coun­tries arrange events like BSC Expo or Micros­a­lon Paris, and this wouldn't be a prob­lem if it weren't for the fact that spon­sors can't sup­port every such event – the spon­sors reach a point where they have to decide which event to sup­port and which to ignore, and there­fore some of these Cine-events will face eco­nom­ic challenges.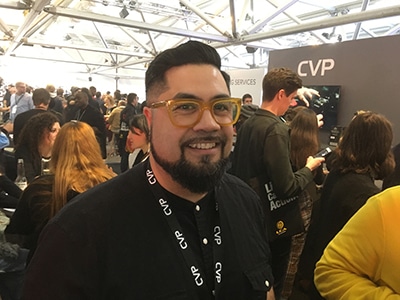 Aaron George from CVP
CVP, a large Lon­don-based reseller of all sorts of brands from the film indus­try, have tak­en over the entire top floor in the Evo­lu­tion build­ing. Aaron George from CVP explains: "we sell every­thing from small DSLR's all the way up to high-end Cine equip­ment. We sell to rental com­pa­nies and to own-oper­a­tors, we also sell online to con­sumers –basi­cal­ly we sell to any­one who wants to buy. Brex­it is a pos­si­ble con­cern for us, but no one knows what it's going to be like at this point, so since basi­cal­ly our core mar­ket is the UK any­way, what we would pri­mar­i­ly be con­cerned with would be import tar­iffs, etc".
Scoot­ing down the stairs from CVP, I run into Mal­colm and Mylene Ludgate from the ACS, who are here to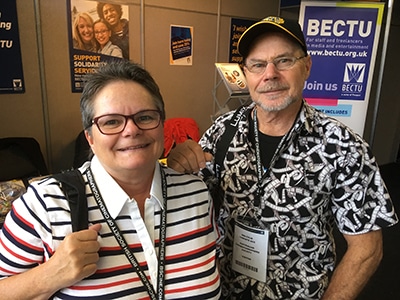 Mylene Ludgate and Mal­colm Ludgate, ACS, from the Aus­tralian
Cin­e­matog­ra­phers Soci­ety, ACS. Check out Mal­colm's shirt!
pro­mote their Aus­tralian Cin­e­mato­graph­ic Soci­ety, and we have a nice lit­tle chat.
So what about the RED Ranger? Well, since Panav­i­sion launched their DXL2 cam­era (based on a RED sen­sor) at last year's BSC Expo, sev­er­al rental hous­es expressed their desire to be able to rent out a sim­i­lar cam­era. But the DXL2 was a unique deal between RED and Panav­i­sion, so RED sim­ply decid­ed to cre­ate the Ranger and to offer it for sale only to a select few rental hous­es. The Red Ranger is equipped with the MONSTRO sen­sor, can run on 24 volts and fea­tures a larg­er and qui­eter fan than it's pre­de­ces­sors. It is slight­ly small­er than the DXL2 and is not based on a mod­u­lar design.
And speak­ing of cam­eras, at the oth­er end of the spec­trum we find the Log­mar Mag­el­lan, the Dan­ish 65mm motion pic­ture cam­era first unveiled at Cine Gear in Los Ange­les last year. Log­mar is a Dan­ish com­pa­ny led by Tom­my Lau Mad­sen & Orla Vester­gaard Nielsen and they first made a name for them­selves a few years back when they con­struct­ed a rev­o­lu­tion­ary super‑8 cam­era that yield­ed out­stand­ing pho­to­graph­ic results. Only 50 cam­eras were made – and quick­ly sold out – since man­u­fac­tur­ing such small series is quite expen­sive.
Not sur­pris­ing­ly, Kodak approached Log­mar when they were plan­ning their own new super‑8 cam­era, and Log­mar was involved in this project build­ing pro­to­types
So, why the Mag­el­lan? "Well", Tom­my reveals, "actu­al­ly it was my son who asked me 'why don't you build a 65mm cam­era?' So I gave it a thought, con­tact­ed Kodak to ask what the glob­al demand for 65mm was like at that time, and right around then Taran­ti­no made "The Hate­ful Eight" and the demand went up!"
Con­struct­ing a 65mm cam­era is an engi­neer­ing chal­lenge. About 30 years ago Arri launched their 765 cam­era, using sev­er­al motors gov­erned by elec­tron­ics. The Panav­i­sion 65mm cam­eras are based on venarable Mitchell designs, rely­ing on mechan­ics and the brute force of one motor. Log­mar also decid­ed to go with only one motor – and a very exclu­sive one at that: the Swiss Max­on motor, an elec­tri­cal DC motor boast­ing 90 % ener­gy effi­cien­cy. This motor was actu­al­ly NASA's pre­ferred choice when con­struct­ing the Mars Rover!
What kind of shut­ter to use was anoth­er impor­tant deci­sion. A rotat­ing mir­ror shut­ter would increase the size of the cam­era con­sid­er­ably, so Tom­my decid­ed to use the same con­cept as in their super‑8 cam­era: a guil­lo­tine shut­ter. What the lay­man may not real­ize is that this kind of con­struc­tion is sub­ject­ed to severe G‑forces, so min­i­mum weight becomes a pri­or­i­ty, and Tom­my final­ly man­aged to find a mir­ror weigh­ing only 5 grams, which is extreme, con­sid­er­ing we're talk­ing about a mir­ror that's 75 * 50 mil­lime­tres!
The cam­era is made and assem­bled in Den­mark and Log­mar will ini­tial­ly rent it out. A keen inter­est has already been shown in the cam­era, and DPs like Hoyte van Hoytema, ASC FSF NSC, and Linus Sand­gren, ASC FSF, have asked Tom­my to try to assem­ble at least 4 cam­eras as soon as pos­si­ble for big stu­dio projects that are about to begin prin­ci­pal photography.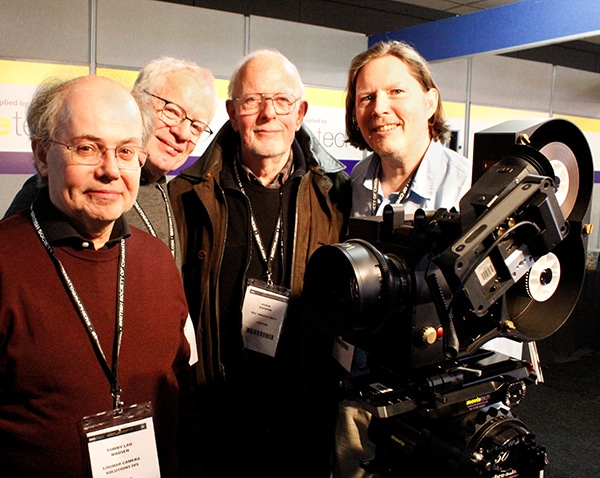 "Final­ly, a REAL film cam­era!" says liv­ing leg­end Rob Vid­geon, BSC (sec­ond from right). Flanked by
(left to right) Tom­my Lau Mad­sen, Orla Vester­gaard Nielsen and Lars Pet­ters­son, FSF.
As you may have noticed, a lens from White­point Optics is mount­ed on the Mag­el­lan cam­era in the pho­to, and as the White­point lens­es cov­er 65mm it seems like a match made in heav­en. Alex­is Pil­lai and Jus­si Myl­lynie­mi from White­point Optics are here at the BSC Expo with not only their Has­sel­blad-based lens­es, but also an excit­ing new project they run joint­ly with Will Bartlett from Cin­tek in the UK and Bri­an Cald­well in Los Ange­les. They have designed Neo Super Bal­tars in nine focal lengths. The short focal lengths cov­er super-35 and the longer ones cov­er full frame as well.
They use the brand 'The Vin­tage Lens Com­pa­ny' to sell these lens­es, and the glass is made in Los Ange­les by Bri­an Cald­well (who worked at Bausch & Lomb when they made the orig­i­nal Bal­tars) and the lens­es are assem­bled and housed in Helsin­ki. The lens­es come with embossed leather caps to pro­tect them, so the goal here is a nice retro feel. The Neo Super Bal­tars will be offi­cial­ly launched at Cine Gear in Los Ange­les and will be com­pet­i­tive­ly priced, per­haps ini­tial­ly offered at a spe­cial intro­duc­to­ry price.
The CINTEK Lens Com­pa­ny also have in their port­fo­lio anamor­phic lens­es designed by Bri­an Cald­well that cov­er full frame and have a 1,79 anamor­phic compression.
From Log­mar and White­point, it makes sense to check out the Arri booths, and as usu­al they have two. At Arri Rental, it's inter­est­ing to note that they have, among all the dig­i­tal cam­eras, an Arri­cam ST 35mm cam­era. As film-based pro­duc­tion seems to be pick­ing up momen­tum these days, it makes sense for Arri to offer an Arri­cam for rental since, after all, they invent­ed it. Also, in the reg­u­lar Arri booth, the focus is not sin­gu­lar­ly on a par­tic­u­lar cam­era mod­el this year, but rather you get the sweep of the full pro­gram from mas­sive lights to acces­sories like mat­te box­es. And brows­ing through their brochures I notice they offer exot­ic stuff like a ver­ti­cal for­mat adapter for the Alexa Mini, to emu­late the look of film­ing with a cell phone held upright!
Jonas Elmqvist of BB&S Inc feels it makes a lot of sense for Arri to focus on acces­sories like mat­te box­es, etc, because you can achieve real­ly healthy prof­it mar­gins by CNC-
The Arri Rental Booth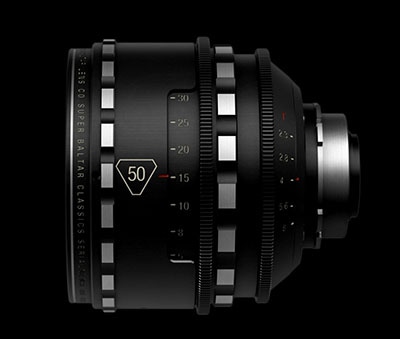 Neo Super Bal­tar lens­es from The Vin­tage Lens Company
machin­ing a block of alu­mini­um into a mat­te box, as com­pared to the com­plex­i­ties of assem­bling a film cam­era.
For their part, BB&S are par­tic­u­lar­ly proud of three new prod­ucts in their port­fo­lio this year. First­ly their 'Area 48' Bi-colour lamp, which is RGB-equipped so you can come up with any colour you like. "We're hap­py to have learned from oth­er manufacturer's mis­takes" says Jonas, "as many oth­er lamps in this range have suf­fered from the prob­lem that you could choose any colour you like at full effect, but when you start­ed to dim the unit down, the colour would shift bad­ly. So we've focused espe­cial­ly on a rem­e­dy to that prob­lem when we made the 'Area 48' unit: you can dim it down and it will still hold it's colour very nice­ly".
Sec­ond­ly, BB&S are very proud of their LED-strips. These are remote phos­phor and one colour. 10 watts trans­lates to a 1000 lumens at a dis­tance of 1 foot. "We can make them up to eight feet in length and you can strap these togeth­er to cre­ate nice, even over­head light or put them behind cyclo­ramas" Jonas explains.
And round­ing out the BB&S port­fo­lio of 'good­ies' is the Com­pact Beam Light, which is a 40 watt unit which pro­duces 95 lumens per watt. "I've start­ed to build clus­ters of these" Jonas explains, "ini­tial­ly units built up of four, but I'd real­ly like to make one built up of 16 of these units, that should pro­duce just under 2 mil­lion lux at a dis­tance of one metre!"
The Pana­son­ic booth is right across the aisle from BB&S. I've made an appoint­ment ear­li­er with Oliv­er New­land from Pana­son­ic and know I should have pre­pared some ques­tions, but I haven't had time to do this and it looks like Oliv­er is between cus­tomers right now, so I ask if he's free for an inter­view.
Turns out he is, so we launch into a total impro­vi­sa­tion: "only way I can work", Oliv­er jokes, but con­tin­ues in a more seri­ous vein, "it's been a good year for us in the UK, lots of Net­flix shoots have cho­sen Vari­cam. There's "After­life" pro­duced and direct­ed by Ricky Ger­vais, it was a 4K HDR deliv­ery and it looks fan­tas­tic. "Mar­cel­la" is anoth­er one, ITV stu­dios pro­duced it. There have also been lots of nature doc­u­men­taries and of course the big glob­al suc­cess "Crazy Rich Asians" which is one of our first big stu­dio fea­tures. It was shot on a Vari­cam Pure, which is a mod­u­lar cam­era design".
‑Like the Sony Exten­sion Unit? I sug­gest.
-"Hey, Sony copied our idea!" Oliv­er laughs, and rounds off, "in the high end range we're doing real­ly well, so we're hap­py with the port­fo­lio we have right now. All our flag­ship cam­eras are super-35, but the con­sumer divi­sion have just launched a new full-frame 4K Lumix".
I decide to make an extra round of the Expo floor to make sure I'm not miss­ing out on any­thing extra­or­di­nary, and turn­ing a cor­ner, well wad­daya know: it's The Heli­copter Girls, "One Year On"! And there they are, pret­ti­er than ever, only now they've teamed up with the equal­ly dash­ing mr John Marzano and this means togeth­er they now offer every­thing from large drones to full-scale heli­copters! Emma had a baby girl since last we met them, and as soon as this lit­tle tod­dler can walk, she's going to be a drone pilot like mum.
But by now it's get­ting real­ly late, it's near 5 pm and the Expo is about to close, so I start walk­ing back towards the entrance again. Pass­ing by the BB&S booth, I notice every­one there have shift­ed their full atten­tion to the real­ly impor­tant stuff in life: beer and foot­ball (Hey, they're Danish!)
Lars Pet­ters­son, FSF
New ligths from BB&S: left to right, Com­pact Beam Light, LED Strip
and Area 48 Bi-colour Lamp
Oliv­er New­land is hap­py with the Pana­son­ic Vari­cam portfolio.
The Heli­copter Girls, Katya Nel­hams-Wright and Emma Boswell