(Cred­it: Cour­tesy of Search­light Pictures)
The Ban­shees of Inish­erin is a beau­ti­ful, dark­ly humor­ous film writ­ten and direct­ed by Mar­tin McDon­agh, set on the fic­tion­al Irish island of Inish­erin in 1923.

Ben Davis, BSC, cin­e­matog­ra­ph­er and fre­quent McDon­agh col­lab­o­ra­tor, shot the film on Achill Island, Coun­ty Mayo, and Inish­more in the Aran Islands, sit­u­at­ed off the Gal­way coast, from August 2021 to the end of Octo­ber 2021, with the land­scape of the islands act­ing as the can­vas on which McDon­agh paints the tragi­com­ic tale.

"I'm very proud of The Ban­shees of Inish­erin," says Davis. "I also real­ly liked it as a film. I think it's chal­leng­ing to make some­thing so unique based on such a sim­ple premise. Mar­tin is an amaz­ing writer as well as a director."

(Cred­it: Cour­tesy of Search­light Pictures)
The lead cam­era on the film was an Alexa Mini LF oper­at­ed by Des Whe­lan ACO. Ben him­self framed the B‑camera using his own Ursa Mini Pro 12K to shoot many of the film's beau­ti­ful island land­scapes – from stun­ning sun­sets by the sea to grave­yards under cloud-heavy skies.

Nat­ur­al won­ders
"I would say 50% of the scenic, wide shots in the film par­tic­u­lar­ly the ones in nature, and a lot of sun­set or sun­ris­es were cap­tured on the URSA," says Davis. "I was shoot­ing 8K at full frame, crop­ping into an aspect ratio of 2.40:1.

"I have the URSA 12K as my per­son­al cam­era, which goes with me every­where," he adds. "I love the images, but what I like most is how it is set up to use the touch­screen to make quick adjust­ments. I find it's straight­for­ward and quick."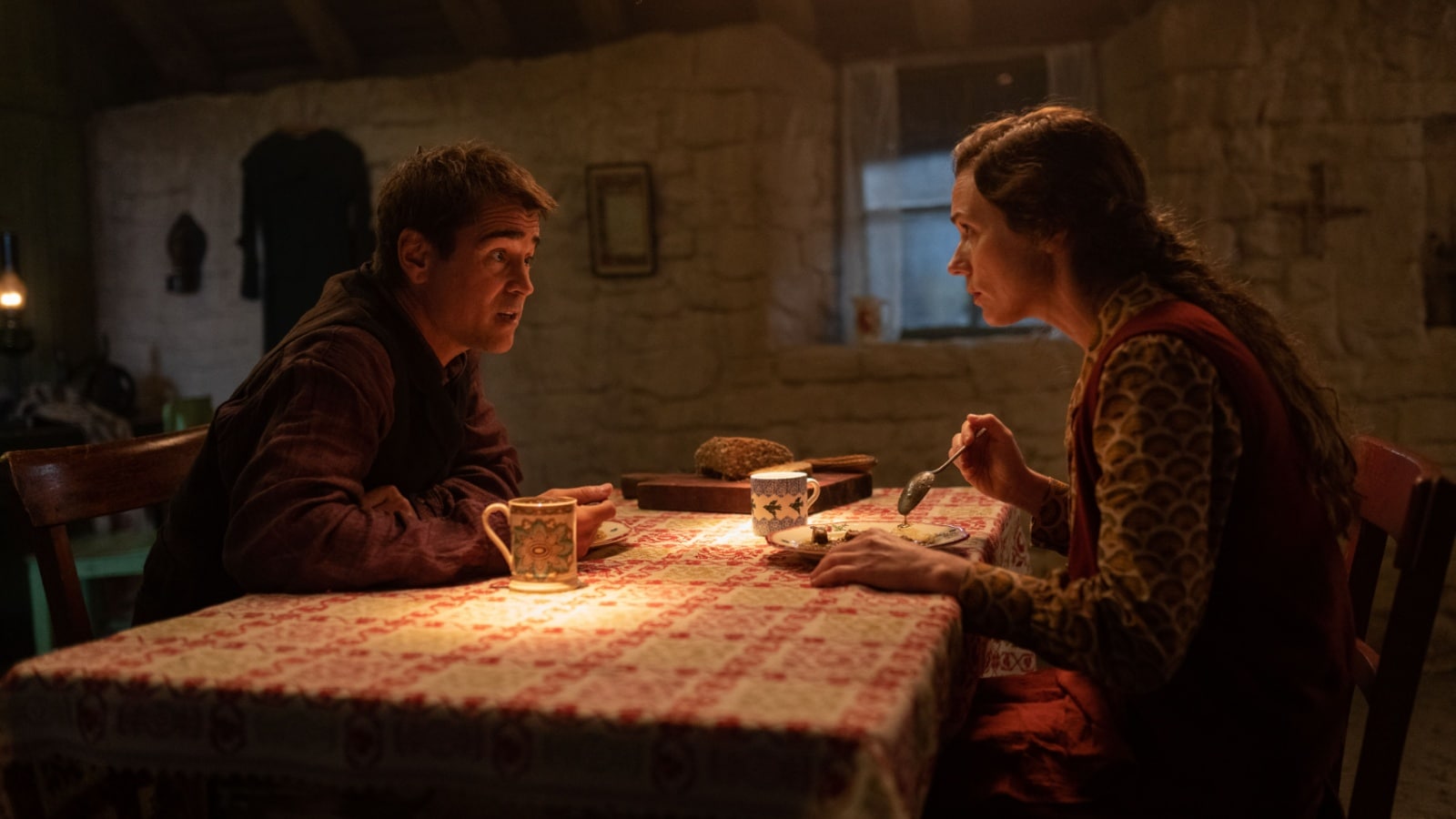 (Cred­it: Cour­tesy of Search­light Pic­tures)

Although the Ursa Mini Pro 12K fea­tures mul­ti­ple I/O and pow­er con­nec­tions, Davis keeps it "very sim­ple, stripped down with no acces­sories."

"I've got a 17 to 35 zoom lens on it, and I have a lit­tle light­weight tri­pod and a bat­tery," he says. "When I was dri­ving to work in the morn­ing or evening, or out around the island on my days off, and I'd see some­thing to shoot, I could run to the back of the car, grab the cam­era, stick a lens on it and be ready to shoot in about thir­ty sec­onds.

"When I shoot some­thing, I'm always think­ing that I may want to use it in the final film, so to have that cam­era with me in its sim­plest form is great. So, dur­ing prep and shoot days, I'd be out with that cam­era alone or with Mar­tin."

These excur­sions pro­vid­ed some of Davis' favorite shots in the film. "There are some beau­ti­ful shots we did down at the light­house area with the sun set­ting into the sea. For those, I shot with the URSA on time-lapse."

On anoth­er evening when he was head­ing out to film some loca­tions, he was accom­pa­nied by McDon­agh, who want­ed to get a shot of two goats. The URSA deliv­ered for both.

"It's a beau­ti­ful shot, with the sun set­ting behind, and the goats are look­ing straight into the lens," says Davis. "The ani­mals in the film are impor­tant. They're wit­ness­es to the dys­func­tion that's going on around them, wit­ness­es to the human con­di­tion. It's one of the most impor­tant shots in the film – it's in the trail­er for a rea­son. It's also quite fun."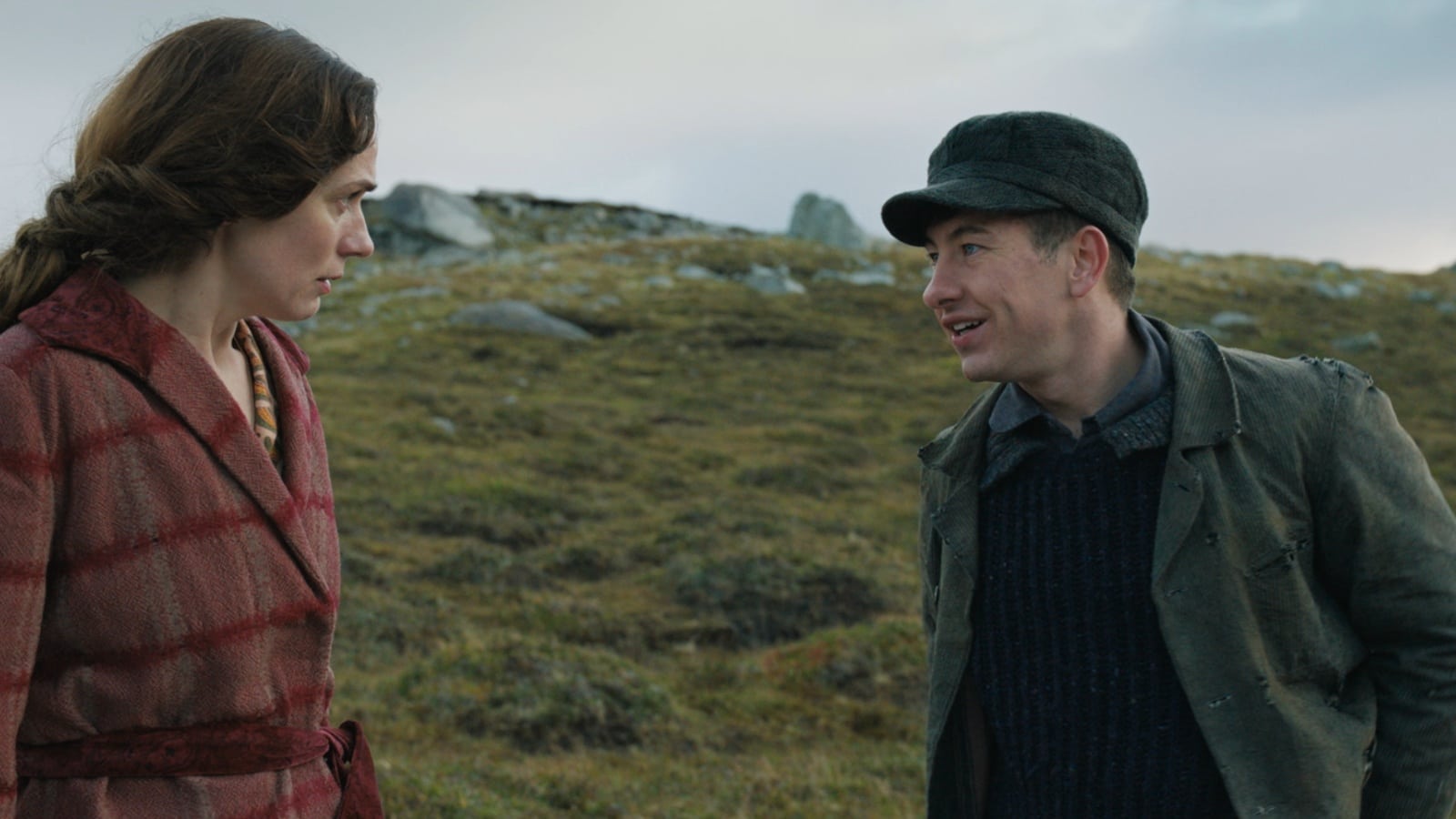 (Cred­it: Cour­tesy of Search­light Pic­tures)

Pro­duc­tion work­horse
Robust and light, the cam­era proved espe­cial­ly use­ful when shoot­ing exte­ri­ors in places where a typ­i­cal film crew might strug­gle.

"When you're work­ing on a fea­ture film and you've got the Alexa or what­ev­er lead cam­era you're shoot­ing with, it'll be on the cam­era truck with a lot of gear attached; it's not stripped down.

"On the islands, you had to clam­ber over walls, go down dirt roads, and over rock faces to get where you need­ed to get the shot you want­ed," Davis con­tin­ues. "I've had the Ursa out in the rain. It gets knocked around. I have abused that cam­era quite a lot and it has­n't gone wrong yet."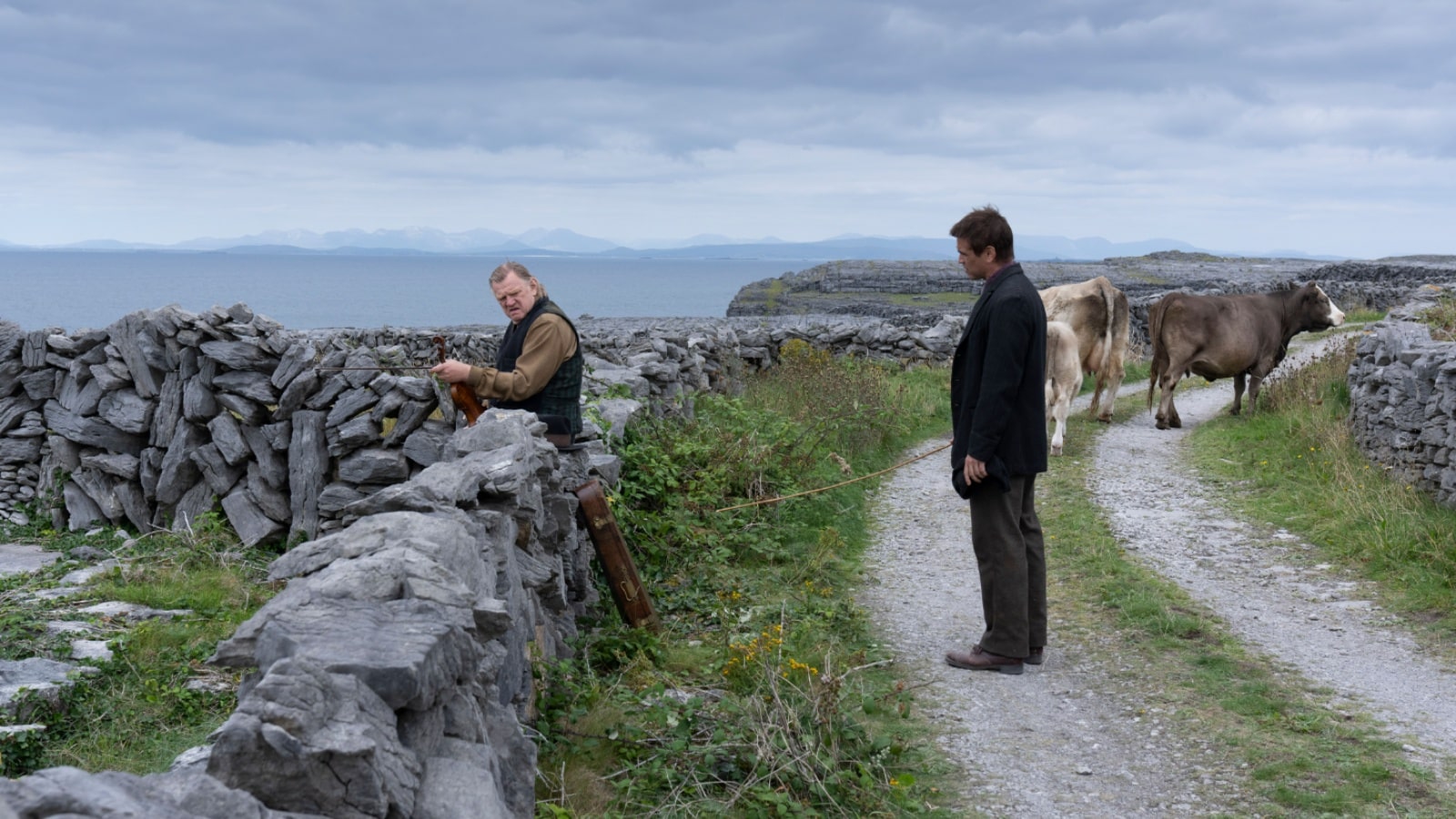 (Cred­it: Cour­tesy of Search­light Pic­tures)

The cam­er­a's respon­sive­ness and its 'tap and swipe' touch­screen also came in handy when faced with the dra­mat­i­cal­ly chang­ing light con­di­tions com­mon on the Irish islands.

"I love how sim­ple the inter­face is," Davis says. "I can adjust white bal­ance, sen­si­tiv­i­ty, and fram­er­ate, all on one screen, and I can do it quick­ly. I'm always work­ing at speed. "Often when you'd see a shot you want on the island, you had to be quick, or it's gone, par­tic­u­lar­ly when shoot­ing scenes with ani­mals in the envi­ron­ments."

Diverse range
The cam­er­a's sen­si­tiv­i­ty and the Black­mag­ic Gen­er­a­tion 5 col­or sci­ence also played a part. "I was shoot­ing at 8K and rat­ed it at 400 ASA; that's where I got all the best results," says Davis. "For scenic shots like the sun set­ting down by the light­house or shots of the grave­yard and the storm clouds above it at the end of the day, I exposed it down, and it han­dled con­trast beau­ti­ful­ly."

"It has excel­lent range from black to white, and I pushed it. For many scenes, I was point­ing direct­ly into the sun at the end of the day. I'd also shoot scenes in very low light. But when we took it into the DI suite, there weren't any prob­lems with the material."
The same film emu­la­tion LUT was applied to both cam­eras, with an off­set ver­sion cre­at­ed for the Ursa.

Davis says that the fact that footage from the Mini Pro cuts imper­cep­ti­bly with the large for­mat Alexa on the big screen is a tes­ta­ment to the qual­i­ty of the URSA. "Obvi­ous­ly, the col­or sci­ence is dif­fer­ent between the Alexa and the URSA, but there were no issues at all in terms of match­ing the rush­es," he adds.
(Cred­it: Cour­tesy of Search­light Pictures)
Grad­ed by Gold­crest Post's Adam Glas­man and onlined by Guil­hem Coulibaly in DaVin­ci Resolve Stu­dio, Cinelab Film & Dig­i­tal deliv­er­ing all aspects of on-set work and dailies col­or.
Davis says he could quick­ly shoot a one-per­son fea­ture or a small crew fea­ture on the Ursa Mini Pro 12K. "If the right project came up, I'd be quite hap­py to shoot with the URSA 12K Pro as my prin­ci­pal cam­era," he con­tin­ues. "The qual­i­ty of the image on the Black­mag­ic cam­era is superb.

"There seems to be an obses­sion these days with lens­es and about cam­eras, and what you're shoot­ing on," he con­tin­ues. "We get car­ried away with those ques­tions. If it's the right cam­era for the right moment, it's the right piece of equip­ment."

"Young cin­e­matog­ra­phers can't afford an Alexa Mini LF, but they can buy an Ursa Mini Pro 12K. It opens up a whole world of low­er-bud­get film­mak­ing to peo­ple start­ing out. The images that come out of the cam­era are excel­lent."

Davis used the same cam­era for the same pur­pose on this year's My Police­man, direct­ed by Michael Grandage. "I'm on prep for a film right now, and the URSA is in my office ready to go," he adds.