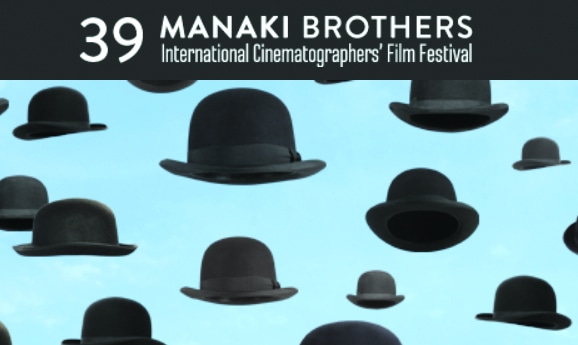 As always in Sep­tem­ber, the won­der­ful Man­a­ki Film Fes­ti­val was arranged in Bito­la, Mace­do­nia. The old­est film fes­ti­val focus­ing spe­cial­ly on the art of cin­e­matog­ra­phy, it was again a great suc­cess, pro­vid­ing a great pro­gram of very good films, high pro­file guests, and a warm atmos­phere. With almost no mon­ey, the festival´s orga­niz­ers, fes­ti­val direc­tor Gena Teo­dosievs­ka and artis­tic direc­tor Blago­ja Kunovsky, pro­duce a high qual­i­ty fes­ti­val that every vis­i­tor feels warm­ly wel­comed and includ­ed in.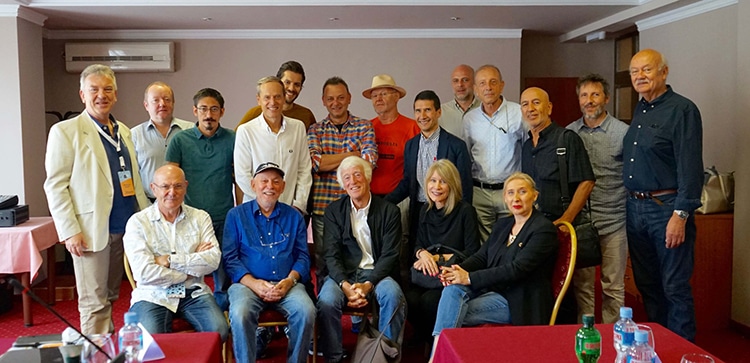 Par­tic­i­pants at the Balkan Cinematographer´s Con­fer­ence 2018. Front row from right to left: Gena Teo­dosievs­ka (Man­a­ki Film Fes­ti­val Direc­tor), James Ellis Deakins, Roger Deakins CBE, ASC BSC, Nigel Wal­ters BSC and Milos Spa­so­je­vic SAS.
This year Roger Deakins CBE BSC ASC received the Gold­en Cam­era 300 Life­time Achieve­ment Award, and Roger and his "right and left arm", cre­ative part­ner James Ellis Deakins, par­tic­i­pat­ed in mas­ter class­es and stu­dent arrange­ments all filled to the brim of enthu­si­as­tic par­tic­i­pants. The fes­ti­val is grow­ing very pos­i­tive­ly, the many films screened had an over­all high­est qual­i­ty stan­dard, and this year´s fes­ti­val had a record par­tic­i­pa­tion. We already look for­ward to next year, where the festival´s 40th anniver­sary will be arranged.
The Balkan Cinematographer´s Conference
For many years, Nigel Wal­ters BSC Vice Pres­i­dent and pre­vi­ous IMAGO pres­i­dent, has been arrang­ing the Balkan Cinematographer´s Con­fer­ence dur­ing the Man­a­ki Fes­ti­val. With par­tic­i­pants this year from all Balkan Cin­e­matog­ra­phers Soci­eties, top­ics from author­ship and work­ing con­di­tions to chal­lenges of restora­tion and archiv­ing of the region´s film her­itage were dis­cussed. As Cinematographer´s Soci­eties in the region are rel­a­tive­ly small com­pared to many larg­er Coun­tries, it was decid­ed to form a Balkan sec­tion of IMAGO, where Balkan Soci­eties oper­ates under an umbrel­la with­in IMAGO. The idea is that clos­er col­lab­o­ra­tion between Balkan Soci­eties will cre­ate more effec­tiv­i­ty, and a stronger voice in all sit­u­a­tions, both polit­i­cal, artis­tic, and also with­in IMAGO. Fur­ther­more, due to the very pos­i­tive devel­op­ment of the cre­ative debates dur­ing the Balkan Con­fer­ence, it was decid­ed a need to devel­op a sec­ond annu­al Balkan Cinematographer´s Con­fer­ence. The Con­fer­ence in Mace­do­nia dur­ing the Man­a­ki Fes­ti­val will con­tin­ue, but in addi­tion there will be an annu­al "trav­el­ling Balkan con­fer­ence", the first one will be arranged in Ljubl­jana in Novem­ber 2018 with the sup­port of IMAGO.