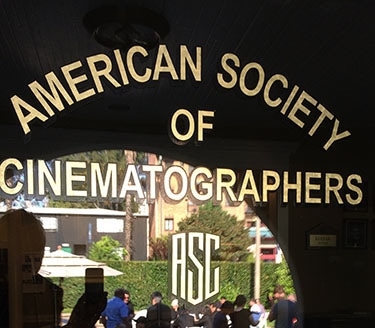 The 3rd ASC sum­mit ran in 4 con­sec­u­tive days. The head­quar­ters were based in the ASC Club House a few yards from Dol­by The­atre and Hol­ly­wood Boule­vard. This is a resumé of the mul­ti­ple activ­i­ties and pre­sen­ta­tions that took place.
THE LARGE FOMAT – IMAX The Dunkirk expe­ri­ence with Hoyte van Hoytema ASC NSC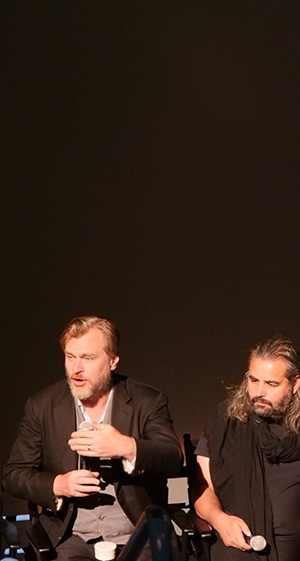 The sum­mit opened with a warm wel­come by the Kees van Ostrom ASC NSC pres­i­dent of ASC and the crew mem­bers Pat­ty, Del­phine and Alex who were amaz­ing­ly orga­nized. Their voic­es could be heard amongst the high lev­el of noise by the del­e­gates chat­ting in between ses­sions and breaks. A demon­stra­tion of the sense of open and rela­tion­ship that quick­ly devel­oped between del­e­gates where no ice was need­ed to be bro­ken.
The first sub­ject was to have the expe­ri­ence of the large for­mat pro­jec­tion and cap­ture. It took place in the IMAX the­atre at Uni­ver­sal park with the pro­jec­tion of the entire film «Dunkirk» on 65 mm ana­logue print. Before there was a con­ver­sa­tion with the direc­tor Christo­pher Nolan, the pro­duc­er Emma Tomas and cin­e­matog­ra­ph­er Hoyte van Hoytema ASC FSF NSC.
Emma Thomas enhanced the fact that shoot­ing in film or dig­i­tal doesn't mat­ter in terms of costs as long it serves the project. «It is an artis­tic choice to use 35mm, or 65mm or any oth­er for­mat. It is not the cost of shoot­ing on film. There was a moment that the stu­dios were afraid of the fall of the infra struc­ture but more and more films are being shot on film and labs are work­ing beau­ti­ful­ly and Kodak has been very sup­port­ive» Emma said. In rela­tion to the use of mul­ti­ple for­mats Christo­pher men­tioned that he want­ed the audi­ence to have « an immer­sive expe­ri­ence as they do not have in com­mon dis­plays. The emo­tion of being before a wide screen along with the sound track accord­ing­ly gives the audi­ence and gen­uine expe­ri­ence of being there where the sto­ry envolves». The rea­son to shoot on mul­ti­ple for­mats was due to «needs of dis­tri­b­u­tion. IMAX cer­tain­ly doesn't fit in the tv screen and it was need­ed as well a for­mat for reg­u­lar the­atres» and «it was a wise deci­sion» said Emma Thomas.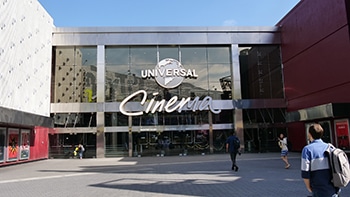 For Hoyte van Hoytema it was curi­ous to hear the expres­sion that 65mm could be a good for­mat for doc­u­men­tary «It han­dles so well flat light­ing and the shal­low depth of field is so good it doesn't demand any light­ing in par­tic­u­lar» and Nolan adds « it is such a clean for­mat. 65mm is so rich and clear». After­wards the del­e­gates had one more chance to watch the film and expe­ri­ence once again the large for­mat of the fan­tas­tic IMAX pro­jec­tion in the Uni­ver­sal Cin­e­ma in Los Angeles.
THE CROWN – Adri­ano Goldman
The day end­ed with a sur­pris­ing Adri­ano Gold­man ASC ABC cin­e­matog­ra­ph­er of the suc­cess­ful Net­flix series «The Crown». Very talk­a­tive, almost no need for mod­er­a­tion. Very open to share his skills after the pro­jec­tion of sev­er­al clips of the with an aston­ish­ing and bold cin­e­matog­ra­phy. The series are shot on a SONY F55 and Gold­man uses old Panchro Cooke lens­es along with a haze fil­ter. The con­trasts are strong with often sil­hou­et­ted fig­ures. Adri­ano says that this style wouldn't be pos­si­ble if not worked in close coop­er­a­tion with oth­er depart­ments «these series give me the rare oppor­tu­ni­ty to work close­ly with the set design­er». Gold­man explains the aes­thet­ics « I rather have the actors sep­a­rat­ed with the back­ground or by light from the win­dows or by the set rather than using back­light. I always avoid when not jus­ti­fi­able» One char­ac­ter­is­tic of the «Crown» there is not so much cov­er­age as expect­ed from a Tv reg­u­lar series Gold­man explained that it is a work with the direc­tor and both work the mise-en-scene to pri­or­i­tize longer shots than rather cut­ting. « the actors enjoy it immense­ly and enrich­es per­for­mances» In one of the clips Adri­ano screened for the audi­ence, it can be seen clear­ly in the night scene that there is one bulb in frame caus­ing a strong flair. Adri­ano said that fact intrigued the pro­duc­er who asked him how could be jus­ti­fied such light and Adri­ano hon­est­ly said that for a moment he couldn't give him a right answer, but the direc­tor came on his help and said «That is the light that makes all this look beau­ti­ful».
ACES
The ACADEMY is ded­i­cat­ing a sig­nif­i­cant effort to estab­lish a colour space sys­tem to find a stan­dard for all cam­era and post-pro­duc­tion man­u­fac­tur­er which will ben­e­fit every­one in the indus­try.
The 2nd day began by vis­it­ing the Pick­ford Cen­tre for Motion Pic­ture Study with a wel­come speech by Acad­e­my of Motion Pic­ture pres­i­dent John Bay­ley ASC. Not too much to repeat once again that John is the first ever cin­e­matog­ra­ph­er to take that posi­tion as he men­tioned and one of the few which took the pres­i­den­cy as called below the line pro­fes­sion­als in the motion pic­ture indus­try.
After­wards the audi­ence could exper­i­ment a detailed expla­na­tion about the Acad­e­my Col­or Encod­ing Sys­tem (ACES) and vis­it the stu­dios where Joachim Zell and Alex Forsythe test expo­sure index which is an inves­ti­ga­tion with all cam­era man­u­fac­tur­ers in the mar­ket.
The vis­it end­ed with two more lec­tures about Spec­tral sim­i­lar­i­ty index and the com­plex­i­ty of LED light­ing spec­trum and colour behav­iours.
ACES cen­tral is a forum online where you can par­tic­i­pate by shar­ing your thoughts and expe­ri­ences with the Colour encod­ing sys­tem ACES. http://acescentral.com/ For more info you can vis­it http://www.oscars.org/science-technology/sci-tech-projects/aces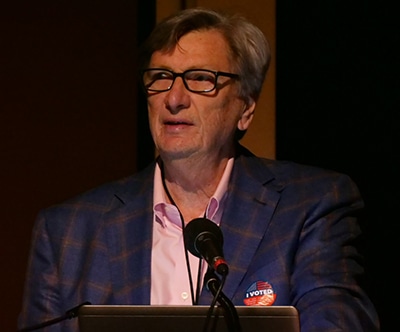 DOLBY CINEMA EXPERIENCE – MINDHUNTER
HDR is the hot top­ic now. The Dol­by expe­ri­ence took the sum­mit del­e­gates to expe­ri­ence the tech­nic with colourist Eric Wei­dt who worked on the David Finch­er series «Mind­hunter» the psy­cho­log­i­cal thriller set in the 1970's. The colour grad­ing on base light was pecu­liar and detailed to emu­late the image aber­ra­tions and defects of the lens­es and film stock of the 70's. Eric was detailed in explain­ing some of the steps tak­en on grad­ing process of the film. The audi­ence could sense the pecu­liar­i­ty and detailed vision of the direc­tor David Finch­er about details and arte­facts on the image.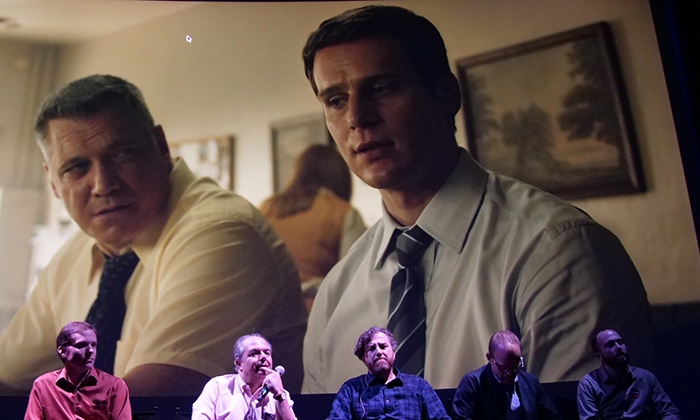 The group respon­si­ble for the pro­duc­tion of the Net­flix serie «Mind­hunter» as they debat­ed with the ICS delegates.
Ivan Puto­ra inven­tor of the Charp­ness Test
Lat­er in the sec­ond day, which was the longest of the Sum­mit, all del­e­gates came «home» to the ASC Club House.
Pres­i­dent of ASK Lucas Teren from Slo­vak Repub­lic pre­sent­ed a small doc­u­men­tary about the ASK society's hon­orary mem­ber Ivan Puto­ra who was the inven­tor of the focus chart. Only a few of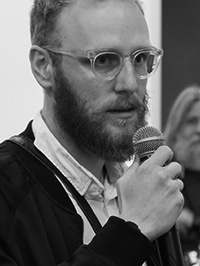 us could think that the most used focus chart in our pro­fes­sions was invent­ed by a Czecho­slo­va­kian stu­dent in the mid 1960's. Ivan Putora´s dur­ing his stud­ies in Prague pre­sent­ed his sharp­ness indi­ca­tor in a the­sis pre­sen­ta­tion and only many years after was dis­trib­uted world­wide for every lens tester. In the 1960's Czecho­slo­va­kia was under the sovi­et com­mu­nist rule and Puto­va a few years lat­er emi­grat­ed to Cana­da where he lives. In 1992 Czecho­slo­va­kia was sep­a­rat­ed dur­ing the Vel­vet rev­o­lu­tion in two inde­pen­dent states. Today exists Check Repub­lic and Slo­vak Repub­lic. Ivan Puto­ra is from Slo­vak Repub­lic. The Cana­di­an Soci­ety of Cin­e­matog­ra­phers have giv­en recog­ni­tion to Ivan Putora's inven­tion in 2003 as you can read in an arti­cle pub­lished in the CSC magazine.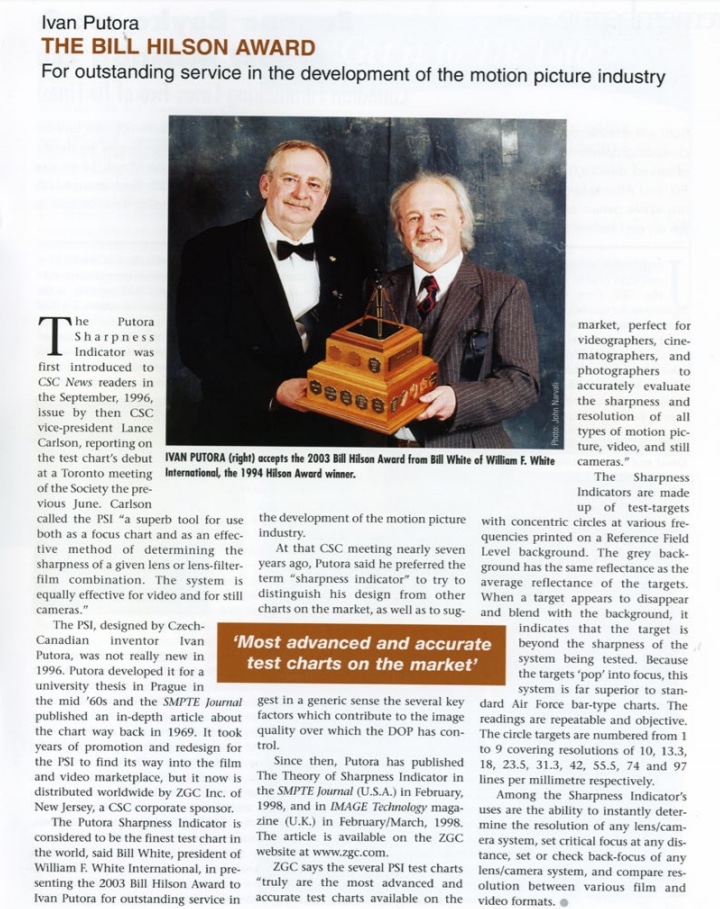 A Fan­tas­tic Discovery
Marek Jicha ACK pre­sent­ed a very inter­est­ing dis­cov­ery. It is an his­tor­i­cal dis­cov­ery which can for instance change the chrono­log­i­cal film, his­to­ry as we know. Found­ed by acci­dent dur­ing a study
research by a Czech stu­dent while dig­ging in archives at the Prague Cin­e­math­eque, was found a box, which was there for sev­er­al decades. Inside it was footage of footage from Éti­enne-Jules Marey,(1830 – 1904) French sci­en­tist, phys­i­ol­o­gist and chrono pho­tog­ra­ph­er whose use of pho­tog­ra­phy for his sci­en­tif­ic stud­ies enter in the pre his­to­ry of film. The footage found depicts a small piece where we can see clear­ly in high qual­i­ty images a dai­ly scene in Place de la Con­corde in Paris. Marek explained the pro­ce­dure of dig­i­tal­iz­ing the images and pre­serv­ing them.
The pro­ject­ed images were out­stand­ing of its qual­i­ty and the ances­try of it. It is though that those images were cap­tures before the Lumiére Broth­ers or any oth­er motion pic­ture before. The for­mat used was neg­a­tive 88 mm with­out per­fo­ra­tions. The rea­son was that Mary didn't have inten­tions of motion pic­ture stud­ies but only for focused on get­ting mate­r­i­al for his sci­en­tif­ic stud­ies of the human and ani­mals movement.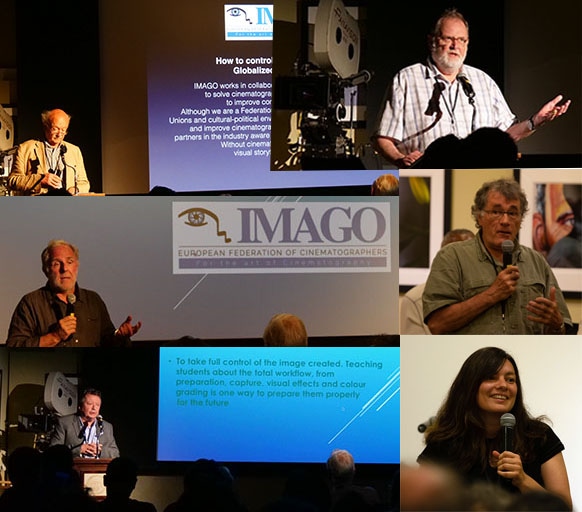 IMAGO pre­sen­ta­tion
Clos­ing the sec­ond day of the Con­fer­ence IMAGO has its oppor­tu­ni­ty to present sev­er­al aspects of its activ­i­ty. Pres­i­dent Paul René Roes­tad FNF explained the activ­i­ties of IMAGO and the issues con­cern­ing the fed­er­a­tion. The author­ship, work­ing con­di­tions, two main sub­jects which IMAGO has been fight­ing for sev­er­al years. Louis Philippe Capelle gen­er­al sec­re­tary fol­lowed by explain­ing most of the activ­i­ties with part­ners. Tony Cos­ta AIP pre­sent­ed the edu­ca­tion com­mit­tee activ­i­ties and aims and Philippe Ros AFC talked about the Tech­ni­cal Com­mit­tee pre­sent­ing stud­ies con­cern­ing tex­ture in the dig­i­tal domain. Elen Lot­man ESC closed the long day with a pre­sen­ta­tion of her study research on Psy­cho­log­i­cal of per­cep­tion – a new tool in cinematographer's tool kit?
New Trends in Cin­e­ma Display
The del­e­gates were pre­sent­ed with the brand-new Sam­sung screen installed at the Win­net­ka Pacif­ic Stu­dios. Cur­tis Clark from the ASC Tech­ni­cal Com­mit­tee debat­ed along with tech­ni­cal staff from Sam­sung aspects of the new screen. The room was equipped with large chairs where the audi­ence can lay down as if they were on the couch at home. The room is equipped with a 7 to 1 sur­round sys­tem. The huge screen which is a huge tele­vi­sion mea­sur­ing 10×6 meters. It is com­posed of mil­lions of pix­els and can built in blocks. The lumi­nance capac­i­ty of the screen goes up to 500 nits.
Sev­er­al reels were shown, and the audi­ence was not so con­vinced with HDR pro­jec­tion footage. The lumi­nance was too bright, and anoth­er footage was screened at a low­er lumi­nance but didn't yet sat­is­fied part of the audi­ence due to its sharp­ness and bright­ness. But oth­er footage was shown not HDR and the audi­ence a lot more pleased with the qual­i­ty of the screen. This screen is the very first one assem­bled in a com­mer­cial the­atre in the world.
The bright­ness of the screen illu­mi­nates the audi­ence when bright­ness is high. This screen gives a dif­fer­ent impres­sion to the audi­ence. The lumi­nance comes from the screen rather from the back.

PANAVISION
It was an excit­ing after­noon at Panav­i­sion premis­es. The whole group was received with a won­der­ful lunch out­side with a nice sun­ny day which was fol­lowed with a PANAVISION pre­sen­ta­tion with a lec­ture deliv­ered by Dan Sasa­ki about «Vision Human Per­cep­tion». It was an intro­duc­tion to what we were going to learn after­wards. PANAVISION pre­sent­ed its new H- Series lens­es, new fil­ter sys­tem, Large for­mat, Pana speeds, it seemed to be a renew­al or a relaunch of a new com­pa­ny, by see­ing so many nov­el­ties at the same time. The whole after­noon was tak­en to give us a pre­sen­ta­tion of set of var­i­ous lens­es
- Pri­mo 70
- Pana Speed T 1.4
- H‑Series
- Ultra Vista
- Pri­mo X
A new cam­era mod­el of the DXL M D2E 1.0 capa­ble to be manoeu­vred by wi-fi and from any mobile phone android or iphone to intro­duce LUT's, HD proxy files ready for the edit­ing suite, no need of transcod­ing, a cam­era ide­al for com­mer­cials and low budget.
About the lens­es a new series are about to arrive. The Pri­mo X lens­es. Total­ly water proof to be used on drones and gim­bals. All con­trols focus and iris all remote con­trolled. The lens­es have a dif­fer­ent con­fig­u­ra­tion made. A small win­dow on the side of the lens exists a dig­i­tal dis­play where focus dis­tances, Iris and the depth of field will be dis­played to check. Total­ly wire­less con­trolled.
A new series of lens­es for large for­mat was pre­sent­ed. The images screened were aston­ish­ing when dis­played on screen. Some footage shot on large for­mat size sen­sor and used with ultra-vista lens­es. The wide screen and the qual­i­ty of the image were impressive.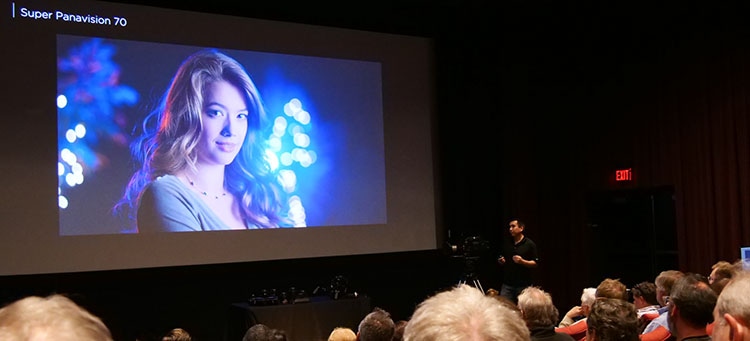 The new sys­tem for ND fil­ters were also intro­duced. ND's made from liq­uid crys­tal. Just by press­ing a knob the fil­ters dis­play on the fil­ter locat­ed in the mat­te box.
The audi­ence was left impressed by the end of the ses­sion. For some, it was an impres­sion of return­ing to the old good times of large for­mats and for oth­ers a new dis­cov­ery on the large screen and the mag­ic of lenses.
FOTOKEM
The third day end­ed at FOTOKEM Lab with a sev­er­al booths of dis­cus­sion. An HDR film pre­sen­ta­tion «MITHBUSTERS» in a detailed expla­na­tion of test­ing HDR in sev­er­al envi­ron­ments, plus a dis­cus­sion with cin­e­matog­ra­phers of the indie film «All Crea­tures Here Below» Bon­gani Mlam­bo and colourist Alas­tor Arnold. Both showed sev­er­al clips of the film and dis­cussed one by one with the audi­ence the chal­lenges they have encoun­tered. A third group got to get a con­ver­sion with Steve Yedlin cin­e­matog­ra­ph­er of «Star Wars. The Last Jedi». The fol­low up with dailies dur­ing pro­duc­tion was well referred in the pre­sen­ta­tion and the impor­tance of the colourist and the lab to fol­low dai­ly the pro­duc­tion.
The day end­ed with a very pleas­ant din­ner offered by the Lab.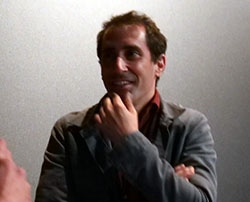 This is already a lengthy arti­cle but final­ly we reach the last day of the works. All ses­sions took place at «Home» it is the same to say that we didn't leave the ASC Club House for the day. A few inter­est­ing ses­sions took place start­ing with, CELEBRATING DIVERSITY ON THE CREWS. Where a group of pan­el­lists have tak­en the floor to remind us that there are out there many minori­ties in every coun­try who deserves an oppor­tu­ni­ty no mat­ter its colour, ori­gin or sex. We live in a world of diver­si­ty and that is the rich­ness of pro­fes­sion. Cul­ture diver­si­ty has a strong input in our sto­ries. Ron Johan­son ACS and IMAGO board mem­ber was part of it.
1 Film 3 Visions
Tony Cos­ta AIP IMAGO has been work­ing around a the­sis about cin­e­matog­ra­phy for a few years. Hav­ing in the back­ground the fun­da­men­tal issue of author­ship rights, the Portuguese/Canadian cin­e­matog­ra­ph­er has pro­duced a film for his PhD stud­ies to be pre­sent­ed and eval­u­at­ed for the aca­d­e­m­ic degree at the Luso­fona Uni­ver­si­ty in Lis­bon.
The essay named «1 film 3 visions» was co-pro­duced by Luso­fona Uni­ver­si­ty in Lis­bon and by HFF Munich Film School and was films in Munich last March.
The research study intends to find out if there are any per­cep­tion changes on the audi­ence depend­ing on the aes­thet­ics of the image. So, the film intends to dis­cov­er if the pho­to­graph­ic style applied to the film along with com­po­si­tion and move­ment can give a dif­fer­ent nar­ra­tive impres­sion to the audi­ence inde­pen­dent­ly of the mise-en-scene of the direc­tor. To be able to prove any of these, Tony Cos­ta assem­bled the idea of shoot­ing one script, with the same direc­tor, the same set, the same crew and the same actors three times, chang­ing only the cin­e­matog­ra­ph­er. So, the film was pro­duced in the HFF stu­dio in Munich with the pro­duc­tion of Katrin Richthofer dur­ing the Hands-on work­shops last March and the film was shot three times. Once by Axel Block BVK, Nina Badoux from the Nether­lands and Rober­to Schae­fer ASC. The three films were direct­ed by Ger­man direc­tor Ilse Hoffman.
A Vision of painter's – Colour Frame­work for the dig­i­tal image tex­ture.
A pre­sen­ta­tion by Rolf Coulanges (BVK) and Peter Post­ma (Film­Light) about the manip­u­la­tion of colour in post-pro­duc­tion. The essen­tial idea that Rolf cen­tres his thoughts about the study of colour is the fact that the stim­uli and per­cep­tion are fac­tors that influ­ence recep­tion of colour and tex­ture tones. The full arti­cle can be seen HERE.
On Safe­ty & Union issues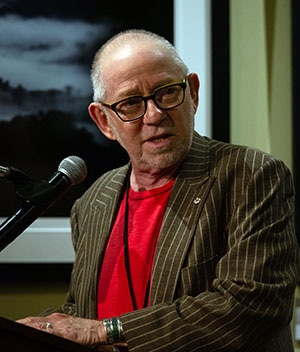 Steven Poster ASC pres­i­dent of Local 600 pre­sent­ed sev­er­al films relat­ed to safe­ty at work. Prob­lem­at­ic issues like long con­sec­u­tive days of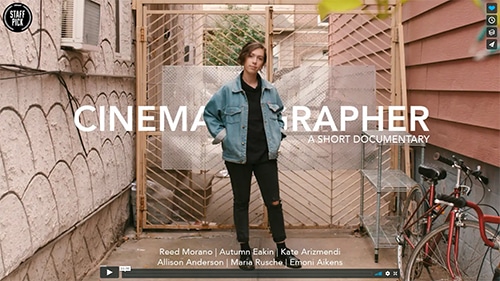 work, safe­ty, were strong sub­jects pre­sent­ed by Steven Poster. The film «If not now…when» grabs the audi­ence due the sen­si­tive sub­ject of long days.
Watch the video it speaks for itself. https://vimeo.com/220880990
Vis­it the web­site https://www.icg600.com/