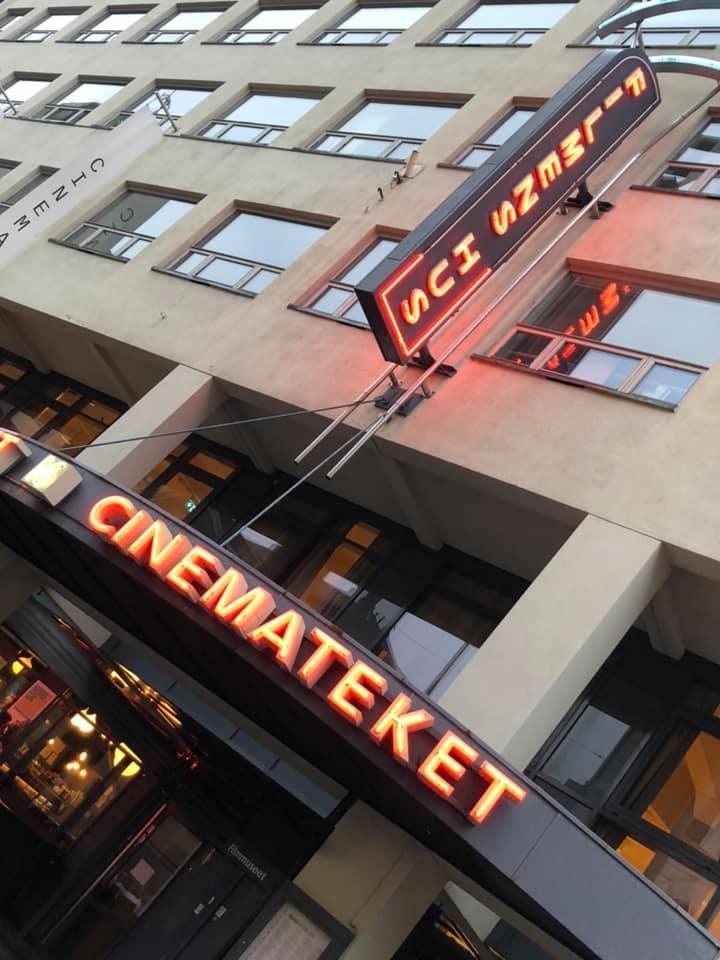 A good num­ber of us lucky souls spent the week­end between the 18th and 20th of Octo­ber at the Nor­we­gian Film Insti­tute in Oslo. The occa­sion was the sev­enth edi­tion of the Oslo Dig­i­tal Cin­e­ma Con­fer­ence (or sim­ply the ODCC) and spend­ing the week­end there kind of made you won­der if per­haps you'd died and gone to Cin­e­ma Heav­en… in a good way. Because we par­tic­i­pat­ed in non-stop fas­ci­nat­ing pre­sen­ta­tions, ate and drank well, watched motion pic­tures… and dur­ing the breaks we min­gled enjoy­ably with the like-mind­ed… and talked about movies!
ODCC front man and IMAGO Com­man­der-in-Chief Paul René
Roes­tad FNF dur­ing an inter­view. Pho­to by Paul Thom­sen DFF
As is the cus­tom, the ODCC is arranged by the Nor­we­gian soci­ety of cin­e­matog­ra­phers, FNF, in col­lab­o­ra­tion with IMAGO, the Nor­we­gian Film Insti­tute and Nordisk Film&TV Fond.
The pro­ceed­ings start­ed on Fri­day with IMAGO pres­i­dent Paul René Roes­tad FNF giv­ing every­one a hearty wel­come and declar­ing the con­fer­ence offi­cial­ly opened, and after that we were off on a non-stop cin­e­mat­ic adven­ture.
Rolf Coulanges BVK gave the first lec­ture on the pro­gram, catch­ing the audience's inter­est by explain­ing the
Rolf Coulanges BVK/IMAGO
con­cept of Tex­ture in Motion pic­tures. In an obvi­ous­ly extreme­ly well researched and pre­pared pre­sen­ta­tion Coulanges demon­strates to us how a change in Tex­ture can rad­i­cal­ly alter the impres­sion of an image. Colour, con­trast or sharp­ness have not been manip­u­lat­ed in the images he shows us, yet sim­ply a change in the dis­tri­b­u­tion of dig­i­tal infor­ma­tion in the images caus­es them to under­go a dra­mat­ic change, and the impres­sion on the view­er is rad­i­cal­ly dif­fer­ent. Rolf Coulanges also explains to us that the debay­er­ing process in itself intro­duces a change in tex­ture, which again puts the spot­light on how dif­fi­cult it can be for us as dig­i­tal cin­e­matog­ra­phers to have full con­trol over our images.
Next fol­lowed two pre­sen­ta­tions. The first on audio­vi­su­al author­ship, by Bjørn Brem who is the lawyer of the Nor­we­gian film union, and then Luc Bara from Pana­son­ic demon­strat­ed a fas­ci­nat­ing new sen­sor designed around a rev­o­lu­tion­ary glass-less vari­able ND-fil­ter, which Pana­son­ic aim to put in every cat­e­go­ry of cam­era they have in their line-up, from Lumix, which is on the bor­der between con­sumer and pro­fes­sion­al prod­ucts, to the high-end Vari­cam cameras.
Thorsten Mey­wald, Steve Calavi­tis, and David Levy, ARRI
The Sig­na­ture series of lens­es designed for large for­mat may well be the most tech­ni­cal­ly per­fect­ed lens­es yet pro­duced by ARRI, and Thorsten Mey­wald ‑Prod­uct Man­ag­er Opti­cal Sys­tems at ARRI- gave us all the rea­sons why. Among many excel­lent char­ac­ter­is­tics of these new lens­es are their almost nonex­is­tent breath­ing. One may not always think of it, but severe breath­ing can mean a micro­phone is sud­den­ly in the shot when you pull focus! The Sig­na­ture primes come with a rear mag­net­ic hold­er, which means you can play around end­less­ly with nets and lens­es eas­i­ly obtained from your local opti­cian can help you sim­u­late 100-year old lens­es, etc. Inspired by the suc­cess of the Sig­na­ture primes, ARRI Rental are now chang­ing all the mounts on all their cam­eras to LPL Mount!
For Jan­nicke Mikkelsen FNF the world is lit­er­al­ly the play­ing field.
The Sig­na­ture series is the first new set of lens­es from ARRI since the 2005 launch of the Mas­ter Primes, and Roger Deakins ASC BSC CBE recent­ly shot the upcom­ing fea­ture film "1917" with large for­mat ARRI lens­es, which is a nice vote of con­fi­dence for these lenses.
We now all embark on a much-need­ed cof­fee break ‑mean­ing more enjoy­able talk about movies of course- fol­lowed by two very inter­est­ing presentations.
Jan­nicke Mikkelsen FNF makes you won­der if she is per­haps secret­ly one of the Mar­vel super­heroes ‑Won­der Woman per­haps? Because at the 6th ODCC she demon­strat­ed how she had shot a 3D VR film of world famous super group Queen in con­cert ‑and now, in a pre­sen­ta­tion enti­tled "Set­ting 14 world records at 50,000 feet" Jan­nicke explains how she recent­ly cir­cum­nav­i­gat­ed the world in a jet plane, cross­ing both the north and the south pole! The dare­dev­ils in this plane indeed man­aged to set a num­ber of world records in terms of trav­el­ing cer­tain dis­tances faster than ever before, and all this is going to become a doc­u­men­tary film which promis­es to have all the ear­marks of tru­ly fas­ci­nat­ing viewing.
Kim Høgh is an accom­plished cin­e­matog­ra­ph­er who also teach­es at the Dan­ish Film School. In an inter­est­ing pre­sen­ta­tion called "Teach­ing cin­e­matog­ra­phy: news from the Danish
Jakob Ihre FSF. Pho­to by Poul Thom­sen DFF
Film School" he chron­i­cles the oppor­tu­ni­ties and pit­falls of this par­tic­u­lar aca­d­e­m­ic field.
Then it's time for a Mas­ter Class in which recent Emmy Award win­ner Jakob Ihre FSF recalls his expe­ri­ences in a con­ver­sa­tion with Rolv Håan, FNF. Those of us who have had the plea­sure of vis­it­ing pre­vi­ous edi­tions of the ODCC are well famil­iar with Rolv Håan's trade mark extreme­ly relaxed style as mod­er­a­tor, and there is some­thing about this that makes his inter­vie­wees notice­ably relax and open up, to the ben­e­fit and enlight­en­ment of the audi­ence.
The con­ver­sa­tion revolves very much ‑as it should- around the HBO minis­eries "Cher­nobyl", which chron­i­cles the events lead­ing up to the 1986 Cher­nobyl dis­as­ter, as well as its after­math.
Ihre elect­ed to shoot this project on a set of vin­tage Cooke Panchros ‑and not even rehoused ones, mind you. Ini­tial­ly Ihre thought "there's no way we're going to need sec­ond unit on this," but sure enough they wound up with mul­ti­ple crews shoot­ing in par­al­lell. It became a real chal­lenge to hunt down enough of these lens­es for the sev­er­al cam­eras that even­tu­al­ly became nec­es­sary.
One scene in "Cher­nobyl" is par­tic­u­lar­ly clev­er­ly shot ‑a steadicam oper­a­tor was asked to fol­low an actor "as bad­ly as pos­si­bly" ‑and pro­fes­sion­al pride obvi­ous­ly became some­what of an issue with the oper­a­tor there for a moment, until Jakob explained the fin­ished shot as he envi­sioned it. You see, the shot was after­wards sta­bi­lized in post ‑and the end result is a sta­ble shot of an actor walk­ing towards the cam­era ‑but with the whole room shak­ing behind him! Very clever.
A lot of the shots in "Cher­nobyl" were de-sharp­ened dur­ing post pro­duc­tion, "those old Panchros are actu­al­ly not that bad in terms of sharp­ness," Ihre mus­es. He is also acute­ly aware of the impor­tance of music and sound effects and how they can enhance the audience's expe­ri­ence of his images -"the sound and music can make my images look even bet­ter than they actu­al­ly are," he clar­i­fies.
The day was round­ed off with drinks and min­gling at the Nor­we­gian Film Insti­tute, fol­lowed by a won­der­ful din­ner at near­by Skansen restaurant.
The Dan­ish team out­side the Cin­e­mateket. Now you know why we ran out of beer on Fri­day already.
Left to right: Phil Oat­ley, Paul René Roes­tad, Leo de Wolf and Dave
Stump ASC on Skype from LA.
Sat­ur­day began very promis­ing­ly with a pan­el dis­cus­sion with Phil Oat­ley and Leo de Wolf from Net­flix mod­er­at­ed by David Stump ASC via Skype. For Phil and Leo it's a wel­come chance to 'set the record straight' on a num­ber of issues. "We're cre­at­ing shows," Phil explains, "we're not here to man­date or con­trol oth­er people's work".
On the sub­ject of aspect ratios, Phil and Leo clar­i­fy, "1,78 to 2:1 we'll allow with­out a con­ver­sa­tion ‑any­thing out­side of that we'll want to have a con­ver­sa­tion ‑is there gen­uine cre­ative mer­it to choos­ing that for­mat?" And their jus­ti­fi­ca­tion for want­i­ng that dis­cus­sion is pret­ty straight­for­ward, "if 2/3rds of the image are black bars and you're watch­ing this on an Iphone ‑how engaged with that show will the audi­ence be?" they offer.
From the audi­ence, Nigel Wal­ters BSC explained that British film work­ers are grate­ful for Net­flix' com­mit­ment to pro­duc­ing shows in the UK. "Last year you employed 25 000 film work­ers in the UK and kept 14 stages at Shep­per­ton Stu­dios con­tin­u­ous­ly busy," he offered.
Phil Oat­ley elab­o­rat­ed on the company's phi­los­o­phy, "Net­flix is glob­al," he said, "but we're basi­cal­ly a local brand ‑a Nor­we­gian show is cre­at­ed by and for the local mar­ket, but because our ser­vice is glob­al that same show has the poten­tial to bring joy to all of our mem­bers around the world".
Ersan Köylüoglu and Hideyu­ki Kasai from Fujinon
Hideyu­ki Kasai and Ersan Köylüoglu from Fuji­non then entered the stage, to enlight­en us on the mer­its of Fuji­non's large for­mat Premista zoom lens­es. Mr Kasai is sta­tioned in Ger­many and is Prod­uct Spe­cial­ist for Fuji­non. "There are 30 lens ele­ments in a Premista zoom," he informs us, "so that means 60 sur­faces have to be coat­ed with per­fect colour balance".
Left to right: Paul René Roes­tad, Fabi­an Wag­n­er ASC BSC and
Nigel Wal­ters BSC
After lunch we are treat­ed to a Mas­ter Class with Fabi­an Wag­n­er ASC BSC, who under the gen­tle guid­ance of mod­er­a­tor Nigel Wal­ters BSC informs us that he was dev­as­tat­ed when, in his youth, the Munich film school turned him down, but he soon after­wards real­ized the whole thing was a bless­ing in dis­guise. Born in Munich, Ger­many, Wag­n­er actu­al­ly wound up get­ting his cin­e­mat­ic edu­ca­tion in Den­mark, at the pres­ti­gious Dan­ish Film School no less, an expe­ri­ence he rel­ished. Wag­n­er has gone on to receive numer­ous awards includ­ing the ASC Award and the IMAGO Award for the HBO series "Game of Thrones".
He found the tran­si­tion to dig­i­tal a jar­ring expe­ri­ence, "right at the time when we had Vision 3 fan­tas­tic, per­fect film stock," he remem­bers, "and the cam­eras had become dead qui­et and tech­ni­cal­ly per­fect­ed, it was decid­ed that all that should be thrown away!"
"I love being on the set, I love the atmos­phere on set," he con­tin­ues, "it doesn't mat­ter what I shoot. And I love oper­at­ing the cam­era myself. I would hate to sit in a tent and tell every­one what to do." Nigel offers: "as an oper­a­tor, your face, your eye con­tact, is the first thing the actors see after the take ‑and they'll fre­quent­ly search your facial expres­sion for con­fir­ma­tion."
Wag­n­er, who came on to "Game of Thrones" in sea­son 4, is a mem­ber of two of the world's most pres­ti­gious cinematographer's soci­eties, the ASC and the BSC, although Wal­ters jokes: "there was a time when you became a mem­ber of the BSC, you nev­er worked again!"
Fabi­an admits he's a big fan of Tung­sten, "I'm not a fan of LEDs espe­cial­ly on faces, I don't use Sky­pan­els or any­thing. I came from a super-low-bud­get back­ground, we had 500 pounds to shoot some­thing, build­ing the sets our­selves." Over the years, he has found there are three kinds of direc­tors, "there are the ones who are not inter­est­ed in the images and leave you to do every­thing, there are those who want to do every­thing them­selves, and there are those who are cre­ative col­lab­o­ra­tors ‑and they're the ones I like to work for!"
Wag­n­er clos­es the Mas­ter­class with a very astute obser­va­tion, "cin­e­matog­ra­phy is a hob­by you get paid to do ‑and if you're lucky you get to trav­el the world as well!"
After a cof­fee break, it's then time for two pre­sen­ta­tions in a row: "Reflect­ed par­al­lel beam light­ing tech­niques" pre­sent­ed by Ian Mur­ray from Dedo­light and "Extend­ed data lens­es – open­ing up new dimen­sions", giv­en by Sun­deep Red­dy from Zeiss.
Lat­er that evening the fea­ture 3D film "Above us all" was shown. Direct­ed by Euge­nie Jansen, it was shot in 2011 and fea­tures Kom­mer Klein as Stere­o­g­ra­ph­er. The film is fas­ci­nat­ing and boasts excel­lent tech­ni­cal quality.
True to tra­di­tion, the Sat­ur­day pro­gramme is wrapped up by a won­der­ful par­ty at Sto­ry­line Stu­dios. Messieurs Kasai and Köylüoglu from Fuji­non have brought a cou­ple of Premista zoom lens­es and mount­ed them on cam­eras at Sto­ry­line, invit­ing guests to explore the zooms in a relaxed set­ting. Dehy­dra­tion or hunger are no threats at the par­ty either, as the
Ser­i­al entre­pre­neur Michael Kaare Petersen FSF in con­ver­sa­tion
with Dan­ish team leader and for­mer IMAGO pres­i­dent
Andreas Fis­ch­er Hansen DFF.
guests are treat­ed to all the beer, wine and piz­za they can handle!
Also true to tra­di­tion, the audi­ence strange­ly enough is some­what qui­et and rather reflec­tive dur­ing the ear­ly Sun­day pre­sen­ta­tions… One can't help but won­der­ing why.
Flo­ri­an Bloch from ARRI under the head­line "New pos­si­bil­i­ties with soft­ware con­trolled LED light­ing" show­cased the lat­est brain­child from ARRI light­ing: the Orbiter, an ultra-bright LED point source with exchange­able optics. This is an unbe­liev­ably sophis­ti­cat­ed light source, seem­ing­ly capa­ble of any­thing short of mak­ing cof­fee for the team. And it actu­al­ly has a "Par­ty Mode" as well! Hey, where was this light the night before? We could have used it at the Sto­ry­line shindig!
And the next pre­sen­ta­tion, "Cre­ative use of new cin­e­ma fil­ter sys­tems", giv­en by Bar­ry Grubb from Rosco, actu­al­ly ties in nice­ly with the ARRI Light­ing prod­uct line, as Rosco are open­ly unin­ter­est­ed in cre­at­ing light­ing fix­tures for illu­mi­nat­ing large areas. Or, as Bar­ry puts it: "ARRI for spaces and ROSCO for faces." Rosco focus­es on light­ing fix­tures for por­trait use, colour on set and cloth back­drops. "There is more colour used in movies today," Bar­ry notes, "and we're very excit­ed about this. Using colour can give your images more depth."
We are spoiled rot­ten by no less than three Mas­ter­class­es dur­ing this year's ODCC, and the final one fea­tures Philip Øgaard FNF and is very capa­bly mod­er­at­ed by Trond Tønder
Trond Tøn­der FNF and Philip Øgaard FNF
FNF who is also the Pres­i­dent of the FSF. The Mas­ter­class focus­es on Øgaard's recent work on the HBO series "Befor­eign­ers", which is a sci fi fan­ta­sy com­e­dy series, brought to us by the same peo­ple who cre­at­ed the equal­ly hilar­i­ous "Lille­ham­mer", which was a sto­ry of cul­tur­al clash­es, in this case between naïve rur­al Nor­we­gians and an Amer­i­can expa­tri­ate mafia hit­man! "Befor­eign­ers" con­tin­ues along those lines, chron­i­cling hilar­i­ous cul­tur­al clash­es between mod­ern soci­ety and time-trav­el­ing peo­ple of Norse ori­gin, i.e. Vikings, with their bar­bar­ian tastes and prac­tices! We are shown many clips from "Befor­eign­ers", accom­pa­nied by a con­ver­sa­tion that's illu­mi­nat­ing and high­ly enter­tain­ing.
Øgaard shares he doesn't like the steadicam even though he's tried it many times and he also admits he pret­ty much stopped using glass fil­ters in front of the lens when he start­ed shoot­ing dig­i­tal, because in the post­pro­duc­tion you can cre­ate any look you want. He has also grown fond of using the Angénieux short zooms, which he feels give him the flex­i­bil­i­ty of many focal lengths with­out the draw­back of large size and heaviness
After lunch liv­ing leg­end Kom­mer Klei­jn SBC revs up for his lec­ture on "Frame rates, move­ment and image sharp­ness". As Jan Olsen of the Nor­we­gian Film Insti­tute helps Mr Klein pre­pare his gad­gets for the pre­sen­ta­tion, Olsen jok­ing­ly calls him "a man of High fram­er­ates ‑and high main­te­nance" 🙂 I per­son­al­ly found this pre­sen­ta­tion very edu­ca­tion­al and will think twice the next time I set up a pan­ning shot as there are numer­ous issues to con­sid­er with fps, shut­ter angle, pan­ning speed, strob­ing, blur, etc.
Round­ing off the con­fer­ence were two brief speech­es. Kalle Mör­ck from Canon demon­strat­ed the fea­tures of the new Canon C500 MK II, which despite its 6K capac­i­ty is a modular
Kalle Mör­ck, Canon, with the new Canon C500 MK II
Lars Pet­ters­son FSF. Pho­to by Poul Thom­sen DFF
design, mean­ing the actu­al cam­era body is attrac­tive­ly small and light­weight! And Lars Pet­ters­son FSF gave the IMAGO Tech­ni­cal Com­mit­tee pre­sen­ta­tion "Requests to man­u­fac­tur­ers: a nec­es­sary step for­ward."
Paul René Roes­tad FNF then received well-deserved applause for a most mem­o­rable and skill­ful­ly exe­cut­ed conference.
Lars Pet­ters­son