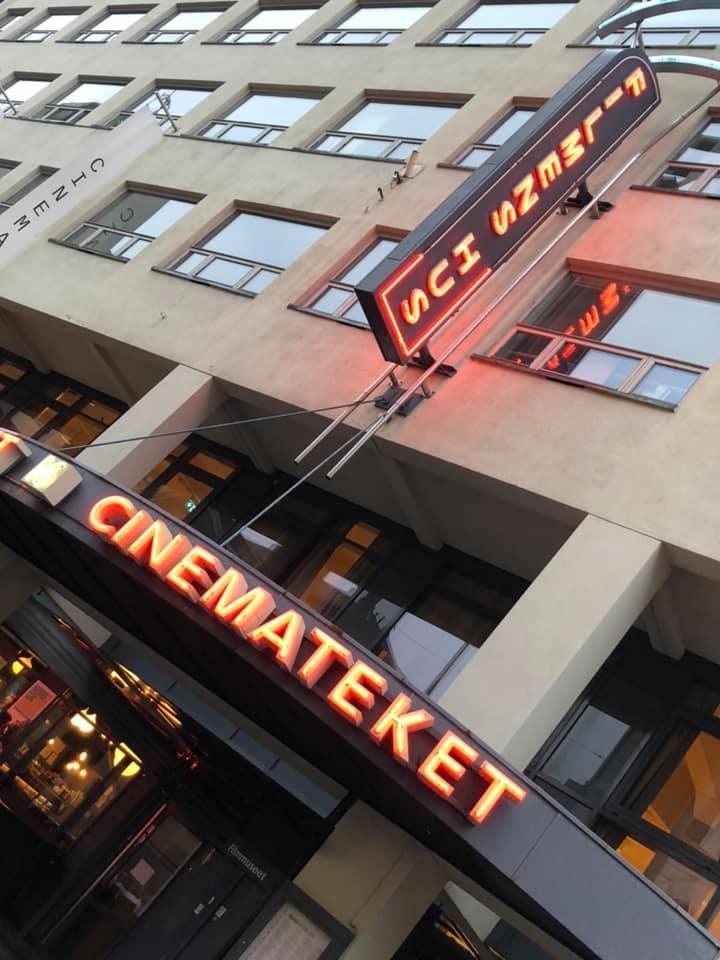 A good number of us lucky souls spent the weekend between the 18th and 20th of October at the Norwegian Film Institute in Oslo. The occasion was the seventh edition of the Oslo Digital Cinema Conference (or simply the ODCC) and spending the weekend there kind of made you wonder if perhaps you'd died and gone to Cinema Heaven… in a good way. Because we participated in non-stop fascinating presentations, ate and drank well, watched motion pictures… and during the breaks we mingled enjoyably with the like-minded… and talked about movies!
ODCC front man and IMAGO Commander-in-Chief Paul René
Roestad FNF during an interview. Photo by Paul Thomsen DFF
As is the custom, the ODCC is arranged by the Norwegian society of cinematographers, FNF, in collaboration with IMAGO, the Norwegian Film Institute and Nordisk Film&TV Fond.
The proceedings started on Friday with IMAGO president Paul René Roestad FNF giving everyone a hearty welcome and declaring the conference officially opened, and after that we were off on a non-stop cinematic adventure.
Rolf Coulanges BVK gave the first lecture on the program, catching the audience's interest by explaining the
Rolf Coulanges BVK/IMAGO
concept of Texture in Motion pictures. In an obviously extremely well researched and prepared presentation Coulanges demonstrates to us how a change in Texture can radically alter the impression of an image. Colour, contrast or sharpness have not been manipulated in the images he shows us, yet simply a change in the distribution of digital information in the images causes them to undergo a dramatic change, and the impression on the viewer is radically different. Rolf Coulanges also explains to us that the debayering process in itself introduces a change in texture, which again puts the spotlight on how difficult it can be for us as digital cinematographers to have full control over our images.
Next followed two presentations. The first on audiovisual authorship, by Bjørn Brem who is the lawyer of the Norwegian film union, and then Luc Bara from Panasonic demonstrated a fascinating new sensor designed around a revolutionary glass-less variable ND-filter, which Panasonic aim to put in every category of camera they have in their line-up, from Lumix, which is on the border between consumer and professional products, to the high-end Varicam cameras.
Thorsten Meywald, Steve Calavitis, and David Levy, ARRI
The Signature series of lenses designed for large format may well be the most technically perfected lenses yet produced by ARRI, and Thorsten Meywald -Product Manager Optical Systems at ARRI- gave us all the reasons why. Among many excellent characteristics of these new lenses are their almost nonexistent breathing. One may not always think of it, but severe breathing can mean a microphone is suddenly in the shot when you pull focus! The Signature primes come with a rear magnetic holder, which means you can play around endlessly with nets and lenses easily obtained from your local optician can help you simulate 100-year old lenses, etc. Inspired by the success of the Signature primes, ARRI Rental are now changing all the mounts on all their cameras to LPL Mount!
For Jannicke Mikkelsen FNF the world is literally the playing field.
The Signature series is the first new set of lenses from ARRI since the 2005 launch of the Master Primes, and Roger Deakins ASC BSC CBE recently shot the upcoming feature film "1917" with large format ARRI lenses, which is a nice vote of confidence for these lenses.
We now all embark on a much-needed coffee break -meaning more enjoyable talk about movies of course- followed by two very interesting presentations.
Jannicke Mikkelsen FNF makes you wonder if she is perhaps secretly one of the Marvel superheroes -Wonder Woman perhaps? Because at the 6th ODCC she demonstrated how she had shot a 3D VR film of world famous super group Queen in concert -and now, in a presentation entitled "Setting 14 world records at 50,000 feet" Jannicke explains how she recently circumnavigated the world in a jet plane, crossing both the north and the south pole! The daredevils in this plane indeed managed to set a number of world records in terms of traveling certain distances faster than ever before, and all this is going to become a documentary film which promises to have all the earmarks of truly fascinating viewing.
Kim Høgh is an accomplished cinematographer who also teaches at the Danish Film School. In an interesting presentation called "Teaching cinematography: news from the Danish
Jakob Ihre FSF. Photo by Poul Thomsen DFF
Film School" he chronicles the opportunities and pitfalls of this particular academic field.
Then it's time for a Master Class in which recent Emmy Award winner Jakob Ihre FSF recalls his experiences in a conversation with Rolv Håan, FNF. Those of us who have had the pleasure of visiting previous editions of the ODCC are well familiar with Rolv Håan's trade mark extremely relaxed style as moderator, and there is something about this that makes his interviewees noticeably relax and open up, to the benefit and enlightenment of the audience.
The conversation revolves very much -as it should- around the HBO miniseries "Chernobyl", which chronicles the events leading up to the 1986 Chernobyl disaster, as well as its aftermath.
Ihre elected to shoot this project on a set of vintage Cooke Panchros -and not even rehoused ones, mind you. Initially Ihre thought "there's no way we're going to need second unit on this," but sure enough they wound up with multiple crews shooting in parallell. It became a real challenge to hunt down enough of these lenses for the several cameras that eventually became necessary.
One scene in "Chernobyl" is particularly cleverly shot -a steadicam operator was asked to follow an actor "as badly as possibly" -and professional pride obviously became somewhat of an issue with the operator there for a moment, until Jakob explained the finished shot as he envisioned it. You see, the shot was afterwards stabilized in post -and the end result is a stable shot of an actor walking towards the camera -but with the whole room shaking behind him! Very clever.
A lot of the shots in "Chernobyl" were de-sharpened during post production, "those old Panchros are actually not that bad in terms of sharpness," Ihre muses. He is also acutely aware of the importance of music and sound effects and how they can enhance the audience's experience of his images -"the sound and music can make my images look even better than they actually are," he clarifies.
The day was rounded off with drinks and mingling at the Norwegian Film Institute, followed by a wonderful dinner at nearby Skansen restaurant.
The Danish team outside the Cinemateket. Now you know why we ran out of beer on Friday already.
Left to right: Phil Oatley, Paul René Roestad, Leo de Wolf and Dave
Stump ASC on Skype from LA.
Saturday began very promisingly with a panel discussion with Phil Oatley and Leo de Wolf from Netflix moderated by David Stump ASC via Skype. For Phil and Leo it's a welcome chance to 'set the record straight' on a number of issues. "We're creating shows," Phil explains, "we're not here to mandate or control other people's work".
On the subject of aspect ratios, Phil and Leo clarify, "1,78 to 2:1 we'll allow without a conversation -anything outside of that we'll want to have a conversation -is there genuine creative merit to choosing that format?" And their justification for wanting that discussion is pretty straightforward, "if 2/3rds of the image are black bars and you're watching this on an Iphone -how engaged with that show will the audience be?" they offer.
From the audience, Nigel Walters BSC explained that British film workers are grateful for Netflix' commitment to producing shows in the UK. "Last year you employed 25 000 film workers in the UK and kept 14 stages at Shepperton Studios continuously busy," he offered.
Phil Oatley elaborated on the company's philosophy, "Netflix is global," he said, "but we're basically a local brand -a Norwegian show is created by and for the local market, but because our service is global that same show has the potential to bring joy to all of our members around the world".
Ersan Köylüoglu and Hideyuki Kasai from Fujinon
Hideyuki Kasai and Ersan Köylüoglu from Fujinon then entered the stage, to enlighten us on the merits of Fujinon's large format Premista zoom lenses. Mr Kasai is stationed in Germany and is Product Specialist for Fujinon. "There are 30 lens elements in a Premista zoom," he informs us, "so that means 60 surfaces have to be coated with perfect colour balance".
Left to right: Paul René Roestad, Fabian Wagner ASC BSC and
Nigel Walters BSC
After lunch we are treated to a Master Class with Fabian Wagner ASC BSC, who under the gentle guidance of moderator Nigel Walters BSC informs us that he was devastated when, in his youth, the Munich film school turned him down, but he soon afterwards realized the whole thing was a blessing in disguise. Born in Munich, Germany, Wagner actually wound up getting his cinematic education in Denmark, at the prestigious Danish Film School no less, an experience he relished. Wagner has gone on to receive numerous awards including the ASC Award and the IMAGO Award for the HBO series "Game of Thrones".
He found the transition to digital a jarring experience, "right at the time when we had Vision 3 fantastic, perfect film stock," he remembers, "and the cameras had become dead quiet and technically perfected, it was decided that all that should be thrown away!"
"I love being on the set, I love the atmosphere on set," he continues, "it doesn't matter what I shoot. And I love operating the camera myself. I would hate to sit in a tent and tell everyone what to do." Nigel offers: "as an operator, your face, your eye contact, is the first thing the actors see after the take -and they'll frequently search your facial expression for confirmation."
Wagner, who came on to "Game of Thrones" in season 4, is a member of two of the world's most prestigious cinematographer's societies, the ASC and the BSC, although Walters jokes: "there was a time when you became a member of the BSC, you never worked again!"
Fabian admits he's a big fan of Tungsten, "I'm not a fan of LEDs especially on faces, I don't use Skypanels or anything. I came from a super-low-budget background, we had 500 pounds to shoot something, building the sets ourselves." Over the years, he has found there are three kinds of directors, "there are the ones who are not interested in the images and leave you to do everything, there are those who want to do everything themselves, and there are those who are creative collaborators -and they're the ones I like to work for!"
Wagner closes the Masterclass with a very astute observation, "cinematography is a hobby you get paid to do -and if you're lucky you get to travel the world as well!"
After a coffee break, it's then time for two presentations in a row: "Reflected parallel beam lighting techniques" presented by Ian Murray from Dedolight and "Extended data lenses – opening up new dimensions", given by Sundeep Reddy from Zeiss.
Later that evening the feature 3D film "Above us all" was shown. Directed by Eugenie Jansen, it was shot in 2011 and features Kommer Klein as Stereographer. The film is fascinating and boasts excellent technical quality.
True to tradition, the Saturday programme is wrapped up by a wonderful party at Storyline Studios. Messieurs Kasai and Köylüoglu from Fujinon have brought a couple of Premista zoom lenses and mounted them on cameras at Storyline, inviting guests to explore the zooms in a relaxed setting. Dehydration or hunger are no threats at the party either, as the
Serial entrepreneur Michael Kaare Petersen FSF in conversation
with Danish team leader and former IMAGO president
Andreas Fischer Hansen DFF.
guests are treated to all the beer, wine and pizza they can handle!
Also true to tradition, the audience strangely enough is somewhat quiet and rather reflective during the early Sunday presentations… One can't help but wondering why.
Florian Bloch from ARRI under the headline "New possibilities with software controlled LED lighting" showcased the latest brainchild from ARRI lighting: the Orbiter, an ultra-bright LED point source with exchangeable optics. This is an unbelievably sophisticated light source, seemingly capable of anything short of making coffee for the team. And it actually has a "Party Mode" as well! Hey, where was this light the night before? We could have used it at the Storyline shindig!
And the next presentation, "Creative use of new cinema filter systems", given by Barry Grubb from Rosco, actually ties in nicely with the ARRI Lighting product line, as Rosco are openly uninterested in creating lighting fixtures for illuminating large areas. Or, as Barry puts it: "ARRI for spaces and ROSCO for faces." Rosco focuses on lighting fixtures for portrait use, colour on set and cloth backdrops. "There is more colour used in movies today," Barry notes, "and we're very excited about this. Using colour can give your images more depth."
We are spoiled rotten by no less than three Masterclasses during this year's ODCC, and the final one features Philip Øgaard FNF and is very capably moderated by Trond Tønder
Trond Tønder FNF and Philip Øgaard FNF
FNF who is also the President of the FSF. The Masterclass focuses on Øgaard's recent work on the HBO series "Beforeigners", which is a sci fi fantasy comedy series, brought to us by the same people who created the equally hilarious "Lillehammer", which was a story of cultural clashes, in this case between naive rural Norwegians and an American expatriate mafia hitman! "Beforeigners" continues along those lines, chronicling hilarious cultural clashes between modern society and time-traveling people of Norse origin, i.e. Vikings, with their barbarian tastes and practices! We are shown many clips from "Beforeigners", accompanied by a conversation that's illuminating and highly entertaining.
Øgaard shares he doesn't like the steadicam even though he's tried it many times and he also admits he pretty much stopped using glass filters in front of the lens when he started shooting digital, because in the postproduction you can create any look you want. He has also grown fond of using the Angénieux short zooms, which he feels give him the flexibility of many focal lengths without the drawback of large size and heaviness
After lunch living legend Kommer Kleijn SBC revs up for his lecture on "Frame rates, movement and image sharpness". As Jan Olsen of the Norwegian Film Institute helps Mr Klein prepare his gadgets for the presentation, Olsen jokingly calls him "a man of High framerates -and high maintenance" 🙂 I personally found this presentation very educational and will think twice the next time I set up a panning shot as there are numerous issues to consider with fps, shutter angle, panning speed, strobing, blur, etc.
Rounding off the conference were two brief speeches. Kalle Mörck from Canon demonstrated the features of the new Canon C500 MK II, which despite its 6K capacity is a modular
Kalle Mörck, Canon, with the new Canon C500 MK II
Lars Pettersson FSF. Photo by Poul Thomsen DFF
design, meaning the actual camera body is attractively small and lightweight! And Lars Pettersson FSF gave the IMAGO Technical Committee presentation "Requests to manufacturers: a necessary step forward."
Paul René Roestad FNF then received well-deserved applause for a most memorable and skillfully executed conference.
Lars Pettersson