Fri­day 8th to Sat­ur­day 9th of April, after a regret­table two-year hia­tus, it was final­ly time again for the BSC Expo ‑the liveli­est and most epic of Euro­pean motion pic­ture busi­ness trade shows!
Tra­di­tion­al­ly, the BSC Expo is held late January/early Feb­ru­ary, which is strate­gi­cal­ly a good time of the year for an exhi­bi­tion since motion pic­ture shoots are nor­mal­ly few and far between in the win­ter season.
But, of course, noth­ing has been par­tic­u­lar­ly nor­mal dur­ing these last two years, and in fact this trip to Lon­don is actu­al­ly my first flight any­where in that time span. The last one in mid-March 2020, a short trip to Brus­sels, was a thor­ough­ly sur­re­al expe­ri­ence. Upon arrival I real­ized I had man­aged to pick the very same day that world wide pan­ic broke out over the Covid 19 Pan­dem­ic. The news broad­casts looked like some­thing out of a sci­ence fic­tion movie, most of the world went into a logis­ti­cal tail­spin, and with flights can­celed left and right I con­sid­ered myself real­ly lucky if I sim­ply man­aged to fly home again with­out hav­ing accom­plished much of anything.
But, hap­pi­ly, that was then, and this is now, and it's good to be back in Bat­tersea Park. The facil­i­ties here have been set up along the lines of the same form fac­tor as last time, with an extra tent in front of the main build­ing hous­ing wardrobe and recep­tion, as well as an addi­tion­al tent in the back serv­ing as turf for the excel­lent food market.
This year's edi­tion of the BSC Expo feels slight­ly toned down ‑in a good way! Out­side the Bat­tersea Park facil­i­ties there are no 16 wheel trucks, no Tech­nocranes and no heli­copters. Rather the first thing to catch your eye is a tent for tak­ing Covid tests.
Safe­ty mea­sures to stave off Covid-19 health issues are quite ambi­tious here at the Expo. Every­one is required to pro­duce a recent­ly tak­en neg­a­tive Covid anti-gene test, face masks are manda­to­ry and all aisles have been widened so as to avoid crowd­ing. Actu­al­ly, the fact that the exhi­bi­tion isn't all that crowd­ed feels like bit of a bless­ing when one remem­bers the com­bi­na­tion-sar­dine-can-and-sauna-like atmos­phere of the 2019 Expo, and this time around one can stroll down the aisles at leisure.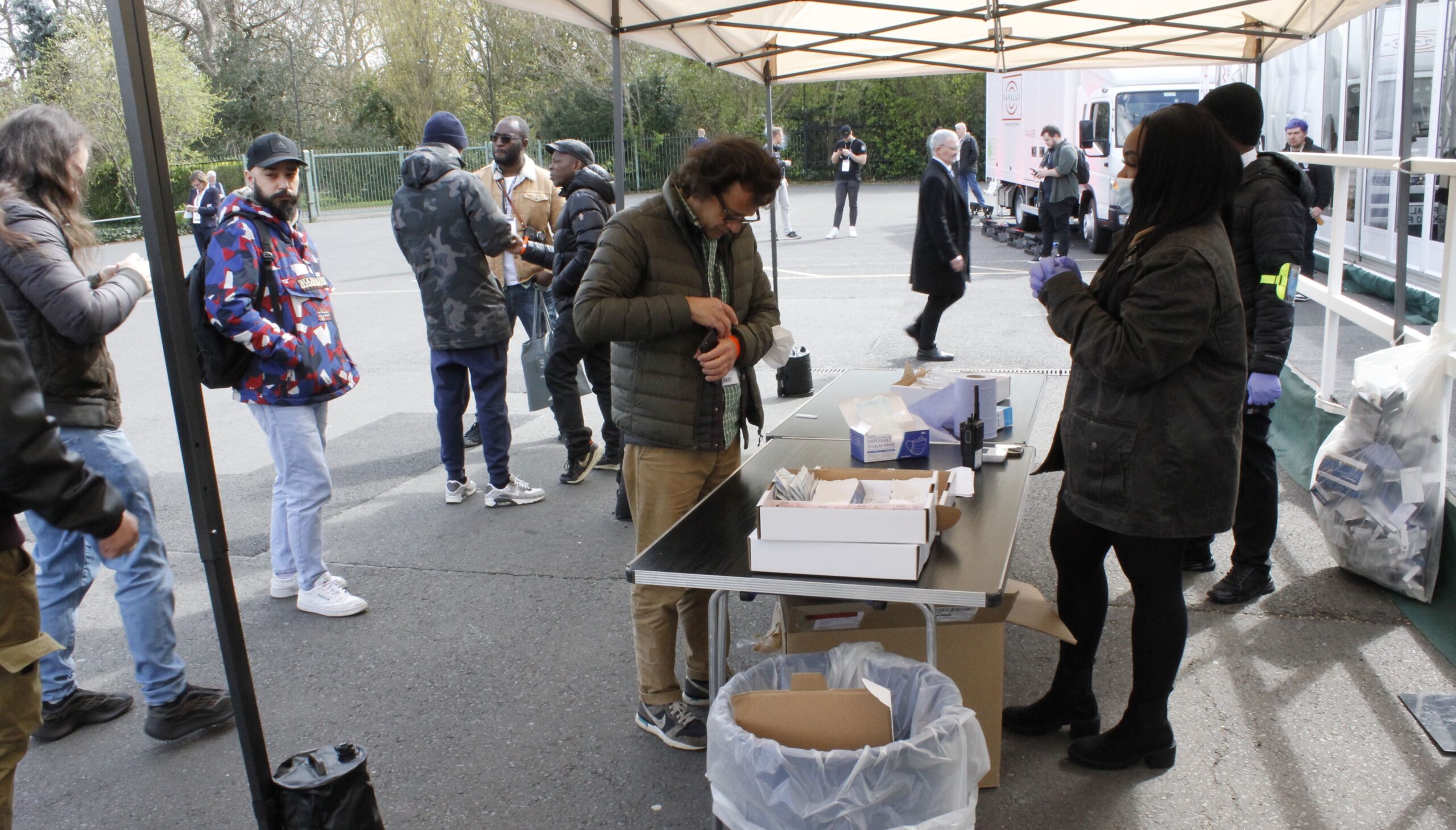 Safe­ty First! Vis­i­tors are Covid-test­ed before they're allowed to enter the exhi­bi­tion.
Some would dis­agree of course, but I think it can be said right away that there aren't real­ly any mas­sive­ly game-chang­ing new prod­ucts on dis­play at this year's Expo. But the gen­er­al impres­sion is, every­one is so relieved to final­ly be able to meet and social­ize in a real world envi­ron­ment, that the lack of real­ly head-turn­ing new prod­ucts on dis­play doesn't both­er any­one. In fact, the sub­ject pops up time and again when chat­ting with peo­ple here how thor­ough­ly tired they are of Zoom meet­ings and com­mu­ni­cat­ing with their fel­low human beings through key­boards and com­put­er screens.
Anoth­er thing I notice, with some sad­ness, is there seems to be a bit of a chang­ing of the guards at the Expo. Some famil­iar faces among the vet­er­ans who you could always count on see­ing here are clear­ly absent. Mak­ing inquiries I find out they're alive and well, but get­ting on a bit in years and have there­fore decid­ed to take a rain check this time.
How­ev­er, some­one who has been around for a while and can be found at the Expo is Jeff Lawrence in the Ron­ford-Bak­er booth, as reli­able and cheer­ful as his cam­era sup­ports are stur­dy. In fact, among expe­ri­enced vis­i­tors, the booth is often used as a ren­dezvous point; "let's meet in half an hour in the Ron­ford-Bak­er booth".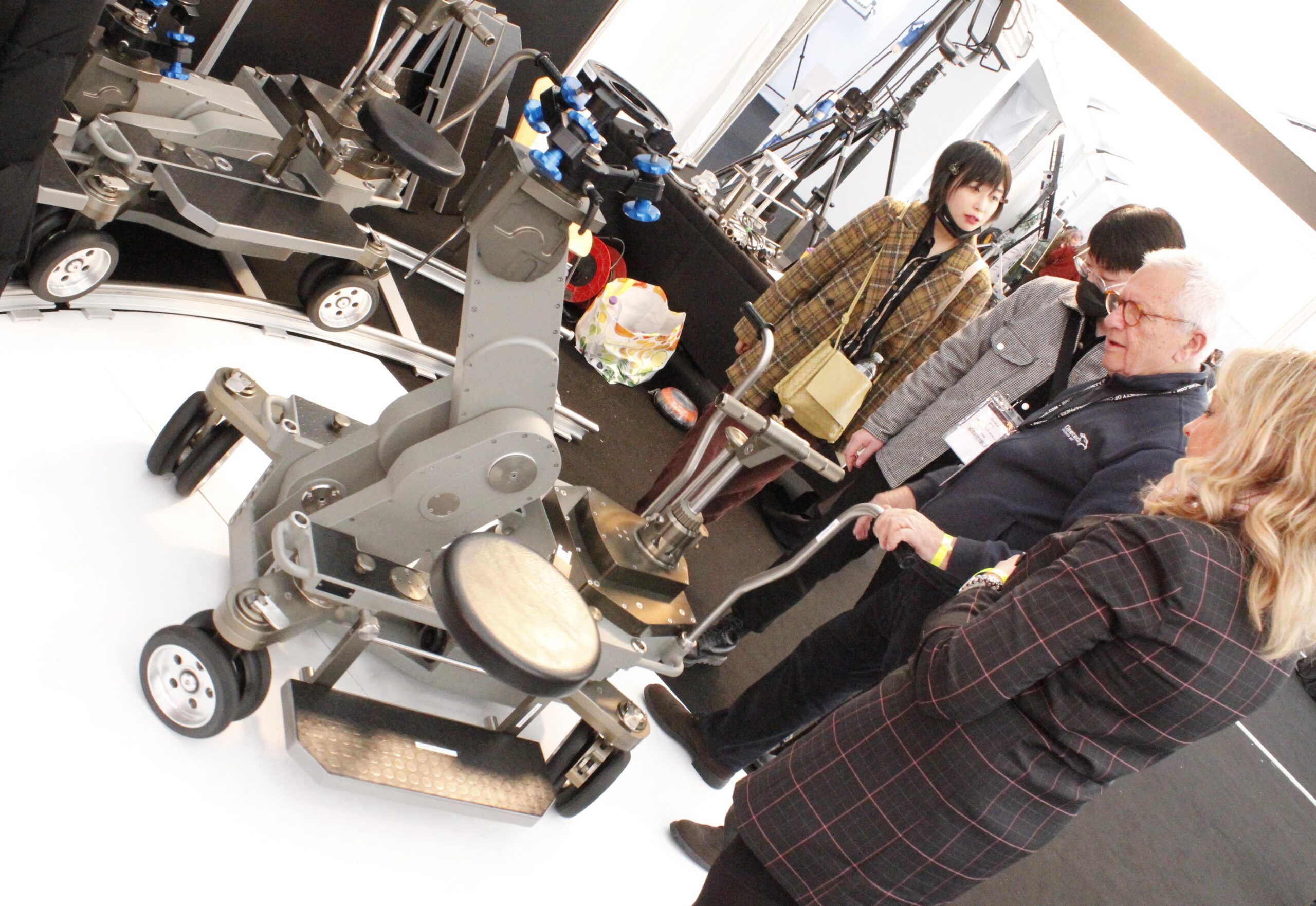 Ital­ian com­pa­ny Cinetech demon­strates a very inter­est­ing dol­ly, the Super Fal­con II, which hap­pi­ly spins around in circles!
There has been some buzz going around that ARRI were going to release a new cam­era at the Expo, so I head right away to the ARRI booth to see for myself, but find it loaded with Orbiter lamps fit­ted out with an assort­ment of new acces­sories. The most inter­est­ing ones I found to be the "bag-of-light", an inflat­able two metres long soft box of light which attach­es to the 15° open face optic of the Orbiter. This is the ide­al tool for close quar­ters where you want soft wrap­around light.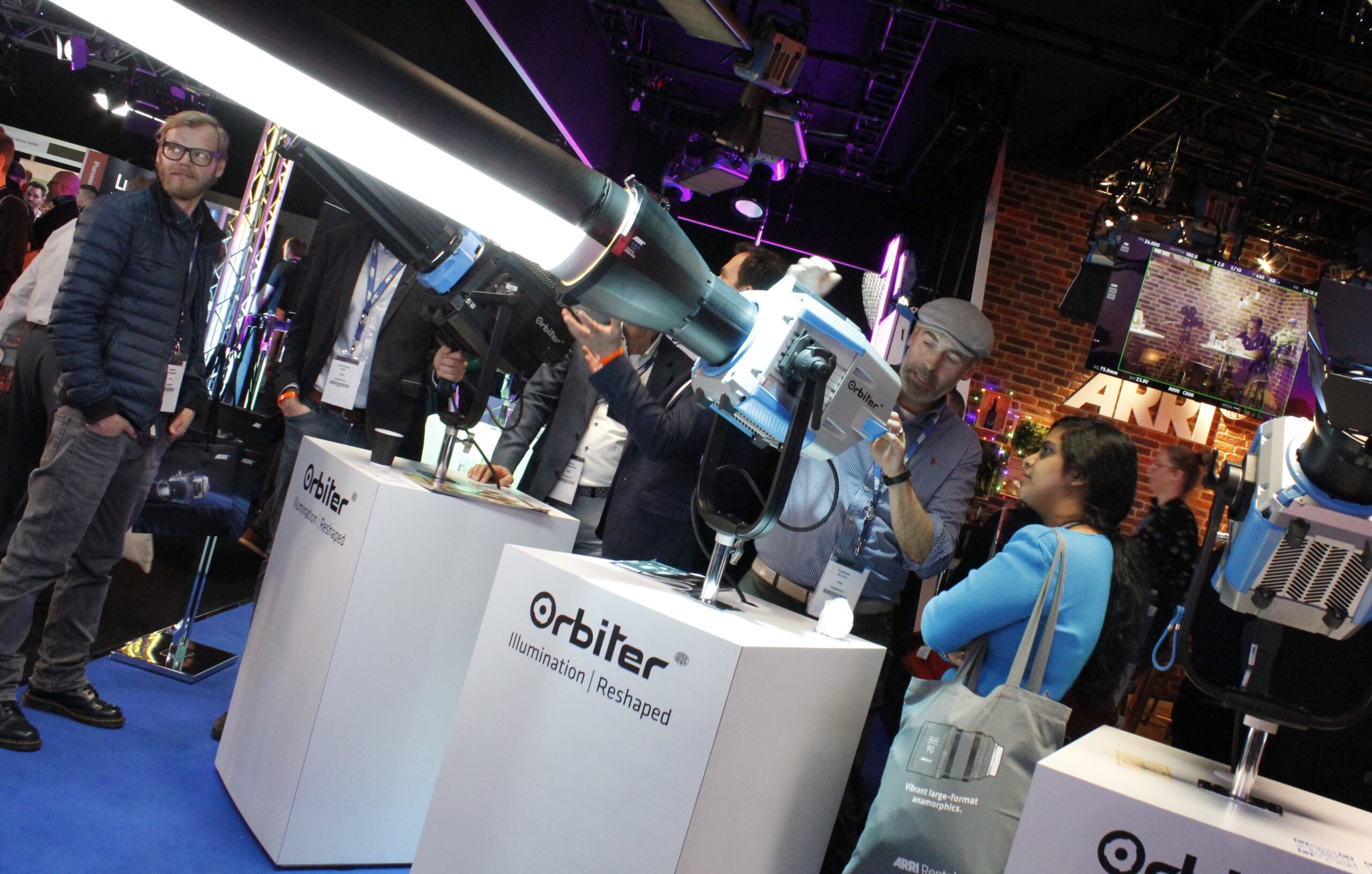 The Orbiter Bag-of-Light attract­ed a big crowd in the ARRI booth.
Arri also show­case here a pro­jec­tion lens sys­tem for the Orbiter, allow­ing you to, for instance, give the impres­sion of light through Venet­ian blinds or pro­ject­ing oth­er pat­terns on a wall. There are also sev­er­al large soft box­es that can be fit­ted to the Orbiter.
I try to make inquiries about the new cam­era but the ARRI rep­re­sen­ta­tives are ret­i­cent to give any details, their lips are clear­ly sealed on this sub­ject. There def­i­nite­ly is a new cam­era in the works, but when it will be released has yet to be confirmed.
Besides ARRI, sev­er­al man­u­fac­tur­ers at the Expo offer inter­est­ing new LED fix­tures pro­duc­ing hard direc­tion­al light. Up until now LED fix­tures have tra­di­tion­al­ly been soft light sources, so this is a much appre­ci­at­ed addi­tion to the cinematographer's tool kit, so to speak.
Of course, one of the key fea­tures of LED lights which cin­e­matog­ra­phers have wel­comed with open arms is the abil­i­ty to dial in very exact colour tem­per­a­tures on the lamps direct­ly, down to a pre­ci­sion you could not hope to attain through the tra­di­tion­al method of adding coloured gels to the lamps.
Con­tin­u­ing on the sub­ject of cam­era sup­port, Swedish com­pa­ny Easyrig offer a nice addi­tion to their port­fo­lio: The Sta­bil Light, and their rep­re­sen­ta­tive Pon­tus Jon­s­son demon­strates it to me. It's an acces­so­ry to the Min­i­max Pow­er Pack which sup­ports cam­eras between two and sev­en kilos and it's aimed at shoot­ers using a gim­bal. But the biggest advan­tage to this par­tic­u­lar Easyrig is that you can col­lapse it in sec­onds ‑with­out tools- to a size small enough to pass as car­ry on lug­gage on an air­plane! I can see this one becom­ing very pop­u­lar with shoot­ers out there!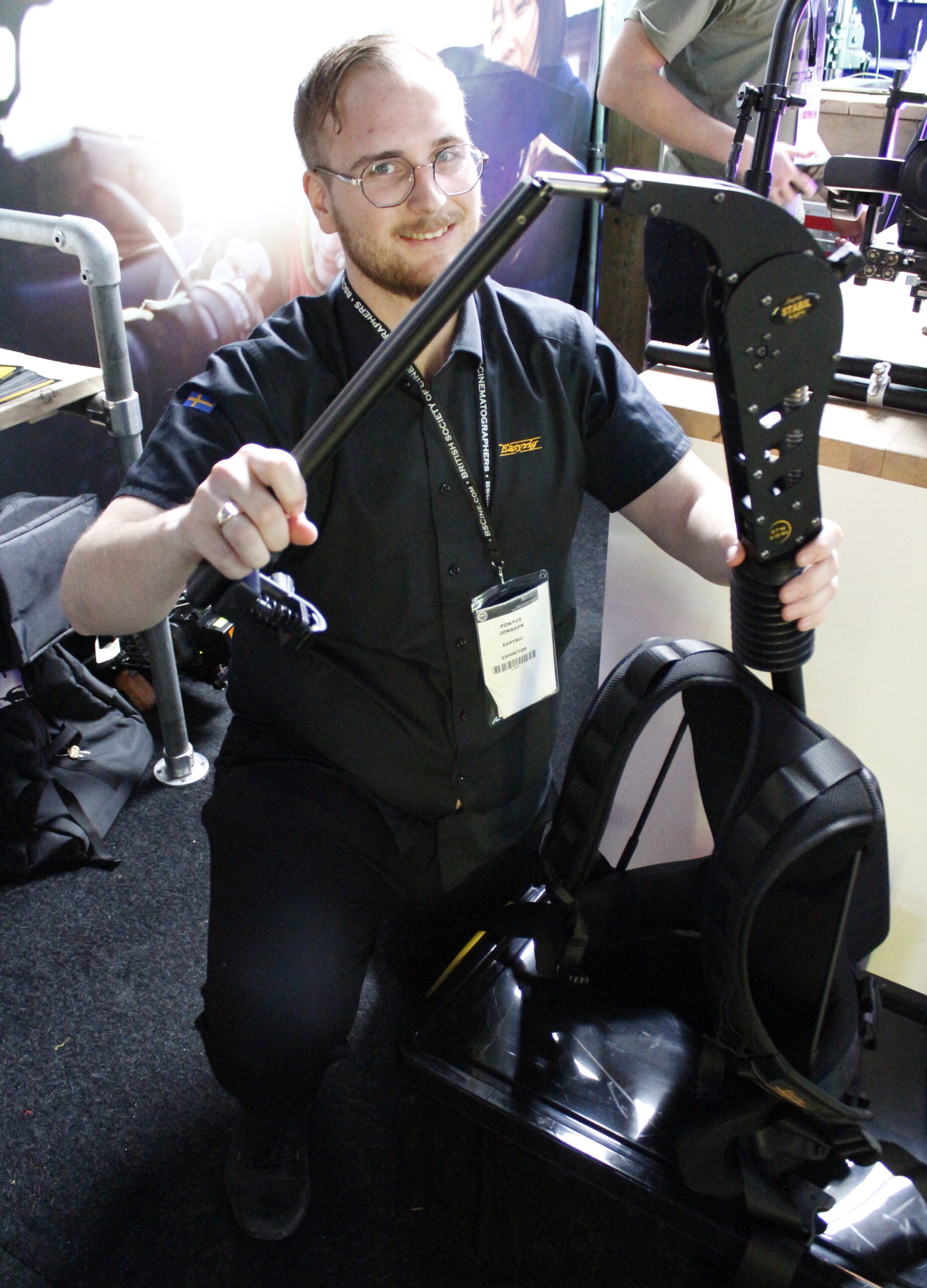 Pon­tus Jon­s­son from Easyrig demon­strates how the Sta­bil Light can be turned into air­plane car­ry-on lug­gage in sec­onds.
A real­ly inter­est­ing side effect to this year's Expo being held in April, is the fact that we are clos­er to spring than to win­ter, and this gives us an extra perk, as the weath­er is beau­ti­ful and you can pop out­side for a while to bask in the warm spring sun­shine. A lot of us vis­i­tors cap­i­tal­ize on this advantage.
Back in the exhi­bi­tion again, the com­pa­ny Focus24 demon­strate a real­ly inter­est­ing hel­met cam­era in their booth. It's a hel­met point-of-view rig, and it's con­struct­ed in a way sim­i­lar to a Teleprompter, so that both the cam­era and the oper­a­tor are look­ing through a two-way mir­ror, ensur­ing that both have exact­ly the same view. There are obvi­ous advan­tages to this com­pared to tra­di­tion­al hel­met cam­eras. In the case of a cam­era mount­ed on top of a hel­met, the actor has to look at the cam­era and has no eye con­tact with the oper­a­tor and sim­i­lar prob­lems arise with oth­er hel­met-mount­ed cam­era con­fig­u­ra­tions. But with this rig what you see is tru­ly what you get as an oper­a­tor. Judg­ing by the way vis­i­tors flock around the Focus24 booth, this new hel­met cam­era clear­ly attracts a lot of atten­tion here, and can tru­ly be said to be a bit of a game chang­er in this spe­cial niche of cinematography.
Impres­sive hel­met cam­era from Focus24.
Some of the finest Motion pic­ture pro­fes­sion­als in the world ‑and indeed any movie buff will tell you some of the best films in cin­e­ma his­to­ry! ‑all come from Italy. And since the BSC Expo is an inter­na­tion­al event, here to rep­re­sent the Ital­ian film indus­try is Fabio De Sisti and his staff from De Sisti Light­ing. Two years ago Fabio told us about a new range of LED based lights, appe­tiz­ing­ly named "Mus­es of Light", they were devel­op­ing in col­lab­o­ra­tion with leg­endary Ital­ian DoP Vit­to­rio Storaro AIC ASC. At that point the lights were not yet fin­ished prod­ucts ready to be shipped, but at this year's Expo they are indeed a reality!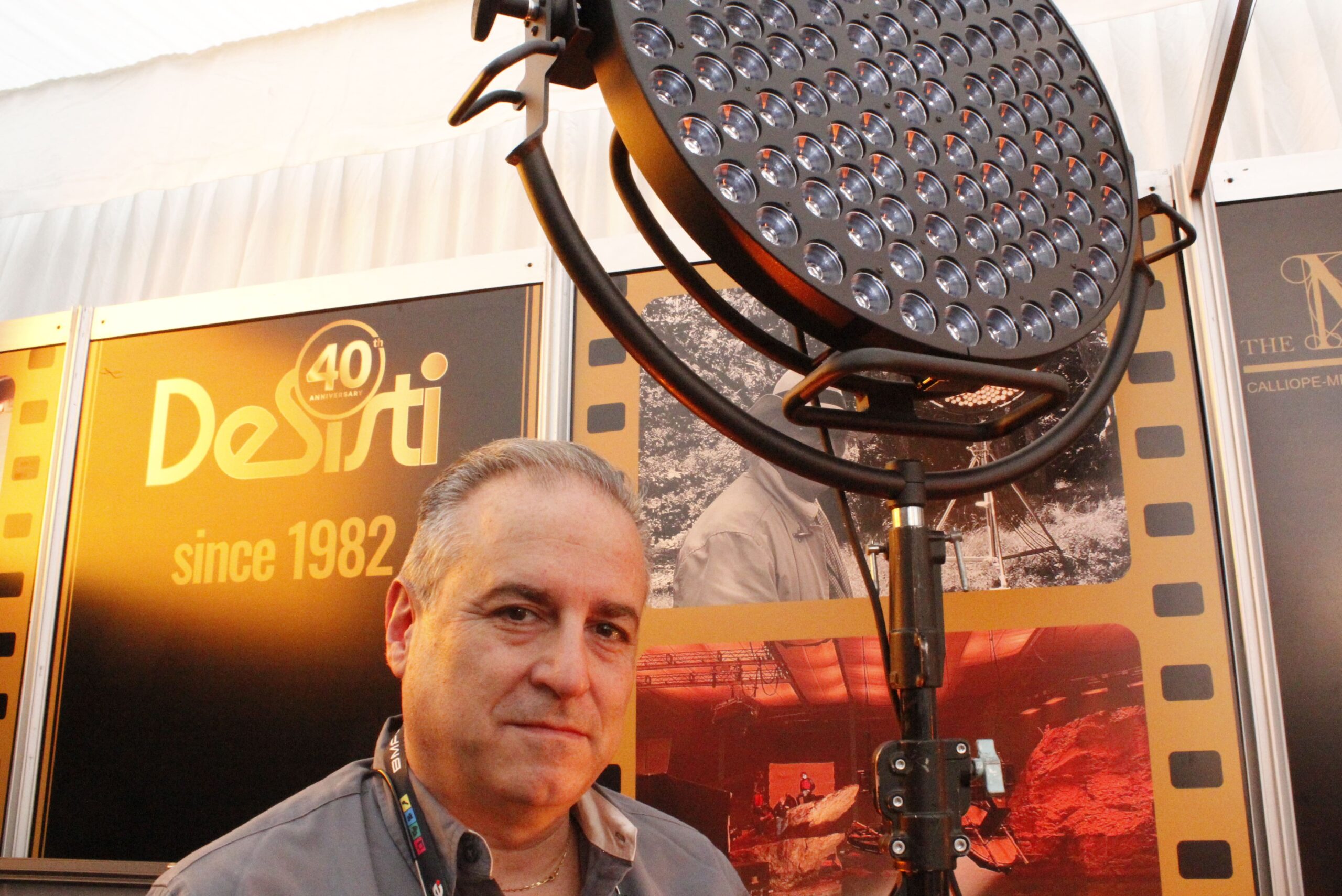 Fabio De Sisti with the Aurea Small from the "Mus­es of Light" prod­uct line.
The "Mus­es of Light" are intend­ed as a viable alter­na­tive to HMI lights for on-loca­tion motion pic­ture pro­duc­tion. They all come in var­i­ous geo­met­ri­cal shapes and each one of them is named after a clas­si­cal muse ‑what's not to like about that!
At the 2019 Expo there were quite a few tra­di­tion­al 35mm film cam­eras placed through­out the exhi­bi­tion, but this time around I spot­ted only one, an ARRI 435 Extreme tucked away in the cor­ner of a booth. Chat­ting with the rep­re­sen­ta­tive next to the 435 I remarked there were so few ana­logue cam­eras around and he informed me "they're all out on pro­duc­tions". Com­fort­ing words to an old film buff.
The notion of a lot of pro­duc­tions actu­al­ly shoot­ing film out there prompts me to check on how Kodak and Cinelab are doing. First stop is Sam Clarke in the Kodak Booth, and the fact that the booth is real­ly big this year is a good sign! "Things are real­ly buoy­ant at the moment", Sam Clarke informs us, "lots of 16 and 35 mm shoots in fash­ion, com­mer­cials and TV. The pan­dem­ic was a tough peri­od for every­one but we came through and busi­ness is good now".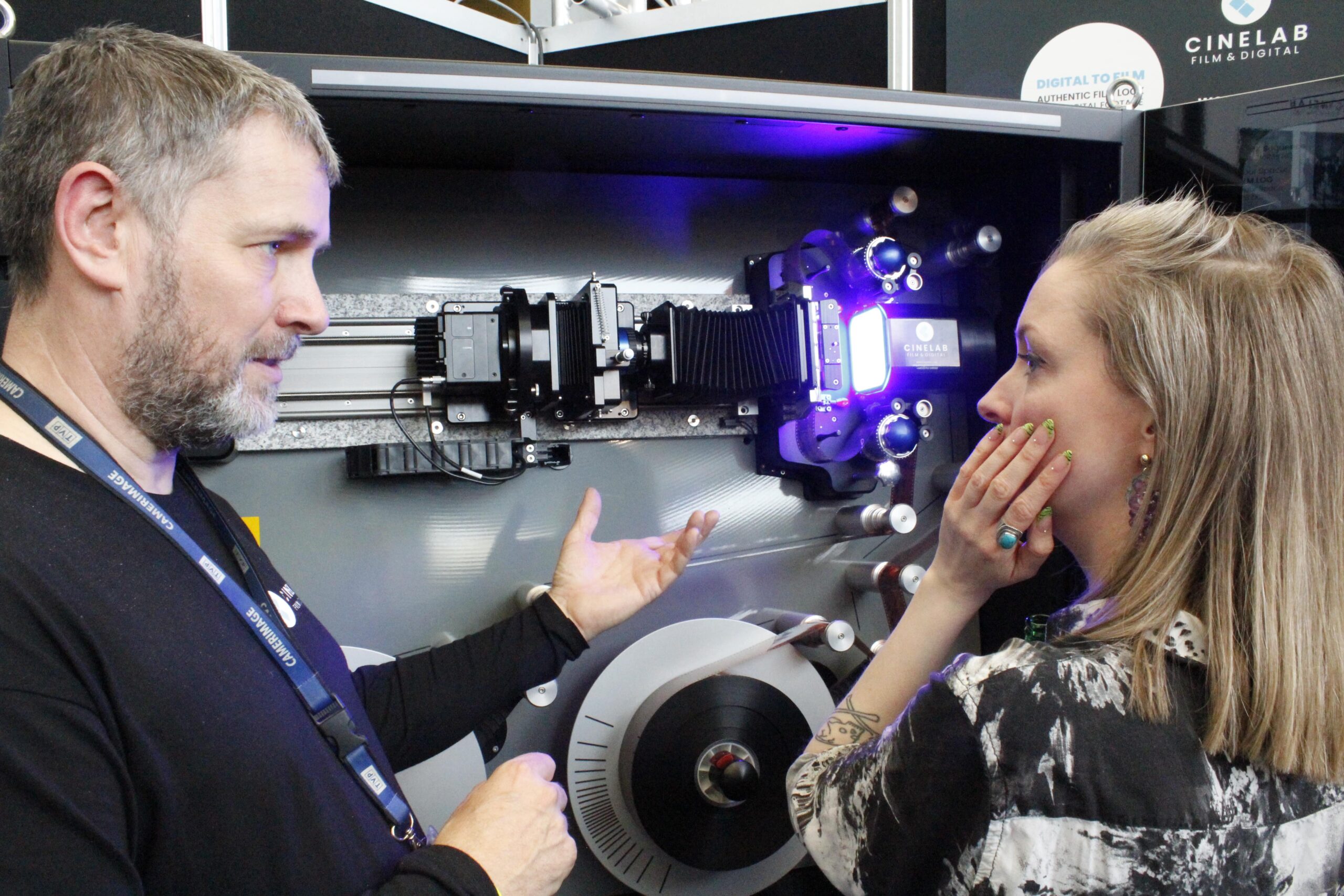 Adri­an Bull demon­strates the OXS­can 65mm scan­ner in the Cinelab booth.
I men­tioned ear­li­er that there aren't real­ly that many game-chang­ing prod­ucts on dis­play at this year's Expo, but with a max­i­mum scan­ning capac­i­ty of a whop­ping 28K(!) per frame, the OXS­can 65mm scan­ner in the Cinelab booth must rate as a head-turn­ing new product.
Cinelab CEO Adri­an Bull is clear­ly real­ly pleased to be able to demon­strate this new scan­ner. "We have been pro­cess­ing 65 mm film since 2016", he explains. "The first one was "Mur­der on the ori­ent express" direct­ed by Ken­neth Branagh and the most recent one was "No Time to die", the lat­est James Bond film, on which they shot 300,000 feet of 65 mm film.
One of the chal­lenges we've had in Europe when deal­ing with 65 mm film is that we haven't had a prop­er scan­ning facil­i­ty here so all the fea­tures that have been shot on 65 mm film over here in the last five or six years have all had to send the footage to Los Ange­les for final scan­ning. But now with the OXS­can 65mm scan­ner we have this capa­bil­i­ty. This is a scan­ner made by DFT Gmbh renowned for mak­ing the Spir­it scan­ners through the 90s and 2000s, and it real­ly is the pin­na­cle in 65 mm scan­ning right now. It has a max­i­mum scan­ning capac­i­ty of 28K per frame in IMAX.
On a stan­dard five perf Todd AO-frame we're talk­ing 12K. We're scan­ning about 100 mil­lion pix­els per frame(!). It's a sig­nif­i­cant jump up from 4K. Small­er for­mats real­ly strug­gle to keep up with 65 mm".
The idea behind the OXS­can is for clients to be able to scan the mate­r­i­al once, at the high­est res­o­lu­tion pos­si­ble, while simul­ta­ne­ous­ly receiv­ing mul­ti­ple sec­ondary out­puts (HD, 2K, 4K etc) for easy access and monetization.
"Dur­ing the pan­dem­ic we had peri­ods when long for­mat projects we're not shoot­ing at all", Adri­an con­tin­ues, "but in spite of that our pro­cess­ing vol­umes remained pret­ty much lev­el, and now once the lock­down was fin­ished every­one came back with a vengeance! Our last quar­ter in 2021 was the busiest we've had bar none in the nine years that Cinelab has been oper­at­ing. It's a clear indi­ca­tor film is going to be around for a long time, and we're real­ly pleased to have a lot of Scan­di­na­vian cin­e­matog­ra­phers shoot­ing on film", Adri­an smiles.
"One inter­est­ing thing that has become pop­u­lar", he adds, "and we do a lot of on our low bud­get projects where they could­n't afford to shoot on film but they still want the look, is we take the dig­i­tal footage and shoot it out as 4 super-16 frames with­in a sin­gle super 35 mm frame. We then process and scan the 35 mm film and you end up with footage that looks real­ly close to hav­ing been shot on film to begin with. The fact that we can fit four frames with­in one frame of 35 makes it an inex­pen­sive option for these filmmakers".
The clock strikes five and that's when the BSC Expo wraps on Sat­ur­day. A fever­ish activ­i­ty breaks out all around us as a sur­re­al­is­tic spec­ta­cle of men, women and even teenagers unfolds, tear­ing down the exhi­bi­tion at break-neck speed. I am grate­ful to be able to sim­ply walk past the huge car­a­van of trucks wait­ing out­side, real­iz­ing that many gru­el­ing hours of work await those who have to vacate the mas­sive Bat­tersea Evo­lu­tion build­ing before the 2022 BSC Expo is tru­ly a defin­i­tive wrap.
Lars Pet­ters­son FSF