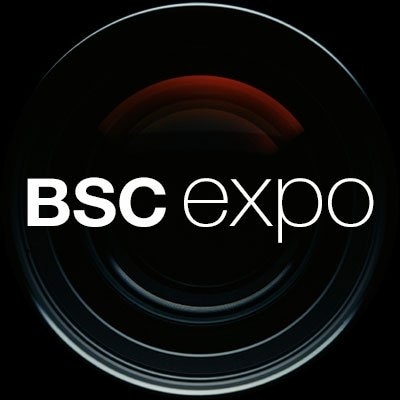 Jan­u­ary 31st to Feb­ru­ary 1st it was once again time for ‑if not the biggest- then cer­tain­ly the most spec­tac­u­lar of Euro­pean year­ly motion pic­ture busi­ness trade shows. We are of course refer­ring to the 2020 edi­tion of the BSC Expo. The show was actu­al­ly inau­gu­rat­ed in the after­noon on Thurs­day 30th, but that was a spe­cial "by invi­ta­tion only" event. From what I gath­ered from those who were there, though, it was a very relaxed and enjoy­able evening, enabling par­tic­i­pants an overview of the exhi­bi­tion under less crowd­ed circumstances.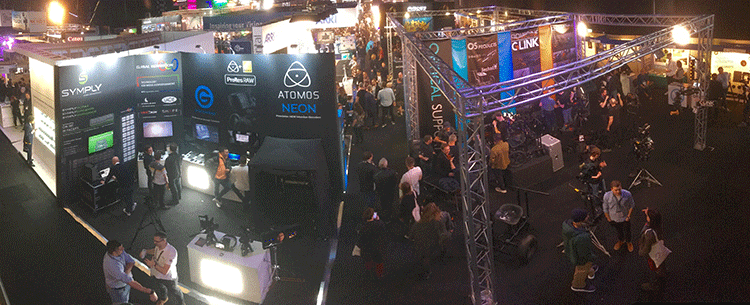 So, in oth­er words, Fri­day the 31st was the first offi­cial day of the Expo ‑and by coin­ci­dence also the very last day which the U.K. was a part of the Euro­pean Union.
After 47 years, the last three and a half of which have been marked by end­less con­vul­sive debate and divi­sion, the U.K. casts off from the Euro­pean Union. It's impos­si­ble to move around Lon­don this Fri­day with­out notic­ing the effects of the Brex­it. Enthu­si­as­tic Brex­i­teers dressed up almost as for a car­ni­val, head­ing for the evenings cel­e­bra­tions, can be spot­ted on the side­walks. Remain­ers, dread­ing what lies ahead, will strike up a spon­ta­neous con­ver­sa­tion with you while rid­ing a sub­way car, voic­ing their con­cern. The Brex­it also casts a shad­ow over the BSC Expo, as the sub­ject seeps into almost every con­ver­sa­tion you have with vis­i­tors and exhibitors alike.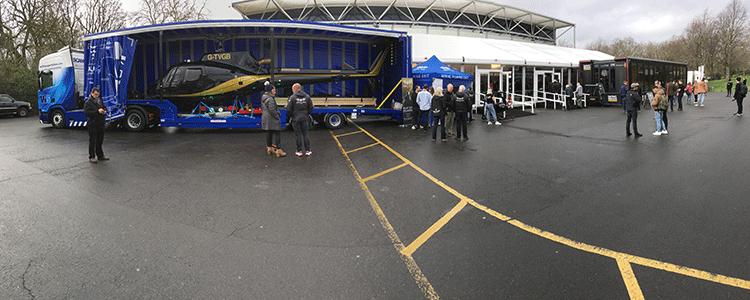 And even though the Expo is locked in to the Bat­tersea Evo­lu­tion facil­i­ty since a few years back, it nev­er­the­less some­how man­ages to grow in size from one year to the next. Last year a huge tent was erect­ed in front of the actu­al Bat­tersea Evo­lu­tion build­ing, to house the wardrobe and reg­is­tra­tion activ­i­ty, and the tent is in place this time around as well, but this year, the exhi­bi­tion actu­al­ly starts already out­side the Bat­tersea Park build­ing. The entrance is flanked on the one side by a mas­sive 16-wheel­er rig with a full-size heli­copter in the back, belong­ing to The Aer­i­al Film Com­pa­ny, and on the oth­er side by what looks like an over­sized rail­way car fea­tur­ing "Black Magic's Euro­pean Tour"!
And the arrangers have inge­nious­ly erect­ed yet anoth­er mas­sive tent behind the build­ing, fea­tur­ing a boun­ti­ful food mar­ket cater­ing to every palate, and thus free­ing up even more space for the exhi­bi­tion itself in the main building.
As usu­al the com­bi­na­tion of a brim­ming exhi­bi­tion and fas­ci­nat­ing events such as The BSC sem­i­nars "Get­ting Start­ed", offer­ing advice to begin­ning cin­e­matog­ra­phers, and the self-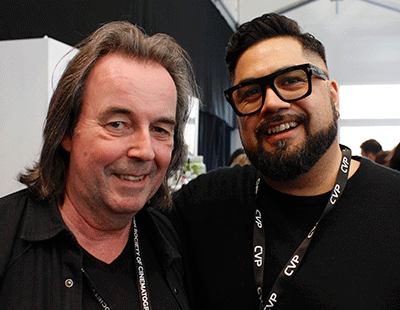 Pelle Mel­lqvist, who runs the Scan­di­na­vian-based
rental house
Cam­er­at­en, is seen here with CVP rep­re­sen­ta­tive Aaron
"Bad Boy" George who almost
broke the Mez­za­nine floor last
time around!
explana­to­ry "Shoot­ing Bond ‑The Mul­ti­ple Units of Casi­no Royale" com­bine to make an over­whelm­ing impression.
Same as last year, audio­vi­su­al retail­ers VPC occu­py the Mez­za­nine floor, only this time around they haven't placed the free-for-all bar in the mid­dle of it! Those who were here last year may remem­ber that the VPC bar became so pop­u­lar and crowd­ed, that the Mez­za­nine actu­al­ly bowed and swayed in a rather dis­con­cert­ing way due to the mas­sive amount of hap­py campers in the bar! For­tu­nate­ly no harm was done and this time around the bar is placed off-center.
The very first booth you come across as you enter the expo­si­tion itself belongs to Ron­ford Bak­er Engi­neer­ing, and it looks a lit­tle like Santa's work­shop, brim­ming over with all sorts of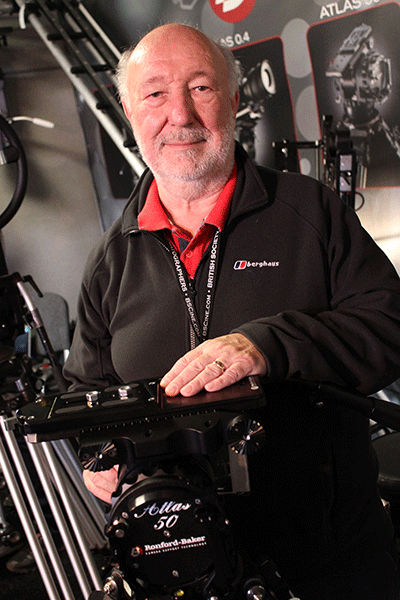 Jeff Lawrence, Ron­ford Bak­er Engineering
toys for the enthu­si­as­tic film­mak­er, such as tripods, flu­id heads and slid­ers. Jeff Lawrence, proud own­er of Ron­ford Bak­er, is the nat­ur­al cen­tre of atten­tion here.
The Ron­ford booth also serves as an impromp­tu ren­dez-vous point, since every­one knows Jeff, and the booth is so con­ve­nient­ly placed by the entrance. More than once I find myself going "Ron­ford booth in five min­utes?" when arrang­ing to meet some­one on the cell­phone.
Jeff also demon­strates the solid­ly engi­neered Atlas 50 flu­id head to us, with all it's bells and whis­tles. A par­tic­u­lar­ly clever touch is hav­ing both the pan and tilt lock­ing levers on the oper­a­tor's left hand side, so you can eas­i­ly find them quick­ly, with­out tak­ing your eye from the viewfinder.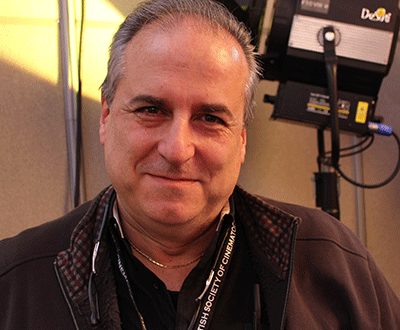 Fabio De Sisti at the De Sisti booth.
The BSC Expo is an inter­na­tion­al event, and here to rep­re­sent the Ital­ian film indus­try is Fabio De Sisti from De Sisti Light­ing. The com­pa­ny, which was found­ed by Fabio's father, cel­e­brates it's 30th anniver­sary this year! De Sisti are cur­rent­ly devel­op­ing a range of LED based fix­tures in col­lab­o­ra­tion with leg­endary Ital­ian DoP Vit­to­rio Storaro AIC ASC. The goal with this new range of lights, appe­tiz­ing­ly named "Mus­es of Light", is that they will become a viable alter­na­tive to HMI lights for on-loca­tion motion pic­ture pro­duc­tion.
This is a high­ly ambi­tious col­lab­o­ra­tion between De Sisti and Storaro, and the first units in the series were offi­cial­ly hand­ed over to the great cin­e­matog­ra­ph­er in July of 2019, to be used on his lat­est col­lab­o­ra­tion with direc­tor Woody Allen. Inspired by the Mus­es of ancient times, these light­ing fix­tures come in an assort­ment of geo­met­ri­cal shapes: semi­cir­cles, octagons, hexa­gons, etcetera, and they are also named after the clas­si­cal Mus­es: Cal­liope, Melpomene, Ter­si­core, etc.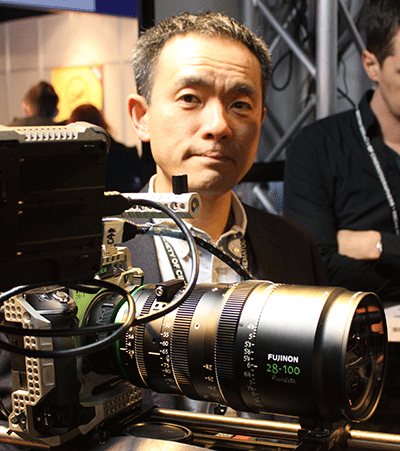 Hideyu­ki Kasai with Fuji­film brand new
Premista zoom
Mr Hideyu­ki Kasai kind­ly and with con­sum­mate skill demon­strates to us the advanced Fuji­film Lens Data Sys­tem attached to the company's brand new Premista zooms. On a mon­i­tor mount­ed on the cam­era you imme­di­ate­ly in real-time get every nuance of data you could pos­si­bly wish for: focal length, T‑stop, focus, etc. The Premista zooms have been very enthu­si­as­ti­cal­ly received by the glob­al film­mak­ing com­mu­ni­ty, and no won­der, as they are beau­ti­ful large for­mat lens­es offer­ing fea­tures which the com­mu­ni­ty have long been wish­ing for, such as same-size front diam­e­ter on all the ver­sions, mak­ing the inter­face with var­i­ous mat­te box­es a breeze.
And as fate would have it, I hap­pen to run into Kim Bach from Norway's pre­mier Rental House Sto­ry­line Stu­dios at the
Kim Bach and Pon­tus Jon­s­son at the Easyrig
booth.
Easyrig booth. This piece of BSC Expo turf is obvi­ous­ly staffed by a Swedish crew and they do their best to per­suade Kim to buy a new Easyrig unit, but to no avail. Although the Easyrigs are very pop­u­lar in the Nor­we­gian rental mar­ket, Sto­ry­line already have about fif­teen of them.
The "Mobile Pow­er Tank" from the com­pa­ny Atohm has all the ear­marks of becom­ing a game chang­er in the ener­gy depart­ment! Anders Johans­son from Medi­ateknik AB point­ed it out to me. What we have here is a pow­er­ful bat­tery capa­ble of deliv­er­ing as much as 5000 Watts 230 V AC. In oth­er words, with a mod­er­ate LED-based light­ing set-up this is a viable alter­na­tive to a tra­di­tion­al gen­er­a­tor for on-loca­tion shoots in for­rest, alley­ways, and oth­er dim­ly lit places. Or, it could pow­er lots of lap­tops and cell phone charg­ers in an impromp­tu office set-up way off the grid.
The very first BSC Expo I attend­ed hap­pened to coin­cide with the nadir of pho­to­chem­i­cal film pro­duc­tion in recent years, and I remem­ber hav­ing a very illu­mi­nat­ing chat with Nigel Horn from I‑Dailies, almost the only remain­ing film lab in the U.K. at that point in time. At I‑Dailies they had been grit­ting their teeth dur­ing the pho­to­chem­i­cal film down­hill slope, pre­pared for the worst… when it was decid­ed "Star Wars 7" was to be shot on film ‑and I‑Dailies were pret­ty much the only game in town!
Well, we've come a long ways since then, and film-based pro­duc­tion in the U.K. is now doing very well indeed!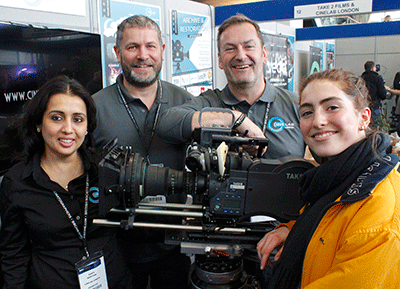 Cinelab CEO Adri­an Bull (sec­ond from left) with friends
at the
Cinelab booth.
Cinelab Lon­don have set up camp a few paces from Ron­ford Baker's booth here at the BSC Expo and I have a chat with Adri­an Bull, the com­pa­ny's CEO.
"Cinelab is sev­en years old this year ‑we start­ed out in 2014- and busi­ness is boom­ing right now, we've had a very very busy 2019," Adri­an assures me. "In 2019 we processed 5,5 mil­lion feet of film, which was 10 times the vol­ume in our first year in 2014!"
"We've seen a steady growth year-on-year, peo­ple are def­i­nite­ly return­ing to shoot­ing on film", he continues.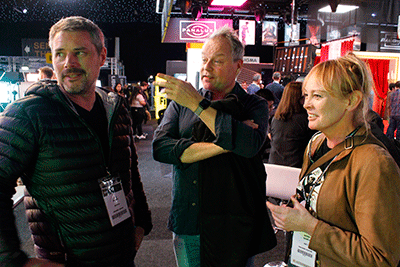 Left to right: Phil Oat­ley, Net­flix, Jonas Elmqvist BB&S
Light­ing inc, and British DoP Ingrid Domeij GBCT.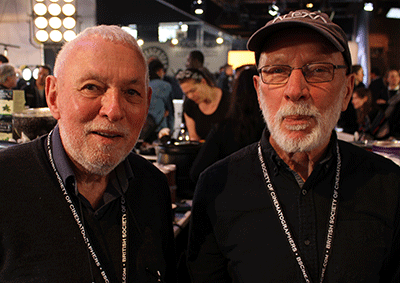 Nigel Wal­ters BSC and Chris Menges ASC BSC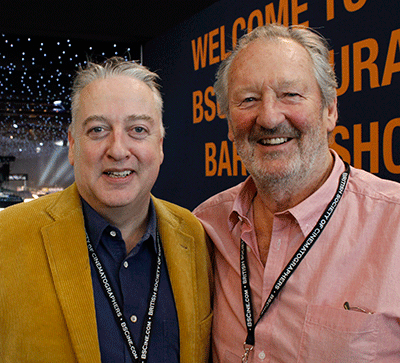 Cel­e­brat­ed DoP Sea­mus McGar­vey ASC BSC with
leg­endary col­league Har­vey Har­ri­son BSC. (for­mer
IMAGO pres­i­dent (1994−96) I try shout­ing out
"the cam­era loves ya, baby!" when click­ing away
at these two gen­tle­men, to which Sea­mus with­out
miss­ing a beat replies: "I know!"
"Com­mer­cials have had a mas­sive return to film, we had over 600 com­mer­cials in 2019, that's almost a 100% increase from the year before! A lot of high-end brands are return­ing to film, we see lead­ing brands in cos­met­ics and fash­ion as well as car man­u­fac­tur­ers like Mer­cedes Benz and BMW com­ing back to doing their com­mer­cials on film. Shoot­ing on film also seems to attract the top tal­ent among great direc­tors and cin­e­matog­ra­phers and not sur­pris­ing­ly this tends to lead to those com­mer­cials gar­ner­ing a lot of awards at com­mer­cials' awards fes­ti­vals as well."
"There's a lot of talk about 'dig­i­tal fatigue' ‑it's just big video rather than some­thing that looks more cin­e­mat­ic", Adri­an explains, "and of course mate­r­i­al shot on film is future-proof as well, we see more and more com­mer­cials scanned at 4K now".
One of the most out­stand­ing projects which Cinelab Lon­don han­dled in 2019 was "No Time to Die", the lat­est James Bond movie. This pro­duc­tion wrapped at the end of last year, and it was shot on a com­bi­na­tion of 35 and 65mm ‑and the major­i­ty of 65mm was 15-perf IMAX. The Bond crew shot over 750 000 feet of 65mm film stock ‑and of course it was shot by a Swedish cin­e­matog­ra­ph­er, Linus Sand­gren ASC FSF, who's a great advo­cate for shoot­ing on film.
"We see a strong return to film in pop pro­mos as well", Adri­an reveals. "Pop pro­mos are tra­di­tion­al­ly the field where there's no mon­ey, so everyone's pitch­ing in to shoot it on film any­way on a shoe­string bud­get. We had over 200 pop pro­mos shot on film last year and a lot of them were shot on super‑8 and super-16, and they fre­quent­ly want the mate­r­i­al over­scanned so you see the sprock­et holes and what have you."
"We have a Scan­i­ty 4K HDR scan­ner with super‑8 and super-16 gates. We can scan super‑8 at 4K HDR, we're unique in the U.K. in that respect. There's lit­er­al­ly just a hand­ful of those Scan­i­ty super‑8 gates in exis­tence in the world", Adri­an laughs, but con­tin­ues in a more seri­ous vein, "It's prob­a­bly more cost effec­tive to scan in HD on a Spir­it to feed edi­to­r­i­al and then fin­ish up on the Arriscan, but those who have heavy effects work on their pro­duc­tions want to go through the Scan­i­ty right away, and the Scan­i­ty is real­ly the only scan­ner that can keep up with that demand for speed, that kind of timetable".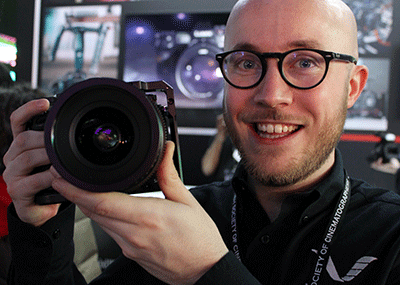 Oliv­er New­land at Pana­son­ic has every rea­son
to be cheer­ful,
busi­ness is good. Notice the
clever visu­al motif of cir­cles here
-the result of hours of painstak­ing composition!
Hav­ing attend­ed a few BSC Expos by now, this time around I learn some­thing new. Tra­di­tion has it, when the Expo wraps and the crowds start wan­der­ing away from the Bat­tersea Evo­lu­tion, a good size crowd gath­er for an impromp­tu wrap par­ty at the Prince Albert Pub at the west­ern entrance to Bat­tersea Park. I head over there myself, but the noise inside is deaf­en­ing and the pub is crowd­ed to the point where even the most lev­el-head­ed per­son could start expe­ri­enc­ing Ago­ra­pho­bia, so I decide to grace­ful­ly bow out of the proceedings.
Lars Pet­ters­son