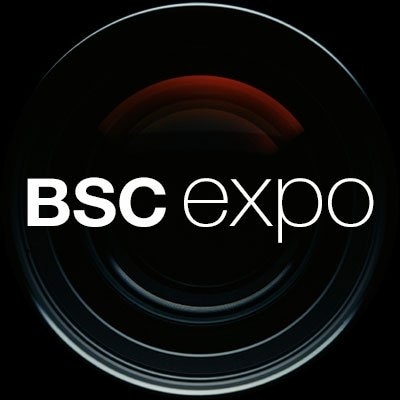 January 31st to February 1st it was once again time for -if not the biggest- then certainly the most spectacular of European yearly motion picture business trade shows. We are of course referring to the 2020 edition of the BSC Expo. The show was actually inaugurated in the afternoon on Thursday 30th, but that was a special "by invitation only" event. From what I gathered from those who were there, though, it was a very relaxed and enjoyable evening, enabling participants an overview of the exhibition under less crowded circumstances.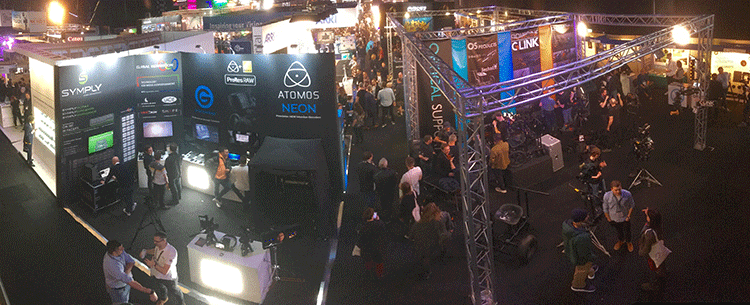 So, in other words, Friday the 31st was the first official day of the Expo -and by coincidence also the very last day which the U.K. was a part of the European Union.
After 47 years, the last three and a half of which have been marked by endless convulsive debate and division, the U.K. casts off from the European Union. It's impossible to move around London this Friday without noticing the effects of the Brexit. Enthusiastic Brexiteers dressed up almost as for a carnival, heading for the evenings celebrations, can be spotted on the sidewalks. Remainers, dreading what lies ahead, will strike up a spontaneous conversation with you while riding a subway car, voicing their concern. The Brexit also casts a shadow over the BSC Expo, as the subject seeps into almost every conversation you have with visitors and exhibitors alike.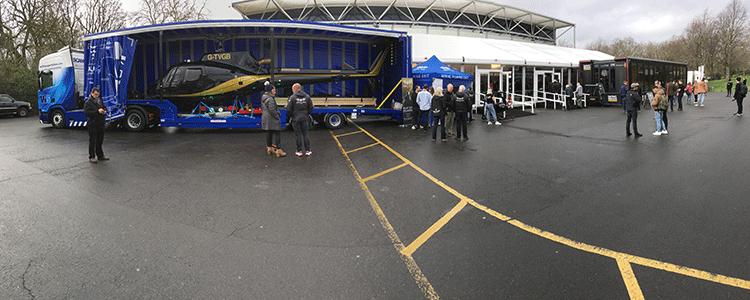 And even though the Expo is locked in to the Battersea Evolution facility since a few years back, it nevertheless somehow manages to grow in size from one year to the next. Last year a huge tent was erected in front of the actual Battersea Evolution building, to house the wardrobe and registration activity, and the tent is in place this time around as well, but this year, the exhibition actually starts already outside the Battersea Park building. The entrance is flanked on the one side by a massive 16-wheeler rig with a full-size helicopter in the back, belonging to The Aerial Film Company, and on the other side by what looks like an oversized railway car featuring "Black Magic's European Tour"!
And the arrangers have ingeniously erected yet another massive tent behind the building, featuring a bountiful food market catering to every palate, and thus freeing up even more space for the exhibition itself in the main building.
As usual the combination of a brimming exhibition and fascinating events such as The BSC seminars "Getting Started", offering advice to beginning cinematographers, and the self-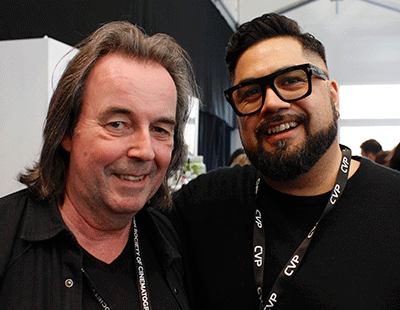 Pelle Mellqvist, who runs the Scandinavian-based
rental house
Cameraten, is seen here with CVP representative Aaron
"Bad Boy" George who almost
broke the Mezzanine floor last
time around!
explanatory "Shooting Bond -The Multiple Units of Casino Royale" combine to make an overwhelming impression.
Same as last year, audiovisual retailers VPC occupy the Mezzanine floor, only this time around they haven't placed the free-for-all bar in the middle of it! Those who were here last year may remember that the VPC bar became so popular and crowded, that the Mezzanine actually bowed and swayed in a rather disconcerting way due to the massive amount of happy campers in the bar! Fortunately no harm was done and this time around the bar is placed off-center.
The very first booth you come across as you enter the exposition itself belongs to Ronford Baker Engineering, and it looks a little like Santa's workshop, brimming over with all sorts of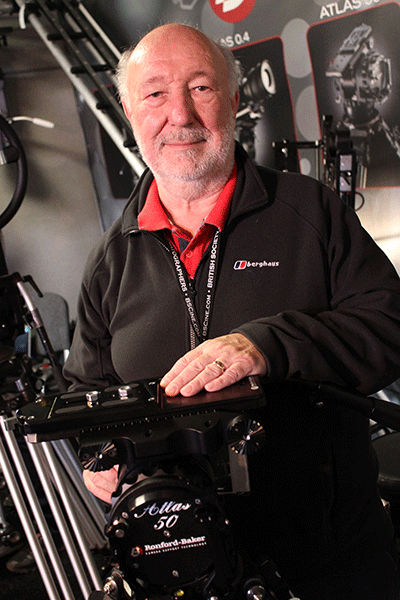 Jeff Lawrence, Ronford Baker Engineering
toys for the enthusiastic filmmaker, such as tripods, fluid heads and sliders. Jeff Lawrence, proud owner of Ronford Baker, is the natural centre of attention here.
The Ronford booth also serves as an impromptu rendez-vous point, since everyone knows Jeff, and the booth is so conveniently placed by the entrance. More than once I find myself going "Ronford booth in five minutes?" when arranging to meet someone on the cellphone.
Jeff also demonstrates the solidly engineered Atlas 50 fluid head to us, with all it's bells and whistles. A particularly clever touch is having both the pan and tilt locking levers on the operator's left hand side, so you can easily find them quickly, without taking your eye from the viewfinder.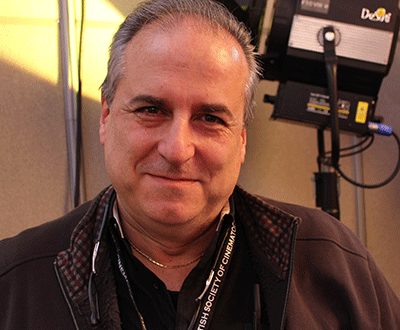 Fabio De Sisti at the De Sisti booth.
The BSC Expo is an international event, and here to represent the Italian film industry is Fabio De Sisti from De Sisti Lighting. The company, which was founded by Fabio's father, celebrates it's 30th anniversary this year! De Sisti are currently developing a range of LED based fixtures in collaboration with legendary Italian DoP Vittorio Storaro AIC ASC. The goal with this new range of lights, appetizingly named "Muses of Light", is that they will become a viable alternative to HMI lights for on-location motion picture production.
This is a highly ambitious collaboration between De Sisti and Storaro, and the first units in the series were officially handed over to the great cinematographer in July of 2019, to be used on his latest collaboration with director Woody Allen. Inspired by the Muses of ancient times, these lighting fixtures come in an assortment of geometrical shapes: semicircles, octagons, hexagons, etcetera, and they are also named after the classical Muses: Calliope, Melpomene, Tersicore, etc.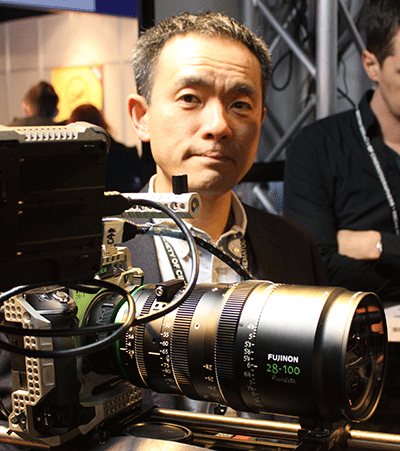 Hideyuki Kasai with Fujifilm brand new
Premista zoom
Mr Hideyuki Kasai kindly and with consummate skill demonstrates to us the advanced Fujifilm Lens Data System attached to the company's brand new Premista zooms. On a monitor mounted on the camera you immediately in real-time get every nuance of data you could possibly wish for: focal length, T-stop, focus, etc. The Premista zooms have been very enthusiastically received by the global filmmaking community, and no wonder, as they are beautiful large format lenses offering features which the community have long been wishing for, such as same-size front diameter on all the versions, making the interface with various matte boxes a breeze.
And as fate would have it, I happen to run into Kim Bach from Norway's premier Rental House Storyline Studios at the
Kim Bach and Pontus Jonsson at the Easyrig
booth.
Easyrig booth. This piece of BSC Expo turf is obviously staffed by a Swedish crew and they do their best to persuade Kim to buy a new Easyrig unit, but to no avail. Although the Easyrigs are very popular in the Norwegian rental market, Storyline already have about fifteen of them.
The "Mobile Power Tank" from the company Atohm has all the earmarks of becoming a game changer in the energy department! Anders Johansson from Mediateknik AB pointed it out to me. What we have here is a powerful battery capable of delivering as much as 5000 Watts 230 V AC. In other words, with a moderate LED-based lighting set-up this is a viable alternative to a traditional generator for on-location shoots in forrest, alleyways, and other dimly lit places. Or, it could power lots of laptops and cell phone chargers in an impromptu office set-up way off the grid.
The very first BSC Expo I attended happened to coincide with the nadir of photochemical film production in recent years, and I remember having a very illuminating chat with Nigel Horn from I-Dailies, almost the only remaining film lab in the U.K. at that point in time. At I-Dailies they had been gritting their teeth during the photochemical film downhill slope, prepared for the worst… when it was decided "Star Wars 7" was to be shot on film -and I-Dailies were pretty much the only game in town!
Well, we've come a long ways since then, and film-based production in the U.K. is now doing very well indeed!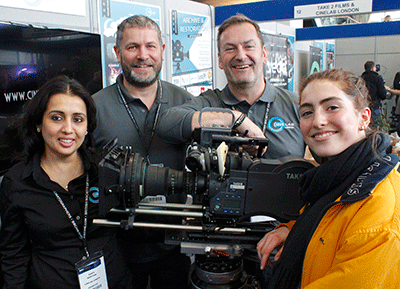 Cinelab CEO Adrian Bull (second from left) with friends
at the
Cinelab booth.
Cinelab London have set up camp a few paces from Ronford Baker's booth here at the BSC Expo and I have a chat with Adrian Bull, the company's CEO.
"Cinelab is seven years old this year -we started out in 2014- and business is booming right now, we've had a very very busy 2019," Adrian assures me. "In 2019 we processed 5,5 million feet of film, which was 10 times the volume in our first year in 2014!"
"We've seen a steady growth year-on-year, people are definitely returning to shooting on film", he continues.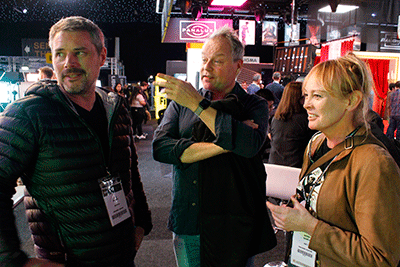 Left to right: Phil Oatley, Netflix, Jonas Elmqvist BB&S
Lighting inc, and British DoP Ingrid Domeij GBCT.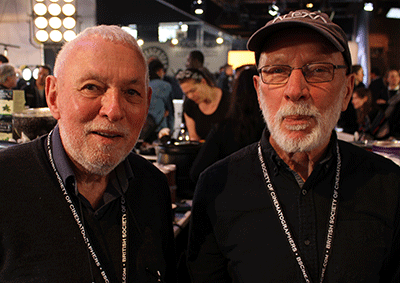 Nigel Walters BSC and Chris Menges ASC BSC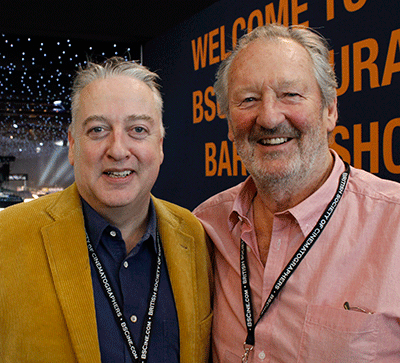 Celebrated DoP Seamus McGarvey ASC BSC with
legendary colleague Harvey Harrison BSC. (former
IMAGO president (1994-96) I try shouting out
"the camera loves ya, baby!" when clicking away
at these two gentlemen, to which Seamus without
missing a beat replies: "I know!"
"Commercials have had a massive return to film, we had over 600 commercials in 2019, that's almost a 100% increase from the year before! A lot of high-end brands are returning to film, we see leading brands in cosmetics and fashion as well as car manufacturers like Mercedes Benz and BMW coming back to doing their commercials on film. Shooting on film also seems to attract the top talent among great directors and cinematographers and not surprisingly this tends to lead to those commercials garnering a lot of awards at commercials' awards festivals as well."
"There's a lot of talk about 'digital fatigue' -it's just big video rather than something that looks more cinematic", Adrian explains, "and of course material shot on film is future-proof as well, we see more and more commercials scanned at 4K now".
One of the most outstanding projects which Cinelab London handled in 2019 was "No Time to Die", the latest James Bond movie. This production wrapped at the end of last year, and it was shot on a combination of 35 and 65mm -and the majority of 65mm was 15-perf IMAX. The Bond crew shot over 750 000 feet of 65mm film stock -and of course it was shot by a Swedish cinematographer, Linus Sandgren ASC FSF, who's a great advocate for shooting on film.
"We see a strong return to film in pop promos as well", Adrian reveals. "Pop promos are traditionally the field where there's no money, so everyone's pitching in to shoot it on film anyway on a shoestring budget. We had over 200 pop promos shot on film last year and a lot of them were shot on super-8 and super-16, and they frequently want the material overscanned so you see the sprocket holes and what have you."
"We have a Scanity 4K HDR scanner with super-8 and super-16 gates. We can scan super-8 at 4K HDR, we're unique in the U.K. in that respect. There's literally just a handful of those Scanity super-8 gates in existence in the world", Adrian laughs, but continues in a more serious vein, "It's probably more cost effective to scan in HD on a Spirit to feed editorial and then finish up on the Arriscan, but those who have heavy effects work on their productions want to go through the Scanity right away, and the Scanity is really the only scanner that can keep up with that demand for speed, that kind of timetable".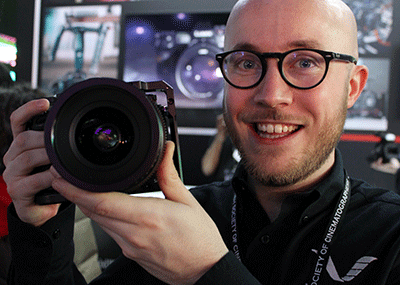 Oliver Newland at Panasonic has every reason
to be cheerful,
business is good. Notice the
clever visual motif of circles here
-the result of hours of painstaking composition!
Having attended a few BSC Expos by now, this time around I learn something new. Tradition has it, when the Expo wraps and the crowds start wandering away from the Battersea Evolution, a good size crowd gather for an impromptu wrap party at the Prince Albert Pub at the western entrance to Battersea Park. I head over there myself, but the noise inside is deafening and the pub is crowded to the point where even the most level-headed person could start experiencing Agoraphobia, so I decide to gracefully bow out of the proceedings.
Lars Pettersson