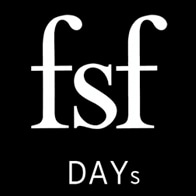 The 2019 FSF Days is a pub­lic event ded­i­cat­ed to the art of cin­e­matog­ra­phy, pre­sent­ed by the Swedish Soci­ety of Cin­e­matog­ra­phers (the FSF), in Stock­holm August 29th – 30th at the Swedish Film Insti­tute ‑the very heart of the Swedish film industry.
The event begins at 1PM Thurs­day 29th with an exten­sive pro­gram fea­tur­ing exhibits by lead­ing com­pa­nies like Sony, ARRI etc, a demon­stra­tion of a state-of-the-art rig for sim­u­lat­ing shots of mov­ing vehi­cles, a sem­i­nar on the use of VR in film pro­duc­tion and an exclu­sive screen­ing of "Cap­tain Phillips" (2013) intro­duced by Bar­ry Ack­royd, BSC.
Fri­day 30th, the tech exhib­it is avail­able all through­out the day just out­side the audi­to­ri­um, and the pro­gram begins at 9AM with a sem­i­nar focus­ing on episod­ic tele­vi­sion, mod­er­at­ed by cel­e­brat­ed film jour­nal­ist Ben­jamin Bergery of thefilmbook.com fame. This sem­i­nar fea­tures dis­tin­guished Swedish cin­e­matog­ra­phers Sophie Win­qvist Log­gins, Ragna Jorm­ing and Ulf Bran­tås, all mem­bers of the FSF.
The after­noon offers the main event of the FSF Days, a mas­ter­class with cel­e­brat­ed British cin­e­matog­ra­ph­er Bar­ry Ack­royd, BSC, mod­er­at­ed by Ben­jamin Bergery.
The Mas­ter­class ends at 5PM and is fol­lowed by an exclu­sive VIP Par­ty (by invi­ta­tion) host­ed by ARRI/Camera Nordic.
Fur­ther details and more infor­ma­tion on our pan­elists can be found here: