by Lars Pet­ters­son FSF
The 2019 FSF Days, held recent­ly at the Swedish Film Insti­tute (SFI) in Stock­holm, hap­pi­ly proved to be a resound­ing suc­cess and drew a respectable crowd from the local film­mak­ing com­mu­ni­ty, eager to be inspired by this cin­e­mat­ic event.
Held between Thurs­day 29th and Fri­day 30th of August, this year's edi­tion offered a sig­nif­i­cant­ly expand­ed pro­gramme com­pared to its 2018 pre­de­ces­sor. As usu­al, this event is arranged by The Swedish Soci­ety of Cin­e­matog­ra­phers (the FSF) with invalu­able sup­port from the SFI and our untir­ing sponsors.
This year's Spe­cial Guest Star, appear­ing in no less than two major sem­i­nars, is dis­tin­guished British cin­e­matog­ra­ph­er Bar­ry Ack­royd, BSC. And once again the internationally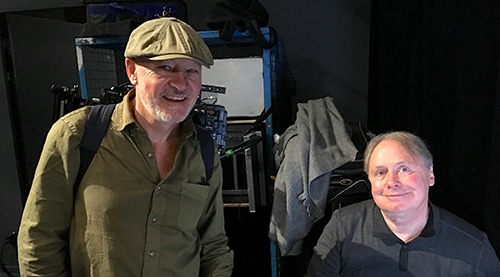 Bar­ry Ack­royd BSC and Ben­jamin Bergery
acclaimed film jour­nal­ist Ben­jamin Bergery super­vised the wall-to-wall pro­gramme. For those not famil­iar with Ben­jamin B, he is the author of the much appre­ci­at­ed book "Reflec­tions" in which he chron­i­cles a num­ber of cin­e­matog­ra­phers and their craft, and he also pub­lish­es his blog 'the­film­book' on the ASC web­site.
The event opened on Thurs­day with an exten­sive pro­gram fea­tur­ing exhibits by lead­ing com­pa­nies like Sony, ARRI, Fuji­film, etc, as well as two fas­ci­nat­ing tech­ni­cal demon­stra­tions. In the stu­dio facil­i­ties of the SFI build­ing –where among innu­mer­able projects Ing­mar Bergman's mag­num opus "Fan­ny and Alexan­der" (1982) was filmed- vis­i­tors were invit­ed to check out a demon­stra­tion of a state-of-the-art mobile car rig for sim­u­lat­ing shots of moving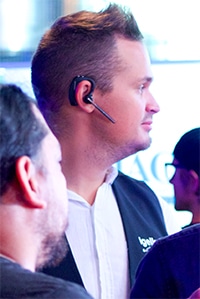 Igelkott Stu­dios CEO Eric Has­so
with trade­mark 'Hedgehog'-Hairdo
vehi­cles. Igelkott Stu­dios, run by CEO Eric Has­so, is the com­pa­ny respon­si­ble for this rig, and in fact it stayed open to vis­i­tors all the way until late in the evening. Igelkott means "hedge­hog" in Swedish in case you won­dered –and the com­pa­ny is so named in ref­er­ence to own­er Eric Hasso's hair­do –I kid you not. 😉
The fact that this set up is mobile and pos­si­ble to rig in any suf­fi­cient­ly large build­ing makes it an ide­al "rain set" for a pro­duc­tion work­ing on loca­tion, pro­vid­ed the script con­tains car scenes of course. Addi­tion­al­ly, the Igelkott team cre­ate their back­ground plates with a VR cam­era, which speeds up that part of the process as well.
And the theme of Vir­tu­al Real­i­ty con­tin­ued upstairs in the SFI Vic­tor cin­e­ma (named after the great Swedish direc­tor Vic­tor Sjöström) where VR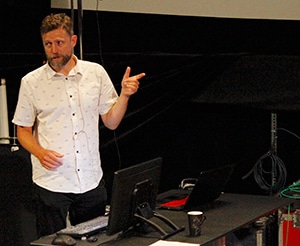 VR spe­cial­ist Simon Alexan­der­son from
Monoc­u­lar Inc
spe­cial­ist Simon Alexan­der­son gave a pre­sen­ta­tion on the use of VR in film pro­duc­tion. He works for a small start-up com­pa­ny called Monoc­u­lar which pri­mar­i­ly focus­es on pre-visu­al­iza­tion. "This is a plan­ning tool, we're not aim­ing for pho­to­re­al­ism", Simon declares, and goes on to demon­strate how their pre-viz tools can be applied to exist­ing envi­ron­ments. "Per­haps you know in advance you'll be shoot­ing some­place where time is crit­i­cal and you won't have time to look for the right cam­era angles once you're on set", he explains. "Then find­ing the cam­era angles ahead of time in a pre-viz mod­el can be a valu­able advantage".
And you don't need to spend sev­er­al weeks on 3D-mod­el­ling exist­ing build­ings from scratch either. Even though it sounds like sci­ence fic­tion, today with drones and lasers you can quick­ly scan large build­ings into the com­put­er and make a 3D mod­el of them. Some­times you can even use Google Earth to cre­ate a makeshift 3D mod­el that will be good enough for pre-viz work.
Simon rounds off by explain­ing that many pro­duc­tions today do some post­pro­duc­tion work before going into prin­ci­pal pho­tog­ra­phy, since back­pro­jec­tions are used increas­ing­ly in movies today –so those plates have to be cre­at­ed ahead of time, and Monocular's tools are a con­ve­nient way of check­ing out how the fin­ished results may turn out.
The Monoc­u­lar sem­i­nar wrapped at 5 pm, and vis­i­tors now had an oppor­tu­ni­ty to either go out for a bite to eat or, if they hadn't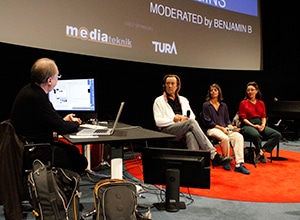 already done so, vis­it the Igelkott Stu­dios car rig which was still open. Then at 7.30 pm, par­tic­i­pants were invit­ed to attend a screen­ing of Kathryn Bigelow's film "Detroit" (2017) in the SFI Mau­ritz cin­e­ma. This film dra­ma­tizes the riots in the US in 1967, in which close to 40 lives were lost, and in par­tic­u­lar one dead­ly inci­dent involv­ing black youths and Detroit police. Bar­ry Ack­royd opened the screen­ing with a short Q&A dur­ing which he explained he feels it is an impor­tant film on a –sad­ly- still very cur­rent sub­ject, and he feels it deserves to reach a broad­er audi­ence. Dur­ing it's the­atri­cal run it didn't always find favour with the crit­ics or con­nect well with audi­ences, in spite of the fact that it fea­tures some amaz­ing per­for­mances from the main cast, in par­tic­u­lar Will Poul­ter ‑of "We're the Millers" (2013) fame- and John Bodeya.
From a tech­ni­cal stand­point, Bigelow want­ed the film shot on super-16 but there were some seri­ous chal­lenges to that approach, as the sto­ry takes place at night in dim­ly lit loca­tions. So Bar­ry came up with an inge­nious solu­tion, using Arri Alexa Min­is with Canon super-16 zooms. In com­bi­na­tion with a very thor­ough colour grad­ing process, one could have sworn the result­ing footage was actu­al­ly shot on film.
As the film is quite har­row­ing, there was an impromp­tu gath­er­ing of audi­ence mem­bers for a while after­wards, clear­ly feel­ing a need to dis­cuss the shared expe­ri­ence and its lin­ger­ing impact with Bar­ry. Though one might ques­tion the wis­dom of stay­ing up late like this the day before an impor­tant event, this was a valu­able expe­ri­ence since we all got to know eachother bet­ter under relaxed circumstances.
And thus end­ed the first of the 2019 FSF Days.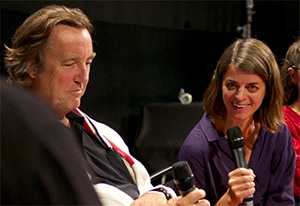 Top pic­ture; Ulf Bran­tås FSF, and Ragna
Jorm­ing FSF, share a joke. Bot­tom Sophie
Win­qvist Log­gins FSF
By 8.30 am on Fri­day morn­ing, a respectable crowd had already gath­ered in the tech exhib­it just out­side the Vic­tor cin­e­ma, eager to get into the audi­to­ri­um, and half an hour lat­er they had got­ten their wish and the show was off to a run­ning start. The first entry of the day was sim­ply called The FSF Day Sem­i­nar and con­sist­ed of a long con­ver­sa­tion between Ben­jamin B and three dis­tin­guished Swedish cin­e­matog­ra­phers. They were Sophie Win­qvist Log­gins, Ragna Jorm­ing and Ulf Bran­tås, and all are mem­bers of the FSF.
Two hours proved to be an almost crim­i­nal­ly brief time for an in-depth con­ver­sa­tion with three cre­atives as pro­lif­ic as these, and time flew by as the audi­ence was treat­ed to an abun­dance of clips on the cin­e­ma screen.
Ulf Bran­tås opened with a few scenes from the HBO TV series "Gen­er­a­tion Kill" (2008) which fol­lows a group of U.S. Marines dur­ing the 2003 inva­sion of Iraq. "I didn't want to work on any­thing glo­ri­fy­ing war­fare," Bran­tås clar­i­fies, "but hap­pi­ly this TV series was any­thing but pro-war." The impres­sive war scenes clear­ly indi­cate that "Gen­er­a­tion Kill" had a hefty bud­get, and an inter­est­ing dis­cus­sion on the man­ag­ment of time and mon­ey on a shoot ensues. "Some­times the sec­ond unit can have a big­ger bud­get than the main unit," Bran­tås offers, "but in my expe­ri­ence you could always use more mon­ey than what you have."
"Also," he adds, "we nev­er do war movies in Swe­den, and as a cin­e­matog­ra­ph­er it's real­ly good to have a broad palette, because you're fre­quent­ly asked 'have you done hor­ror? War? Romance? etc."
And Bran­tås' palette is cer­tain­ly broad enough as indi­cat­ed by the films screened here, rang­ing from the stark real­ism of mod­ern day war­fare to cham­ber play dra­ma. Ben­jamin screens a cou­ple of clips from "The Wife" (2017) and "Trea­sure Island" (2012) fea­tur­ing stel­lar act­ing from Glenn Close and Jonathan Pryce in the for­mer, plus epic scope involv­ing a real peri­od sail­ing ship ‑and Eddie Izzard as Long John Sil­ver- in the latter.
Glenn Close got an Oscar nom­i­na­tion and a Gold­en Globe for her work on "The Wife", and Bran­tås' cin­e­matog­ra­phy deft­ly catch­es the actors' per­for­mances in this piece. "I always work with real­ly long zoom lens­es," he explains, "in order to be able to catch moments. I can zoom in and catch that moment when it happens."
Bran­tås also has sev­er­al valu­able tips for his col­leagues, not the least "try to be like a fish in the sea ‑don't fight the ele­ments" and "inter­est­ing always takes prece­dence over beau­ty." When asked to exem­pli­fy the lat­ter, Bran­tås offers, "when some­one says 'it's a beau­ti­ful movie' ‑I'm always skep­ti­cal. In my expe­ri­ence, a good movie will always have good cin­e­matog­ra­phy, but not nec­es­sar­i­ly beau­ti­ful cin­e­matog­ra­phy."
Inter­est­ing­ly, Bran­tås also seems to hold a grudge against a cer­tain group of cin­e­ma pro­fes­sion­als, although his views on this seem to be some­what tongue-in-cheek. "In my expe­ri­ence I always have to explain even the most basic things to Line Pro­duc­ers, " he offers ‑to the mirth of the audience.
Next up is Ragna Jorm­ing who shows us a very eerie night inte­ri­or scene from Camil­la Strøm Henriksen's film "Phoenix" (2018). It's a ghost sto­ry type sequence told from the female lead's per­spec­tive giv­ing the audi­ence a feel­ing of being halfway between dream and reality.
Ragna's process involves read­ing the script sev­er­al times and at the top of her list of "Dos and Don'ts" we read "don't impose a form on the script, let the script tell you the form." Anoth­er one of Ragna's recipes for a suc­ces­ful shoot reads "respect every­one on set" to which Ulf Bran­tås quick­ly retorts: "unless the Line Pro­duc­er shows up", evok­ing laugh­ter from the audience.
Ragna has recent­ly wrapped shoot­ing on the film "Quick" (2019), which is the sto­ry of an authen­tic Swedish crime case con­cern­ing a man who for years was believed to be a dan­ger­ous ser­i­al killer, but who was final­ly exon­er­at­ed from all accu­sa­tions. Ragna shows her prepara­to­ry mood boards for the project and a few fin­ished scenes from the film, which very ambi­tious­ly plays out on sev­er­al lev­els chrono­log­i­cal­ly. Ragna chose Cooke anamor­phics to shoot the film and she's very much infat­u­at­ed with the anamor­phic lens­es, although she found the dif­fi­cul­ty to focus at close range a minor draw­back to the format.
The wide frame leads to an inter­est­ing dis­cus­sion on for­mats. "We've entered an era which I call the elas­tic frame," Ben­jamin mus­es. "There's no real rea­son for 2,39 or 1,85 ‑you could have any aspect ratio you like today, so it's his­tor­i­cal rea­sons real­ly that lock us into clas­si­cal aspect ratios."
An impres­sive sequence from "Aniara" (2019), a low bud­get sci-fi film based on famous Swedish author Har­ry Martinsson's poem, intro­duces our third pan­elist here today: Sophie Win­qvist Log­gins. As the sto­ry here takes place in an unspec­i­fied future, the bud­get con­straints led Sophie to look for futur­is­tic envi­ron­ments that could be accessed cheap­ly, find­ing them in shop­ping malls, hotels and even onboard a local Stock­holm ferry!
Sophie asserts that her strat­e­gy cen­ters on first read­ing the script, alone and unin­ter­rupt­ed. She writes down the first impres­sions she gets, and then begins to "col­lect DNA for the movie" as she puts it, and then pro­ceeds to toss those bits of DNA on the direc­tor "to see what sticks."
Sophie has been in fre­quent col­lab­o­ra­tions with direc­tor Nin­ja Thy­berg, who is actu­al­ly in the audi­ence here and explains that she has been intere­set­ed in gen­der issues and The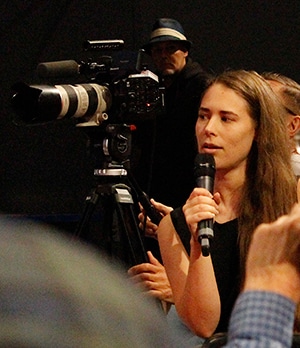 Direc­tor Nin­ja Thyberg
Male Gaze for a long time, and that her moti­va­tion for mak­ing her upcom­ing fea­ture debut "Jes­si­ca", set for a 2020 release and shot by Sophie Win­qvist Log­gins, was an oppor­tu­ni­ty to reverse that per­spec­tive, to cre­ate The Female Gaze by delib­er­ate­ly point­ing the cam­era in the oth­er direction.
Before the clip from "Jes­si­ca" is screened, Ben­jamin cau­tions the audi­ence that what we are about to wit­ness takes place in the L.A. adult film industry.
"Being French," Ben­jamin jokes, "for me, this is of course not a problem."
The film fol­lows a Swedish 20-year-old girl who wants to become the next big porn star in the L.A. adult enter­tain­ment indus­try. It is def­i­nite­ly poised to cre­ate big waves when it hits the the­aters –it's a giv­en that it'll cre­ate a lot of debate and controversy.
And on that note the FSF Day Sem­i­nar fea­tur­ing Swedish cin­e­matog­ra­phers ends, and Ben­jamin and his pan­elists are met with well-deserved applause.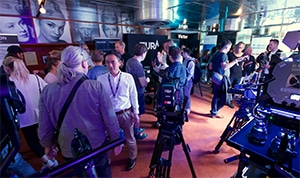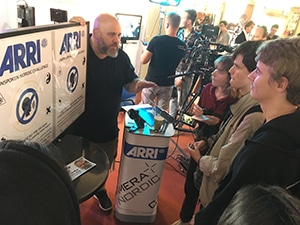 The tech exhib­it out­side the Vic­tor cin­e­ma (TOP)
Steve Calavi­tis in the Cam­era Nordic booth explains
their film com­pe­ti­tion "Unspo­ken Nordic Challenge"
The audi­ence now get a chance to stretch their legs in the tech exhib­it out­side the cin­e­ma, and there's a real­ly friend­ly and humor­ous atmos­phere as every­one min­gles among the amaz­ing prod­ucts on dis­play. This par­tic­u­lar break is spon­sored by Cam­era Nordic, who, in addi­tion to demon­strat­ing their prod­ucts to curi­ous vis­i­tors, also take this oppor­tu­ni­ty to launch their short film com­pe­ti­tion "Unspo­ken Nordic Chal­lenge". This is a nation­al Swedish film com­pe­ti­tion which they have cre­at­ed in col­lab­o­ra­tion with ARRI Cine Tech­nik GmbH, and under the slo­gan "Let the image do the talk­ing" they invite cin­e­matog­ra­phers, direc­tors, film school stu­dents, in short any mem­ber of the Swedish film­mak­ing com­mu­ni­ty who accepts their chal­lenge, to par­tic­i­pate in this com­pe­ti­tion. Details about the "Unspo­ken Nordic Chal­lenge" can be found on the Cam­era Nordic web­site (länk).
Then it's time for the most famous guest of the FSF Day, the Acad­e­my Award nom­i­nee and BAFTA win­ner for Best
Cin­e­matog­ra­phy: Bar­ry Ack­royd, BSC. In the first of two events with Bar­ry, called the Cam­era Oper­at­ing Work­shop, he demon­strates to the audi­ence how he likes to work with the cam­era and the actors. You might say he "reveals his secrets", but Bar­ry is a great believ­er in spread­ing knowl­edge and doesn't mind shar­ing his tricks of the trade, so the audi­ence is in for a high­ly edu­ca­tion­al treat.
In Barry's own words, he's often asked by direc­tors to "do that thing you do." "The direc­tor wants to cap­ture some­thing in the way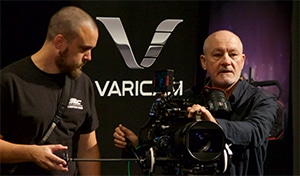 Roy Rosso­vich, FSF, assist­ing Bar­ry dur­ing the
Oper­at­ing Workshop
I work visu­al­ly," he explains, "it's sort of become my signature."
In front of the audi­ence seat­ed in the Vic­tor cin­e­ma, and just below the screen, Bar­ry and his assis­tants have placed a short tri­pod with a slid­er and a Vari­cam 35 with an Angénieux 24 – 290 mm T2.8 zoom, one of Barry's favourites. He feels it "sees things the way I see them." Next to this cam­era, Bar­ry has anoth­er Vari­cam, also equipped with an Angénieux zoom, only this is the short­er 28 – 76 mm ver­sion. This cam­era is con­fig­u­rat­ed for hand­held work, which is one of the sig­na­ture cor­ner­stones of Bar­ry 's visu­al style, and he likes to oper­ate himself.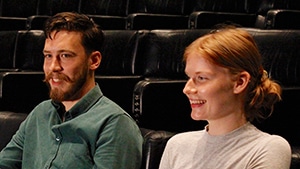 Our tal­ent­ed actors: Simon Aghed Luterko­rt
and Lin­da Öberg
To make this work­shop come to life, Bar­ry and Ben­jamin are work­ing with two high­ly tal­ent­ed actors: Lin­da Öberg and Simon Aghed Luterko­rt, and togeth­er they've worked out a scene in which the actors are hav­ing a bit of an argu­ment while walk­ing up the sta­di­um seat­ing of the cin­e­ma. Bar­ry con­stant­ly catch­es their per­for­mance alter­nate­ly with the long zoom lens on the slid­er and with the hand­held Vari­cam. Through­out the work­shop Roy Rosso­vich, FSF, acts as 1st AC to Barry.
All through­out mem­bers of the audi­ence keep ask­ing inter­est­ing ques­tions to Bar­ry who answers them dili­gent­ly. We learn for instance that Bar­ry isn't a great fan of remote focus when hand­hold­ning, he prefers the focus puller to be close to the cam­era work­ing direct­ly with the fol­low-focus knob. With remote fol­low-focus gear, your free­dom of move­ment becomes lim­it­ed, because you may want to do a quick whip-pan to fol­low the action –and wind up with your focus puller in full view!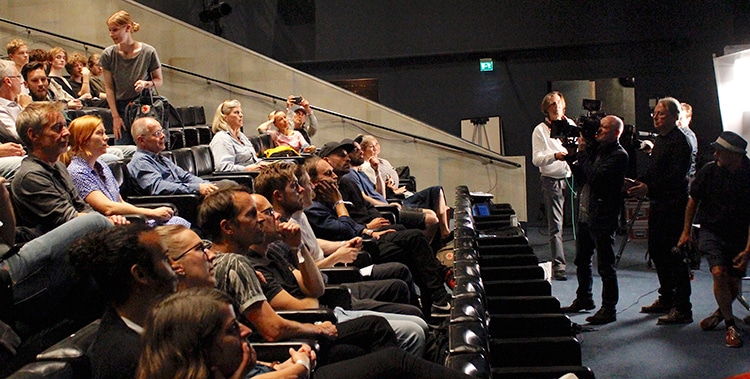 Ack­royd hand­hold­ing a shot dur­ing the Oper­at­ing Workshop
As he fre­quent­ly works with mul­ti­ple cam­eras, Bar­ry has also become quite skilled over the years at keep­ing the oth­er cam­eras out of his shots! He'll whip-pan past them so quick­ly that they nev­er reg­is­ter. His oth­er oper­a­tors are not always as lucky though, they'll pan too slow­ly and occa­sion­al­ly wind up with a fel­low team mem­ber in the frame.
In fact, watch­ing Bar­ry in action here and see­ing his result­ing footage on the big screen dur­ing the work­shop, you imme­di­ate­ly rec­og­nize his visu­al style, his fram­ings, the way he zooms in or out – and it real­ly is like an author's rec­og­nize­able handwriting!
The oper­at­ing work­shop ends with thun­der­ing applause and we then depart for a some­what late lunch break, before the after­noon con­tin­ues with the main event of the FSF Days, a Mas­ter­class with Bar­ry Ack­royd, BSC, mod­er­at­ed by Benjamin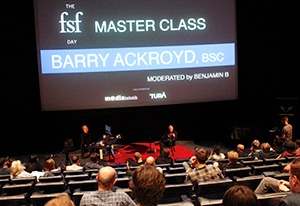 Bergery. And Ben­jamin opens the Mas­ter­class with an ana­lyt­i­cal com­par­i­son between Barry's visu­al style –which we have just wit­nessed first­hand in the pre­vi­ous work­shop- and ear­ly 20th cen­tu­ry Cubist painters like Picas­so and Braque. They were influ­enced by the cin­e­ma of their time to exper­i­ment with mul­ti­ple geo­met­ri­cal per­spec­tives in their paint­ings, much the way that Bar­ry does in his cam­er­a­work. Ben­jamin also sug­gests that Barry's style can be labeled tem­po­ral­ly Cubist in that it cuts up time and shows events from a mul­ti­tude of view­points, both visu­al­ly and tem­po­ral­ly. Hav­ing attend­ed art school in his youth, Bar­ry grace­ful­ly accepts these com­par­isons between his work and that of Picas­so and Braque. Bar­ry is also a big fan of shoot­ing on film, and all titles screened dur­ing this Mas­ter Class were orig­i­nat­ed on either 16 or 35mm film.
Hail­ing from Man­ches­ter, Eng­land, Bar­ry explains that both his polit­i­cal con­vic­tions and his fas­ci­na­tion with cin­e­ma came from watch­ing films while grow­ing up. Ken Loach's "Kes" (1969) in par­tic­u­lar struck a deep chord in him when, in his youth, he first saw it. "I was obvi­ous­ly bet­ter off than the lead­ing char­ac­ter in 'Kes', but the whole school sit­u­a­tion in that film was not that dis­sim­i­lar from my own child­hood," he offers.
Bar­ry describes what an eye-open­er it was to him when he first realised that these films, which he so admired, were actu­al­ly made by ordi­nary peo­ple. One of Ackroyd's biggest ear­ly breaks was when he came in con­tact with Chris Menges, ASC BSC, who was the cin­e­matog­ra­ph­er on "Kes" as well as a num­ber of sem­i­nal titles such as "The Mis­sion" (1986) and "The Killing Fields" (1984).
Bar­ry con­sid­ers Menges to be his cin­e­mato­graph­ic men­tor, and it was through him Bar­ry was intro­duced to Ken Loach. When years lat­er Ken Loach asked Bar­ry to shoot a feature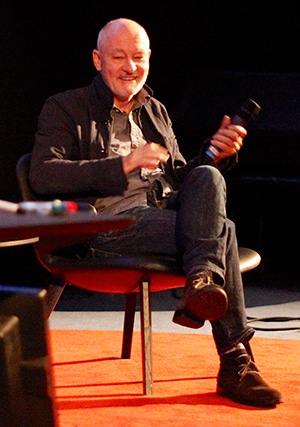 Ack­royd shares a lighter moment with the audi­ence
dur­ing the Masterclass
for him, Ack­royd didn't need many sec­onds to make up his mind about accept­ing the offer.
To rep­re­sent Barry's long col­lab­o­ra­tion with Ken Loach, Ben­jamin has cho­sen a few scenes from "Land and Free­dom" (1995) which is a sto­ry about the Span­ish civ­il war. It was extreme­ly well received by crit­ics, and The Observ­er called it "one of the finest films of the decade."
"It was the fourth film I shot for Ken," Ack­royd remem­bers, "and the first one on 35 mm. I was 40 years old. Ken didn't want dol­ly or tri­pod or zoom, and the light­ing could nev­er inter­fere with the actors. I learned to smug­gle lights into the scenes, to make them part of the scenery. It was also the first war film I did. As you'll see there were many more after that.
I worked with Ken for over 20 years shoot­ing alto­geth­er 12 fea­tures for him," Ack­royd mus­es. "I knew I had it in me to do some­thing dif­fer­ent from that, so I even­tu­al­ly felt a need to work for oth­er direc­tors on oth­er kinds of material."
Bar­ry cred­its his wife Ann, who is in the audi­ence here, with hold­ing the fam­i­ly togeth­er through all the roller­coast­er years of film­mak­ing. Both their daugh­ter and son are in the busi­ness, pro­duc­ing com­mer­cials in Spain and work­ing as a suc­cess­ful DoP in his father's foot­steps, respectively.
And on a BBC pro­duc­tion in 2002, Bar­ry def­i­nite­ly got what he wished for in terms of dif­fer­ent mate­r­i­al. The apt­ly titled "Out of Con­trol", a vio­lent tragedy about young offend­ers in Lon­don direct­ed by Dominic Sav­age, is real­ly Barry's break­out film.
"It's a lit­tle like the French film 'La Haine' (1995)," Bar­ry elab­o­rates, "and Dominic Sav­age was one of the first direc­tors to say to me 'that's great, give me more of that!'"
Which once again leads us to "that thing Bar­ry does" –Ben­jamin sug­gests that Ackroyd's tremen­dous­ly per­son­al visu­al style is a kind of performance.
"Yes, there is absolute­ly an impro­vi­sa­tion­al aspect to it," Bar­ry con­cedes, " if it were music it would be jazz, I sup­pose. From the first Ken Loach film to the lat­est film I've shot, I hope there is a sig­na­ture to the cin­e­matog­ra­phy, that's what I always strive for any­way. I try to find my own voice in some­one else's sto­ry. I try to trans­late the pas­sion of the actors and the sto­ry through the cam­era. I feel the cam­era should always be appro­pri­ate to what the sto­ry is. If the sto­ry is sta­t­ic, then the cam­era should be sta­t­ic. The rhythm must be right."
And the film was very impor­tant for Barry's career, because soon after­wards he received a phone call from direc­tor Paul Green­grass who want­ed Bar­ry to be the cin­e­matog­ra­ph­er on his upcom­ing 9/11-dra­ma "Unit­ed 93" (2006). Bar­ry had shot two decades worth of work for Ken Loach and thought that per­haps that was what had piqued Green­grass' inter­est, but no, it was the Dominic Sav­age film. "Paul is a very British film­mak­er," Ack­royd notes, "he is from the British tra­di­tion of jour­nal­is­tic doc­u­men­tary film­mak­ing." Hav­ing just direct­ed his first Jason Bourne thriller which had been very suc­cess­ful, Green­grass was on a roll. Ben­jamin feels that "Unit­ed 93", which earned Green­grass an Acad­e­my Award nom­i­na­tion for Best Direc­tor, is a masterpiece.
"For the actaul hijack­ing scenes I used sev­er­al cam­eras with 4 minute film loads," Bar­ry recalls, "so one cam­era was always run­ning. I'd hid­den mag­a­zines all along the air­plane aisle so we could con­stant­ly reload and make sure at least one cam­era was always run­ning. That way we could cov­er a 40 – 50 minute "take", the actors didn't have to start and stop the whole time, they could just act the whole way through the sequence and it obvi­ous­ly allowed them more free­dom than if they'd had to do it in sec­tions. We did three such "takes" on the same day and every­one was phys­i­cal­ly and emo­tion­al­ly exhaust­ed afterwards."
The film was screened for an audi­ence in which some of the rel­a­tives of the vic­tims were present and it of course became an intensly emo­tion­al expe­ri­ence, but the real­tives gave Bar­ry and the film­mak­ers the great­est praise pos­si­ble, by say­ing that they felt the film was appro­pri­ate and dignified.
To date, Bar­ry and Paul Green­grass have made four films togeth­er, and he feels that Euro­pean film­mak­ers tend to be more open to the com­plex­i­ties of the sit­u­a­tions they por­tray, for instance, the per­pe­tra­tors aren't sim­ply face­less vil­lians in their view. "There's some­thing about how we as Euro­peans por­tray a sit­u­a­tion," Ack­royd offers. "For instance, 'Cap­tain Phillips' is about an Amer­i­can cap­tain, but you do feel the Soma­li sit­u­a­tion as well."
The Mas­ter Class flies by as if the hours were min­utes, and there's only enough time left now to round it off with two enor­mous­ly adren­a­line-charged titles: Kathryn Bigelow's "The Hurt Lock­er" (2008) (for which Ack­royd won a BAFTA and was nom­i­nat­ed for an Acad­e­my Award) and Paul Green­grass' "Cap­tain Phillips" (2013).
Bar­ry relates how "Unit­ed 93" led to a phone call from direc­tor Kathryn Bigelow who want­ed him to shoot her gut-wrench­ing, uncom­pro­mis­ing war dra­ma "The Hurt Locker".
"They had decid­ed to shoot it in Jor­dan," he recalls, "because they want­ed to work as close to the actu­al loca­tion as pos­si­ble and they obvi­ous­ly couldn't go to Bagh­dad. Amaz­ing stuff has been shot in Jor­dan, 'Lawrence of Ara­bia' for one."
The film was nom­i­nat­ed for no less than nine Acad­e­my Awards and won six, includ­ing for Best Pic­ture of the year, and it also made Bigelow the first female direc­tor to be hon­oured with a Best Direc­tor award. Ack­royd is under­stand­ably very proud of the film and his cin­e­matog­ra­phy received wide­spread acclaim.
Ben­jamin B
Ben­jamin shows us two clips from "The Hurt Lock­er", show­cas­ing the sec­ond cor­ner­stone to Barry's visu­al style: mul­ti­ple cam­eras. An inter­est­ing dis­cus­sion fol­lows in which Bar­ry acknowl­edges the fact that you need to label the cam­eras A, B & C if you're going to use mul­ti­ple cam­eras on a project, sim­ply to keep track of all the parts, but he doesn't sub­scribe to the the­o­ry that the A cam­era is the one that's sup­posed to get all the great shots. He encour­ages every oper­a­tor to get the best shots pos­si­ble all the time.
Ack­royd was hon­oured by the ASC for his work on "The Hurt Lock­er" and recounts how the ASC mem­bers were sur­prised to hear it was shot on super-16: "they were con­vinced it was shot on 35 mm," he smiles. He feels that Shoot­ing super-16 is a bril­liant idea. "It's my favourite for­mat in many ways," he clar­i­fies, "the cam­eras are light, you can car­ry them eas­i­ly, there are great lens­es for the for­mat, not least the Canon zooms. In short, you have that all-see­ing eye that you can car­ry in your hand."
There is now only time for one final amaz­ing piece of film, this one from Paul Green­grass' "Cap­tain Phillips" (2013). Bar­ry explains to us that "Tom Han­ks here is giv­ing a per­for­mance like nev­er before in his career, because he had no idea what would hap­pen to him when we shot the scene. His char­ac­ter has been through Hell and has now come back to the world of the living."
We are shown the clip and as it fades away from the screen and the house lights come up again, that also con­cludes the FSF Day Mas­ter Class: Bar­ry and Ben­jamin are met with well-deserved thun­der­ing applause.
The FSF wish to thank all whose efforts made this day a real­i­ty. Obvi­u­osly we are great­ly indebt­ed to Bar­ry and Ann Ack­royd with­out whom this event wouldn't have been pos­si­ble, to Ben­jamin B for mas­ter­mind­ing the sem­i­nars, to Ulf, Sophie and Ragna for shar­ing their expe­ri­ences and to Lin­da Öberg and Simon Aghed Luterko­rt for gen­er­ous­ly grac­ing our Oper­at­ing Work­shop with their con­sid­er­able act­ing talent.
Behind the scenes Olof John­son, Alex Lindén, Michael Kaare Petersen, Roy Rosso­vich, Mar­cus C.F. Tin­ner­holm, Roland Stern­er, Nille Lean­der and Markus A. Ljung­berg (all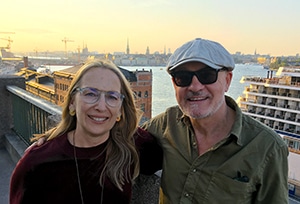 Ann and Bar­ry Ackroyd
mem­bers of the FSF) put in a sol­id effort, and from the Swedish Film Insti­tute Jer­ry Axels­son, Janine Ander­s­son and Thomas Berg gave invalu­able support.
Addi­tion­al "unsung heroes" behind the scenes were Tom Bren­nan, CSI and Vic­tor Johnson.
Thank you also to Twen­ty­four­se­v­en AB for lend­ing a hand when we most need­ed it!
And of course the FSF Days would not have been pos­si­ble with­out the sup­port from our spon­sors: Cam­era Nordic, Igelkott Stu­dios, Fuji­film, and RED Rental by MAAN, with par­tic­u­lar­ly hero­ic efforts by Anders Johans­son from Medi­ateknik AB, Daniel This­ell from Ljud & Bild­me­dia and Peter Kroopp from Panasonic.
Per­haps there could be no more fit­ting way of round­ing off this arti­cle, than the words with which Bar­ry Ack­royd closed his Masterclass.
"There has to be a real con­se­quence to what the char­ac­ters do in the films I choose to work on, that's the most impor­tant aspect to me. I think cin­e­matog­ra­phy is with­out ques­tion an art form, and Real Cin­e­ma is about human­i­ty and life and it tells you something.
The world needs bet­ter cul­tur­al input, and next year there will be more films made –and you guys in the audi­ence will be mak­ing them ‑and I look for­ward to see­ing them!"