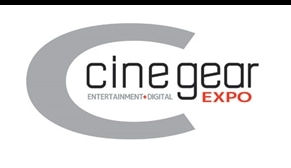 By Lars Pet­ters­son, FSF
Once again Para­mount stu­dios was the spec­tac­u­lar back­drop to the 2019 edi­tion of Cine Gear expo, which took place between May the 31st and June 1st. IMAGO Gen­er­al Sec­re­tary Louis-Philippe Capelle went there to rep­re­sent the orga­ni­za­tion and help spread the word about IMAGO's com­ing events, like the 2019 ODCC (Octo­ber 18th, Oslo) and the 2020 IMAGO Awards (March, Brussels).
The famous Marathon Street gate
In prepa­ra­tion for this trip it became obvi­ous that the Cine Gear orga­niz­ers take their press cre­den­tials very seri­ous­ly – just show­ing up and doing inter­views with­out a press card could be risky busi­ness – so we made sure to apply for one. It would've been a bum­mer to trav­el halfway across the world only to be escort­ed off the premis­es for hav­ing vio­lat­ed the press rules.
Hap­pi­ly, it got sort­ed out, and I soon found myself hand­ing over my pass­port to the police­man sit­ting in a booth in front of me at the Stock­holm inter­na­tion­al airport.
"Where are you going?" the police­man want­ed to know.
"Los Ange­les", I said.
"Great, great – par­ty, par­ty!" said the police­man (!)
I tried to explain that it was real­ly a seri­ous busi­ness trip, but the police­man didn't seem to believe me and just laughed, so I took that as a very good omen for a trip to Los Angeles!
Any­way, we were far from alone on our errand. Vis­i­tors from all over the world are cen­ter­ing on Los Ange­les for this event, and
Louis-Philippe Capelle SBC at the IMAGO Booth
some of us arriv­ing slight­ly ahead of sched­ule were delight­ed to find our­selves invit­ed to a few spe­cial fes­tiv­i­ties already on Thurs­day evening. For instance, RED Stu­dios held a Cinematographer's Din­ner recep­tion at their 857 Lil­lian Way lot, and they real­ly rolled out the red car­pet (pun intend­ed) for their guests, show­ing us all the tech-good­ies at the facil­i­ty and throw­ing a won­der­ful din­ner par­ty! As fate would have it, we were seat­ed next to, and wound up hav­ing a very inter­est­ing con­ver­sa­tion with, Car­los Diaz­munoz, AMC, pres­i­dent of the Mex­i­can Soci­ety of Cin­e­matog­ra­phers!. We also learned that Van­tage Los Ange­les have recent­ly opened a
Car­los Diaz­munoz, AMC, pres­i­dent of the
Mex­i­can Soci­ety of Cin­e­matog­ra­phers, at the
RED din­ner par­ty
new build­ing show­cas­ing their famous anamor­phic and Hawk lens­es in the neigh­bor­hood of Keslow and Otto Nemenz. Here top lens ser­vices in a beau­ti­ful envi­ron­ment will be pro­vid­ed for cin­e­matog­ra­phers, pro­duc­tions and rental houses.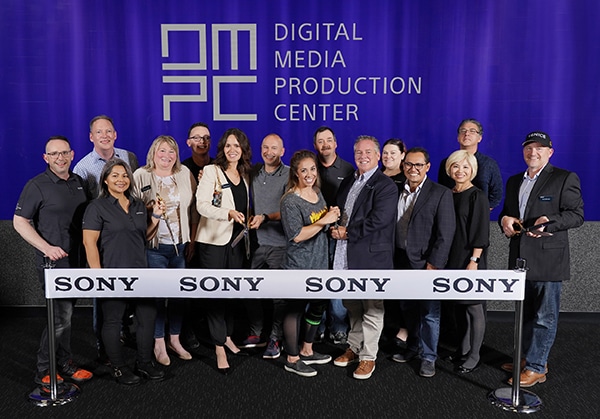 The Sony DMPC_LA_Primary Team
And, by L.A. stan­dards a mere stone's throw away from RED Stu­dios – or at least a quick cab ride – up by Glas­sell Park, Sony had also kind­ly invit­ed us to the grand reopen­ing of their flag­ship Dig­i­tal Media Pro­duc­tion Cen­ter! You can see their A‑team cut­ting the open­ing rib­bon in the pho­to right here. Cin­e­matog­ra­phers are invit­ed here to expe­ri­ence an all-Sony imag­ing work­flow from cap­ture through grad­ing to a 23-feet-wide(!) HDR dis­play in just one loca­tion. Sony has a num­ber of these DMPCs around the world and sev­er­al mem­bers of the FSF have had a won­der­ful expe­ri­ence at their Pinewood facil­i­ty a few years back, so the DMPCs are great for get­ting hands-on expe­ri­ence with Sony equipment.
Fri­day morn­ing it was off to the Para­mount lot and the almost daunt­ing task of check­ing out over 300 dif­fer­ent exhibitors, spread out over four large sound­stages and the world famous Para­mount New York Street back­lot. It was almost too much for the eye and ear to take in, but what fol­lows are a few brief impressions.
The piano play­er in one of the stages was a nice touch!
A few words about the amaz­ing his­toric past of this stu­dio should be in place. Aus­tri­an-Hun­gar­i­an-born Adolph
The S1H Lumix
Matt Fraz­er, Busi­ness Devel­op­ment
Man­ag­er Lumix group
Zukor, born in 1873, was the dri­ving force behind what would even­tu­al­ly become Para­mount Pic­tures. He found­ed the Famous Play­ers-Lasky Com­pa­ny togeth­er with Jesse Lasky back in 1916, and ten years lat­er they moved their busi­ness to 5451 Marathon Street, which is actu­al­ly now well inside the cur­rent lot. A year lat­er, in 1927, their com­pa­ny evolved into Para­mount Pic­tures. For a long time, two movie stu­dios were sit­u­at­ed side by side here, south of the Hol­ly­wood For­ev­er Ceme­tery: Para­mount to the east and RKO Pic­tures to the west. Para­mount absorbed the remains of RKO in 1967 and incor­po­rat­ed it into the stu­dio lot. The mod­ern day stu­dio lot is incred­i­bly large, some 260 000 square metres!
"Cit­i­zen Kane" (RKO, 1941) and "Ver­ti­go" (Para­mount, 1958) seem to take turns for the num­ber one spot at the top of many "Great­est Films Ever Made"-lists. And they were both shot here! And some of the sto­ry of Bil­ly Wilder's "Sun­set Boule­vard" (1950) actu­al­ly takes place on the stu­dio lot, and the loca­tions where the var­i­ous scenes were shot are eas­i­ly rec­og­niz­able to this very day.
How­ev­er, enter­ing the stu­dio by the van Ness entrance, one of the first impos­ing struc­tures you pass is the beau­ti­ful Para­mount The­atre which was built in 1993 ‑and here Pana­son­ic are hold­ing a big pre­sen­ta­tion of their very excit­ing new full-frame cam­era: the S1H Lumix!
Stage 7 dwarfs its surroundings
There were plen­ty of heli­um bal­loons around.
A pro­to­type of the S1H is also on dis­play in their booth in stage 5, and although it has the form fac­tor of a stills cam­era, it's clear­ly aimed at the motion pic­ture indus­try. It's capa­ble of shoot­ing at 6K res­o­lu­tion, can han­dle many dif­fer­ent res­o­lu­tions and aspect ratios, and its lens mount makes it imme­di­ate­ly com­pat­i­ble with about 40 lens­es that are either read­i­ly avail­able, or soon will be, on the mar­ket.
The visu­al per­for­mance of the S1H has been har­mo­nized with the big­ger sib­lings in the Pana­son­ic Vari­cam eco-sys­tem, so with a high­ly afford­able $4000 price tag, Pana­son­ic are offer­ing this as an entry lev­el mod­el into their prod­ucts pro­gram, and feel assured that those who start using the S1H will want to progress to the larg­er Vari­cam models.
Wan­der­ing over towards stage 7, one is struck by how gigan­tic these sound stages are. It's dif­fi­cult to describe in words or show in a stills pho­to how big a Hol­ly­wood movie stu­dio real­ly is ‑or how gigan­tic the sound stages are ‑but suf­fice to say that as you walk towards stage 7 on the Para­mount lot, it blocks out the sky. It's got to be at least 50 feet high. It will give you some idea how big these sound stages are, if you con­sid­er the Green­wich Vil­lage court­yard Alfred Hitch­cock had con­struct­ed for "Rear Win­dow" (1954) which was con­struct­ed in stage 18, one of the biggest sound stages on the Para­mount lot. The stage wasn't real­ly high enough for the job, but Hitch­cock­'s inge­nious trick was to uti­lize what had for­mer­ly been an under­ground fur­ni­ture stor­age room below the floor of the stage. This was evac­u­at­ed, the floor torn away, and the base­ment floor became the actu­al ground lev­el in the court­yard, so James Stew­art and Grace Kelly's sec­ond-floor apart­ment was actu­al­ly on the nor­mal floor lev­el of the sound stage. But apart from that there were few restric­tions against con­struct­ing a Green­wich Vil­lage set that was sev­er­al sto­ries high, com­plete with a dozen com­plete­ly fur­nished apart­ments. It was basi­cal­ly a gigan­tic dollhouse!

Fuji­non have a clev­er­ly placed booth which is pret­ty much the first thing you run into as you enter stage 7. They are intro­duc­ing two new very fast T 2,9 Premista full-frame zooms, which togeth­er cov­er a great num­ber of focal lengths, there­by replac­ing the need for a set of primes ‑not to men­tion the time saved on few­er lens changes. Hideyu­ki Kasai, Prod­uct Man­ag­er, Fuji­non Europe GmbH, kind­ly takes a few min­utes to describe the Premista zooms to us in great detail. The Premis­tas are able to "talk to" the Sony Venice through a cable con­nec­tion in their cur­rent incar­na­tion, but very soon this exchange of meta-data will be pos­si­ble through the lens mount itself! One of the fea­tures that Fujinon's cus­tomers have asked for is a small­er front lens diam­e­ter, which makes the Premis­tas com­pat­i­ble with a wide range of mat­te box­es and acces­sories ‑and they are also equal­ly bal­anced, there­by mak­ing it unnec­es­sary to rebal­ance the cam­era when chang­ing between two Premista zooms. Fuji­non are very pleased with the mar­ket reac­tion to the Premis­tas and their order books have filled up in a very sat­is­fac­to­ry way.
Ger­man com­pa­ny P+S Tech­nik were also at Cine Gear. They have added two more primes to their pop­u­lar series of anamorphic
Anna Pif­fl from P+S Tech­nik with one of their
anamor­phic Tech­no­vi­sion Clas­sic 1,5* lenses
Tech­no­vi­sion Clas­sic 1,5* lens­es, and are very hap­py with the way the cus­tomers have embraced these two addi­tions to their catalogue.
John Hansard, Para­moun­t's chief projectionist
As men­tioned ear­li­er, the orga­niz­ers of Cine Gear had kind­ly agreed to let Louis-Philippe Capelle do a short pre­sen­ta­tion of IMAGO and its aims and ambi­tions. This was to be held 6.30 Fri­day evening in screen­ing room 5, which is upstairs in the same build­ing as the Sher­ry Lans­ing The­atre ‑the studio's next largest audi­to­ri­um named after Paramount's leg­endary female CEO who scored an unprece­dent­ed string of suc­cess­es dur­ing her tenure, top­ping it with the then-high­est-gross­ing-film-of-all-time, James Cameron's "Titan­ic" (1997).
So we made our way there, and being a hope­less movie-pro­jec­tor-nut, I just had to peek into one of the pro­jec­tion booths on the way up the stair­case. Thank­ful­ly, I wasn't thrown out but rather giv­en a hearty wel­come and a friend­ly chat with Paramount's chief pro­jec­tion­ist John Hansard, who informed me that ‑besides all the dig­i­tal pro­jec­tion wiz­ardry you could pos­si­bly want- they had six 35/70mm Phillips DP 70s ‑though in the US they call them Norel­cos- on the stu­dio lot in var­i­ous cin­e­mas and screen­ing rooms! "We love our Norel­cos", said John with a smile.
Any­way, screen­ing room 5 is actu­al­ly a fair­ly large audi­to­ri­um and you can tell by the posh leather seats that pro­duc­ers and movie stars fre­quent this place. Louis-Philippe gave a pre­sen­ta­tion explain­ing what IMAGO is all about and what the orga­ni­za­tion's goals
The Sher­ry Lans­ing the­ater. The inge­nious gang­ways mean you can pass between build­ings on the third floor.
are. The audi­ence was inter­est­ed and appre­cia­tive, and after a warm applause some inter­est­ing and thought­ful ques­tions were posed dur­ing the fol­low­ing Q&A. One was why IMAGO doesn't pub­lish a mag­a­zine like the BSC or ASC do, to which Louis-Philippe respond­ed that the IMAGO Web­site already pret­ty much is a mag­a­zine ‑it's updat­ed fre­quent­ly, and every two weeks or some­times every week, IMAGO web­mas­ter Tony Cos­ta sends out the IMAGO newslet­ter to their entire mail­ing list, which means thou­sands of peo­ple. On the whole, it was a very good presentation.
Alek­sis Pil­lai from White­point Optics
Pär M. Ekberg and Jonas Elmqvist
In clos­ing, our Scan­di­na­vian friends are also doing well. Alek­sis Pil­lai from the Finnish com­pa­ny White­point Optics had a booth on the New York street back­lot. White­point spe­cial­ize in rehous­ing clas­sic Hasselblad/Zeiss stills pho­tog­ra­phy lens­es, and their prod­ucts have been received with great enthu­si­asm by rental hous­es and cin­e­matog­ra­phers alike. One of the advan­tages of these lens­es is that they can cov­er very large sen­sors or film for­mats.
And Dan­ish com­pa­ny BB&S have a new "Dino-light" here at Cinegear. This is the brain­child of Jonas Elmqvist and it's a vari­a­tion on the kind of lamp that Vit­to­rio Storaro's gaffer made back in the 1970s using PAR-lamps, only this is con­struct­ed using LED fix­tures. It con­sists of twelve lights in a rec­tan­gu­lar con­fig­u­ra­tion and has an out­put equal to a 10K Tung­sten unit, so you can eas­i­ly bal­ance day­light, for instance. And as we talk anoth­er ex-pat Scan­di­na­vian shows up, DoP Pär M. Ekberg, FSF. Jonas and Pär go way back as a DoP-gaffer team.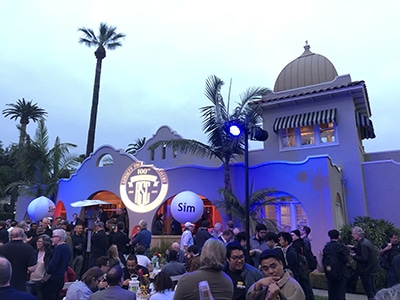 The ASC par­ty. Pho­to by Louis-Philippe Capelle SBC
And if Cine Gear starts out each year with a few extracur­ric­u­lar fes­tiv­i­ties, it just as tra­di­tion­al­ly goes out with a Bang! Sat­ur­day night was round­ed off by the tra­di­tion­al ASC Par­ty, held at the society's club­house on North Orange Dri­ve. Since 2019 marks the society's 100th anniver­sary, the occa­sion obvi­ous­ly called for a lit­tle extra celebration!
Lars Pet­ters­son, FSF