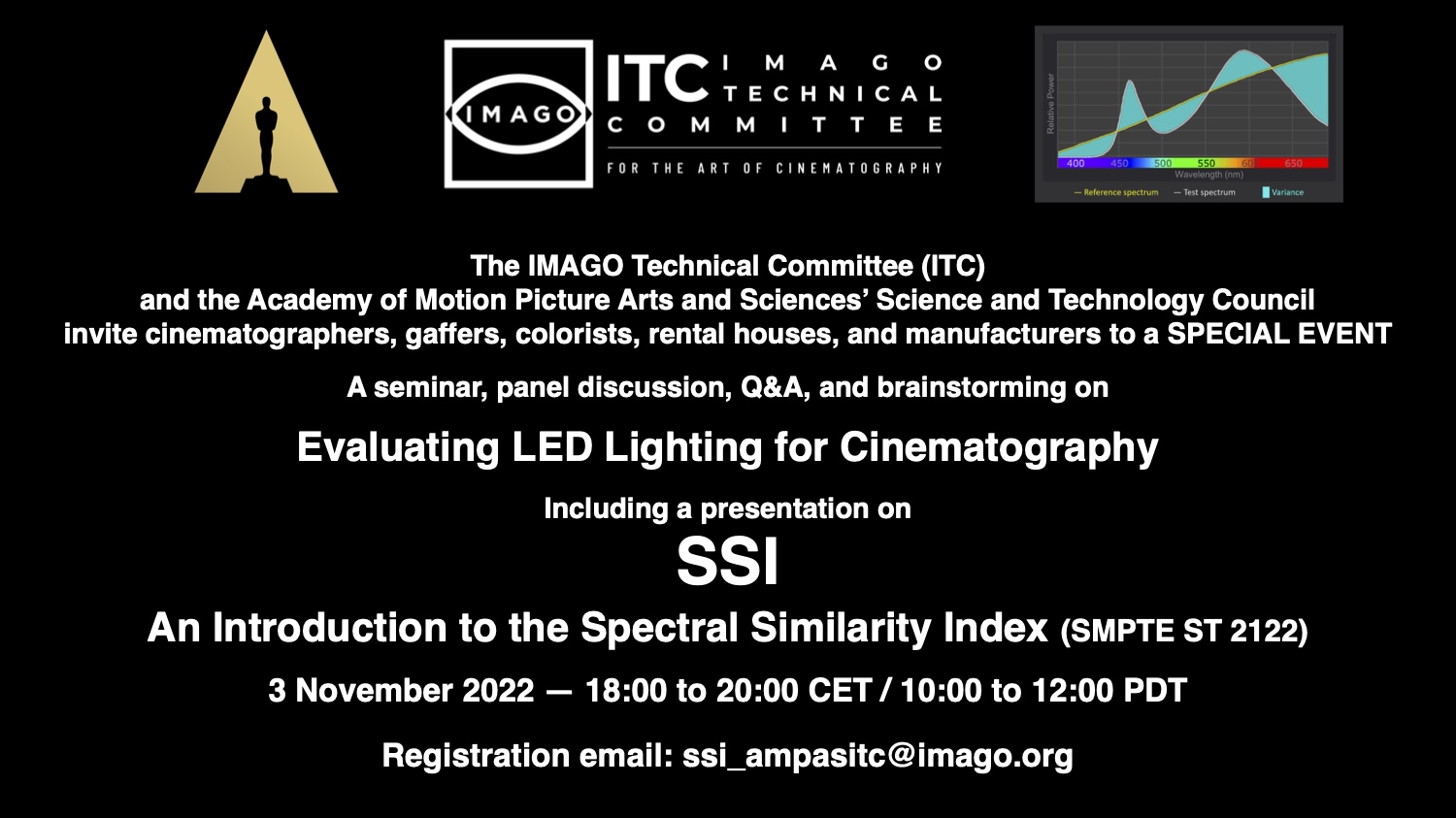 At a time when the use of LEDs and their evaluation are becoming paramount, AMPAS and the IMAGO TC (ITC) are pleased to invite you to this event:

A seminar, panel discussion, Q&A, and brainstorming on Evaluating LED Lighting for Cinematography
Including a presentation on SSI
An Introduction to the Spectral Similarity Index (SMPTE ST 2122)
3rd November 2022 — 18:00 to 20:00 CET / 10:00 to 12:00 PDT
This seminar aims to examine issues surrounding spectral power measurements throughout the workflow, which are particularly relevant to LED lighting. It will feature a presentation on SSI by George Joblove (Senior Director, Technology and Standards, The Academy) followed by a panel discussion and Q&A.

SSI was developed by the Academy and standardized by SMPTE to compare cinema lighting to reference sources, providing cinematographers a better "confidence factor" in their choice of lighting, especially when using LED's.

Preliminary information, including SSI white papers, seminar bullet points and ITC materials related to the subject will be published on IMAGO web page.

The panelists:
- Alex Forsythe, Director of Imaging Technology (ACES), The Academy
- Marc Galerne, K5600 CEO
- Frieder Hochheim, Kinoflo Lighting Systems CEO
- Felix Hüsken, BVK, CSI Senior Colorist, Display Calibrator & Consultant
- Nils de Montgrand DMG Rosco Vice President
- John Christian Rosenlund, FNF, ITC
- David Stump, ASC, Motion Imaging Technology Council
- Julian White, Gaffer UK
- Philippe Ros, AFC ITC, or Aleksej Berkovic, RGC, ITC
Thanks for materials and research results to:
- Michael Carstens, Head of Cinematography Dept Delight Rental Services, Berlin, Timm Brückner, Gaffer, Berlin & Nick Shapley, Founder & Managing Director LCA: Lights Camera Action
- John Christian Rosenlund, FNF, ITC
Special thanks to Steve Tobenkin - Global Marketing/Adoption Lead, Academy Color Encoding System (ACES) for his help in organizing this presentation.
Many thanks to all national associations for their support.