IMAGO Pres­i­dent Mustapha Barat ABC (right) along with Fabio De Sisti, Pres­i­dent De Sisti Light­ing, and col­league at Palazz­i­na Felli­ni with Sony's VENICE 2.
The 2023 IMAGO IAGA plays out against the spec­tac­u­lar set­ting of the ven­er­a­ble Cinecit­tà stu­dios just south of Rome in Italy. Of vital impor­tance to such an event is, of course, the com­pa­nies spon­sor­ing it, and Sony are here with a team of rep­re­sen­ta­tives to present the Rial­to 2 unit in com­bi­na­tion with the VENICE 2 camera.
Flo­rence Quintin, Cam­paign Mar­ket­ing Man­ag­er Cin­e­ma Sony Europe, and Sebas­t­ian Leske, Euro­pean Prod­uct Man­ag­er Cin­e­matog­ra­phy, were kind enough to have a word with us about these new addi­tions to the cinematographer's cre­ative tool kit.
It's been heav­i­ly pub­li­cised how the VENICE 1 and Rial­to 1 were exten­sive­ly used on "Top Gun Mav­er­ick" and "Avatar 2" so these are obvi­ous­ly high­ly pop­u­lar tools on major pro­duc­tions, and all the sug­ges­tions and wish­es offered by crews work­ing with them have come to fruition in these two new Mark‑2 versions.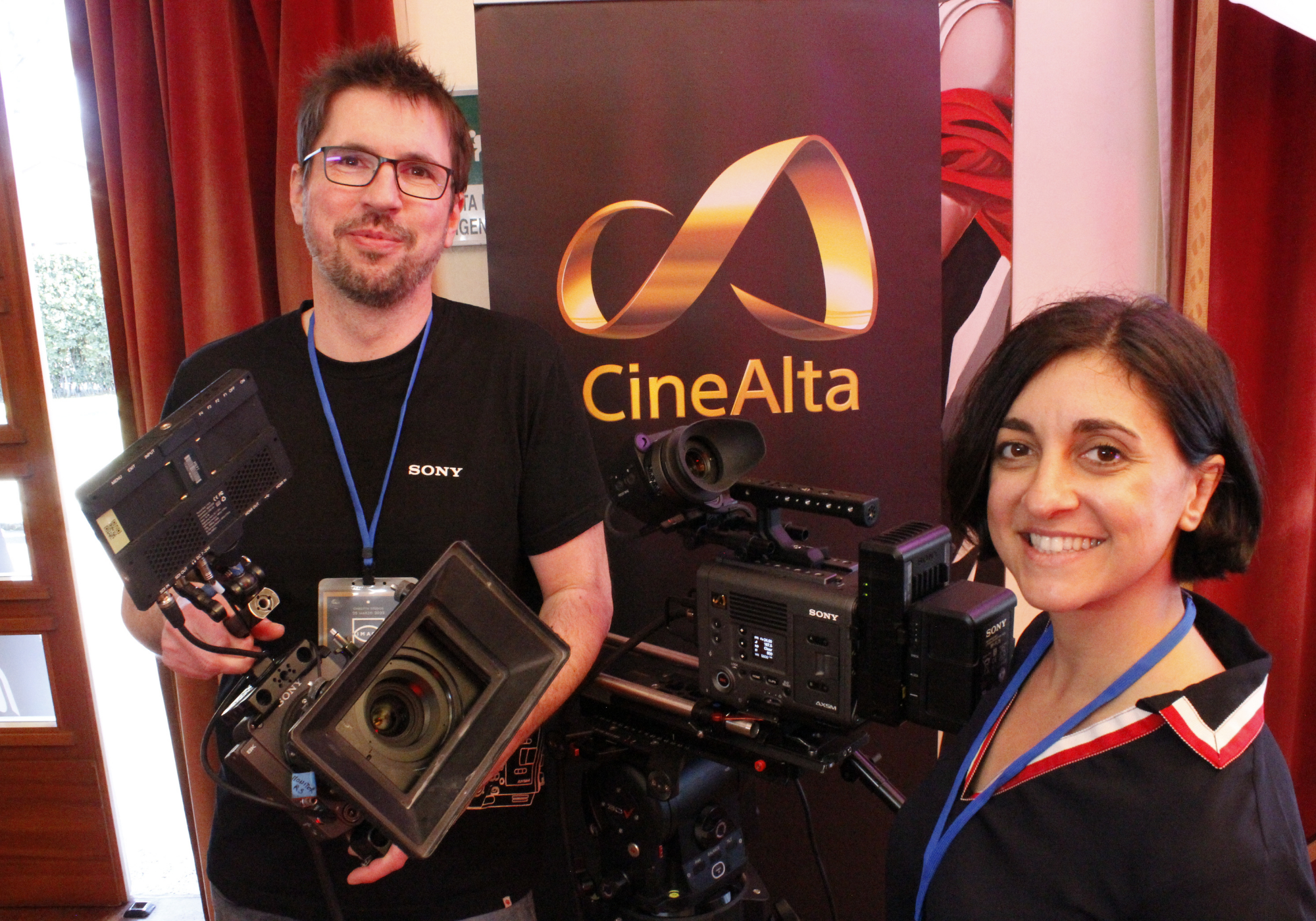 Sony's Sebas­t­ian Leske and Flo­rence Quintin at Cinecittà
"The VENICE 2 offers a series of improve­ments to the prod­uct", Sebas­t­ian explains. "Inter­nal 16 bit X‑OCN record­ing is new to the VENICE 2, with the orig­i­nal VENICE you had to attach a record­ing unit to the cam­era, mak­ing it bulki­er. The new ver­sion is there­fore small­er and lighter. And, the VENICE 2 also has a new sen­sor which is full-frame with 8K res­o­lu­tion, but also sup­ports super-35 and anamor­phic and oth­er for­mats. It has increased lat­i­tude and sen­si­tiv­i­ty, and the con­cept of dual-base ISO remains from the orig­i­nal VENICE. But, in the VENICE 1, we were talk­ing 500 and 2500 dual-base ISO, and now we're look­ing at 800 and 3200 dual-base ISO. So, the con­cept remains, but now offers high­er sensitivity".
"Every­thing which every­one was enthu­si­as­tic about with the VENICE 1 we have kept", Flo­rence adds. "James Friend ASC BSC shot the low-light sequences on "All Qui­et on the West­ern Front" with a VENICE 2 and all of "The Whale" was shot with VENICE 2, so it's a pop­u­lar camera".
"We have designed these prod­ucts to be back­wards com­pat­i­ble also" Sebas­t­ian clar­i­fies. "You can put the VENICE 1 sen­sor in the VENICE 2 body if you so wish, and the Rial­to 2 is back­wards com­pat­i­ble to the VENICE 1. The Rial­to 2 is the lat­est tool, it's some­thing like six weeks young. There have been lot's of improve­ments due to sug­ges­tions from Direc­tors of Pho­tog­ra­phy in the field. For exam­ple, the sen­sor can now be 12 meters away, before it was only 5.5 meters. New but­tons on the Rial­to 2 unit also now allow the oper­a­tor to direct­ly change ND fil­ters, acti­vate expo­sure tools etc".
Sony's Euro­pean Prod­uct Man­ag­er Sebas­t­ian Lekse pro­vid­ed an intro­duc­tion and overview of VENICE 2 to atten­dees of the event at the icon­ic Palazz­i­na Fellini.
On Sony's deci­sion to want to be present at the IAGA and at the IMAGO 30th Anniver­sary, Flo­rence and Sebas­t­ian mused "IMAGO is the main asso­ci­a­tion for cin­e­matog­ra­phers, and you who are active in that com­mu­ni­ty cre­ate beau­ti­ful images with your craft. We want to cre­ate the cam­era that you need to be able to do this".
But, Flo­rence also stress­es that "We want to sup­port the com­mu­ni­ty of cin­e­matog­ra­phers. It's not only about sup­port­ing you with the right tools, but also to sup­port you as an orga­ni­za­tion. We enjoy this close col­lab­o­ra­tion with IMAGO and its members".
"30 years is also a very nice mile­stone to cel­e­brate", Sebas­t­ian adds, "we want­ed to be there for the occasion".
Lars Pet­ters­son FSF