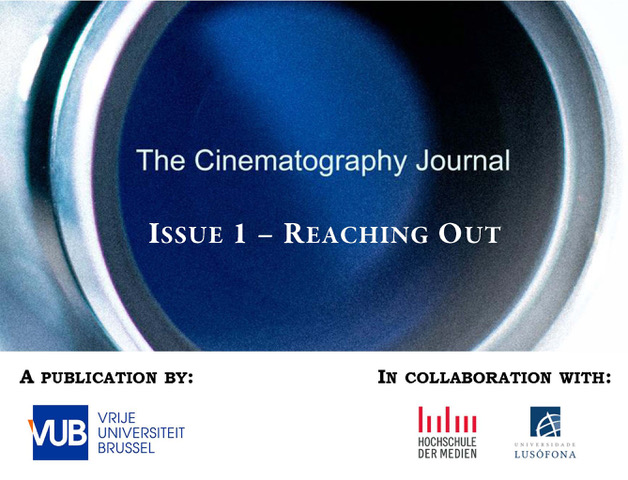 The Imago Education Committee IEC and the Editorial Board of Cinematography in Progress are proud to announce the publication of the first Cinematography Journal Issue: "Reaching out".
Cinematography in Progress is an online open-access Journal with a continuous publication in double blind peer-review.
In this Issue #1 "Reaching Out" , Dr. Daniel Maddock, (University of Southern Queensland, Australia) wrote the editorial, followed by articles addressing diverse cinematography-related topics written by researchers from various countries and the african continent with Yao Ladzekpo's Paper from NAFTI in Accra, Ghana.
After your login' (more links underneath), generously browse the Homepage: you'll find papers and articles under the Archives, Technical Corner and the Teaching Cinematography Tabs.
We've added a Student Corner for future, innovative papers and researches written by the new Generation of Cinematographer, be they still studying or tentatively trying to publish their first Paper.
This Journal is in continuous publication, therefore we welcome articles and all new approaches to cinematography-related researches on an academic level (visuals are also welcome..), so please use the Call for Papers link (deadline oct 30th 2021).
Finally, we'd like you now to sit back, relax and take the time to browse, read, comment and have as much pleasure as we all have had in putting up this ambitious project on tracks!
Kudos to Marijke van Kets, Manca Perko, Ella van den Hove, Tony Costa, Daniel Maddock, Stefan Grandinetti, and Jenny Creve, Journal Manager.
For the Education Committee and the Editorial Board,
Best regards,
Philippe Cordey scs bvk, IEC Chair
---
Cinematography Journal is a publication from the international Joint Research Group: Cinematography in Progress (CITO). Initiated during the third "Teaching Cinematography Conference" (Brussels, april 2019) and run by Dr. VUB Marijke van Kets, Chair of the Editorial Board, with support of VUB Brussels, HFF Hochschule der Medien, Stuttgart and Universidade Lusofóna, Lisbon, in collaboration with the Imago Education Committee and in a joint venture with IMAGO.
---
JOURNAL ISSUE #1 "Reaching Out" LINK: https://cinematographyinprogress.com/index.php/cito/issue/view/13
CALL FOR PAPERS LINK: https://cinematographyinprogress.com/index.php/cito/announcement/view/9