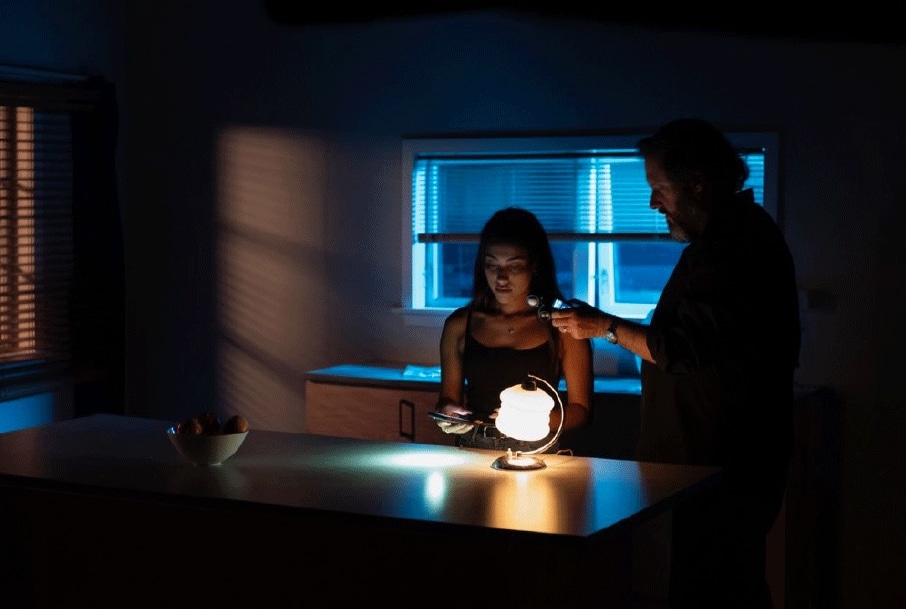 HDR Mas­ter­class Notes
by Ben Allan ACS CSI & The New Zealand Cin­e­matog­ra­phers Society
Pho­to by Jess Charlton
Overview
HDR is a struc­ture for han­dling and tak­ing advan­tage of the increas­ing bright­ness and con­trast of mod­ern screens. Con­trast is an essen­tial ele­ment of this as increas­ing bright­ness on its own will result in a flat­ter, more bor­ing image. HDR in this con­text should also not be con­fused with HDR stills which com­bine sev­er­al images at dif­fer­ent expo­sures to cre­ate as sin­gle image that cap­tures a broad­er dynam­ic range. HDR for mov­ing pic­tures is dri­ven by dis­play technology.
The oth­er essen­tial ele­ment of HDR is high­er bit depths, both in cap­ture and in pre­sen­ta­tion. The graph below shows how much more infor­ma­tion there is at high­er bit depths because each addi­tion­al "bit" dou­bles the amount of tonal sub­tle­ty avail­able for each of the three colour channels.

8‑bit is most of what we are used to see­ing on SDR tele­vi­sion, stream­ing, DVD, Blu-ray etc. It is also what most DSLR's, Mir­ror­less and Video cam­eras record. The h.264 for­mat is gen­er­al­ly 8‑bit, as is HDCAM, XDCAM etc.
10-bit is Cineon (& DPX) Film Scans, HDCAM-SR, Dig­i­tal-Beta­cam and most flavours of ProRes. Most HDR is deliv­ered in 10-bit and it is con­sid­ered the min­i­mum for HDR acqui­si­tion.
12-bit is most RAW for­mats, eg. ARRI-RAW, BMD-RAW, Canon-RAW, REDCODE-RAW etc.
ProRes 4444 and 4444-XQ can also be 12-bit. DCP Dig­i­tal Cin­e­ma files are encod­ed and pre­sent­ed in 12-bit.
16-bit is the basis of the ACES for­mat and is usu­al­ly trans­port­ed in EXR files. 16-bit is also used in some RAW for­mats such as Sony-RAW.
In the­o­ry all of these bit depths can record an image with a Gam­ma or Con­trast curve that is either Scene-Referred such as LOG or LINEAR or as Dis­play-Referred such as Rec.709 or PQ. Best prac­tice for HDR is that cap­ture, pro­cess­ing and mas­ter­ing should be done with a Scene-Referred curve and only pre­sen­ta­tion should be Dis­play-Referred. In prac­tice, 16 bit is usu­al­ly Linear.
Under­stand­ing NITS
Nits is a mea­sure of the bright­ness of reflect­ed light. It is an alter­na­tive term for the met­ric mea­sure­ment of reflect­ed light Can­de­las per m2. The impe­r­i­al equiv­a­lent is Foot-Lam­berts and the Inci­dent equiv­a­lents of these are Lux and Foot-Candles.
1 Cd/m2 is exact­ly 1 Nit.
The offi­cial bench­mark for the bright­ness of a cin­e­ma screen is 14 foot-lam­berts which equates to 48 Nits. Tra­di­tion­al SDR TV is meant to be 100 Nits, although it is impor­tant to note that most mod­ern SDR TV's are sig­nif­i­cant­ly brighter than this. Nits val­ues can be mea­sured in the real world by using a spot meter capa­ble of read­ing Cd/m2. These can also be used to read the exact bright­ness dis­played on a screen.
In the image below, the light coloured wall on the right is reflect­ing 300 nits while the same indi­rect, ambi­ent day­light is reflect­ing only 42 nits from the dark green door.

In con­trast to that, this image in the direct after­noon light, reflect­ed 15,000 nits off the shiny white boat while only 2,500 nits of the deep blue of the harbour.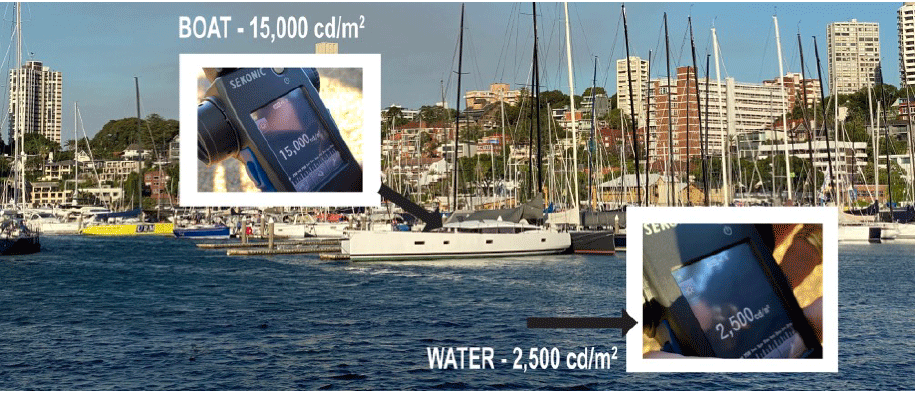 The angle of the light rel­a­tive to the viewer's posi­tion also affects the amount of light reflect­ed. This foot­path from a back­lit per­spec­tive, kicks off the object to reflect 7,000 nits.

But the same light on that same foot­path from front-lit per­spec­tive, was reflect­ing a much low­er 2,400 nits.


Work­ing in HDR Does­n't Change The Dynam­ic Range of The Cam­era
While we may chose to grade a project in HDR or even mon­i­tor on set in HDR, a pro­fes­sion­al dig­i­tal cin­e­ma cam­era will always be record­ing the same dynam­ic range as it would for SDR.
HDR sim­ply changes what we do with that dynam­ic range.
HDR gives us the tools to makes cre­ative choic­es that take advan­tage of the greater sub­tle­ty between tones and the impact of greater extremes between light and darkness.
HDR Sys­tems
HDR10 is the base stan­dard for HDR. It uses the Rec.2020 colour space which can dis­play 75% of the colours which are vis­i­ble to the human eye, com­pared to Rec.709's 35%. It com­bines this with a PQ (per­cep­tu­al quan­ti­sa­tion) Gam­ma curve and 10 bit deliv­ery and can be encod­ed into codecs such as any ProRes flavour or h.265 (HEVC) for deliv­ery. HDR10 is an open source stan­dard that is freely avail­able for the use of the indus­try both on the con­tent pro­duc­tion side and on the screen man­u­fac­tur­ing side.
HDR10+ is the same as HDR10 but with the addi­tion of Meta­da­ta to gov­ern the down­con­ver­sion to SDR along the same lines as Dol­by Vision but in a freely avail­able, open source form.
DOLBY VISION is the pro­pri­etary sys­tem designed by Dol­by Lab­o­ra­to­ries. It has the great­est pre­ci­sion of the HDR sys­tems but requires licens­ing from Dol­by both in the mas­ter­ing suite and in the TV man­u­fac­ture. Part of the grad­ing require­ments for Dol­by Vision is to mon­i­tor a cal­i­brat­ed SDR dis­play and Dolby's spe­cial algo­rithm will make a shot by short analy­sis of how it should be down-con­vert­ed to SDR. This needs to be done after each shot is grad­ed and then in a licensed Dol­by Vision suite you can also over­ride this and trim the set­tings. Dol­by Vision is usu­al­ly regard­ed as the best mas­ter for­mat because it makes it rel­a­tive­ly easy to get to any oth­er HDR or SDR for­mat from there. How­ev­er, the analy­sis phase does take time for every grade ver­sion of every shot and even on an extreme­ly fast sys­tem like the one that we were work­ing on at Depart­ment of Post, this time needs to be fac­tored in to the grad­ing schedule.
HLG is Hybrid Log Gam­ma and this is a sys­tem designed by the BBC and NHK to pro­vide a sim­pli­fied path to HDR. It works with a 2.4 Gam­ma Curve like SDR in the mid-tones and shad­ows but a Log­a­rith­mic curve in the high­lights. This allows the images to dis­play well on all HDR and SDR dis­plays mean­ing that it is pos­si­ble to have one deliv­ery for­mat that works across all dis­play devices. This makes it ide­al for non-grad­ed pro­grammes such as sport and oth­er live and fast turn­around TV. The down­side is that it does not have the pre­ci­sion and con­trol­la­bil­i­ty of the oth­er. HDR formats.
Test Shoot & Grade
The test shoot in the Unitec Stu­dio was done with an ARRI Alexa XT using Zeiss Supreme Primes and Schnei­der Plat­inum IRND's where required. We worked to the camera's base ISO of 800 and a tar­get T‑stop range of T2 to T2.8 and we delib­er­ate­ly pushed towards the edges of the camera's dynam­ic range capac­i­ty. Thanks to Ben Rowsell & Tere­sa Bradley for their cam­era notes.
Light­ing and expo­sure were set by light meter and checked on the Rec.709 mon­i­tors pro­vid­ed by Rebel Fleet. One mon­i­tor was dis­play­ing the ARRI Log‑C image and the oth­er with a stan­dard ARRI Rec.709 LUT applied. Wave­form mon­i­tors dis­played both of these as well.
The cam­era was record­ing ARRI RAW in 2880×1620 @ 23.98 fps. The images below have been import­ed direct­ly as ARRI RAW into DaVin­ci Resolve in ACES and then deliv­ered in HLG to pro­vide a rea­son­able approx­i­ma­tion of what we saw in the grad­ing the­atre for what­ev­er dis­play you are look­ing at this on. No grad­ing or oth­er pro­cess­ing have been applied to these stills (ie.they are equiv­a­lent to a 1‑light work-print).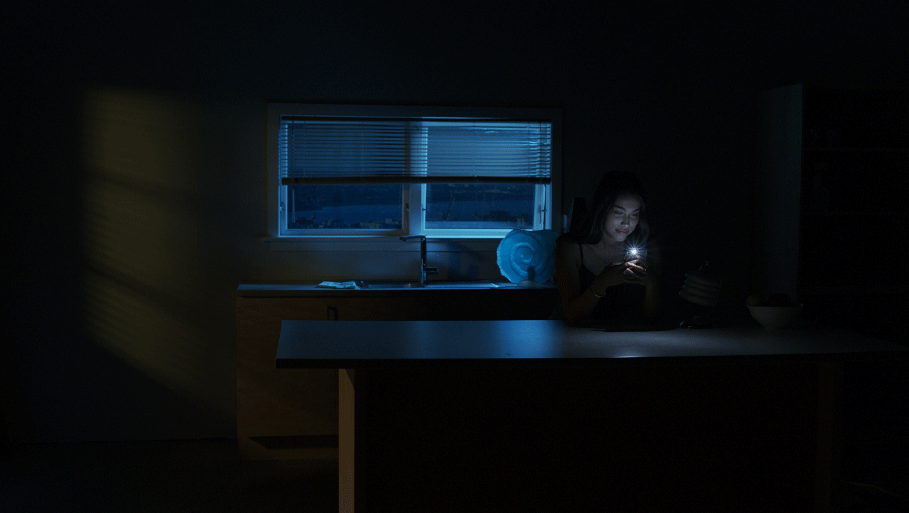 In the first set­up the 29mm lens was set to T2.8 and there was no ND, while the cam­era was set to 3200K. The light com­ing through the win­dow above the sink was full-CTB and from the left hand side win­dow a sim­u­lat­ed sodi­um vapour street lamp. The light on her face is pure­ly from the iPhone 11 Pro which is half a stop under exposed and bal­anced to daylight.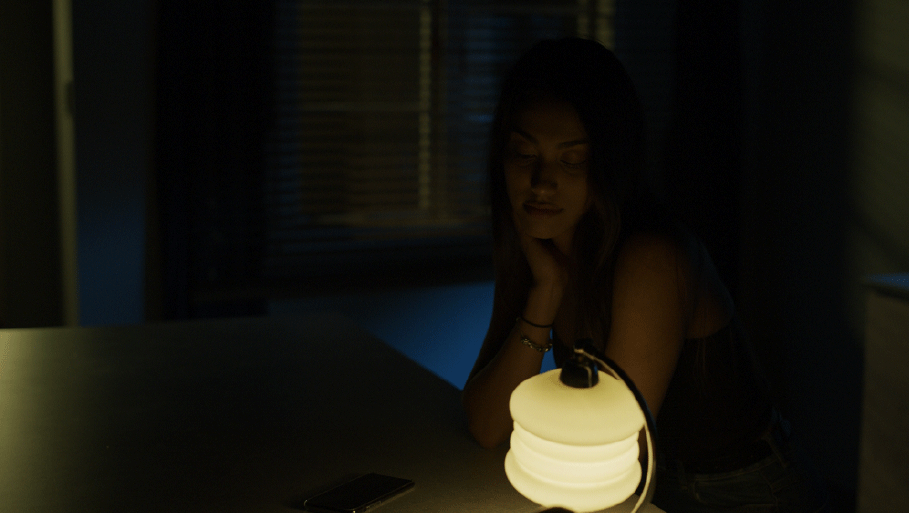 The light from the prac­ti­cal is warmer than tung­sten, prob­a­bly around 2500K and in this shot the light falling on her face is 3 stops under as an inci­dent read­ing. The reflect­ed spot read­ing from the lamp itself is rough­ly 4 stops over. This was on the 35mm with an ND0.3 (1 stop) to get the aper­ture to T2 in order to get slight­ly shal­low­er depth of field.
The next frame is from a lat­er sec­tion of the same setup.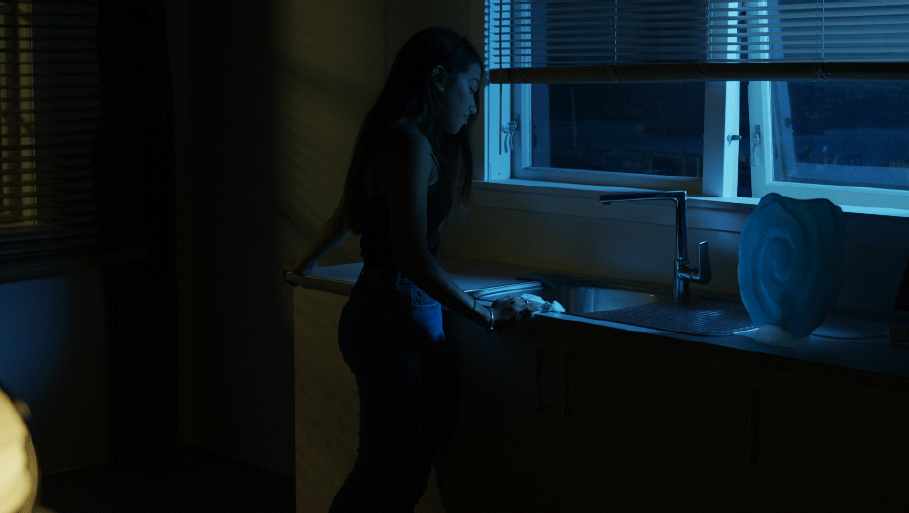 The light com­ing through the win­dow is exact­ly on key expo­sure by inci­dent read­ing on her arm. Bear in mind that it is full day­light blue though.
The day­light sequence is bal­anced to 5600K, still at 800 ISO. This close­up set­up was shot on the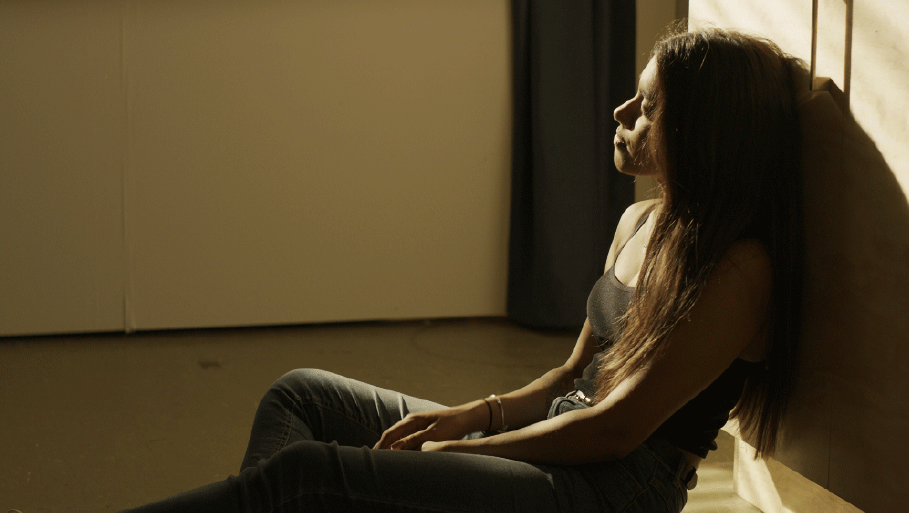 50mm at T2.8 with no ND. The high­light side of her face was 3.5 stops over on inci­dent read­ing and 5 stops over on spot read­ing. The shad­ow side of her face was 2 stops under on incident.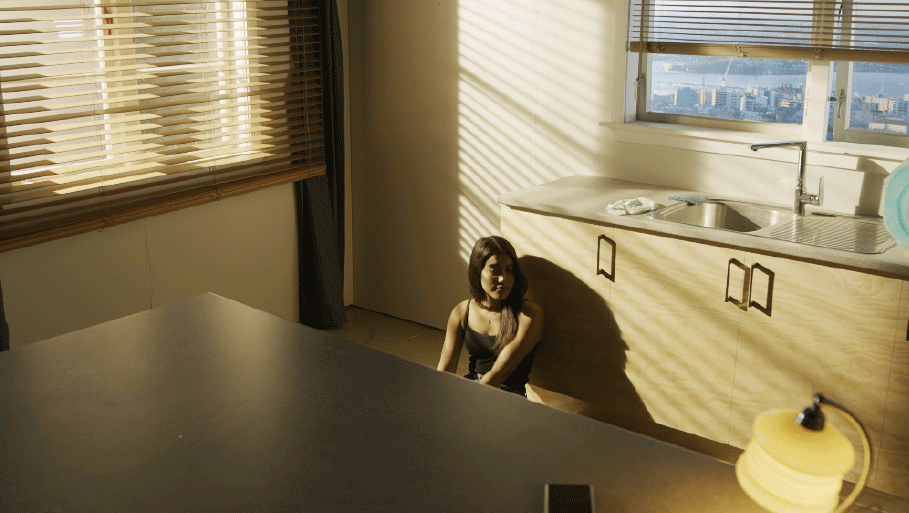 The wide shot is iden­ti­cal in all aspects except on the 25mm lens. The spot read­ing of the light on the wall behind her was around 6 stops over at its bright­est. This is close to the edge but not exceed­ing the camera's dynam­ic range. This equat­ed to 900 nits in the Dol­by Vision Resolve project which because it is a large bright area was only able to reach 450 nits on the LG C9 dis­play. Even at this lev­el it was dif­fi­cult to dis­cern much detail in the shad­ow side of her face which was dis­play­ing at 3.5 nits or 7 stops below the bright areas. While the screen was able to eas­i­ly dis­play this dif­fer­ence, there was gen­er­al agree­ment in the room that our eyes were not able to see detail in these shad­ows when they were so close to a large area of only 7 stops brighter.
This is a major con­sid­er­a­tion for HDR work. The capac­i­ty for the for­mats and the screens is able to exceed what our human vision can process at once. The obvi­ous answer of course, is to employ the same sort of dynam­ic range con­trol either on set or in post that we would tra­di­tion­al­ly do with DSR TV or Cin­e­ma in order to make sure it was a small­er area of bright­ness on the wall.
This rein­forces the idea that the basic rules of cin­e­matog­ra­phy and grad­ing do not change with HDR, just that we have more scope in how we exe­cute them.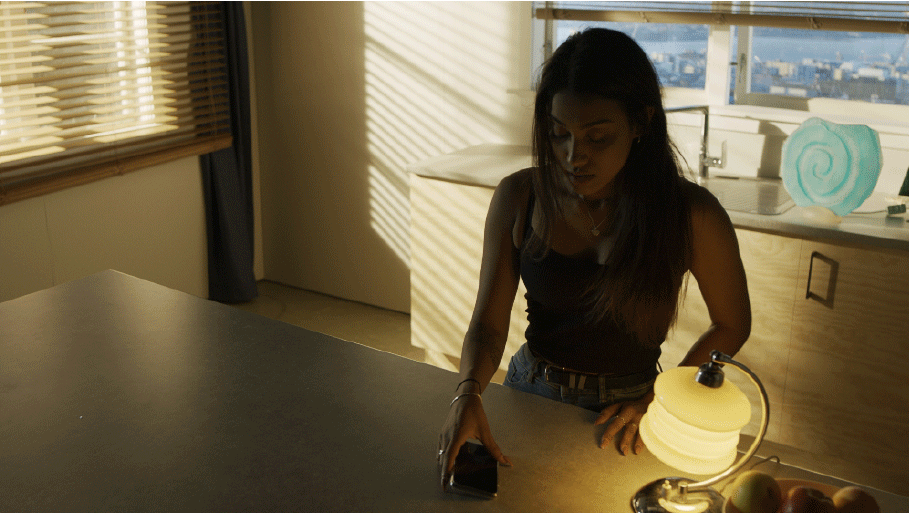 In this lat­er frame of the same set­up, her face is 1 stop under (inci­dent) instead of 2 stops under but also because it is more dom­i­nant in frame the dif­fer­ence is more dra­mat­ic and we are able to see her face much more clear­ly.
The back­drop is 2.5 stops over on inci­dent read­ing and also on reflect­ed when tak­ing a spot read­ing from the water.
Con­clu­sions
HDR is com­ing and we need to be ready for it. We are cur­rent­ly near the begin­ning of the tran­si­tion­al time much like the tran­si­tion from 4×3 to 16×9 TV. In the short term we will need to be very con­scious of both for­mats when plan­ning and fin­ish­ing projects. Right now, most of the audi­ence will be watch­ing SDR but it is not like­ly to be long before most TV's on the mar­ket will have some form of HDR. Projects which are now being fin­ished in SDR will most like­ly be reliant on the TV for con­ver­sion to HDR and this will be of vari­able qual­i­ty. Fin­ish­ing now in HDR gives us the best chance that our work will be seen the way we intend in the future. With HDR it is
impor­tant to remem­ber that we don't need to use the full dynam­ic range – it's up to our cre­ative intent.
The full video can be seen here: https://vimeo.com/383655072