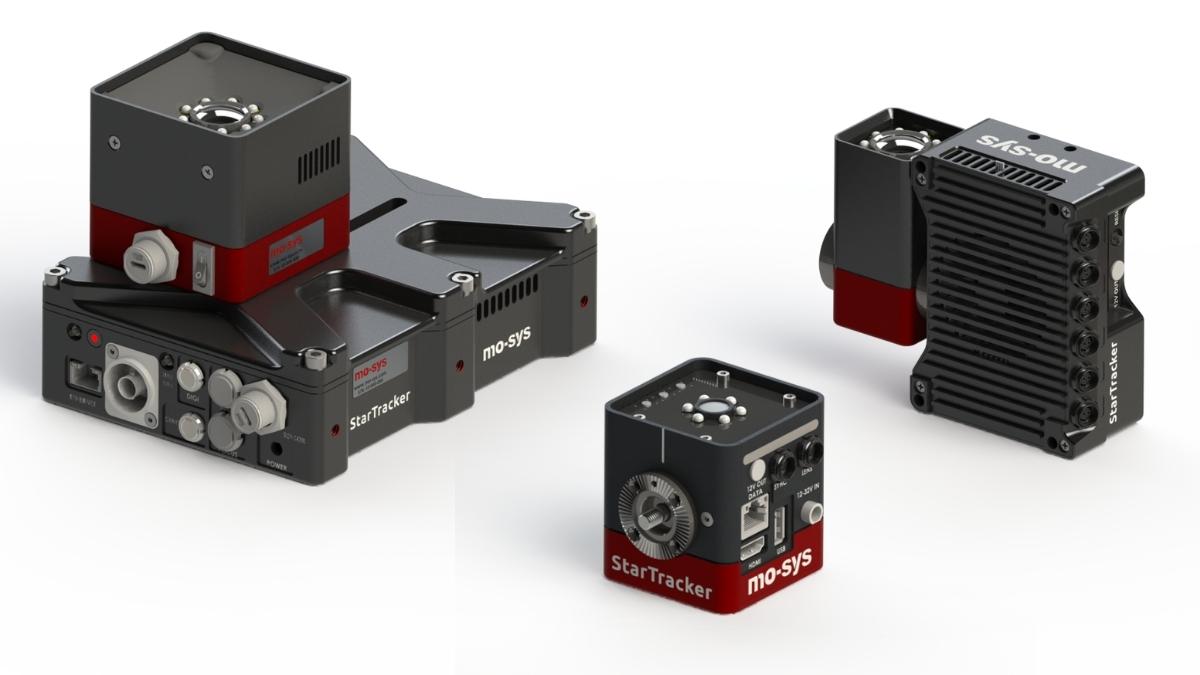 Mo-Sys Engi­neer­ing, a world leader in Vir­tu­al Pro­duc­tion solu­tions, remote pro­duc­tion and image robot­ics, has announced plans to intro­duce two new Star­Track­er prod­ucts togeth­er with an inno­v­a­tive exchange programme.
The intro­duc­tion of Star­Track­er Mini will expand the Mo-Sys range, increas­ing its mar­ket reach to a new gen­er­a­tion of Vir­tu­al Pro­duc­tion cre­ators, while Star­Track­er Max enables Mo-Sys to bring for­ward its improved cam­era track­ing tech­nol­o­gy for pro­fes­sion­al broad­cast and cin­e­mat­ic use.

Mo-Sys invent­ed 'sim­ple-to-use' mark­er-based opti­cal cam­era track­ing for Vir­tu­al Pro­duc­tion (VP). The result­ing prod­uct, Star­Track­er, went on to become the world's best-sell­ing absolute track­ing solu­tion for broad­cast and film VP. Uti­liz­ing its unri­valled expe­ri­ence and knowl­edge of Vir­tu­al Pro­duc­tion solu­tions, Mo-Sys has con­tin­ued devel­op­ing its pre­ci­sion cam­era track­ing tech­nol­o­gy and can now reveal the results of its exten­sive R&D investment.


Star­Track­er Max promis­es next gen­er­a­tion, high-res­o­lu­tion inside-out cam­era track­ing and marks the begin­ning of an excit­ing new plat­form which builds upon the cur­rent trust­ed Star­Track­er tech­nol­o­gy. Star­Track­er Max will uti­lize an all-new, com­pact form fac­tor 3x small­er and sig­nif­i­cant­ly lighter than the orig­i­nal. Togeth­er with a detach­able proces­sor for con­ve­nient han­dling, gen lock sync and 120-degree wide-angle track­ing, Star­Track­er Max will deliv­er twice the track­ing accu­ra­cy of the cur­rent Star­Track­er.

Fur­ther­more, auto align­ment tech­nol­o­gy will sim­pli­fy set-up and ensure ultra-pre­cise stu­dio cal­i­bra­tion. With rapid star map dis­cov­ery, a new user-friend­ly inter­face (IOS and Android) and sim­ple D‑Tap pow­er inlet, Star­Track­er Max is going to set a new stan­dard for set-and-for­get pro­fes­sion­al track­ing.

To coin­cide with the announce­ment, Mo-Sys has unveiled an inno­v­a­tive Star­Track­er Max exchange pro­gramme. From 27 June, 2022 cus­tomers who order a cur­rent Star­Track­er can ben­e­fit from a free exchange to Star­Track­er Max when stocks are avail­able. Cus­tomers are encour­aged to vis­it mo-sys.com for details.


Star­Track­er Mini is designed specif­i­cal­ly for stu­dio spaces with ceil­ing heights up to 3.5m and floor space up to 100 m². This new low-cost track­ing sys­tem will use the same Mo-Sys lens cal­i­bra­tion sys­tem as the cur­rent Star­Track­er, and is set to unleash the imag­i­na­tive pos­si­bil­i­ties of YouTu­bers, Stream­ers and cre­ative indus­tries tak­ing their first steps into Vir­tu­al Pro­duc­tion.

Designed and man­u­fac­tured in the UK by Mo-Sys, Star­Track­er Mini incor­po­rates a robust wide-angle IR cam­era which is immune to stu­dio light­ing and pro­vides the ide­al solu­tion for office-type Vir­tu­al Pro­duc­tion spaces uti­liz­ing green screen, low­er cost LED walls, or pro­jec­tors. A pow­er­ful pro­cess­ing unit is inte­grat­ed with­in the all-new minia­ture design for max­i­mum free­dom of unin­tru­sive mount­ing to cam­eras, pedestals, jibs and gim­bals. Mo-Sys will also launch an exchange pro­gramme allow­ing Star­Track­er Mini cus­tomers to trade-in their Mini for a Star­Track­er Max as their busi­ness grows, pro­tect­ing their invest­ment in Mo-Sys track­ing technology.

Demand for the Star­Track­er Mini is expect­ed to be excep­tion­al­ly high. To man­age this, Mo-Sys has today opened its Star­Track­er Mini Pri­or­i­ty Access Reg­is­tra­tion. Cus­tomers are invit­ed to reg­is­ter their inter­est and will be con­tact­ed in order as stock becomes avail­able. Select­ed reg­is­tered orga­ni­za­tions will also be invit­ed to join the Star­Track­er Mini beta test­ing programme.
You can find out more on the Mo-Sys web­site by click­ing here.