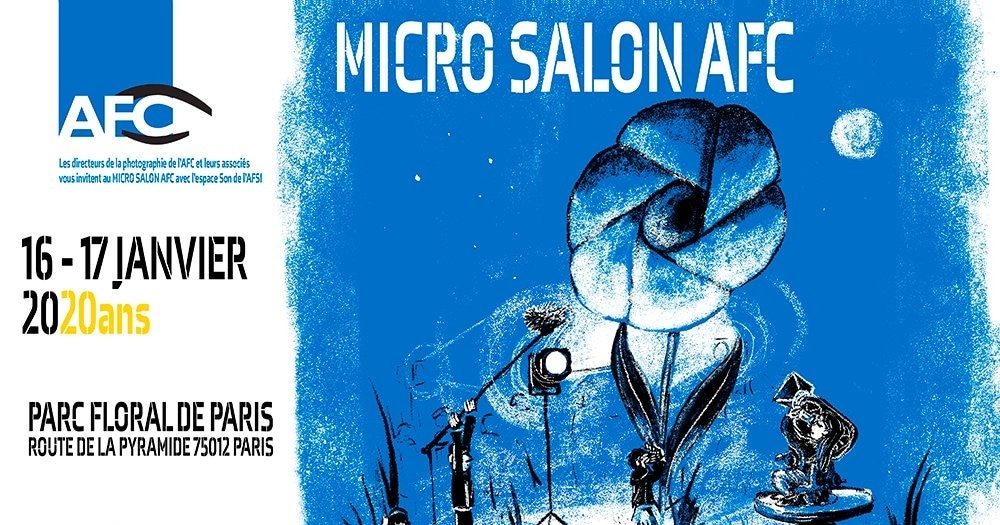 Jan­u­ary 16th – 17th it was again time for the Micro Salon Paris! The leg­endary film school La Fémis has been the home turf for the Micro Salon since its begin­nings, but last year the AFC, who arrange the show, were oblig­ed to find anoth­er option in a hur­ry, because the film school build­ing was deemed struc­tural­ly unsafe for the seri­ous amount of vis­i­tors who faith­ful­ly show up at the Micro Salon every year.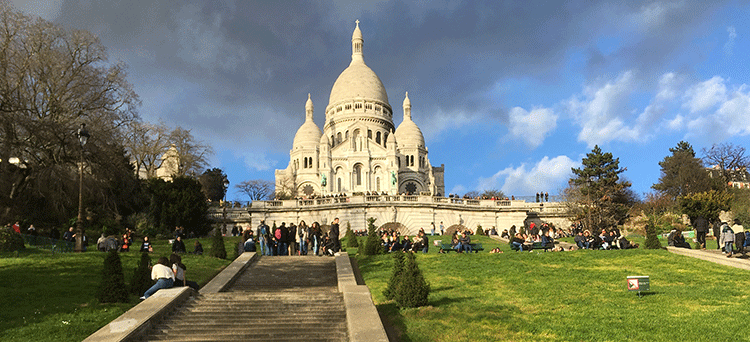 And now, in 2020 – and fit­ting­ly enough for the 20th time since the début in 2001- this won­der­ful trade show was held in the Paris bor­ough of Vin­cennes, at the Parc Flo­ral de Paris.
Arriv­ing from Charles De Gaulle Air­port, you first take a com­mut­ing train and then switch to the subway's Line One. Why is this worth men­tion­ing? It's because the arrangers of Micro Salon have had an extra­or­di­nary com­bi­na­tion of bad and good luck when pick­ing the dates for the show. Bad, because there's a mas­sive strike among the train employ­ees, crip­pling 90% of the sub­way sys­tem. And good luck – because Line One, being ful­ly auto­mat­ed, is the only one that still runs the way it should! Vin­cennes is also a nice and qui­et part of Paris and most of us are stay­ing at var­i­ous hotels here. Peo­ple are very friend­ly and talk­a­tive and they will find time to help out a lost for­eign­er.
One thought about the French though. The Port de Vin­cennes sub­way sta­tion is so ele­gant­ly designed as to be almost cam­ou­flaged(!) for the unini­ti­at­ed. There's a huge styl­ized glass M eas­i­ly mis­tak­en for pub­lic art­work, beneath which the entrance to the sub­way is hid­den. If you know what the sub­way sta­tion looks like, you have no prob­lem find­ing it – f you don't, you could be stand­ing next to it and not find it.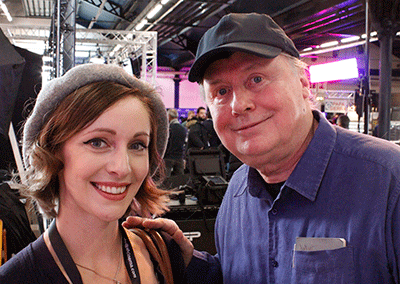 DoP Ehran Edwards and Ben­jamin Bergery
The Parc Flo­ral de Paris is also a great choice for host­ing the Micros­a­lon. The park offers won­der­ful sur­round­ings, and once you've entered it, arti­fi­cial grass-cov­ered hills guar­an­tee a mild acoustic milieu which whol­ly belies the fact that were right smack in the mid­dle of one of the busiest cities in the world. The expo­si­tion build­ing is rough­ly the same size as the Bat­tersea Park Expo where the BSC hold their annu­al trade show – only the Micros­a­lon isn't near­ly as crowd­ed as the BSC Expo tends to be. This is of course a great advan­tage, you can stroll eas­i­ly through the expo­si­tion with­out hav­ing to fight your way through a throng of people.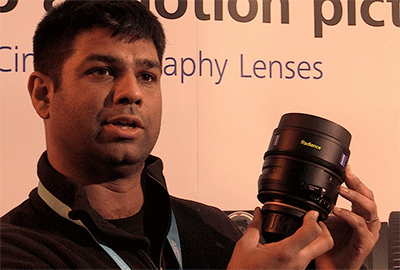 Sun­deep Red­dy with Zeiss Radi­ance Prime
Almost imme­di­ate­ly upon enter­ing the exhi­bi­tion, I find Sun­deep Red­dy at the Zeiss booth and we strike up a con­ver­sa­tion. "The Micro Salon is real­ly a glob­al, inter­na­tion­al show," Sun­deep offers, "and it sort of kicks off the year after the Christ­mas hol­i­days, so it's great to catch up with every­body. France is a very impor­tant mar­ket for Zeiss. The var­i­ous sem­i­nars arranged by the AFC is an addi­tion­al advan­tage to the Micro Salon. So it's not just a trade show, but it edu­cates the vis­i­tors as well."
So what's the ratio­nale behind the selec­tion of prod­ucts in the Zeiss booth this year? "A lot of rental com­pa­nies have request­ed Supreme Prime with more pro­nounced flare char­ac­ter­is­tics," he explains, "so our solu­tion to this is a new Supreme Prime Radi­ance range of lens­es."
One of these lens­es is mount­ed on a cam­era in the booth, and as Sun­deep pans the cam­era across a light source, the beau­ti­ful flare char­ac­ter­is­tics of the lens are evi­dent. Round­ing off our con­ver­sa­tion, Sun­deep points to anoth­er set of lens­es. "We also have the new com­pact CP3 lens­es, they're light­weight and very pop­u­lar and fast to boot: in the T2,9 – T2,1 range."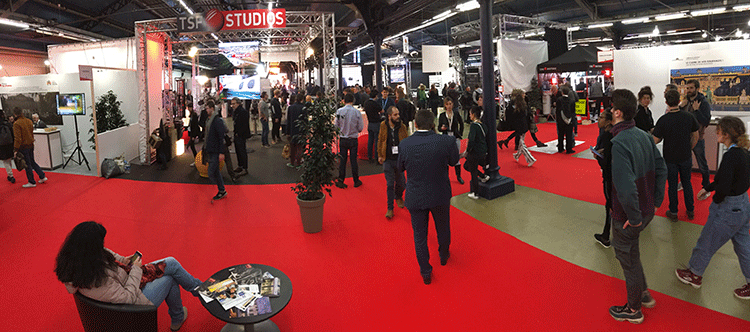 Enlight­ened by this demon­stra­tion, I decide to stroll around the exhi­bi­tion some more, and have the good for­tune of run­ning into no less than two IMAGO pres­i­dents; Nigel Wal­ters and Paul-René Roes­tad.
Roes­tad has recent­ly announced his deci­sion to resign as Pres­i­dent of IMAGO after five high­ly pro­duc­tive years. Many of us were sad­dened and sur­prised to learn that he had reached this deci­sion, and many let­ters from inter­na­tion­al cin­e­matog­ra­phers' soci­eties express­ing admi­ra­tion and grat­i­tude have come pour­ing in steadi­ly dur­ing the past few days.
But right now Paul-René has time for a cou­ple of quick ques­tions and I'm curi­ous to hear his feel­ings on how the shift­ing pro­duc­tion land­scape is affect­ing the mem­bers in the var­i­ous soci­eties, now with episod­ic tele­vi­sion becom­ing an ever increas­ing fac­tor in their pro­fes­sion­al lives.
"There are many new chal­lenges here," Roes­tad offers, "pre-pro­duc­tion time can be uncom­fort­ably short, the fin­ished script can some­times arrive very late in the process and in addi­tion to that sev­er­al cin­e­matog­ra­phers relieve each oth­er in what basi­cal­ly amounts to shift work, shoot­ing a few episodes each. To pre­serve a cin­e­mat­ic vision under those cir­cum­stances can be quite a feat."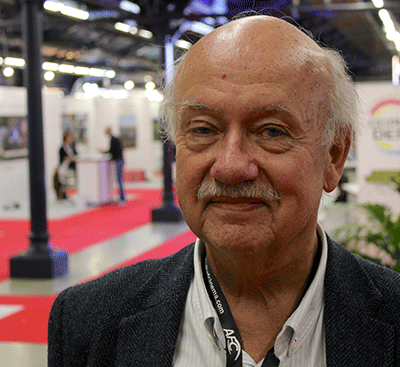 IMAGO pres­i­dent Paul-René Roes­tad FNF
I'm also curi­ous what Paul-René Roes­tad wants to focus on, now that his tenure of untir­ing work for the greater good of cin­e­matog­ra­phers every­where reach­es its end, and he reveals that he is in the mid­dle of a doc­u­men­tary on the Nor­we­gian fish­ing indus­try. To the Nor­we­gian nation, the fish­ing indus­try far exceeds being a mere busi­ness. Nor­way is such a geo­graph­i­cal­ly out­stretched coun­try, that fish­ing not only pro­vides food on the table for hun­dreds of thou­sands of cit­i­zens ‑the activ­i­ty is also cru­cial to "bond­ing" the infra­struc­ture and the var­i­ous far apart com­mu­ni­ties togeth­er. It sounds like a riv­et­ing doc­u­men­tary, one that I for one can't wait to watch when it hits the screens!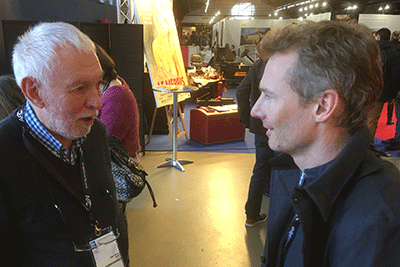 For­mer IMAGO pres­i­dent Nigel Wal­ters BSC and Malte Udsen DFF
Roestad's pre­de­ces­sor as IMAGO pres­i­dent, Nigel Wal­ters, apart from hav­ing a seem­ing­ly end­less array of won­der­ful sto­ries, also knows absolute­ly every­one there is to know in the busi­ness. He is there­fore a fan­tas­tic resource for intro­duc­tions to peo­ple you may want to talk to.
As a case in point, Nigel intro­duces me to Jeff Lawrence, pres­i­dent of Ron­ford Bak­er, and we sit down for a chat next to the small for­rest of tri­pod legs in the Ron­ford booth. Ron­ford are of course famous for their tripods, flu­id heads and slid­ers, but it turns out there's a lot more of fas­ci­nat­ing back sto­ry to this company.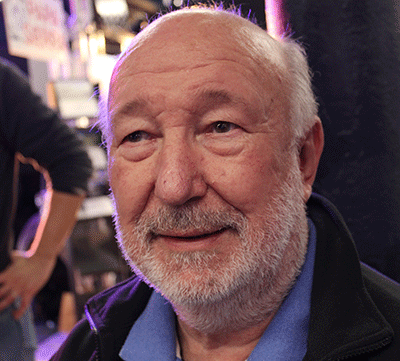 Jeff Lawrence, pres­i­dent of Ron­ford Baker
"Ron­ford Bak­er was actu­al­ly found­ed by two men named Ron Ford and Har­ry Bak­er", Jeff explains. "Har­ry was the one who recruit­ed me when I was fresh out of engi­neer­ing school. Ron and Har­ry orig­i­nal­ly focused on repair­ing and ser­vic­ing Arri cam­eras, since there wasn't any ser­vice avail­able in the UK at that time", Jeff remem­bers. "A lot of flu­id heads came their way as well, and these were fre­quent­ly leak­ing and act­ing up, so Ron and Har­ry decid­ed to con­struct a flu­id head of their own, and the result was the Oscar win­ning F‑15, the first vari­able flu­id head.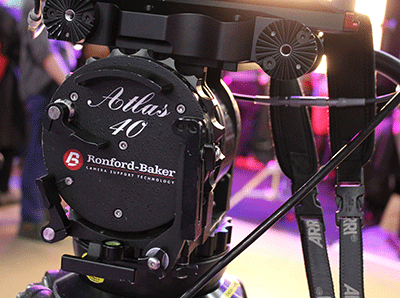 The Ron­ford Atlas 40 flu­id head
Today our best sell­ing prod­uct by far is tripods, we sell more tripods than any oth­er prod­uct.
The Ron­ford met­al tri­pod legs were devel­oped in 1973 for Stan­ley Kubrick's 'Bar­ry Lyn­don', it was all wood­en tripods up until that point and these were the first with stain­less steel legs."
The Ron­ford flu­id heads have evolved over the years into the Atlas 40, which is a heavy duty flu­id head with strong counter bal­ance, the type of head you want with big 35mm cam­eras with 1000 foot mags. You could put even heav­ier cam­eras on it, but the counter bal­ance will give in.
The L‑shaped Ron­ford flu­id 7 was designed for the Éclair 16mm NPR cam­era, which was an unusu­al­ly tall cam­era. Jeff con­tin­ues, "the idea with the L‑head was to place the cen­ter of the cam­er­a's mass near the tilt piv­ot point ‑then you don't need a coun­ter­bal­ance. We still make the F‑7 head and it's our most pop­u­lar flu­id head. The draw­back of course with the F‑7 is if you want to recon­fig­ure it you need Allen keys and you need to undo about thir­teen bolts and by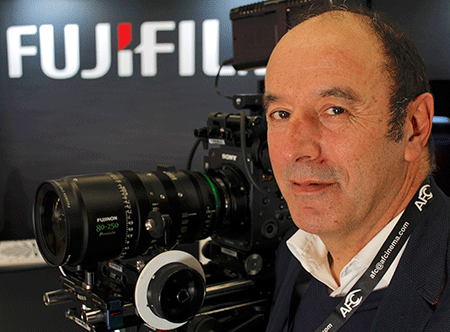 Eddie Mei­jer, Fuji­film, with new Premista zoom
that point the DoP is los­ing his patience. So the answer to that prob­lem is the Atlas‑7 which you can adjust very quick­ly, it's all thumb­screws and you can con­fig­ure it in no time. A lot of peo­ple in the UK use the Atlas‑7 as a roll-over unit.
Anoth­er very pop­u­lar prod­uct which we man­u­fac­ture are slid­ers and our big­ger ver­sions are avail­able motor­ized with motion con­trol capacity."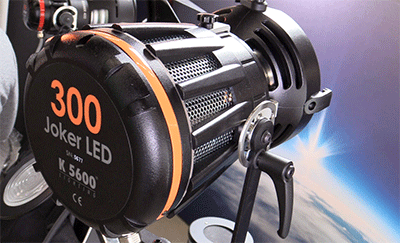 New LED bi-colour Jok­er from K5600
Just enough time for a quick chat with two more peo­ple now. Eddie Mei­jer, Man­ag­er of TV and Cine lens­es, at the Fuji­film booth explains that Fuji­film France have always made sure to be present at the Micro Salon Paris to get in close con­tact with the rental hous­es and also the end users. He points to some of the prod­uct on dis­play in Fujifilm's gen­er­ous booth, "we have two new large for­mat zoom lens­es, a 28 – 100 mm and a 80 – 250 mm, both are T 2,9."
The prod­ucts which K5600 are show­cas­ing at the Micro Salon this year, Julien Bernard, Attaché Com­mer­cial at K5600, explains to me is a new series of LED lumi­naires, par­tic­u­lar­ly a new Jok­er LED bi-colour fix­ture. DoPs and Gaffers are the spe­cif­ic end users which K5600 feel it's espe­cial­ly impor­tant to get in touch with at the Micro Salon. The com­pa­ny will let them bor­row their prod­ucts to try them out and give feed­back what they like and also what can be improved in the design, etc. Hav­ing launched a series of LED fix­tures is a new depar­ture for K5600 but they have stuck to their proven for­mu­la of com­pact­ness, ver­sa­til­i­ty and robust, light­weight con­struc­tion. The prod­ucts are designed with the end user in mind ‑but at the same time they have to be strong enough to sur­vive in the tough rental milieu.
Lars Pet­ters­son