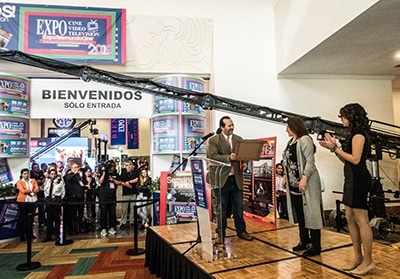 Ima­go was attend­ing 2 major events in Mex­i­co on this end June, a unique oppor­tu­ni­ty to meet major actors in the cin­e­matog­ra­phy in Latin America.
The Exhi­bi­tion was orga­nized in the World Trade of Mex­i­co City and gath­ered most of the man­u­fac­tur­ers rep­re­sent­ed by their local or Amer­i­can deal­ers, under the ban­ner of EFD, the most promi­nent cam­era and equip­ment rental in Mex­i­co but also in Colom­bia and Chile.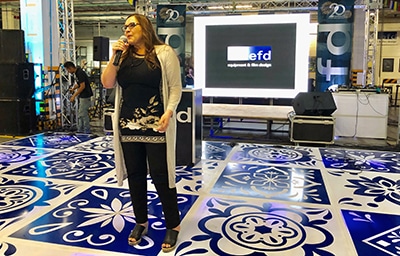 Gorgina Ter­an
I met CEO Georgina Ter­an who is man­ag­ing this com­pa­ny (more than 300 employ­ees, 30 to 40 pick up of equipment/day) with charis­ma and effi­cien­cy. The com­pa­ny was cel­e­brat­ing on the Sat­ur­day, their 20th anniver­sary and it was the time for the whole busi­ness to pay a trib­ute to these entre­pre­neurs and enjoy a real Mex­i­can Fies­ta includ­ing the Mariachis.
EFD was also host­ing on stage dif­fer­ent pan­els or spe­cial­ists to touch hot top­ics like Full Frame film­ing, HDR, using the Venice, pre­sen­ta­tion of the RED Mon­stro sys­tem, but also a very inter­est­ing "char­la" as they say, about the Women in the Latin Amer­i­can Cin­e­matog­ra­phy.
Impress­ing gath­er­ing ( V wise) includ­ing Pres­i­dents ACC- Chile-Mau­ra Morales Bergman, ADF-Argenti­na-Pao­la Rizzi, and ADFC- Colom­bia- Adri­ana Bernal, but also the del­e­gate of Apertura,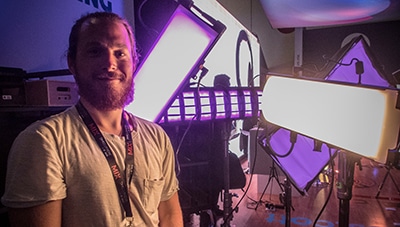 Jean de Mont­grand ROSCO DMG
San­dra da Sil­va and 2 famous Cin­e­matog­ra­phers from Mex­i­co and Venezuela. As a con­clu­sion of this pan­el, they were unit­ed to say that "bas­ta talk­ing about the prob­lems of the women in the film busi­ness, let us talk about film mak­ing and cin­e­matog­ra­phy" an offi­cial state­ment will fol­low very soon.
EFD orga­nized also a mini fes­ti­val of Latin Amer­i­can films, espe­cial­ly select­ed for the qual­i­ty of the pho­tog­ra­phy by each society.
ASC booth-Saul Moli­na, James
Nei­house and Alex Lopez
EFD – COOKE booth
Ale­jan­dro Alcocer-ZEISS
Guiller­mo Granil­lo AMC, Georgina Ter­an EFD
and Ricar­do Mata­moros SVC
Fed­eri­co Ter­an and ARRI USA Robert
Brettenstein
Rain­er Hercher with Don­ald Bryant founder
of AMC
Mex­i­co, Gen­er­al Assem­bly and pub­lic pre­sen­ta­tion of the FELAFC, June 25th to 29th
FELAFC, the Fed­eración Lati­noamer­i­cana de Autores de Fotografía Cinematográfica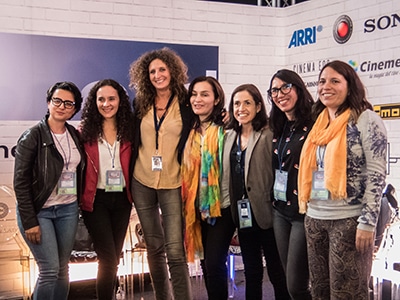 The meet­ing as the oppor­tu­ni­ty of con­sol­i­dat­ing the statutes and was the first time the 8 coun­tries were meet­ing for real.
FELAFC, the Fed­eración Lati­noamer­i­cana de Autores de Fotografía Cin­e­matográ­fi­ca includ­ing for the moment 8 nation­al asso­ci­a­tions rep­re­sent­ed:
Pao­la Rizzi, ADF. (Argenti­na)- 23 years old
Car­los Pacheco, ABC. (Brasil)- 20 years old in 2020
Mau­ra Morales, ACC. (Chile)- 4 years old
Adri­ana Bernal, ADFC. (Colom­bia)- 11 years old
Guiller­mo Granil­lo, AMC. (Méx­i­co) – 27 years old
Pili Flo­res-Guer­ra, DFP. (Perú)- 6 years old
Raúl Etchev­er­ry, SCU. (Uruguay)- 5 years old
Ricar­do Mata­moros, SVC-
It was the time to elab­o­rate new statutes, and also elect a new sec­re­tary gen­er­al. Ricar­do Mata­moros SVC was hold­ing very effi­cient­ly the func­tion for the last 4 years and hand over to AMC rep­re­sent­ed by Guiller­mo Granil­lo for peri­od of 2 years.
it was for us a very impor­tant and inter­est­ing meet­ing. It is true that we don't know so much about these coun­tries and their cin­e­matog­ra­phy.
The idea of the FELAFC (dif­fi­cult name, it has been asked to look for a sim­pler and sex­i­er alter­na­tive), is to coor­di­nate the efforts of the nation­al asso­ci­a­tions to pro­mote, and favor the recog­ni­tion of the authors of cin­e­matog­ra­phy in Latin Amer­i­ca and through­out the world.
Still miss­ing some impor­tant coun­tries, but the group is work­ing to bring them in
(Ecuador- they are on the way of cre­at­ing a nation­al asso­ci­a­tion and by con­se­quence will join Ima­go and Felafc very soon, Guatemala, Bolivia, Pana­ma and Cos­ta Rica).
Dis­cus­sion were of course around fund­ing as all coun­tries are fac­ing dif­fi­cul­ties to get the mem­ber­ship paid and spon­sors to sup­port them.
Author­ship is also a hot top­ic: in Mex­i­co at least the moral rights are rec­og­nized from 1996, in Venezuela , just before the sad events they were one week short of being rec­og­nized, in Uruguay, mem­bers are not inter­est­ed but the board is fight­ing, in Peru it is about to be offi­cial- already for TV pro­duc­tions. But the col­lect­ing soci­eties sys­tem is not enough or not devel­oped.
Latin Amer­i­can coun­tries are also suf­fer­ing of the closed bor­ders and cus­toms sys­tems: so it is very dif­fi­cult for them to work or send equip­ment in a dif­fer­ent coun­try. Felafc should also help to smooth the process.
Edu­ca­tion, shar­ing, show­ing films, help to the oth­er asso­ci­a­tions, com­mu­ni­ca­tion, orga­ni­za­tion of events are some of the goals and aims of the Fed­er­a­tion, a hard task is wait­ing for these coura­geous mem­bers.
The con­sti­tu­tion­al meet­ing end­ed up with a pub­lic pre­sen­ta­tion dur­ing the EFD salon in frnt of a big audi­ence, cin­e­matog­ra­phers, spon­sors and part­ners. It was real­ly well received and our pres­ence was very much appre­ci­at­ed as a sign of sup­port and recog­ni­tion.
Of course the appar­te­nance to Ima­go is strong and this fed­er­a­tion should help to main­tain the tight links with Ima­go and favor the com­mu­ni­ca­tion which has been a lit­tle bit loose the last years. We will fol­low close­ly what is hap­pen­ing on the oth­er side of the Atlantic, and I promised we will sup­port their efforts the best we can.
Repot by Louis Phillipe Capele IMAGO SBC