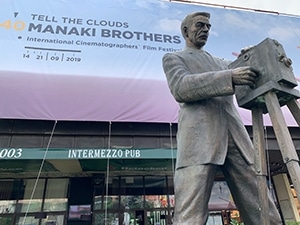 There was no bet­ter way to close this spe­cial edi­tion of the 40th anniver­sary of the fes­ti­val by screen­ing the film «Man­a­ki – Sto­ry in Pic­tures». The bio­graph­i­cal doc­u­men­tary about the two Balkan pho­tog­ra­phers direct­ed by Robert Janku­losk was the right choice to end this mag­nif­i­cent edi­tion. By hon­or­ing such pho­tog­ra­phers and film pio­neers was the same as hon­our­ing all pho­tog­ra­phers and cameramen/women of the world. It was a cel­e­bra­tion of pho­tog­ra­phy and cinematography.
We all know, that the Fes­ti­val is named after the two broth­ers who have beau­ti­ful­ly cap­tured with their pho­tographs Bito­la and its region at the end of the XIX cen­tu­ry and begin­ning of the XX century.
Pho­to­graph of Man­a­ki Broth­ers in their stu­dio in
Bito­la begin­ing of XX century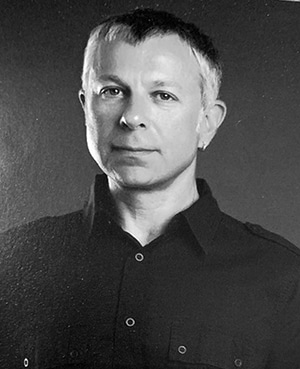 Igor Ivanov Pres­i­dent of MFPA
The direc­tor in his speech men­tioned work­ing for 6 years on the project most­ly in research­ing. The dis­cov­ery was a reveal of won­der­ful pic­tures that take us back to the time and the images nev­er seen before of the city of Bito­la. The per­se­ver­ance of the two broth­ers has left a rich lega­cy to the city of Bito­la. In a cer­tain way the Man­a­ki broth­ers have indeed hon­oured immense­ly the work of pho­tog­ra­phers and cinematographers.
The bio­graph­i­cal doc­u­men­tary cen­tres almost exclu­sive­ly on their work as pho­tog­ra­phers and not as cam­era men. Their film cam­era – CAMERA 300 – is rather a pro­tag­o­nist in some photographs.
«Tell the Clouds» was the claim phrase of this year's edi­tion of the fes­ti­val. We don't know but per­haps this claim has a direct link to the doc­u­men­tary about the Man­a­ki Broth­ers. There is a moment in the film that one of the brother's ques­tions if they will leave any­thing for future gen­er­a­tions once they leave. So now we can tell them through the clouds to both broth­ers that they indeed left a fan­tas­tic lega­cy. Not only for their beau­ti­ful pho­tographs offer­ing eter­ni­ty to their city but also to inspire such an endur­ing fes­ti­val that puts the region and the coun­try on the world map.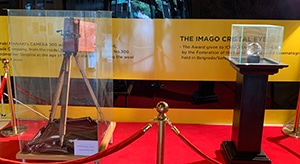 The IMAGO Award dis­played proud­ly next to
Cam­era 300.
The Fes­ti­val has been there for four decades cel­e­brat­ing cin­e­matog­ra­phers and cin­e­matog­ra­phy. It was with a great deal of courage to imple­ment such choice. Cin­e­matog­ra­phers do not make front pages in mag­a­zines and they are not known by the pub­lic in gen­er­al. Gena Teo­dosievs­ka Fes­ti­val direc­tor writes in her edi­to­r­i­al «40 years ago, sev­er­al auda­cious and bold film pro­fes­sion­als and intel­lec­tu­al found­ed this fes­ti­val in Bito­la, the town where the mod­est and deter­mined broth­ers Mil­ton and Jana­ki Man­a­ki had accept­ed the new tech­nolo­gies in pho­tog­ra­phy. The film cam­era was the small-big won­der that would rapid­ly change its look, shape and design in the years to come. The Man­a­ki Broth­ers antic­i­pat­ing the future by includ­ing this mod­ern form of expres­sion through their cam­era 300, in fact cre­at­ed his­to­ry and a pre­cious doc­u­ment about the life in Bito­la and its vicin­i­ty at the begin­ning of the tumul­tuous 20th cen­tu­ry, the cen­tu­ry that brought human­i­ty its dark­est times, but also its bright­ness process­es and inven­tions»
The Man­a­ki fes­ti­val is indi­rect­ly their lega­cy. Igor Ivanov Pres­i­dent of MFPA orga­ni­za­tion behind the fes­ti­val wrote in the edi­to­r­i­al of the fes­ti­val «Forty years lat­er, the inter­na­tion­al Film Fes­ti­val Man­a­ki Broth­ers remains the top pri­or­i­ty of the MFPA. Next year we cel­e­brate the sev­en­ti­eth anniver­sary of this asso­ci­a­tion of ours. These major jubilees not only empha­size the extent of respon­si­bil­i­ty we bear towards our col­leagues from past gen­er­a­tions who build our cin­e­ma with such com­mit­ment, but also pose a chal­lenge and incen­tive to keep mov­ing towards the new gen­er­a­tion of film authors who are on the hori­zon and who promise brighter future for our cinema».
In recog­ni­tion to this per­se­ver­ance IMAGO pre­sent­ed in its last Awards edi­tion the spe­cial Con­tri­bu­tion to Cin­e­matog­ra­phy Award that they dis­played with great pride in the entrance hall of the main the­atre.
Ima­go is also very proud to part of this fam­i­ly of devot­ed peo­ple that recog­nise cin­e­matog­ra­phers and cinematography.
The Gold­en Cam­era 300 lau­re­ate for Life­time Achieve­ment was Ed Lach­man ASC and Yor­gos Arvani­tis GSC actu­al pres­i­dent of our soci­ety mem­ber GSC.
The win­ners and clos­ing ceremony:
The Gold­en Cam­era 300 for cin­e­matog­ra­ph­er Helene Lou­vart for the film «The Invis­i­ble Life of Euridice Gus­mao».
The Sil­ver Cam­era 300 was giv­en to cin­e­matog­ra­ph­er Jin­song Dong for the film «The Wild Goose Lake»
The Bronze Cam­era 300 for cin­e­matog­ra­ph­er Daniele Cipri of the film «Pira­nhas»
The Small Cam­era 300 was received by the cin­e­matog­ra­ph­er Con­stan­za San­doval from Argenti­na, for the film «Mon­ster God»
Dur­ing the Board Meet­ing lunch break we were invit­ed by our for­mer pres­i­dent Nigel Wal­ters BSC who is become a real expert in Bito­la. Nigel was the founder dur­ing his pres­i­den­cy «The Balkan Con­fer­ence Meet­ing» where all soci­eties of the region have a seat, only Turkey missed this time, since then Nigel has not missed one edi­tion of the festival.

So by now Nigel knows well the city and its secrets and those who didn't come to vis­it Ohrid could go a fish catch.

So we all fol­lowed him into the old town where a grace­ful bazaar is open in the tiny streets not far from the Epinel hotel where we all stayed. The fish­ing catch was to get fish and take it to a restau­rant where would be cooked for lunch. So we did and it was a great catch.

Ron Johan­son ACS OBE tak­ing a pick through the glass while Nigel Wal­ters BSC and Louis Philippe Capelle SBC are wait­ing for the fish to be arranged and pre­pared for lunch.
North Mace­don­ian flags in a Tourist shop. North Mace­do­nia is cam­paign­ing in favour to enter the Euro­pean Union. Tony Cos­ta aip hav­ing his tourist pic­ture tak­en while wait­ing out­side the shop for the fishermen
In the long cor­ri­dor of the Epinal Hotel we could appre­ci­ate the his­to­ry in pho­tographs of 40 edi­tions of the fes­ti­val. We rec­og­nize many of our col­leagues who at least have been part of the fes­ti­val or either invit­ed spe­cial guests or giv­en with the Cam­era 300 award. Amongst many oth­er we could pick Luciano Tovoli AIC who was also homage in one occa­sion like Bil­ly Williams in 2009 giv­en the Life Time Achieve­ment Award. In the pho­to­graph he is look­ing through the eyp­iece of the orig­i­nal Cam­era 300 used by the two famous Man­a­ki Brothers.
The past and present.
Johan Hell­sten cre­ator of the easyrig pos­es next to the man­a­ki broth­er statue.