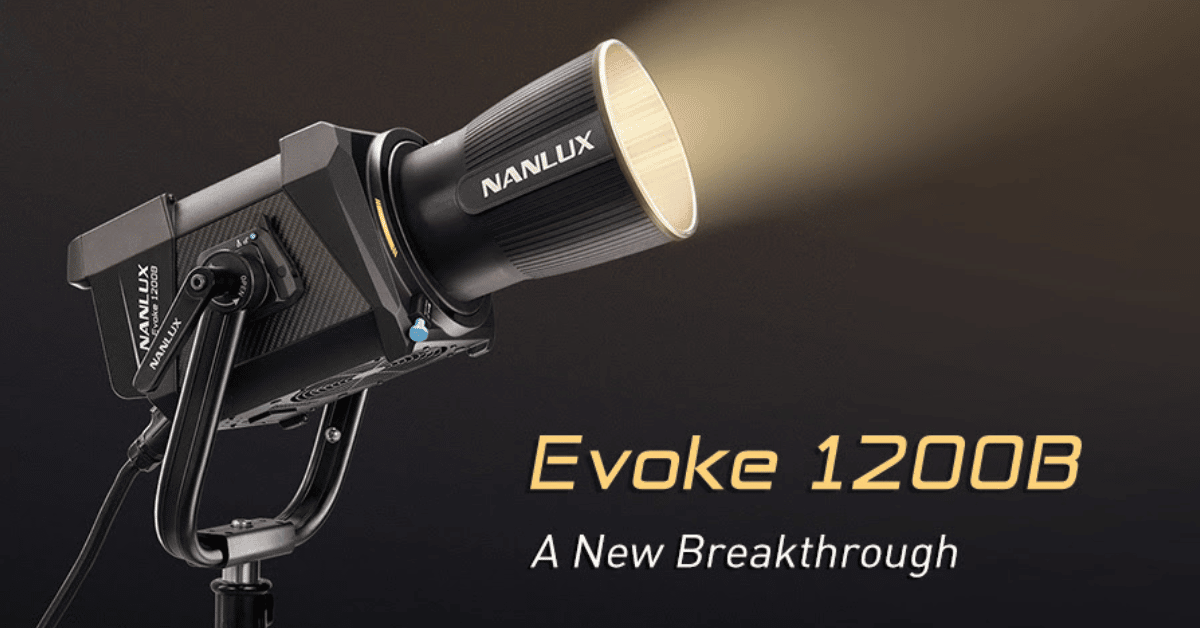 Evolv­ing to the next lev­el in the film indus­try – launch­ing and intro­duc­ing the all-new Nan­lux Evoke 1200B Bi-Col­or LED spot­light of inno­va­tions from NANGUANG, the com­pa­ny behind the brand.
Now, NANLUX deter­mines to take the whole film­mak­ing world by storm with the release of Evoke 1200B, the next evo­lu­tion of Bi-Col­or LED fix­ture. Con­tin­u­ing the lega­cy start­ed by Evoke 1200 one year ago, NAN­LUX­makes a great leap for­ward on the jour­ney to cre­ate ver­sa­tile gear aim­ing at pro­fes­sion­al production.

Incor­po­rat­ing prod­uct phi­los­o­phy refined over the past 30 years, Evoke 1200B is the new weapon for the cin­e­matog­ra­phers & gaffers in film & TV pro­duc­tion. It would be expect­ed to be a game-chang­er in bring­ing beyond-antic­i­pa­tion user expe­ri­ence for large film crew who demand pre­ci­sion light­ing on subtlety.
Evoke 1200B offers impec­ca­ble light qual­i­ty in the same cat­e­go­ry by adapt­ing 2×1200WBi-color LED­chipsin Dot Matrix for­mat. It fea­tures high­er light effi­cien­cy with lumi­nance lev­el at 5600K up to 61,030lux@3m(with reflec­tor RF-NLM-26), com­pa­ra­ble to that of a 1.8kW PAR or 2.5kW HMI Fres­nel. Suf­fi­cient illu­mi­na­tion is also guar­an­teed for shoot­ing Ultra-High-Speed with­out wor­ry­ing about flick­er in uplift­ing the framerate.
Way more flex­i­bil­i­ty in cre­ation by sim­u­lat­ing nat­ur­al light from sun­rise to day­light to sun­set is offered­byE­voke 1200B's vari­able CCT range of 2,700K to 6,500K. Advanced Bi-Col­or light mix­ing tech­nolo­gies ensures con­ti­nu­ity and accu­ra­cy in any CCT change, mak­ing CTO/CTB gels a thing of the past. Fur­ther­more, the incor­po­rat­ed con­stant out­put func­tion­al­i­ty sup­ports through range CCT tun­ing with­out any inten­si­ty shift at all.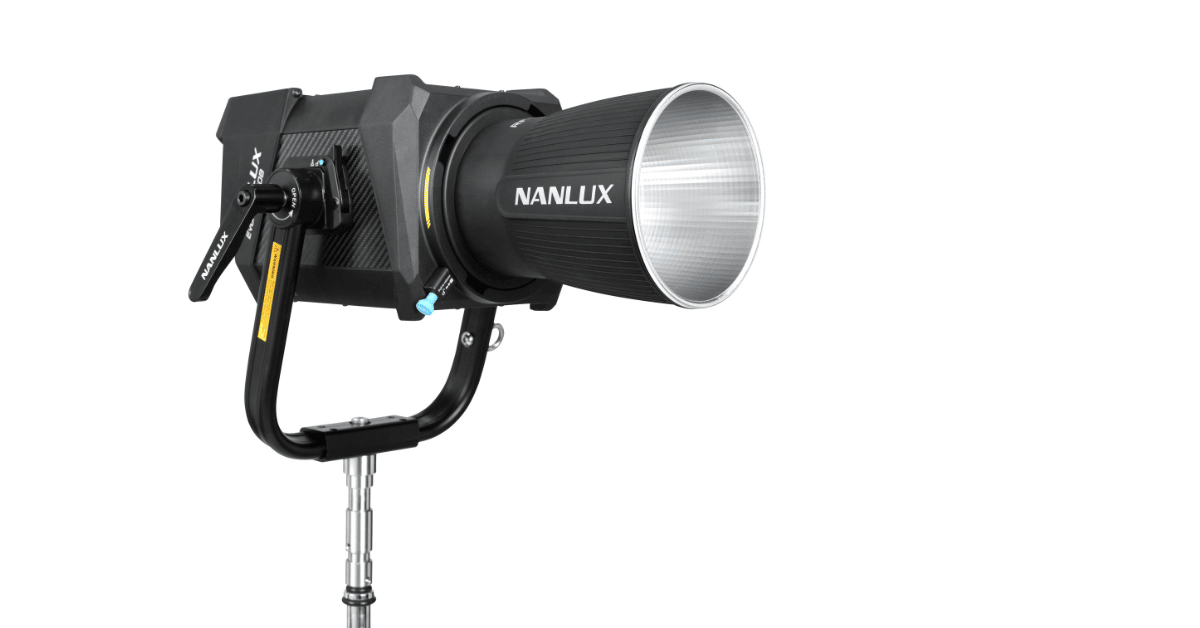 Devel­oped with pro­fes­sion­als in mind who care more about col­or qual­i­ty in film­ing, Evoke 1200Bfeaturesexcellent col­or ren­der­ing capa­bil­i­ty high­light­ed by CRI, TLCI and TM-30 scores. This will deserve it an unpar­al­leled place in the pro­fes­sion­al film mar­ket, bring­ing out the true-to-life col­ors in films paired with oth­er gear will be the new norm in the industry.
Both the lamp head and the pow­er sup­ply of Evoke 1200B are built in her­met­i­cal­ly sealed structureandIP54rated to with­stand inclement weath­er or extreme con­di­tions, mean­ing the whole unit can stand side by side wher­ev­er the cam­era can work prop­er­ly, rain­for­est, snow­berg or even in sand­storm, you name it.
With a sim­pli­fied and intu­itive menu inter­face visu­al­ized on a 2.8‑inch dis­play, mak­ing the Evoke 1200Beasyto con­trol in all aspects and famil­iar to exist­ing Nan­lux and Nan­lite fix­tures.

Dim­ming is fine-tuned from 0 – 100% in 0.1% incre­ment with great smooth­ness, and the sud­den jump in low out­put sec­tion between 0 – 1% is elim­i­nat­ed. Five dim­ming curves are avail­able via DMX con­trol to per­fect­ly match exact­ing con­trol request of indus­try-stan­dard: LINEAR, EXPONENT, LOGARITHM, S‑CURVE, GAMMA2.2.
Evoke 1200B per­mits com­pre­hen­sive wired/wireless con­trol­ling solu­tions to seam­less­ly inte­grate into var­i­ous on-set work­flows. Wired and wire­less DMX con­trol in par­tic­u­lar makes pre­cise and dig­i­tal light­ing con­trol onset a sure thing. It can be con­nect­ed to DMX con­sole via 5‑Pin cable or con­trolled wire­less­ly through the built-in Lumen­Ra­dio Tim­o­T­wo mod­ule. Both reli­a­bil­i­ty and flex­i­bil­i­ty are on the table for you to bring cre­ative ideas to life.
A brand new heat man­age­ment sys­tem is cus­tomized for Evoke 1200B to opti­mize dis­si­pa­tion­with­out sac­ri­fic­ing com­pact lay­out for inter­nal elec­tric com­po­nents. This mod­i­fi­ca­tion effec­tive­ly resolve the issue of low­ered effi­cien­cy and short­ened LED life­time result­ed from high run­ning tem­per­a­ture. The fan­con­trol sys­tem can tog­gle between 4 oper­a­tion modes man­u­al­ly to cope with every shoot­ing sce­nario with much ease: SMART, FULL SPEED, LOW SPEED and OFF modes.
Thanks to Alu­minum die cast­ing alloys used for the con­struc­tion of Evoke 1200B, the weight of bare light iskept at 7.75kg, only 70% of a 1.8K HMI, giv­ing it an edge in terms of trans­porta­bil­i­ty while retain­ing the nec­es­sary inten­si­ty. It offers 7.5M DC cables as stan­dard and 10M & 12M con­nec­tion cable as option­al, extend­ing the pow­er sup­ply distance.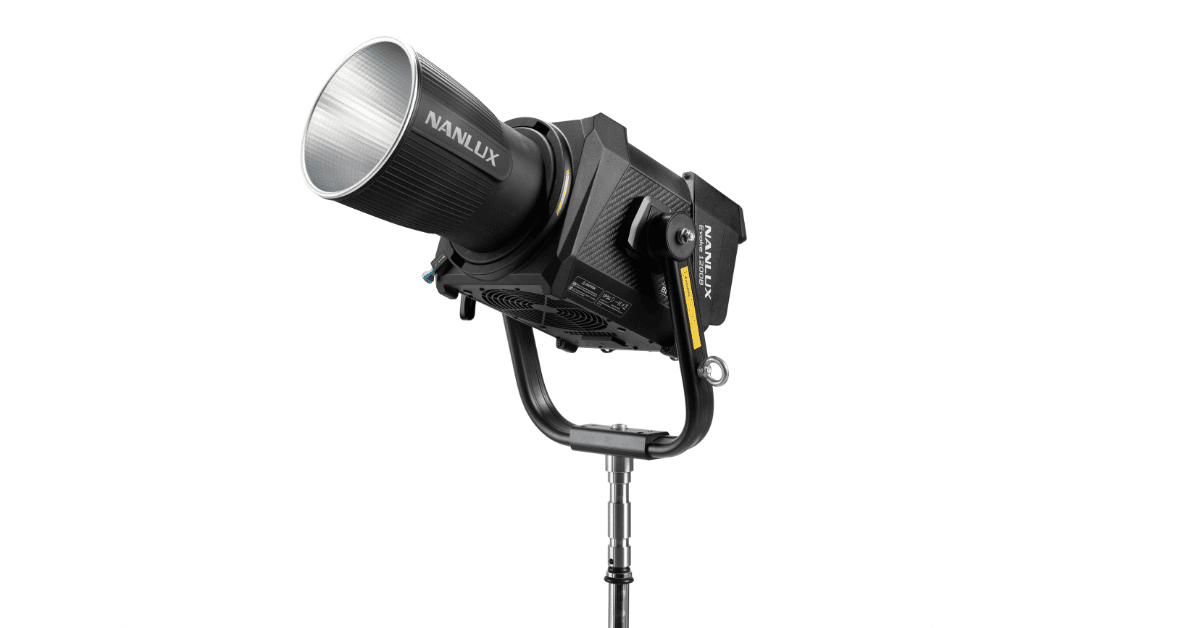 The self-lock­ing con­nec­tor allows for quick and tight con­nec­tion. Quick release super clamp and off­set Yoke come as stan­dard, which secures the pow­er sup­ply tight on light stand&truss and facil­i­tates quick­swap­ping of lamp head respec­tive­ly. Its off­set Yoke design expands the tilt­ing angle of the light with mod­i­fiers attached, all improve­ments are for fast-paced pro­duc­tion on set.
When asked about this heavy­weight launch, NANLUX Man­ag­ing Direc­tor Nan­cy just speaks out loud with much pride that: "We strong­ly believe that with LED fixture's ready-to-go char­ac­ter­is­tics, and Evoke1200B'shigher light effi­cien­cy and stun­ning ver­sa­til­i­ty, the light will make huge dif­fer­ence in the indus­try and offer the lev­el of readi­ness and prac­ti­cal­i­ty that no oth­er lights can."

Evoke 1200B Key Features:
• Two 1200W Bi-col­or LED chips in Dot Matrix for­mat
• High­er light effi­cien­cy 61,030lux@3m 5,600K(with reflec­tor RF-NLM-26), com­pa­ra­ble to that of a1.8kWPAR or 2.5kW HMI Fres­nel
• No flick­er for Ultra-High-Speed shoot­ing in rais­ing the frame rate.
• Vari­able CCT range of 2700K to 6500K with con­ti­nu­ity and accu­ra­cy ensured in adjust­ment
• Excel­lent col­or ren­di­tion with CRI/TLCI scores of 96⁄95, TM-30 Rf aver­age 95/Rg aver­age 102
• Both lamp head and pow­er sup­ply built in her­met­i­cal­ly sealed struc­ture and IP54 rat­ed
• Intu­itive UI con­fig­u­ra­tion of 4 but­tons, 2 knobs and a 2.8 inch LCD dis­play
• 0 – 100% smooth dim­ming in 0.1% incre­ment with jump between 0 – 1% sec­tion elim­i­nat­ed
• Five dim­ming curves to sat­is­fy pro­fes­sion­al demands: LINEAR, EXPONENT, LOGARITHM, S‑CURVE, GAMMA 2.2
• Com­pre­hen­sive wired/wireless con­trol­ling solu­tions: On-board, 2.4G, Blue­tooth, NANLINKAPPDMX/RDM, Wire Con­trol (Under devel­op­ment), Lumen­Ra­dio CRMX
• Built-in 12 cus­tomis­able prac­ti­cal effects
• Improved cool­ing sys­tem with 4 fan modes: SMART, FULL SPEED, LOW SPEED, OFF
• Stur­dy build qual­i­ty using alu­minum die cast­ing alloys
• Off­set Yoke design with 15°expanded tilt­ing angle of the light with mod­i­fiers attached
• Com­pat­i­bil­i­ty for all mod­i­fiers with NL mount