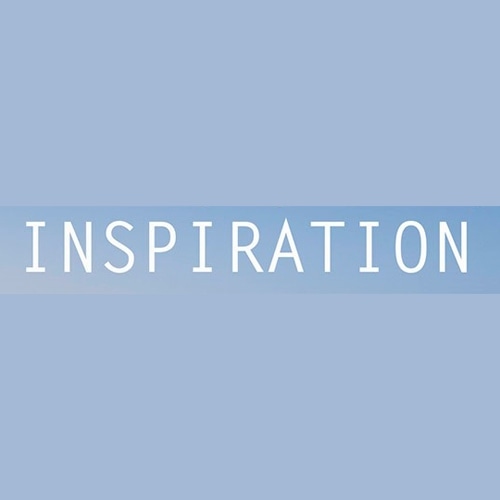 Between jan­u­ary 25th and 27th 2019 the IMAGO Mas­ter­Class Com­mit­tee pre­sent­ed the "Inspi­ra­tion" lec­ture event, held in Vien­na Aus­tria. The IMAGO Mas­ter­class­es are cel­e­brat­ing this year their 10th anniver­sary, and besides the IMAGO Com­mit­tee, the Vien­na Film­com­mis­sion and in fact even the city of Vien­na itself(!) have joined forces to make this a tru­ly mem­o­rable event! Fea­tur­ing no less than four exten­sive cin­e­matog­ra­phy Mas­ter Class­es, it is a ver­i­ta­ble smörgås­bord of lec­tures on cin­e­matog­ra­phy, and 160 cin­e­matog­ra­phers from 25 nations are in the audience!
Myself per­son­al­ly, I sensed I was in for a three day cul­tur­al "over­dose" (and I mean that in the best way pos­si­ble) already when I board­ed the Aus­tri­an Air flight to Vien­na, and they had Strauss­waltzes soft­ly play­ing over the loud­speak­ers in the air­plane cabin!
And in Vien­na we are treat­ed to a very impres­sive cin­e­mato­graph­ic line-up indeed! The guest speak­ers are: Bar­ry Ack­royd, BSC, Dan Laust­sen, DFF, ASC, Maryse Alber­ti and Greig Fras­er, ACS, ASC. Offer­ing one Mas­ter Class each on Fri­day and Sat­ur­day, and two Mas­ter Class­es on Sun­day the 27th, the event is held in the Metro Kinokul­turhaus cin­e­ma, a gor­geous the­atre with a his­toric past dat­ing back to the 1840s.
Already 'on paper' you can find some com­mon denom­i­na­tors among the guest speak­ers. Ack­royd and Frasi­er have both col­lab­o­rat­ed with Kathryn Bigelow on her gut-wrench­ing, uncom­pro­mis­ing war dra­mas: "The Hurt Lock­er" and "Zero Dark 30" respec­tive­ly, and Ack­royd and Alber­ti have both deliv­ered out­stand­ing fea­ture film cin­e­matog­ra­phy on 16mm film ("The Hurt Lock­er" and "The Wrestler" respectively).

The inte­ri­or of the amaz­ing metro kinokul­turhaus. found­ed in the 1840s, it even sur­vived a direct bomb hit in 1945!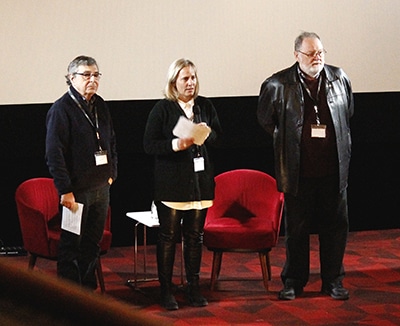 The ima­go mas­ter class com­mit­tee, left-to-right: Jan Weincke DFF,
Astrid Heubrandt­ner Ver­schu­ur AAC and Ron Johan­son ACS.
Fri­day at 1pm the event offi­cial­ly opens at the Metro Kinokul­turhaus, and the IMAGO Mas­ter­Class Com­mit­tee enters the stage to wish every­one wel­come and to explain the pro­ceed­ings. Ron John­son, ACS, evokes laugh­ter from the audi­ence when he explains the wardrobe guide­lines: "please hang your over­coats in the down­stairs lob­by, but don't leave any valu­ables in your clothes, because I will be going through them lat­er. Remem­ber, Aus­tralia is a nation of convicts!"
The Bar­ry Ack­royd, BSC, Mas­ter Class is very capa­bly mod­er­at­ed by Volk­er Gläs­er, and Ack­royd starts the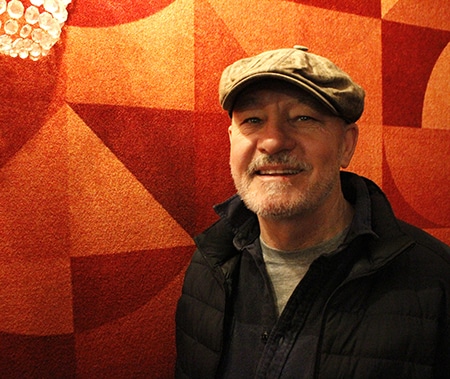 Bar­ry Ack­royd BSC
pro­ceed­ings off by pay­ing trib­ute to Chris Menges, BSC ASC, whom he con­sid­ers to be his cin­e­mato­graph­ic men­tor. Clips are shown from three sem­i­nal titles shot by Menges: "The Mis­sion" (1986), "The Killing Fields" (1984) and Ken Loach's "Kes" (1969). The lat­ter in par­tic­u­lar struck a deep chord in Ack­royd when, in his youth, he first saw it. And when one day much lat­er Ken Loach asked him to shoot a fea­ture for him, Ack­royd didn't need many sec­onds to make up his mind about accept­ing the offer.
Ack­royd wound up final­ly shoot­ing alto­geth­er 12 fea­tures for Loach, one of the last being "The Wind that shakes the Bar­ley" (2006). Set in Ire­land in the 1920s, Ack­royd con­sid­ers this film to be Loach's mas­ter­piece. Bar­ry is also a big fan of shoot­ing on film, and all titles screened dur­ing this Mas­ter Class were orig­i­nat­ed on either 16 or 35mm film.
Ack­royd sums up what attracts him to a project, "I try to find my voice, my own voice, in some­one elses sto­ry. I feel I work for the direc­tor, not for the pro­duc­er or the stu­dio. I try to trans­late the pas­sion of the actors and the sto­ry through the cam­era. If the direc­tor rec­og­nizes your voice, then you're in good shape".
Ack­royd also has firm con­vic­tions about work­ing con­di­tions on a film set, explain­ing: "I just fin­ished a film in the US, and we wrapped our days in time, and every­one was hap­py that they could go home and see their fam­i­lies! You can fin­ish a day's work in 10 – 12 hours instead of in 15 – 16 hours!"
And speak­ing of time, this three hour Mas­ter Class flies by as if it were 20 min­utes, and is round­ed off with two enor­mous­ly adren­a­line-charged titles: Kathryn Bigelow's "The Hurt Lock­er" (2008) (for which Ack­royd was nom­i­nat­ed for an Acad­e­my Award) and Paul Green­grass' "Cap­tain Phillips" (2013).
Ack­royd reveals that the final sequence from "Cap­tain Phillips" was shot off the coast of Mal­ta, on a stu­dio set in Lon­don and on actu­al Amer­i­can navy war ships in the US! That the result­ing footage appears com­plete­ly seam­less and gut-wrench­ing­ly real­is­tic is a trib­ute to Ackroyd's con­sid­er­able cin­e­mato­graph­ic skills.
After the well-deserved applause for this open­ing Mas­ter Class, we're treat­ed to a deli­cious meal in the theatre's foy­er, fol­lowed by the screen­ing of Claire Pij­man's fas­ci­nat­ing and mov­ing doc­u­men­tary por­trait of dutch cin­e­matog­ra­ph­er Rob­by Müller, "Liv­ing the Light". A Q&A with Claire Pij­man rounds off the evening.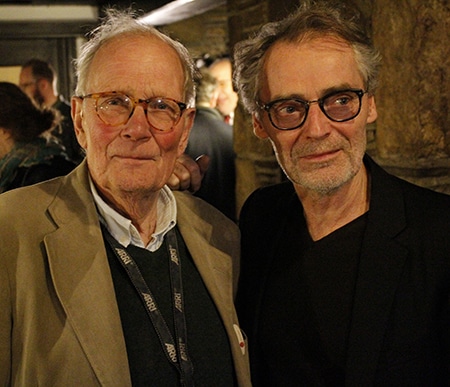 From-left-to-right, Andreas Fis­ch­er-Hansen DFF (for­mer IMAGO pres­i­dent)
and Dan Laust­sen DFF ASC
The Sat­ur­day pro­gramme starts off with an equal­ly riv­et­ing Mas­ter Class with Dan­ish Ace DoP Dan Laust­sen, DFF, ASC, con­duct­ed by Andreas Fis­ch­er Hansen, who in fact, once upon a time, was Laustsen's teacher at the Dan­ish film school.
Besides being fas­ci­nat­ing in it's own right, this Mas­ter Class is also won­der­ful­ly loose and laid back in the best Dan­ish man­ner, with Fis­ch­er Hansen some­times spon­ta­neous­ly wan­der­ing off stage to check some­thing with the arrangers. In con­trast to this, some extreme­ly action-packed clips from "John Wick II" (2017) are screened! Laust­sen clar­i­fies: "they rehearse the stunts for 2 – 3 months before we start shoot­ing. They real­ly are fight­ing intense­ly, I'm sure it must have hurt like hell, and I don't under­stand how Keanu Reeves does it: he does most of his own stunts. Shoot­ing in the ware­house we had to go back and forth between the car chase and the fight­ing, because the fight­ing was so exhaust­ing for the per­form­ers".
Fis­ch­er Hansen evokes hearty laugh­ter from the audi­ence when he wit­ti­ly asks Laust­sen: "how does John Wick sur­vive, with all these guys shoot­ing at him with machine guns all the time?"
Laustsen's exten­sive expe­ri­ence from Amer­i­can large-scale pro­duc­tions leads to some very inter­est­ing dis­cus­sions on set pre-light­ing prac­tices. Some of the more elab­o­rate stu­dio sets on "John Wick II" took two months to build and about equal­ly as long to light, since already get­ting all the pow­er cables in place becomes a major under­tak­ing on such a big set.
Laust­sen also made the tran­si­tion from film to dig­i­tal in an effort­less man­ner and now exclu­sive­ly shoots dig­i­tal­ly, but his artis­tic mind­set remains the same as in the old days, as he explains: "I try to get every­thing right in the cam­era, I don't shoot it clean and then play around lat­er. My dailies look exact­ly like the fin­ished prod­uct". But he also sees chal­lenges for the present-day cin­e­matog­ra­ph­er: "we're los­ing con­trol over our images ‑your movie will be shown on an air­plane with the sun com­ing in through the windows".
The sec­ond half of the Dan Laust­sen Mas­ter Class focus­es on his cel­e­brat­ed col­lab­o­ra­tions with Mex­i­can direc­tor Guiller­mo del Toro, and with the first film, "Crim­son Peak" (2015), the theme of enor­mous sets con­tin­ues! The entrance hall to the Vic­to­ri­an man­sion in which much of the film takes place was a set three sto­ries high, adjust­ing any­thing on that set meant con­stant­ly using cranes and cherrypickers.
Laust­sen also shows us a ball­room sequence from the same film, which was quite chal­leng­ing from a light­ing point of view, as the cam­era con­tin­u­ous­ly pans around the room sup­pos­ed­ly only lit by can­dle light! Laust­sen came up with a very clever solu­tion for this one: there were a large num­ber of KinoF­los in the ceil­ing which were dimmed up when they were not in the shot, and dimmed down when­ev­er the cam­era was point­ed in their direction.
The sec­ond Guiller­mo del Toro col­lab­o­ra­tion is of course extreme­ly well-known: "The Shape of Water" (2017), for which Lausten was nom­i­nat­ed for an Acad­e­my Award for Best Cin­e­matog­ra­phy. This was in fact a very mod­est­ly bud­get­ed film, and it is a trib­ute to Laustsen's skill­ful cin­e­matog­ra­phy that this is nowhere appar­ent in the imagery!
The rest of the Sat­ur­day sched­ule con­sists of delight­ful activ­i­ties: a guid­ed Vien­na tour on foot, fol­lowed by a bus ride all the way up to the Vien­na Woods and wind­ing up in a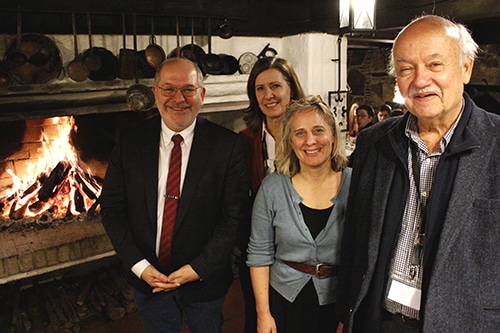 Sat­ur­day evening was round­ed off in a tra­di­tion­al vien­nese heuriger. From-left-to-right,
Omar al-rawi, mem­ber of the vien­na city coun­cil, Mar­i­jana Stoisits, man­ag­ing direc­tor
of the Vien­na Film Com­mis­sion, Astrid Heubrandt­ner AAC, and Paul René Roes­tad FNF
, IMAGO president
tra­di­tion­al Vien­nese Heuriger restaurant.
The Sun­day sched­ule is quite intense as it offers two Mas­ter Class­es! Claire Pij­man mod­er­ates the first one show­cas­ing the work of cin­e­matog­ra­ph­er Maryse Alber­ti. This again is a dif­fer­ent brand of Mas­ter Class, as Alber­ti proves to be an unstop­pable talk­er (hey, she's french!)
Born in a small vil­lage in France, Alber­ti quick­ly shift­ed to New York and broke into stills pho­tog­ra­phy, focussing on the vibrant Rock'n'Roll scene there in the 1970s. She soon start­ed to shoot super‑8 films and segued into doc­u­men­tary film­mak­ing which even­tu­al­ly led to fea­ture films, one of the first being "Vel­vet Gold­mine" (1998).
Maryse Alber­ti (left) was inter­viewed by Claire Pij­man NSC (right).
One of the most famous projects Alber­ti has worked on is Dar­ren Aronofsky's "The Wrestler" (2008) which she shot on 16mm, and for which a doc­u­men­tary look was a high pri­or­i­ty. Alber­ti wound up shoot­ing about 90% of the film with a 12mm lens, exer­cis­ing great care not to get too close to the actors in order to avoid visu­al dis­tor­sion.
Of course, all the wrestling in this film led to Alber­ti being offered to lens the box­ing dra­ma "Creed" (2015), which she opt­ed to shoot on the Arri Alexa. We're shown two clips from the film, a long steadicam take fol­low­ing the main char­ac­ters into a gym, as well as an almost unbear­ably intense fight­ing sequence shot in one con­tin­u­ous take. The footage abounds with mus­cu­lar men, shout­ing and aggres­sive behav­ior, and Alber­ti is half jok­ing­ly asked by the audi­ence: "how can you han­dle this amount of testos­terone on a movie set?"
But on a more seri­ous note, Alber­ti points out that "every­one on the set was very polite and respect­ful, it wasn't hard to work with these peo­ple" and con­tin­ues to give a more gen­er­al piece of advice, "always be hum­ble and respect­ful with the peo­ple you work with, whether it's real peo­ple on a doc­u­men­tary, or actors on a set".
Alber­ti is a fre­quent col­lab­o­ra­tor with direc­tors Tod Haynes and John Cur­ran, hav­ing shot sev­er­al fea­tures for each one. Towards the end of the Mas­ter Class two sequences from Curran's "Chap­paquid­dick" (2017) are screened, and this is a much dif­fer­ent type of film from the ear­li­er more doc­u­men­tary style films, here actors clear­ly have to hit their marks and com­po­si­tions are care­ful­ly planned dur­ing preproduction.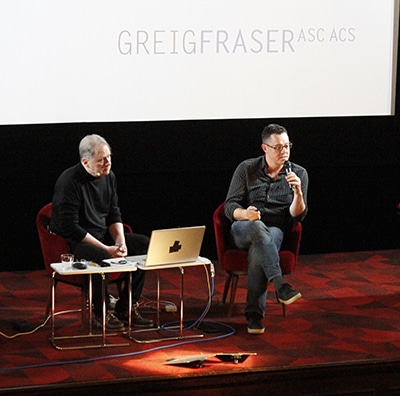 Ben­jamin B (left) con­duct­ed a fas­ci­nat­ing mas­ter­class fea­tur­ing
Greig Fras­er ASC ACS (right).
After the lunch break it's time for the Greig Fras­er, ACS, ASC, Mas­ter Class mod­er­at­ed by Ben­jamin B, which opens with the provoca­tive idea of "anti-inspi­ra­tion"!
It turns out, although the theme for this entire event is inspi­ra­tion, Fras­er is a firm believ­er in prac­tic­ing "anti-inspi­ra­tion". By that he means that, when he's prepar­ing or work­ing on a new project, he is very restric­tive with watch­ing oth­er peo­ples movies! Fras­er feels that the impulse ‑con­scious­ly or uncon­scious­ly- to be influ­enced by what he has just seen, can be a haz­ard on a film set: maybe he's work­ing on a project that is sup­posed to look cold and ster­ile with locked off cam­eras ‑and he's just seen this real­ly cool film where it's all warm colours and hand­held cameras…
Frasers work spans over titles as diverse as "Let me in" (2010), "Killing them soft­ly" and "Zero Dark 30" (both 2012) as well as the Star Wars fran­chise block­buster "Rogue One" (2016). We are shown clips from these and even more titles.
"Killing them soft­ly" was shot on 35mm anamor­phic and Panav­i­sion lens engi­neer Dan Sasa­ki had con­struct­ed a spe­cial 50mm lens with extreme bokeh for this film: it would turn a line of light poles in the back­ground into a for­rest of ver­ti­cal images.
This film also fea­tures an extreme­ly vio­lent but quite fas­ci­nat­ing sequence in which actor Ray Lliot­ta plays a char­ac­ter who gets shot. Amaz­ing­ly, the scene was filmed using an extreme slow­mo­tion 35mm prism cam­era at some­thing like 5000 fps; it's real bul­lets leav­ing the noz­zle of a hand­gun, real glass shat­ter­ing. Fras­er explains "many film­mak­ers now are push­ing for shoot­ing it for real, and I'm big advo­cate for that".
Fras­er is also a strong believ­er in kar­ma, and has a good sto­ry to back it up. Years ago, he helped a strug­gling film school stu­dent by donat­ing some unex­posed Kodak 5230 stock to him. Then, when Fras­er was revving up to shoot "Rogue One, a Star Wars story"(2016) with the Alexa 65, he want­ed to base his LUT on Kodak 5230, which by then Kodak had dis­con­tin­ued ‑and found out that there was no unex­posed stock any­where in the world! Fras­er then con­tact­ed his film school pro­tégé, who it turns out had 50 feet of unex­posed 5230 at the bot­tom of his fridge, under the frozen vegetables!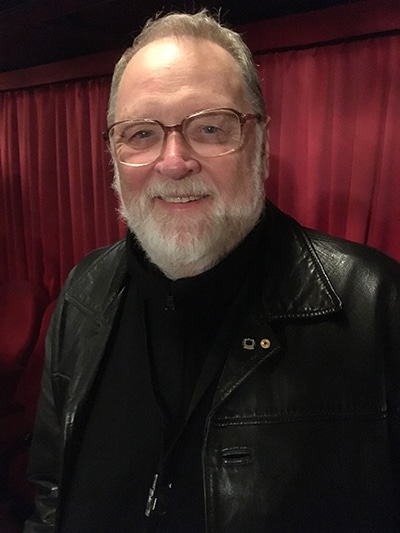 Ron Johan­son ACS
At the end of the Ben­jamin B/Greig Fras­er Mas­ter Class, the whole audi­ence gath­ers in a stand­ing ova­tion to the mem­bers of the IMAGO Mas­ter Class Com­mit­tee as IMAGO Pres­i­dent Paul René Roes­tad, FNF, hands over bou­quets and gives a short clos­ing speech. A cour­tesy bus to the air­port has been arranged, so every­one fly­ing out the same evening hur­ries to that bus. Smiles and good cheer is every­where, and per­haps Greig Fras­er most suc­cinct­ly sums up the whole week­end when he com­ment­ed towards the end of the event: "enough cin­e­mato­graph­ic inspi­ra­tion has been offered here to last a lifetime!"
Lars Pet­ters­son, FSF