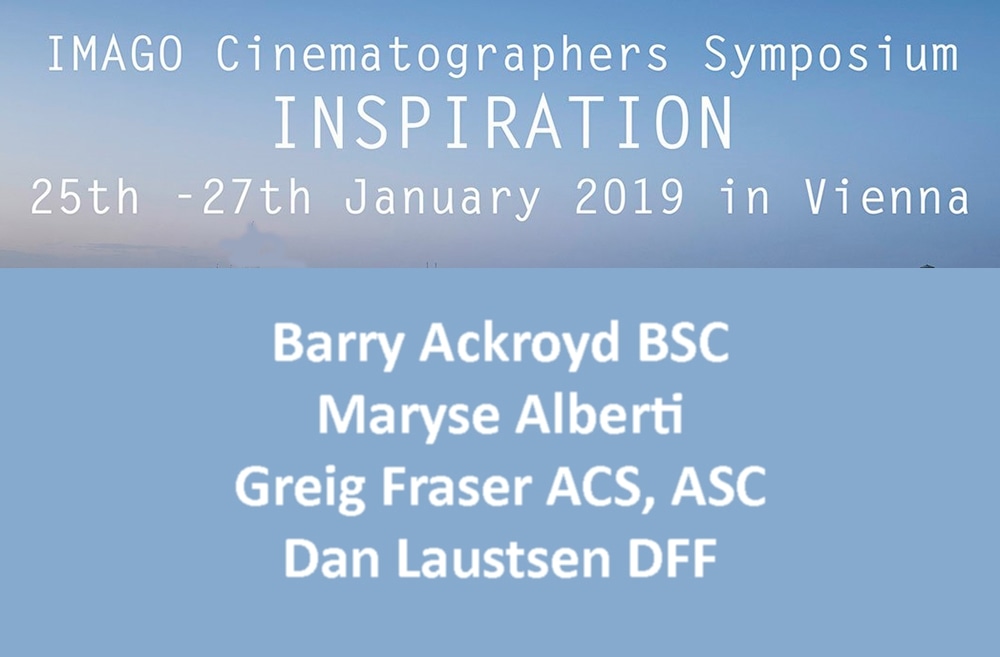 An inspi­ra­tional meet­ing and exchange of ideas and expe­ri­ences
A 3‑day sym­po­sium aimed at pro­fes­sion­al cin­e­matog­ra­phers
Fri­day Jan­u­ary 25th – Sun­day Jan­u­ary 27th, 2019 in Vienna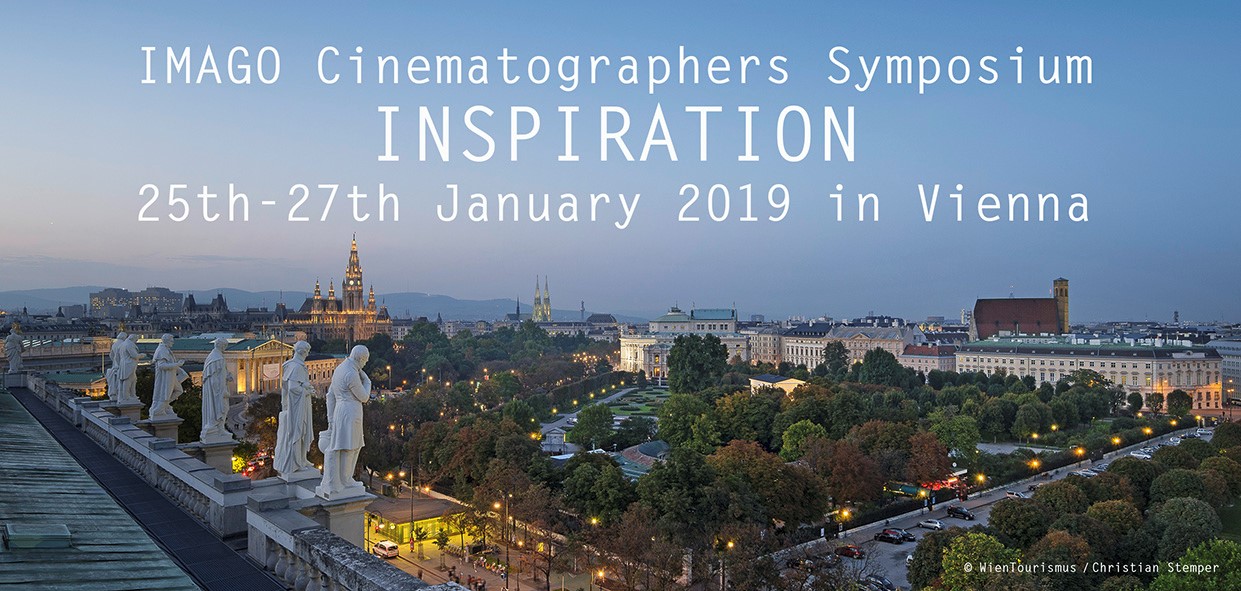 The IMAGO Mas­ter­class com­mit­tee is proud to announce the guest speak­ers line up of the new edi­tion of its very suc­cess­ful inter­na­tion­al meet­ing for cinematographers:
Guest speak­ers

Bar­ry Ack­royd BSC
Maryse Alber­ti
Greig Fras­er ACS ASC
Dan Laust­sen DFF ASC
addi­tion­al­ly, we are very hap­py to announce the spe­cial screen­ing of the won­der­ful doc­u­men­tary from
Claire Pij­man NSC "Liv­ing the light – Rob­by Müller"
The Sym­po­sium is not about equip­ment or new trends. "IMAGO Inspi­ra­tion Vien­na" will have the struc­ture of a dia­logue – with dis­cus­sions, exchange of expe­ri­ence, screen­ing clips from the guest's films, explain­ing the light­ing and oth­er artis­tic choic­es – all togeth­er with the cin­e­mato­graph­ic expres­sion as a piv­otal begin­ning.
The admis­sion fee is 200 EUR
Loca­tion: Metro Kino, Johan­nes­gasse 4, 1040 Vien­na Austria
The Pro­gram:
The Sym­po­sium starts Fri­day 25th Jan­u­ary 2019 at 13:00hr (manda­to­ry reg­is­tra­tion from 13:00hr – 14:00hr) and ends Sun­day 27th Jan­u­ary 2019 at 17:00hr.
So please plan your trav­el sched­ule accordingly.
For Sun­day 27th Jan­u­ary we will offer a bus shut­tle for all par­tic­i­pants who need to go to the air­port (depar­ture at 17:30hr / arrival at the air­port ca. 18:30hr) -
If you want to join please apply online with fol­low­ing link:
https://www.aacamera.org/inspiration-2019-application
There are lim­it­ed seats avail­able so it is vital to apply as soon as pos­si­ble. You will receive an answer with accep­tance of atten­dance, but your bind­ing reser­va­tion of your seat will only be con­firmed after receiv­ing the full amount of the par­tic­i­pa­tion fee.
We are look­ing for­ward to see­ing you in Vien­na,
The IMAGO Mas­ter Class Com­mit­tee
Astrid Heubrandt­ner Ver­schu­ur AAC /Ron Johan­son ACS /Herman Ver­schu­ur NSC /Jan Weincke DFF
Any ques­tions or for fur­ther infor­ma­tion please do not hes­i­tate to con­tact us:
IMAGO Cin­e­matog­ra­phers Sym­po­sium "Inspi­ra­tion" spon­sored by