For the first time IMAGO got its own stand in the CINEC equip­ment show. It was called the cin­e­matog­ra­phers meet­ing point and it was in fact a good place for peo­ple to gath­er for a cup of Por­to wine, or a cof­fee or sim­ply for a small chat.
The stand could give us base to receive col­leagues friends and to meet close­ly with our spon­sors, most of them were there as usu­al dis­play­ing their equip­ment and novelties.
The group of IMAGO at the stand. From left to right: Her­man Ver­schu­ur
NSC; Ron Johan­son ACS; Tony Cos­ta AIP; Elen Lot­man ESC; Nina
Kell­gren BSC; Pre­drag Bam­bic SAS and Paul Rene Roes­tad FNF IMAGO
President.
We were vis­it­ed by Fabi­an Wag­n­er BSC BVK. Fabi­an was the award
recip­i­ent last IMAGO Inter­na­tion­al Awards for best Cin­e­matog­ra­phy in
TV Series for his work on «The Game of Thrones»
The IMAGO award was on dis­play at the stand.
Petru Maier cin­e­matog­ra­ph­er and teacher from the Europa Film Col­lege
– Den­mark also passed by and sat for a awhile to rest and to have a
small chat with Ron Johanson.
Gints Bērz­iņš LGC Latvia pos­es between Elen Lot­man and Paul Rene
Roes­tad. He was surprised.
Paul Rene Roes­tad pos­es for the pho­to­graph with IMAGO good friend
Alan Lowne from the British Cin­e­matog­ra­ph­er Magazine.
Chris­tine Ajayi from Aus­tria, she has been in all IMAGO
INSPIRATION mas­ter­class­es. She is prod­uct man­ag­er at ARRI for
oper­a­tor con­trol unit OCU which is a very need­ed tool for the oper­a­tor.
How many times oper­a­tors want focus in that par­tic­u­lar moment when
set­ting a shot and can't move the focus ring because it is stuck with
all those motors? So now there is a solu­tion to release the motor and
focus man­u­al­ly with­out any burden.
Chris­tine show­ing the OCU to Prof. Peter Slan­sky of HFF Film and TV
School of Munich.
Pre­drag Bam­bic with Sebas­t­ian Leske from Sony ProEu­rope before
the car rig where SONY showed the lens detached from cam­era body.
Use­ful to get in small places, with­out break­ing the set.

At Leitz after noon becomes a very busy place to vis­it. We can hard­ly
see any lens due to the num­ber of peo­ple gath­er­ing for a snack and
nice wine but in the morn­ing there is time for a vis­it to their prod­ucts
and sur­pris­ing­ly appears a pro­to­type with a Leitz lens and may come
to rev­o­lu­tion­ize image cap­ture is a small lit­tle cam­era with a large
sen­sor and capa­ble of record­ing 8K resolution.

Ron Johan­son found in the Camer­im­age Booth a book about his good
friend and mem­ber of ACS John Seale and he shows it with pride
If you are using spher­i­cal lens­es but you love the anamor­phic bokeh
look? So you can get it now with the new Hybrid Hawk lens­es.
From 2019 onwards CINEC takes place every year!
Next date: 21st – 23rd Sep­tem­ber 2019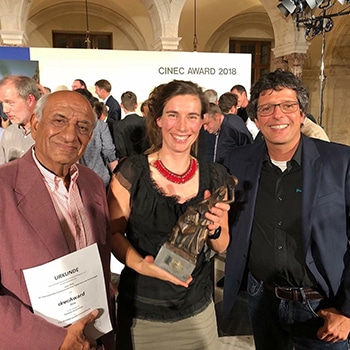 Anna Pif­fl from P+S Tech­nik hap­py with the CINEC AWARD
giv­en to the Lens Check­er mobile lens test projector
This year CINEC was vis­it­ed by 3800 vis­i­tors com­ing from 55 coun­tries. In exhi­bi­tion there 174 firms from 20 coun­tries dis­play­ing cin­e­ma equipment.
Much appeal was found by the vis­i­tors in cineCongress, which was coor­di­nat­ed by the Fernseh- und Kinotech­nis­che Gesellschaft (FKTG e.V.) in coop­er­a­tion with Ger­man Soci­ety of Cin­e­matog­ra­phers (BVK). After two days of pro­gram with top­ics like Cap­ture and Cam­era, New Tech­nolo­gies, File For­mats and Workflows/Production, the cineCongress fin­ished with the "Spe­cial VR Day" on Mon­day. Dur­ing the pre­sen­ta­tions the new project Crew Tech – Tech­nolo­gieplat­tform Filmwirtschaft / Inter­dis­ci­pli­nary inno­va­tion net­work for the devel­op­ment of sus­tain­able film tech­nolo­gies was introduced.
Tra­di­tion­al­ly, the cer­e­mo­ny of the cinecAwards took place in the Kup­pel­saal of the Bavar­i­an State Chan­cellery in Munich on the sec­ond day of the fair. The qual­i­ty of all 35 sub­mis­sions was proof for the unbro­ken inno­v­a­tive strength of the indus­try. Besides the tech­ni­cal awards (cmo­tion, DMG Lumière, Fil­motech­nic, Leitz, Pan­ther, P+S Tech­nik and Thales) two spe­cial awards were hand­ed over to Infin­i­ty Pho­to Opti­cal and Pro­duc­tion Con­cept for their smart devel­op­ments that facil­i­tate the work at the pro­duc­tion set and increase safety.
From now on the Bavar­i­an equip­ment show will take place every year instead of every two years as has been tra­di­tion­al­ly for many years. The orga­ni­za­tion finds that there are enough nov­el­ties every year and every year the num­ber of man­u­fac­tur­ers and new com­pa­nies arise in the field of cin­e­ma production.
Win­ners of cinecAward 2018.
P+S TECHNIK< Ernst Leitz Fil­motech­nic Remote Sys­tems B.V.; Cmo­tion Lens Con­trol Sys­tems; Thales Angénieux; Pro­duc­tion Con­cept; Infin­i­ty Pho­to-Opti­cal Com­pa­ny ;DMG Lumière; Panther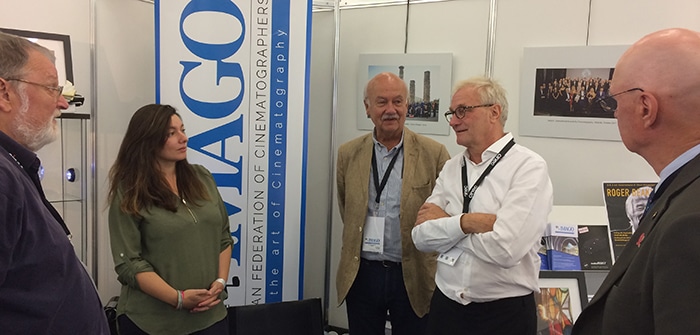 Kees van Oost­rum ASC passed by our booth and had a nice chat with the IMAGO group.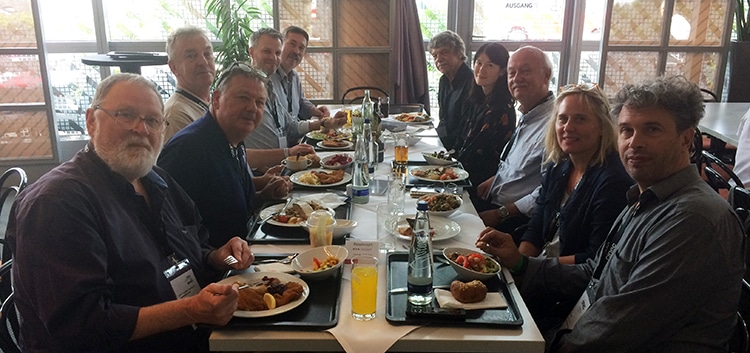 The IMAGO del­e­ga­tion was invit­ed by the BVK for a nice lunch where it was announced the Mas­ter­class in Vien­na to be held 25, 26
and 27 of Jan­u­ary 2019 and also pre­sent­ed a book pub­lished by BVK with descrip­tion of pro­fes­sion­al pro­files of the ele­ments
com­pos­ing the cam­era crew