For the first time IMAGO got its own stand in the CINEC equipment show. It was called the cinematographers meeting point and it was in fact a good place for people to gather for a cup of Porto wine, or a coffee or simply for a small chat.
The stand could give us base to receive colleagues friends and to meet closely with our sponsors, most of them were there as usual displaying their equipment and novelties.
The group of IMAGO at the stand. From left to right: Herman Verschuur
NSC; Ron Johanson ACS; Tony Costa AIP; Elen Lotman ESC; Nina
Kellgren BSC; Predrag Bambic SAS and Paul Rene Roestad FNF IMAGO
President.
We were visited by Fabian Wagner BSC BVK. Fabian was the award
recipient last IMAGO International Awards for best Cinematography in
TV Series for his work on «The Game of Thrones»
The IMAGO award was on display at the stand.
Petru Maier cinematographer and teacher from the Europa Film College
– Denmark also passed by and sat for a awhile to rest and to have a
small chat with Ron Johanson.
Gints Bērziņš LGC Latvia poses between Elen Lotman and Paul Rene
Roestad. He was surprised.
Paul Rene Roestad poses for the photograph with IMAGO good friend
Alan Lowne from the British Cinematographer Magazine.
Christine Ajayi from Austria, she has been in all IMAGO
INSPIRATION masterclasses. She is product manager at ARRI for
operator control unit OCU which is a very needed tool for the operator.
How many times operators want focus in that particular moment when
setting a shot and can't move the focus ring because it is stuck with
all those motors? So now there is a solution to release the motor and
focus manually without any burden.
Christine showing the OCU to Prof. Peter Slansky of HFF Film and TV
School of Munich.
Predrag Bambic with Sebastian Leske from Sony ProEurope before
the car rig where SONY showed the lens detached from camera body.
Useful to get in small places, without breaking the set.

At Leitz after noon becomes a very busy place to visit. We can hardly
see any lens due to the number of people gathering for a snack and
nice wine but in the morning there is time for a visit to their products
and surprisingly appears a prototype with a Leitz lens and may come
to revolutionize image capture is a small little camera with a large
sensor and capable of recording 8K resolution.

Ron Johanson found in the Camerimage Booth a book about his good
friend and member of ACS John Seale and he shows it with pride
If you are using spherical lenses but you love the anamorphic bokeh
look? So you can get it now with the new Hybrid Hawk lenses.
From 2019 onwards CINEC takes place every year!
Next date: 21st – 23rd September 2019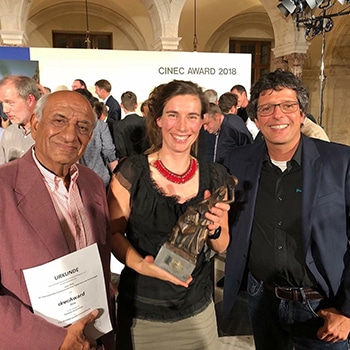 Anna Piffl from P+S Technik happy with the CINEC AWARD
given to the Lens Checker mobile lens test projector
This year CINEC was visited by 3800 visitors coming from 55 countries. In exhibition there 174 firms from 20 countries displaying cinema equipment.
Much appeal was found by the visitors in cineCongress, which was coordinated by the Fernseh- und Kinotechnische Gesellschaft (FKTG e.V.) in cooperation with German Society of Cinematographers (BVK). After two days of program with topics like Capture and Camera, New Technologies, File Formats and Workflows/Production, the cineCongress finished with the "Special VR Day" on Monday. During the presentations the new project Crew Tech – Technologieplattform Filmwirtschaft / Interdisciplinary innovation network for the development of sustainable film technologies was introduced.
Traditionally, the ceremony of the cinecAwards took place in the Kuppelsaal of the Bavarian State Chancellery in Munich on the second day of the fair. The quality of all 35 submissions was proof for the unbroken innovative strength of the industry. Besides the technical awards (cmotion, DMG Lumière, Filmotechnic, Leitz, Panther, P+S Technik and Thales) two special awards were handed over to Infinity Photo Optical and Production Concept for their smart developments that facilitate the work at the production set and increase safety.
From now on the Bavarian equipment show will take place every year instead of every two years as has been traditionally for many years. The organization finds that there are enough novelties every year and every year the number of manufacturers and new companies arise in the field of cinema production.
Winners of cinecAward 2018.
P+S TECHNIK< Ernst Leitz Filmotechnic Remote Systems B.V.; Cmotion Lens Control Systems; Thales Angénieux; Production Concept; Infinity Photo-Optical Company ;DMG Lumière; Panther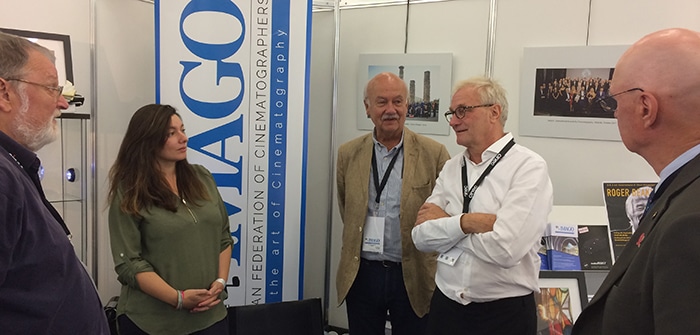 Kees van Oostrum ASC passed by our booth and had a nice chat with the IMAGO group.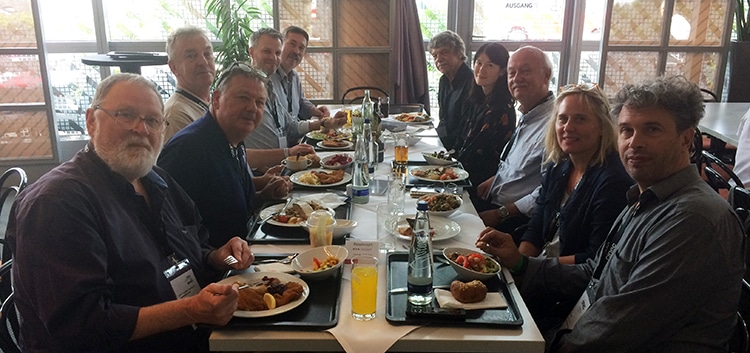 The IMAGO delegation was invited by the BVK for a nice lunch where it was announced the Masterclass in Vienna to be held 25, 26
and 27 of January 2019 and also presented a book published by BVK with description of professional profiles of the elements
composing the camera crew