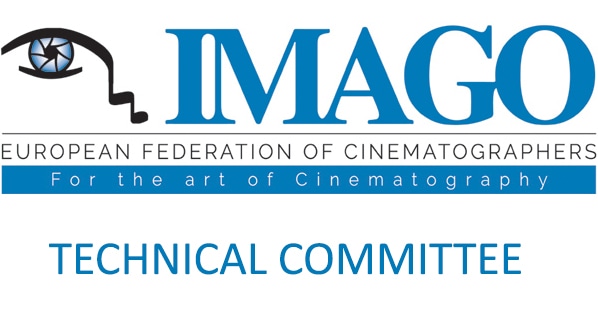 Report by Philippe Ros AFC, co-chair IMAGO Tech­nol­o­gy Committee.
Dur­ing the Camer­im­age 2018 edi­tion, the Ima­go Tech­ni­cal Com­mit­tee (ITC) had an exten­sive agenda.
Sun­day morn­ing, the sec­ond bi-annu­al meet­ing start­ed with two hours ded­i­cat­ed to inter­nal affairs, includ­ing the way the Com­mit­tee will treat the huge amount of data pro­vid­ed by the inter­na­tion­al sur­vey launched at the begin­ning of this year.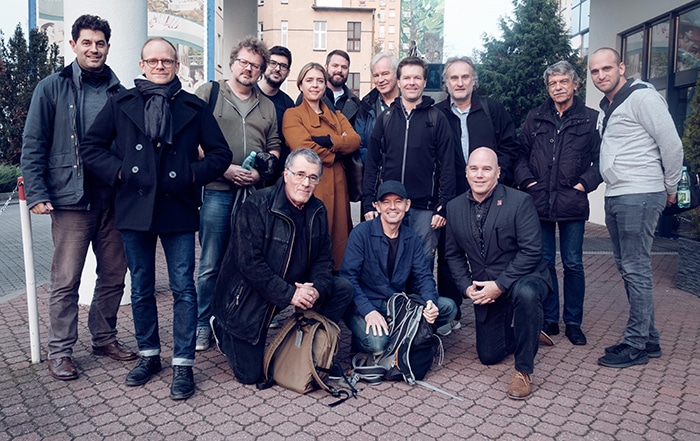 The IMAGO Tech­nol­o­gy Com­mit­tee mem­bers, with Net­flix rep­re­sen­ta­tives
Pho­to: Daniele Siragusano
This sur­vey named "Request to Man­u­fac­tur­ers" is giv­ing ITC mem­bers a pre­cious amount of infor­ma­tion on the way cin­e­matog­ra­phers would like to change the method­olo­gies pro­vid­ed by the man­u­fac­tur­ers in the indus­try. Results will be offi­cial­ly giv­en to man­u­fac­tur­ers at Camer­im­age 2019 after con­cer­ta­tion with all our interlocutors.
Fol­low­ing on the agen­da, we had the great priv­i­lege to host Dr. Charles Poyn­ton the famous inter­na­tion­al­ly well-known col­or sci­en­tist. His pre­sen­ta­tion, an "avant-pre­mière" was focus­ing on the speci­fici­ties of noise in the dig­i­tal image. Far from our expec­ta­tions, we dis­cov­ered amaz­ing facts which lead to recon­sid­er the way we ana­lyze the cause, the struc­ture and the side effects of the noise and specif­i­cal­ly its link with the pho­ton. Impor­tant research which will soon be offi­cial­ly released.
End­ing the morn­ing activ­i­ties we received a del­e­ga­tion of Net­flix rep­re­sen­ta­tives, Michael Kee­gan, Jim­my Fusil, Kate Mor­ri­son-Lyons, and Richard Smith, who came to explain the dif­fer­ent strate­gies deployed by this very impor­tant new actor of the media indus­try. It was an inten­sive dis­cus­sion in which all ques­tions have been asked. We received impor­tant con­fir­ma­tion on how the artis­tic deci­sions of direc­tors and cin­e­matog­ra­phers should be main­tained in the process of actu­al pro­duc­tions. The tech­ni­cal spec­i­fi­ca­tions of Net­flix request­ing 4K cam­eras cre­at­ed an inter­est­ing debate includ­ing on the famous inter­ro­ga­tion: "should we be dri­ven by num­bers?". All this meet­ing dis­cus­sion will soon be entire­ly tran­script­ed to the Ima­go website.
The after­noon was total­ly ded­i­cat­ed to a live pre­sen­ta­tion on the new tech­ni­cal assets of the Film­light grad­ing sys­tem to con­trol the tex­ture. Lead by Daniel Sir­a­gu­sano and Andy Min­uth, a clever edu­ca­tion­al part intro­duce the live demo of these amaz­ing tools which also allow con­trol­ling the side effects of HDR applied to col­or grad­ing. Film­light will deliv­er a com­plete pre­sen­ta­tion of this after­noon for the Ima­go Website
The rest of the week, many encoun­ters with the numer­ous man­u­fac­tur­ers who attend­ed Camer­im­age have allowed us to meet new artis­tic and tech­ni­cal assets. We are proud to announce that we will soon be able to com­mu­ni­cate about new para­me­ters request­ed by ITC.
One of the impor­tant goals of ITC was also to pre­pare the annu­al Camer­im­age meet­ing with ASC. This year the top­ic was on… Net­flix.
To be sure that we all under­stand the speci­fici­ties of the com­pa­ny, sev­er­al meet­ings have been orga­nized between ITC, ASC, and Net­flix the days before. It leads us to launch the idea to wipe out the fake news about the com­pa­ny and to give more time to Q & A.
On Thurs­day, dur­ing the meet­ing with the audi­ence, the con­fer­ence room was full. Mod­er­at­ed by Suki Mendence­vic ASC, we had the plea­sure to host cin­e­matog­ra­phers: Dan Laustens ASC, DFF, Richard Proc­ter and Man­u­al Claro DFF. Net­flix was rep­re­sent­ed by Jim­my Fusil and Michael Kee­gan, Ima­go by Philippe Ros AFC. The debate was intense espe­cial­ly with fun­ny ques­tions from Manuel Claro to Net­flix on the spec­i­fi­ca­tion guidelines.
Last but not least, one of the main activ­i­ties of all the ITC mem­bers was to attend the great num­ber of con­fer­ences, sem­i­nars and over­all screen­ings of films which makes this fes­ti­val ded­i­cat­ed to cin­e­matog­ra­phy so unique.