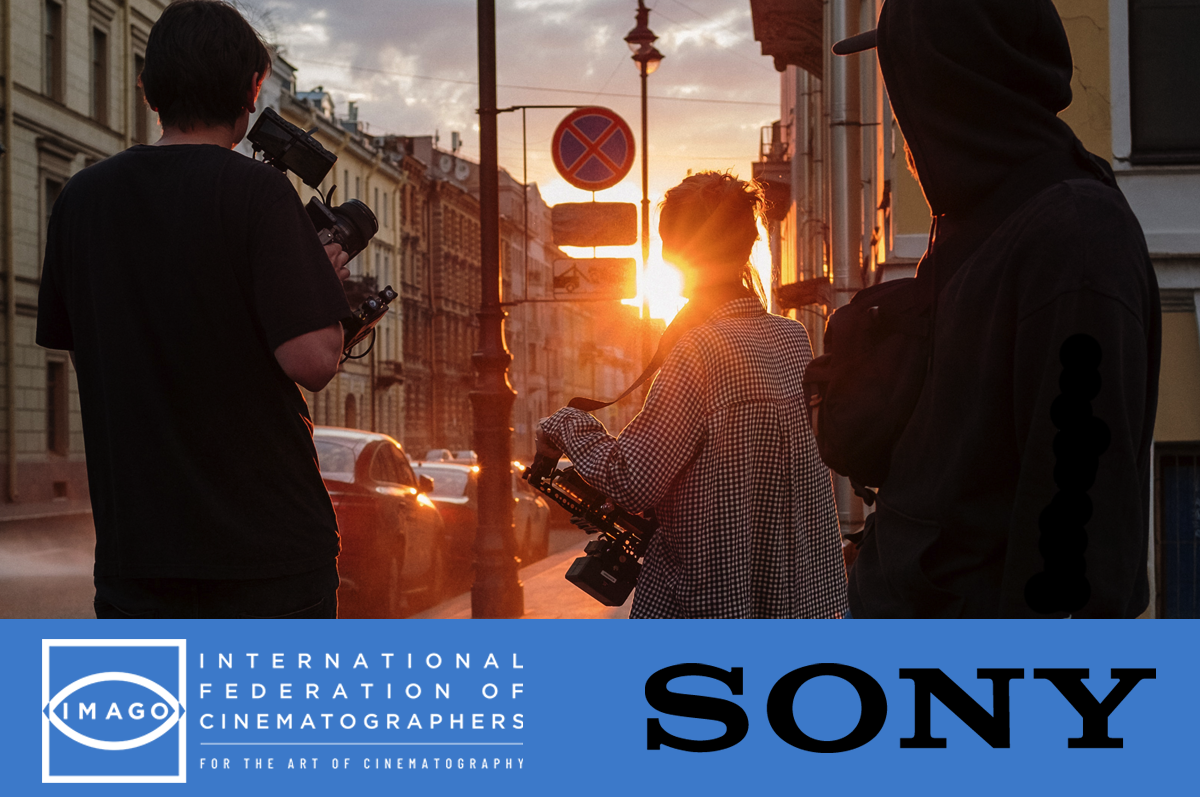 IMAGO, the International Federation of Cinematographers, is working with Sony Corporation to distribute grants in support of the international cinematography community. The grants, which IMAGO will help to allocate through its worldwide membership base, form part of the Sony Global Relief Fund for COVID-19.
Sony estab­lished its glob­al ini­tia­tive to deliv­er $100 mil­lion of sup­port to three main areas: the front­line med­ical com­mu­ni­ty, chil­dren and edu­ca­tors, and the cre­ative com­mu­ni­ty in the enter­tain­ment indus­try. To help with the lat­ter, Sony approached IMAGO, amongst oth­er organ­i­sa­tions, to dis­trib­ute a sig­nif­i­cant part of this fund to cin­e­matog­ra­phy appli­cants via IMAGO's mem­ber organ­i­sa­tions around the world.
With an active mem­ber­ship of 56 inter­na­tion­al cin­e­matog­ra­phy soci­eties, IMAGO is per­fect­ly posi­tioned to assist Sony with reach­ing the glob­al cin­e­matog­ra­phy com­mu­ni­ty. While Sony will reach out through oth­er organ­i­sa­tions to cin­e­matog­ra­phers in the USA, Cana­da and Japan, IMAGO will pro­vide a point of access to its 53 mem­ber soci­eties cov­er­ing the rest of the globe.
Announc­ing Sony's launch of the ini­tia­tive, Hiroshi Kawano, Vice Pres­i­dent, Sony Imag­ing Prod­ucts & Solu­tions Inc., com­ment­ed, "Sony has always worked close­ly with the cre­ative com­mu­ni­ty, by help­ing them pur­sue high-qual­i­ty con­tent cre­ation. This community's suc­cess is vital to our own, which is why we have decid­ed to imple­ment these sup­port mea­sures in their time of need … We are proud to con­tribute funds and sup­port to the con­tent cre­ation industry."
The recent­ly-appoint­ed Pres­i­dent of IMAGO, Kees Van Oost­rum ASC, com­ment­ed, "On behalf of IMAGO and our mem­bers around the globe, we applaud Sony's gen­er­ous ini­tia­tive, which recog­nis­es the cur­rent dif­fi­cul­ties that so many of our col­leagues will be fac­ing. We are delight­ed that Sony has recog­nised IMAGO as an organ­i­sa­tion able to ensure that this help reach­es those who need it most among our mem­ber organ­i­sa­tions worldwide."
"Sony is delight­ed to work with IMAGO to bring sup­port to con­tent cre­ators around the world," said Claus Pfeifer, Head of Con­tent Cre­ation and Acqui­si­tion, Sony Pro­fes­sion­al Europe. "With their strong net­work of inter­na­tion­al mem­ber asso­ci­a­tions and deep knowl­edge of the real­i­ties of the image indus­try, they were an obvi­ous part­ner for this initiative."
IMAGO is con­tact­ing its mem­ber organ­i­sa­tions with details of the grant appli­ca­tion process.
You can get in touch with your IMAGO member society directly to find out more about the fund in your country.