(Bel­grade 15 March 2019 ) Paul René Roes­tad FNF was re-elect­ed dur­ing the annu­al assem­bly held in Bel­grade Ser­bia for anoth­er term of three years as Pres­i­dent of IMAGO.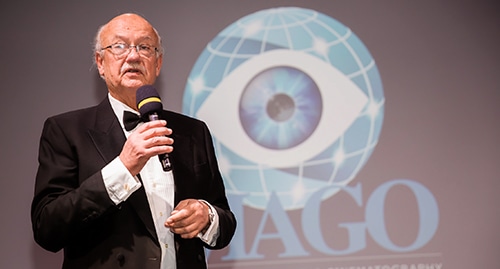 The exist­ing Board was re-elect­ed except for Daniele Nan­nuzzi AIC who wished to with­draw and he was replaced by Alex Lindén FSF. The rest of the board remained for anoth­er 3 year peri­od as gov­er­nors of the Fed­er­a­tion. Two vice-pres­i­dents Nina Kell­gren BSC and Rolf Coulanges BVK along with the board mem­bers: Alex Lin­den FSF, Elen Lot­man ESC, Pre­drag Bam­bic SAS and Ron Johan­son ACS. Louis Philippe-Capelle, SBC con­tin­ues as gen­er­al sec­re­tary and spon­sor admin­is­tra­tor. Tony Cos­ta AIP will con­tin­ue as web­site edi­tor and Awards coor­di­na­tor and Dr Cristi­na Busch remains legal advis­er of IMAGO.
Dur­ing the Gen­er­al Assem­bly it was approved that the fed­er­a­tion would change it's name from Euro­pean Fed­er­a­tion to Inter­na­tion­al Fed­er­a­tion. This took place and was agreed upon due to the fact so many soci­eties out­side of Europe have joined IMAGO in recent years and there was no rea­son to retain the Euro­pean Fed­er­a­tion name. This is seen as a great step for­ward and con­tin­ues the growth of IMAGO and it's rep­re­sen­ta­tion of all cin­e­matog­ra­phers uni­ver­sal­ly
Com­mit­tees have been also approved and the exten­sive list of them is below for your reference.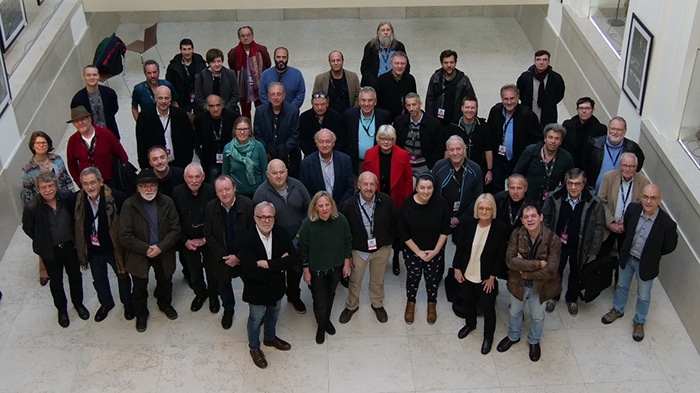 IMAGO COMMITTEES
IMAGO Tech­nol­o­gy Com­mit­tee: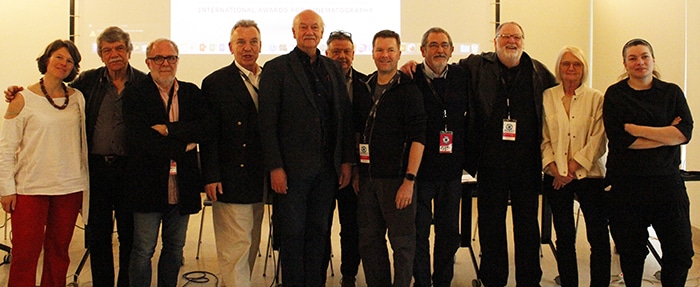 Philippe Ros AFC (co-chair­man)
Mick van Rossum NSC (co-chair­man)
Kom­mer Kle­jin SBC
Joe Dun­ton BSC
Szy­mon Lenkows­ki PSC
Alex Lindén FSF (co-chair­man)
John Chris­t­ian Rosen­lund FNF
Anders Hol­ck DFF
Patrick Lin­den­maier SCS
Jan­nicke Mikkelsen FNF
Claire Pij­man NSC
Pieter De Vries ACS
Zek­eriya T. Kur­tu­lus GYD
Alek­sej Berkovic RGC
Juan Anto­nio Fer­nan­dez AEC
Alex Ster­ian RSC
Mas­ter Class Com­mit­tee:
Ron Johan­son OAM ACS
Tah­vo Hir­vo­nen FSC
Arbel Rom ACT
Tere­sa Med­i­na Amorós AEC
Diver­si­ty and Inclu­sion Com­mit­tee:
Nina Kell­gren BSC (Chair)
Elen Lot­man Elen ESC (Chair)
Louis Philippe Capelle SBC
Alfre­do Altami­ra­no AMC
Astrid Heubrandt­ner AAC
Alex Lin­den FSF
Bir­git Gud­jons­dot­tir BVK
Claire Pij­man NSC
Casper Hoy­berg DFF
Ron Johansen ACS
Roger Simonz BSC
Velin­da Wardell ACS
Maria Solovio­va, RGC
Raquel Fer­nan­dez AEC
Author­ship Com­mit­tee:
Luciano Tovoli AIC Coor­di­na­tor
Cristi­na Bush Legal Advis­er
Arko Okk ESC
Simon Plum DFF
Nigel Wal­ters BSC
Bar­ry Ack­royd BSC
Sergey Trofi­mov RGC
Senior Advis­ers
Vit­to­rio Storaro AIC Senior Advis­er
Jost Vacano BVK
Social Dia­logue and Work­ing Con­di­tions Com­mit­tee:
Rolv Haan FNF
Kurt Braz­da AAC
Igor Kle­banov RGC
Elec­tion Com­mit­tee:
Kurt Braz­da AAC
Jan Weincke DFF
Her­man Ver­schu­ur NSC
Edu­ca­tion Com­mit­tee:
Tony Cos­ta AIP (Chair­man)
Mar­ijke Van Kets SBC
Gaby Reisinger AAC
Jean-Paul Jar­ry (IAD France)
Ella van den Hove SBC
Eri­ka Addis ACS
Timo Heina­nen FSC
George Willis CSC
Alex Ster­ian RSC
Bir­git Gud­jons­dot­tir BVK
Anton Yarem­chuk UGC
Rolf Coulanges BVK
Vladimir Klimov RGC