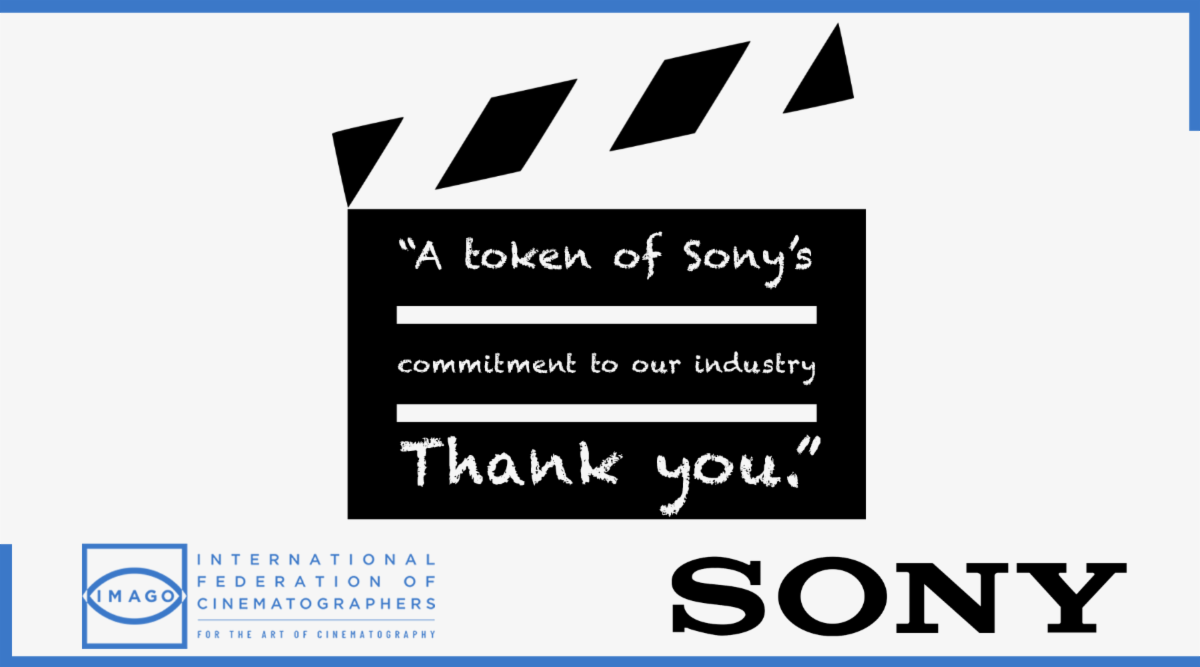 IMAGO, the International Federation of Cinematographers, has successfully completed its distribution of financial grants from Sony Corporation's Global Relief Fund for COVID-19, in support of the international cinematography community, via its worldwide membership base.
The grants were part of Sony's global initiative to deliver $100 million of support to three main areas: the frontline medical community, children and educators, and the creative community in the entertainment industry. To help reach the latter, Sony approached IMAGO, among other organisations, to distribute a significant part of the fund to its member organisations around the world.
Uniquely placed as an umbrella body for the global cinematography community, IMAGO provided direct access to 53 of its 56 international societies around the globe, while Sony approached cinematographers in the USA, Canada and Japan via other organisations.
With much of the world's filmmaking severely impacted by COVID-19 lockdowns and restrictions, the largely freelance cinematography community is among those entertainment creatives dramatically affected by loss of livelihood.
The German Society of Cinematographers (BVK) used its allocation of funds to provide support for 10 of its members who were unable to work and faced immediate financial difficulties. Speaking on behalf of the BVK, Dr. Michael Neubauer said, "We are thankful for the extraordinary gesture of support from Sony in these hard times… By supporting our members, Sony offered a valued message of solidarity and friendship."
The Australian Cinematographers Society (ACS) placed its allocation of funds with the Motion Picture Industry Benevolent Fund, which has provided support for colleagues throughout Australia's film industry since 1931. "We are very grateful to all at Sony for this generous gift," said ACS President and IMAGO's interim chair, Ron Johanson.
Rytis Kurkulis, chairman of the Lithuanian Association for Cinematographers (LAC), said, "With the money from Sony we have been able to support some of our most vulnerable senior honorary members. We'd like to express our gratitude to Sony for this generous gesture."
Representing Portugal's Associação de Imagem Portuguesa (AIP), president Tony Costa said, "The Portuguese Society of Cinematographers would like to express its gratitude to Sony and to the IMAGO board for handling this contribution for our members, who are at this moment in a serious situation. Once again, thank you very much for such generous support."
The Netherlands Society of Cinematographers (NSC), which supported several of its most critically affected members, relayed their gratitude to Sony via IMAGO for its generous donations to those in need. "The board of the NSC would like to thank Sony for their generosity in offering financial help to the Dutch cinematographic industry. It's a token of Sony's commitment to the cinema industry and its workers . . . Chapeau Sony for this initiative!"
Members of Chile's ACC are among the most seriously affected members of the world's cinematography community, as the pandemic exacerbated the disruption caused by extensive political unrest since October 2019. Alejo Crisóstomo, Treasurer of the ACC, says they chose to help five of their worst-affected members, who have been in dire need of assistance to pay rent, food bills and medical expenses. One of the recipients said, "My respect for Sony, which is able to see beyond its commercial interests and consider our humanity and the needs of all who constitute the real bottom line. Thank you."
"Sony's generosity to our global cinematography community has been extremely gratefully received in these difficult times," says IMAGO's Treasurer, Roger Simonsz BSC. "The Sony fund has given IMAGO an opportunity to show how it can directly affect the well-being of cinematographers worldwide and we're very grateful to Sony for having entrusted us with this task."