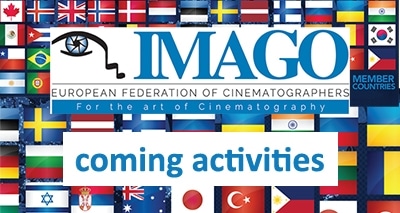 The IMAGO inter­na­tion­al Cinematographer´s Award
IMAGO will arrange the next IMAGO Inter­na­tion­al Cinematographer´s awards in Bel­grade in March 2019. The IMAGO Awards Com­mit­tee is work­ing on the arrange­ment, and will be send­ing out infor­ma­tion and invi­ta­tion to nom­i­nate films soon. All IMAGO mem­ber Soci­eties will be invit­ed to nom­i­nate films for the competition.
Cinec, Munch, Ger­many 22nd to 24th Sep­tem­ber
The Cinec Trade fair for Cine Equip­ment and Tech­nol­o­gy will take place from 22nd to 24th of Sep­tem­ber. There will be a Cine Con­gress, and out­stand­ing inno­va­tions will be hon­ored with Cinec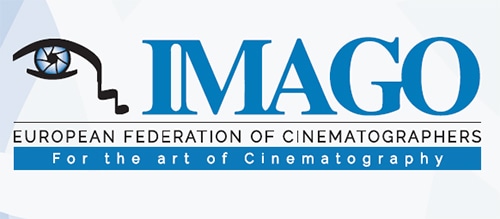 Awards. IMAGO will be strong­ly present, with our own booth. Please come by our booth for a talk and a drink.
Camer­im­age, Byd­goszcz, 10th to 17th Novem­ber
IMAGO will also be strong­ly present at this Mec­ca for cin­e­matog­ra­phers. Also, this year we will arrange con­fer­ences, mas­ter class­es and pan­el debates on the impor­tance of cin­e­matog­ra­phy, and the impor­tance of inter­na­tion­al col­lab­o­ra­tion between cinematographers.
Inter­na­tion­al Direc­to­ry of Cin­e­matog­ra­phers
IMAGO has start­ed the work to set up a new e‑version of our World Direc­to­ry for cin­e­matog­ra­phers. Cin­e­matog­ra­phers will in the new Direc­to­ry, find "every­thing they need" when vis­it­ing a new city or shoot­ing in any Coun­try around the World: where to hire equip­ment, con­tact infor­ma­tion and cv´s of DITs, cam­era crews and cam­era assis­tants, grips, stu­dios, post facil­i­ties etc etc. The Direc­to­ry will be acces­si­ble for all IMAGO mem­bers World-wide, parts of it only acces­si­ble with secure log-in.
Inspi­ra­tion Mas­ter Class, Vien­na
25th, 26th and 27th of Jan­u­ary 2019. Five high­ly acclaimed and Award win­ning cin­e­matog­ra­phers will gath­er in Vien­na in Jan­u­ary togeth­er with an audi­ence of 150 cin­e­matog­ra­phers and film enthu­si­asts, to hold exten­sive mas­ter class­es in the Aus­tri­an cap­i­tal. The IMAGO Mas­ter Class Com­mit­tee and its mem­bers Astrid Heubrandt­ner AAC, Jan Weincke DFF, Ron Johans­son ACS and Her­man Ver­schu­ur NSC are work­ing to make this the great­est mas­ter class ses­sion of all times, and they will succeed.
More infor­ma­tion about con­crete pro­gram and con­tent and reg­is­tra­tion will follow.
About IMAGO

IMAGO, the Euro­pean Fed­er­a­tion of Cin­e­matog­ra­phers, is a col­lab­o­ra­tive, glob­al umbrel­la for the World´s Cin­e­matog­ra­phers Soci­eties. IMAGO is the inter­na­tion­al hub, the direct con­nec­tion between all inter­na­tion­al cin­e­matog­ra­phers belong­ing to Nation­al Cin­e­matog­ra­phers Soci­eties. IMAGO is the answer to the need of cre­ative and tech­ni­cal dis­cus­sions between cin­e­matog­ra­phers worldwide.
IMAGO is not a Union, but a Fed­er­a­tion that informs, pro­motes and defends the rel­e­vance of cin­e­matog­ra­phy to the gen­er­al pub­lic, col­leagues and the var­i­ous cul­tur­al – polit­i­cal envi­ron­ments.
IMAGO, by bring­ing togeth­er more than 4000 cin­e­matog­ra­phers from 52 coun­tries, pro­motes the Art of Cin­e­matog­ra­phy at a Nation­al and Inter­na­tion­al lev­el. The net­work­ing activ­i­ties of IMAGO reach more than 10,000 pro­fes­sion­al cin­e­matog­ra­phers and relat­ed col­leagues every month.
CHALLENGING THE FUTURE
Tech­nol­o­gy is rapid­ly chang­ing in com­plex­i­ty and sophis­ti­ca­tion and the
pro­lif­er­a­tion of new equip­ment sys­tems has impact­ed on the role of the cin­e­matog­ra­ph­er.
We must unite to face these chal­lenges, defend­ing our pro­fes­sion,
retain­ing con­trol along with the integri­ty of our images.

IMAGO's col­lab­o­ra­tion with man­u­fac­tur­ers of cam­eras and motion pic­ture
equip­ment is essen­tial to max­imise the cinematographer's needs.

EDUCATION & TRAINING
Edu­ca­tion and train­ing will ensure the future of our pro­fes­sion.
By hold­ing Mas­ter­class­es, work­shops, sem­i­nars and con­fer­ences
we guar­an­tee the trans­fer and exchange of infor­ma­tion to pre­pare students

in Cin­e­matog­ra­phy to be effective

in the "real world".

PRESERVING THE PAST

We share the same goals as Film Archivist
Orga­ni­za­tions and our role togeth­er in
restor­ing and pro­tect­ing the vast film
her­itage is essentia

HONOURING OUR MEMBERS

To hon­our our mem­bers and cel­e­brate
our 25th Anniver­sary, in Octo­ber 2017 in
Helsin­ki, we will host the first Ima­go Inter­na­tion­al
Awards for Cinematography.