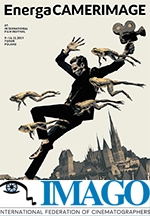 IMAGO and it´s mem­bers were strong­ly present dur­ing Camer­im­age in Torun, Poland.
Again we must con­grat­u­late Marek Zydow­icz, Kazik Suwala and their great team with the suc­cess of mov­ing from Byd­goszcz to Torun, the city where Camer­im­age was orig­i­nal­ly start­ed in 1993 and was arranged until 1999.
IMAGO arranged four impor­tant events dur­ing Camer­im­age this year: The IMAGO Tech­ni­cal Com­mit­tee con­fer­ence with man­u­fac­tur­ers (more infor­ma­tion will fol­low), the ASC/IMAGO/Netflix Con­fer­ence dis­cussing inter­na­tion­al film pro­duc­tion and Net­flix tech­ni­cal require­ments, the IMAGO Diverse Voic­es Pan­el, and the IMAGO Cen­tral Euro­pean Cinematographer´s Conference.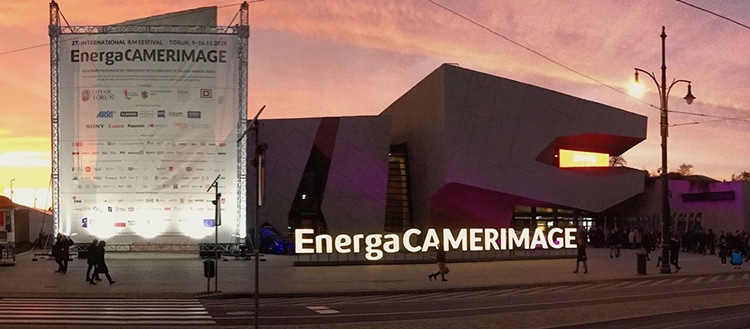 IMAGO/ASC/NETFLIX SEMINAR "Clos­ing the Gap"
By Simon Woods, recip­i­ent of the ACS Drew Llewe­lyn Schol­ar­ship (Aus­tralia)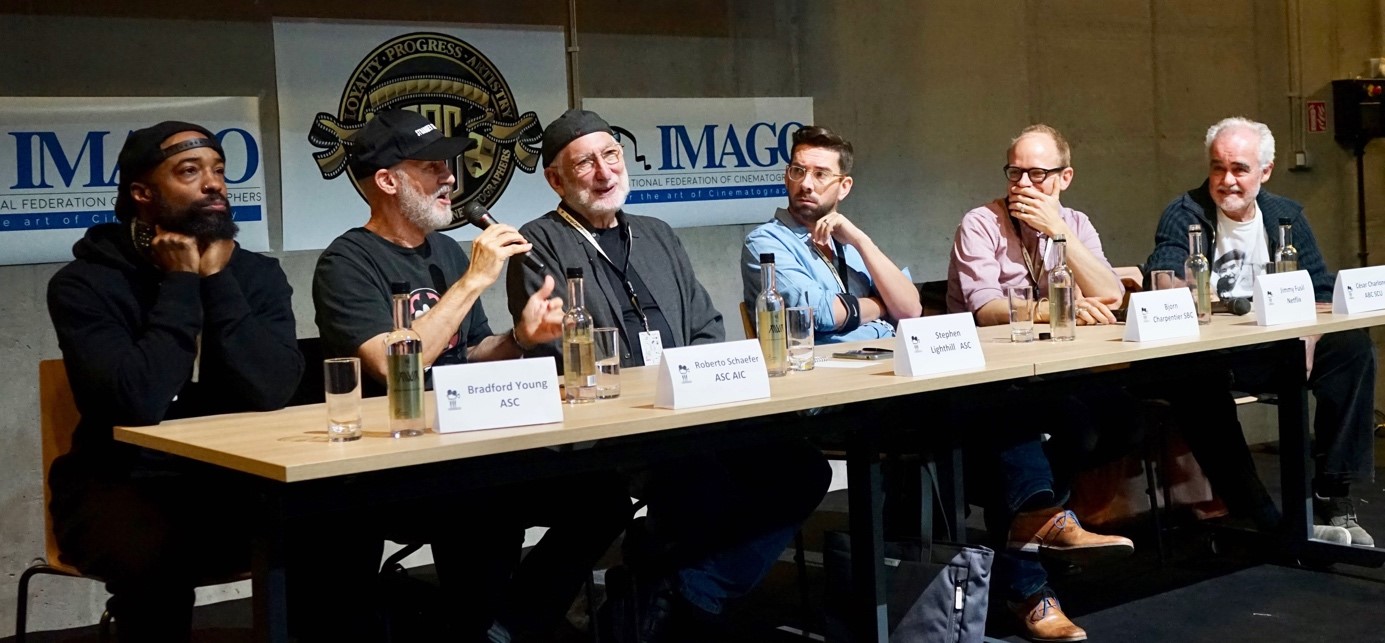 The Pan­el – from left: Brad­ford Young ASC, Rober­to Schae­fer ASC AIC, Stephen Lighthill ASC (Mod­er­a­tor)., Bjorn Char­p­en­tier SBC, Jim­my Fusil from Net­flix and Cesar Char­lone ABC SCU.
Pho­to: Paul René Roes­tad FNF
Chaired by Stephen Lighthill ASC, this dis­cus­sion piv­ot­ed around the rapid changes fac­ing cin­e­matog­ra­phers relat­ed to dis­tri­b­u­tion via stream­ing. Netflix's 4K require­ments took some adjust­ment time and it seems HDR is no longer a "future for­mat" but right here, right now.
On the film "Red Sea Div­ing Resort", DP Robert Schae­fer ASC AIC was asked to go back and do anoth­er pass in HDR after the film had been already been shot in order to meet Netflix's new stan­dards. This raised many issues on the pan­el about the vast array of view­ing sys­tems now used by audi­ences rang­ing from big screen TVs, to lap­tops, to Iphones. Some sta­tis­tics are sug­gest­ing that as much as 40 per­cent of streamed con­tent is being con­sumed on Iphone in bright ambi­ent con­di­tions. From the audi­ence Geoff Boyle NSC not­ed that this throws a mas­sive span­ner in the works when it comes to the con­di­tions we gen­er­al­ly use for grad­ing – a dark room, cal­i­brat­ed mon­i­tor, large screens – the exact oppo­site to how many shows will be viewed. But what can we do? The amount of vari­ables makes the prob­lem high­ly com­plex. Cin­e­matog­ra­phers can­not be asked to be "less pre­cious" as this is anath­e­ma to any pro­fes­sion­al artist. Jim­my Fusil, Net­flix man­ag­er of cre­ative tech­nolo­gies, was doing his best to show his sup­port of cin­e­matog­ra­phers and their vision. There is no doubt that stream­ing deliv­ery is chang­ing the whole par­a­digm of film dis­tri­b­u­tion. Net­flix is simul­ta­ne­ous­ly grap­pling with the fast changes in end-user screen tech­nol­o­gy while at the same time try­ing to sup­port the artist vision of the cin­e­matog­ra­ph­er. Not an easy task.
The sec­ond major top­ic cov­ered was the role of Net­flix as edu­ca­tor and indus­try leader which includes main­tain­ing stan­dards in both work­ing con­di­tions and diver­si­ty, as essen­tial­ly the 'pro­duc­ing stu­dio' of the project. While Net­flix resists being the body who "makes the rules" on set, they are in a posi­tion to influ­ence Pro­duc­ers regard­ing diver­si­ty and inclu­sion, work­ing hours, and main­tain­ing safe and fair work­ing con­di­tions on set. Some of these stan­dards have been com­mu­ni­cat­ed to crews and HODs in pre-pre­pro­duc­tion. The Netflix/ASC/IMAGO Con­fer­ence cre­ates a type of com­mu­ni­ca­tion and open­ness that strength­ens the bond and under­stand­ing between Net­flix and IMAGO´s mem­ber cin­e­matog­ra­phers, and we look for­ward to con­tin­u­ing this good and nec­es­sary openness.
The IMAGO Cen­tral Euro­pean Cinematographer´s Con­fer­ence
Work­ing con­di­tions and Author­ship issues
Mod­er­at­ed by Nigel Wal­ters BSC and Michael Neubauer BVK, 24 cin­e­matog­ra­phers from Rus­sia, Esto­nia, Latvia, Ukraine, Poland, Ger­many, Britain and Slo­va­kia came togeth­er to dis­cuss com­mon chal­lenges and how we in unit­ed col­lab­o­ra­tion through IMAGO can work to solve the chal­lenges.
IMAGO has two major work areas in 2020: first to work to imple­ment that cin­e­matog­ra­phers shall be a nat­ur­al and inte­grat­ed part in any grad­ing or post work relat­ed to their images, and sec­ond­ly a cam­paign to get exces­sive work­ing hours in film pro­duc­tion down to a nor­mal and accept­able standard.
Cin­e­matog­ra­phers need to regain con­trol of their images. Increas­ing­ly, cin­e­matog­ra­phers are not invit­ed to the grad­ing of their own images, too often not even informed about grad­ing going on, and they expe­ri­ence their images being cropped and changed in post beyond recog­ni­tion. This is unfor­tu­nate­ly also often hap­pen­ing when nation­al archives restores and dig­i­tizes our film her­itage – the cin­e­matog­ra­ph­er of the film being restored is too often not even informed about the work being done, and even less often invit­ed to the grade to help super­vise the re-grad­ing and restora­tion of the cinematographer´s own images.
Archivists and restor­ers are high­ly expe­ri­enced and skilled in their line of work, no doubt about that, but still, it is only the cin­e­matog­ra­ph­er who knows the orig­i­nal artis­tic inten­tion of the mood, light and col­ors of his/her images, and who can suc­cess­ful­ly help recre­ate this orig­i­nal artis­tic inten­tion dur­ing the grade and restoration.
The oth­er cam­paign IMAGO will start in 2020, is to inform and work to reduce the dai­ly and week­ly work hours for cin­e­matog­ra­phers and our col­leagues in the film pro­duc­tion busi­ness.
15 – 17 hour days and 6 – 7 day weeks is increas­ing­ly and too often the stan­dard and not the excep­tion on film pro­duc­tions. Exces­sive work days reduces work safe­ty, it hin­ders recruit­ment and diver­si­ty, and it reduces the qual­i­ty of our images. In many places, like Scan­di­navia, aver­age work hours on film pro­duc­tion is 8, max­i­mum 10 hour work days, and 5 day weeks.
Scan­di­na­vian film and TV pro­duc­tions com­petes amongst the most pop­u­lar in the World, for instance right now the Nordic Noir series, but also com­pared to the num­ber of films pro­duced annu­al­ly, Nordic films are amongst the most Award win­ning films in the World. In addi­tion to man­ag­ing to make award win­ning films hav­ing "nor­mal work days", Scan­di­na­vians pro­duce films on also vast­ly small­er bud­gets than in many oth­er Coun­tries. So the claim we often are met with, that short­er days means high­er cost, is high­ly questionable.
Unac­cept­ably long work­ing days/weeks is one of the most seri­ous chal­lenges for cin­e­matog­ra­phers and film work­ers also in Cen­tral Euro­pean Coun­tries the con­fer­ence del­e­gates con­clud­ed, and the atten­dants of the Con­fer­ence asked IMAGO to seri­ous­ly look into this impor­tant prob­lem as soon as pos­si­ble. It is of course not a prob­lem just for cin­e­matog­ra­phers, it is a prob­lem for all our good col­leagues in the film busi­ness, it cre­ates a health risk, fam­i­ly prob­lems, it cre­ates seri­ous safe­ty issues and it reduces the qual­i­ty of our work. As BECTU so cor­rect­ly points out in their exten­sive and impor­tant report from 2017, who can work safe­ly and con­struc­tive­ly with their "Eyes half shut"?
IMAGO DIVERSE VOICES PANEL
By Simon Woods, recip­i­ent of the ACS Drew Llewe­lyn Schol­ar­ship (Aus­tralia)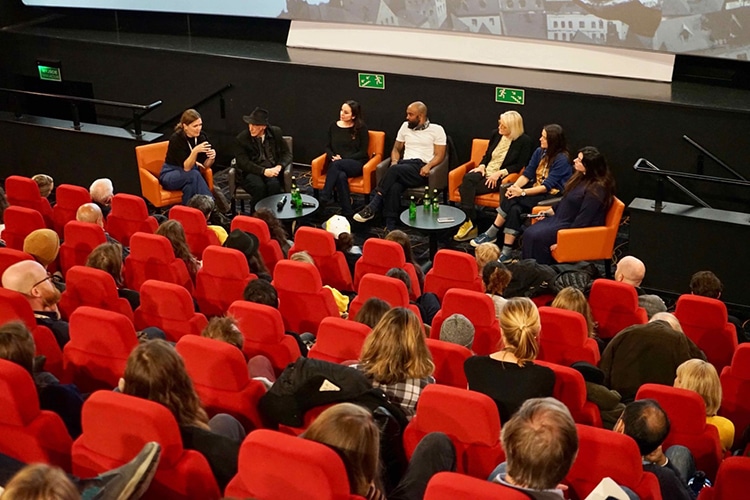 Again a packed cin­e­ma dur­ing the IMAGO pan­el Diverse Voic­es dur­ing Camer­im­age in Torun.
Pho­to: Paul René Roes­tad FNF
Now in 4th year the IMAGO Diver­si­ty Pan­el is a reg­u­lar part of the Camer­im­age land­scape, and tech­no­log­i­cal changes aside, per­haps one of the most per­ti­nent issues in the film indus­try at present. For this sem­i­nar, mod­er­at­ed by Eston­ian cin­e­matog­ra­ph­er Elen Lot­man ESC, diver­si­ty relat­ed not only to gen­der but also to race and cul­tur­al back­ground. Teams built around diverse per­spec­tives, while ini­tial­ly requir­ing a bit more invest­ment, can pro­duce stronger outcomes.
At this year's Camer­im­age Brad­ford Young ASC nev­er failed to deliv­er com­pelling and provoca­tive per­spec­tives on a range of issues. He sug­gest­ed that there are two pri­ma­ry nar­ra­tives in the film indus­try (speak­ing from an Amer­i­can stand­point): what he called the "white supremist's main nar­ra­tive", and the "sub­ver­sive nar­ra­tive". "The sub­ver­sive group, the film­mak­ers already embed­ded in, and work­ing in a com­mu­ni­ty, do not have an issue with diver­si­ty." So it was in the main­stream where the major­i­ty of the financ­ing and deci­sion mak­ing pow­er is con­cen­trat­ed where diver­si­ty needs to be explored.
The Pan­el – Vir­ginie Sur­dej SBC, Ed Lach­man ASC, Natasha Braier ASC ADF, Brad­ford Young ASC, Nina Kell­gren BSC, Ula Pon­tikos BSC, and Elen Lot­man ESC (Mod­er­a­tor). Pho­to: Lars Pet­ters­son FSF
There is undoubt­ed­ly a grow­ing aware­ness of the need to give more oppor­tu­ni­ties to female direc­tors, cin­e­matog­ra­phers, and crew. But Natasha Braier ASC ADF, was argu­ing against being defined as a female cin­e­matog­ra­ph­er. "I am a cin­e­matog­ra­ph­er, and I wish to be judged by my work not by my gen­der". For Ed Lach­mann ASC, he reflect­ed on a career that includ­ed many pos­i­tive col­lab­o­ra­tions with female direc­tors. He believed the process was often more pro­duc­tive because is it tends to be more focused on the work and less on the male ego.
Bran­don con­clud­ed by stat­ing that "women must lead this move­ment and cre­ate change," and those already well placed with­in the indus­try must now cre­ate the space for that lead­er­ship and agency. As always the first step is aware­ness and hav­ing a vision for the future, as Elen Lot­man said, "if you can see it you can be it". But even in Camerimage's selec­tions for com­pe­ti­tion this year, women in par­tic­u­lar were sore­ly under­rep­re­sent­ed. No female DPs in the main fea­tures com­pe­ti­tion, and of the 18 music videos being judged only 1 had a female DP. Change is hap­pen­ing, but slow­ly, and we all agree that inclu­sion at the elite lev­el must be on mer­it alone. Ula Pon­tikos BSC point­ed out that our cin­e­matog­ra­phy soci­eties in all coun­tries need­ed to remain open and be user-friend­ly orga­ni­za­tions and not exclu­sive (male) clubs. The point was also made that most of the esteemed cin­e­matog­ra­phers on the ASC list, while they are most­ly male, are very often immi­grants demon­strat­ing that diver­si­ty often brings fresh per­spec­tives and ways of see­ing that are unique and different.