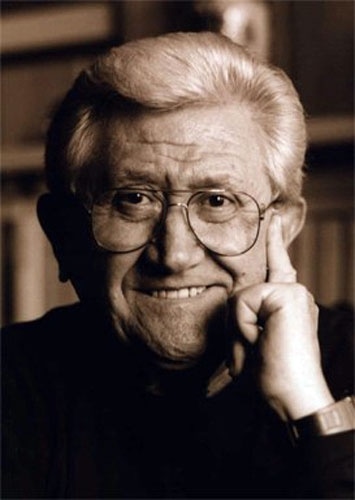 We regret to inform you that for­mer IMAGO pres­i­dent Tibor Vagyóczky, HSC has sad­ly passed away on Octo­ber 3, 2022, at the age of ninety-one.
The Hun­gar­i­an cin­e­matog­ra­ph­er, direc­tor, asso­ciate pro­fes­sor, was the win­ner of the Béla Balázs Prize Award and of the Lás­zló Kovács-Vil­mos Zsig­mond Life­time Achieve­ment Award. Born on 6 Sep­tem­ber 1931 in Budapest, son of János Vagyóczky and Veroni­ka Kos­zorús. He was a stu­dent of cin­e­matog­ra­phy at the Acad­e­my of The­atre and Film Arts Budapest between 1951 and 1955, where he met Vil­mos Zsig­mond and Lás­zló Kovács. He was direc­tor-cin­e­matog­ra­ph­er at Movi from 1987 to 1990. he was Pres­i­dent of IMAGO (then the Euro­pean Asso­ci­a­tion of Cin­e­matog­ra­phers) from 2001 to 2003.
For thir­ty-five years he was a lead­ing teacher at the Acad­e­my of The­atre and Film Arts Budapest and taught at the Com­mu­ni­ca­tions Depart­ment at the Szent István Uni­ver­si­ty. Under his guid­ance, the Hand­book for Film and Tele­vi­sion Mak­ers, one of the most influ­en­tial Hun­gar­i­an film text­books, was pub­lished in sev­er­al edi­tions. In 2008 he was award­ed the Hun­gar­i­an Order of Mer­it and in 2020 he received the IMAGO Inter­na­tion­al Trib­ute Award at the gala of the (III?)3rd Lás­zló Kovács-Vil­mos Zsig­mond Cin­e­matog­ra­phy Awards. Through­out his career, he has made out­stand­ing cin­e­mato­graph­ic con­tri­bu­tions to films such as Nehéz emberek, Esős vasár­nap, Ezek a fiat­alok, Nem szok­tam hazud­ni and Fiúk a tér­ről, among oth­ers. In addi­tion he has made over a hun­dred short films and documentaries.
For­mer IMAGO pres­i­dent Nigel Wal­ters who knew him well has writ­ten a few words, sec­ond­ed by Luciano Tovoli, which we invite you to read below…
"Tibor was the sweet­est of men.
As one of your pre­vi­ous Pres­i­dents one of my most plea­sur­able expe­ri­ences was pre­sent­ing him with the Ima­go Award for his ser­vices to the Fed­er­a­tion. The plea­sure was to wit­ness the plea­sure for him from his Hun­gar­i­an col­leagues. As an ex-Pres­i­dent of the HSC he was much loved and to receive the Award in the lat­er part of his life was to him such a joy­ous occa­sion, espe­cial­ly to be at a sur­prise recep­tion with his friends.
The clever­est move on a vis­it to Budapest was to avoid being dri­ven by Tibor in his lit­tle car. His eccen­tric­i­ty extend­ed to the open­ing of the Budapest IAGA when he appeared with his fam­i­ly ear­ly in the day, wished the assem­bly a pro­duc­tive time and left to go shopping!"
Nigel Wal­ters BSC For­mer IMAGO President
"What a con­cise and mov­ing sketch Nigel has drawn of Tibor Vagy­oczky HSC and IMAGO Past Pres­i­dent with whom we spent inter­est­ing and plea­sur­able times ful­ly "cap­tured" by the IMAGO spread­ing future!"
Luciano Tovoli AIC ASC IMAGO Founder & For­mer President
We extend our sin­cere con­do­lences to his fam­i­ly, friends, and the Hun­gar­i­an Soci­ety of Cinematographers.
Mustapha Barat ABC
Pres­i­dent
Adri­ana Bernal ADFC
Bojana Andric SAS
Co Vice-pres­i­dents
Alex Lin­den FSF
Gen­er­al Secretary
IMAGO Board Members