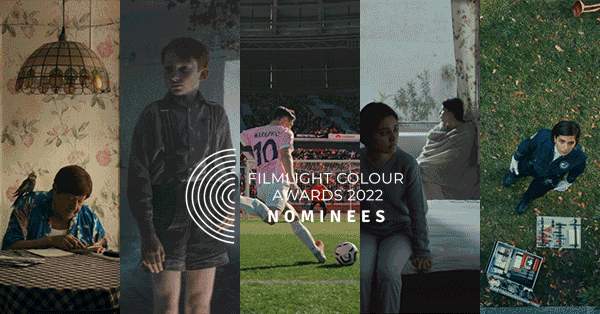 Film­Light has unveiled the nom­i­nees for the 2022 Film­Light Colour Awards. In their sec­ond year, the awards have attract­ed over 300 entries from 36 coun­tries across the globe and the judg­ing pan­el has now announced a short­list of 25 remark­able projects across five categories.
The awards are open to artists using any grad­ing plat­form and the judg­ing pan­el is drawn from the inter­na­tion­al ranks of well-known cin­e­matog­ra­phers and colourists. The win­ners will be announced on 13 Novem­ber 2022 at EnergaCAMERIMAGE.
"I have been impressed by the entries to the Film­Light Colour Awards this year," says jury mem­ber Stephen Lighthill, Pres­i­dent of the ASC. "All the con­tri­bu­tions showed enor­mous effort and tal­ent. As a cin­e­matog­ra­ph­er, I have enjoyed the judg­ing process. Watch­ing the entries, I not­ed the colourists' use of lay­ers to enhance the sto­ry being told. I look for­ward to cel­e­brat­ing the win­ners among our peers dur­ing the cer­e­mo­ny at Camerimage."
The final list for the hot­ly-con­test­ed award for grad­ing a the­atri­cal fea­ture are:
Being the Ricar­dos, grad­ed by Ian Ver­tovec at Light Iron
Dune, grad­ed by David Cole at FotoKem
No Time to Die, grad­ed by Matt Wal­lach at Com­pa­ny 3
Three Thou­sand Years of Long­ing, grad­ed by Eric Whipp at alter ego
West Side Sto­ry, grad­ed by Michael Hatzer at Pic­ture Shop
For TV series and episod­ics, the nom­i­nees are:
Eupho­ria – sea­son two, grad­ed by Tom Poole at Com­pa­ny 3
Land­scap­ers – com­plete sea­son, grad­ed by Thomas Urbye at The Look
The Man Who Fell to Earth – "Cracked Actor", grad­ed by Samuel Chynoweth at Pic­ture Shop
Win­ning Time: The Rise of the Lak­ers Dynasty – com­plete sea­son, grad­ed by Wal­ter Vol­pat­to at Com­pa­ny 3
Your Atten­tion Please – sea­son three "Vol­ume 9", grad­ed by Clin­ton Homuth at Artjail
In the com­mer­cials cat­e­go­ry, the judges chose:
Apple, 'Data Auc­tion', grad­ed by Ondřej Štib­in­gr at Uni­ver­sal Pro­duc­tion Part­ners (UPP)
Porsche, Jür­gen Aign­er, 'One of Us', grad­ed by Toby Tomkins at CHEAT
ROM, 'IMMORTAL', grad­ed by Wade Odlum at alter ego
Schweppes, 'Let's Schweppes', grad­ed by Manuel Portschy
Stonewall, 'Proud Mistle­toe', grad­ed by Peter Oppers­dorff at The Mill
In the cat­e­go­ry of music videos, the judges selected:
Alaskan Tapes, 'Wake', grad­ed by Clin­ton Homuth at Artjail
Ásgeir, 'Snow­blind', grad­ed by Mari­na Starke
Rachel Reis, 'Lovez­in­ho', grad­ed by Ana Escorse at Stu­dio Feather
Swedish House Mafia & The Week­end, 'Moth to a Flame', grad­ed by Daniel Levy at Ras­cal Post
The Burn­ing Young, 'Qui­et Nights', grad­ed by Park­er Jarvie at Com­pa­ny 3
New to 2022, the Spot­light award aims to recog­nise the unsung tal­ents in the indus­try. For this cat­e­go­ry, the nom­i­nees are:
Can­tan­do en las azoteas, grad­ed by Seth Ricart at RCO
Dear Mr. Führer, grad­ed by Aljoscha Hoff­mann at CinePostproduction
Gold­en Boy, grad­ed by Niko­la Ste­fanović at The Mill Shanghai
Shoe­box, grad­ed by Mahak Gup­ta at Bridge PostWorks
We Might As Well Be Dead, grad­ed by Mari­na Starke
The awards pro­gramme, ini­ti­at­ed by Film­Light, is organ­ised in con­junc­tion with Ener­ga­CAMER­IM­AGE, with the sup­port of promi­nent inter­na­tion­al groups such as the ASC, Ima­go (the Inter­na­tion­al Fed­er­a­tion of Cin­e­matog­ra­phers), CSI (Col­orist Soci­ety Inter­na­tion­al) and more.
For more infor­ma­tion on the awards, vis­it: www.filmlightcolourawards.com