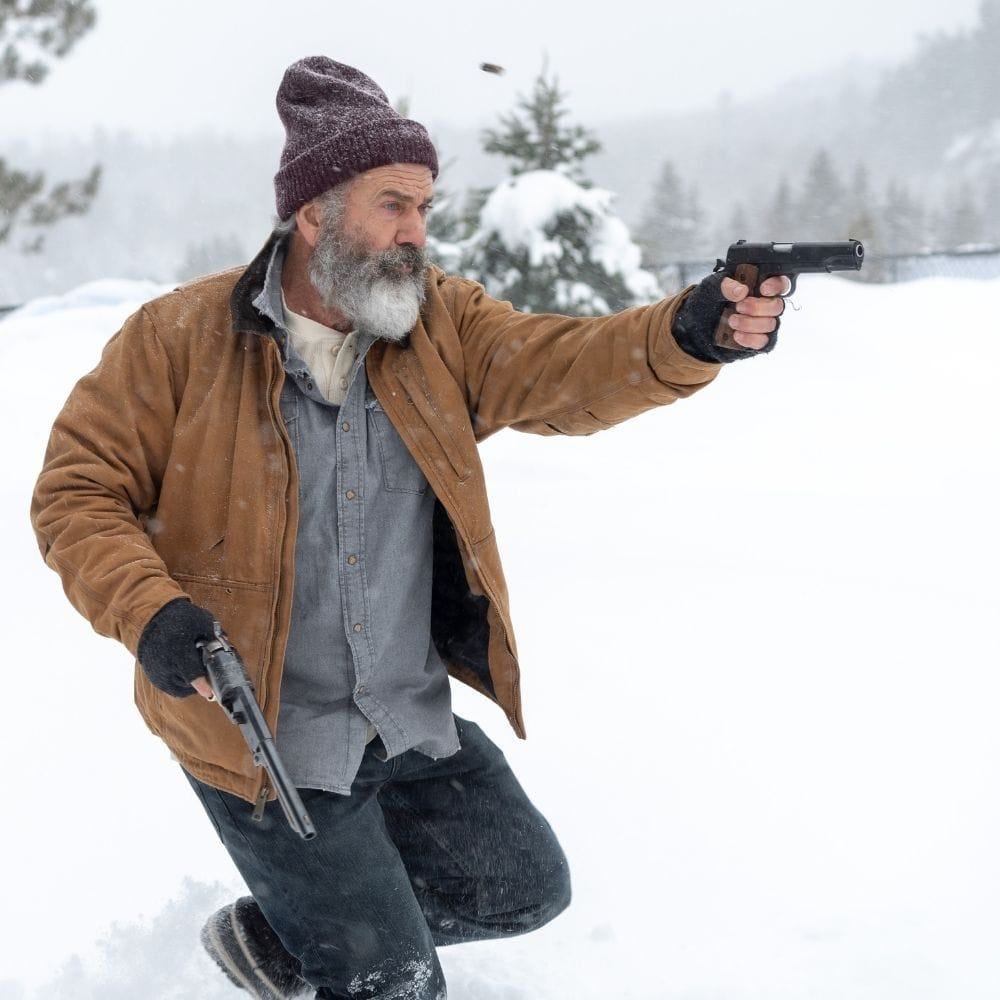 San­ta Claus, caught in a des­per­ate pinch, is forced to col­lab­o­rate with the US Mil­i­tary to keep his oper­a­tions afloat. Mean­while, a mega­lo­ma­ni­a­cal rich lit­tle kid, whom San­ta decid­ed to teach a les­son by putting a lump of coal in the kid's stock­ing, has hired a lethal hit­man to take San­ta out!
Oscar-win­ning actor/director Mel Gib­son stars as San­ta Claus, with Wal­ton Gog­gins as the hit­man hot on his heels! Sound wild and crazy enough for your enter­tain­ment needs? We're all about to find out soon, as "Fat­man" opens in cin­e­mas this week­end Fri­day Novem­ber 13th!
The film is the lat­est brain­child from the writer-direc­tor team of broth­ers Eshom Nelms and Ian Nelms, and as with many pre­vi­ous Nelms Broth­ers projects, cin­e­matog­ra­ph­er John­ny Deran­go served as Direc­tor of Pho­tog­ra­phy on the pic­ture. We were for­tu­nate enough to get an exclu­sive inter­view with John­ny on his expe­ri­ences on this excit­ing new project. Enjoy!
Lars Pet­ters­son: Right off the bat, John­ny: your fam­i­ly name Deran­go… I imme­di­ate­ly think of Duran­go, Mex­i­co, where hun­dreds of great west­erns have been shot…
John­ny Deran­go: Just a nice coin­ci­dence. I like to think of myself as a high plains drifter, trav­el­ing from town to town with just a camera…
L.P: "Fat­man" is your most recent col­lab­o­ra­tion with the Nelms broth­ers ‑could you tell our read­ers a Lit­tle about how this col­lab­o­ra­tion came about, how did you guys first meet at all?
J.D: Back in 2004, I was hired to shoot a build­ing safe­ty video for the US Bank Tow­er down­town Los Ange­les. It was ear­ly in my career and I was shoot­ing every­thing I could to hone my skills. The shoot con­sist­ed of a very small crew includ­ing the Direc­tor, myself and two grips, one of whom was Eshom Nelms.
Eshom and I got along real­ly well on the shoot and I came to find out that he and his broth­er Ian were also writers/directors. Eshom shared some of their work with me, includ­ing their first fea­ture film "Squir­rel Trap". I was real­ly impressed with what they had done with absolute­ly no mon­ey on that one.
I saw some­thing intan­gi­ble in their vision that I hadn't seen in any direc­tor up until that point. I knew that they were the kind of film­mak­ers that I want­ed to col­lab­o­rate with. Six years lat­er, in 2010, we final­ly had the oppor­tu­ni­ty to work togeth­er on a short film that they wrote and direct­ed. Since then, we've worked on four fea­ture films (Lost on Pur­pose", "Waf­fle Street", "Small Town Crime", "Fat­man"), a TV series ("Every­one is Doing Great") and count­less shorts together.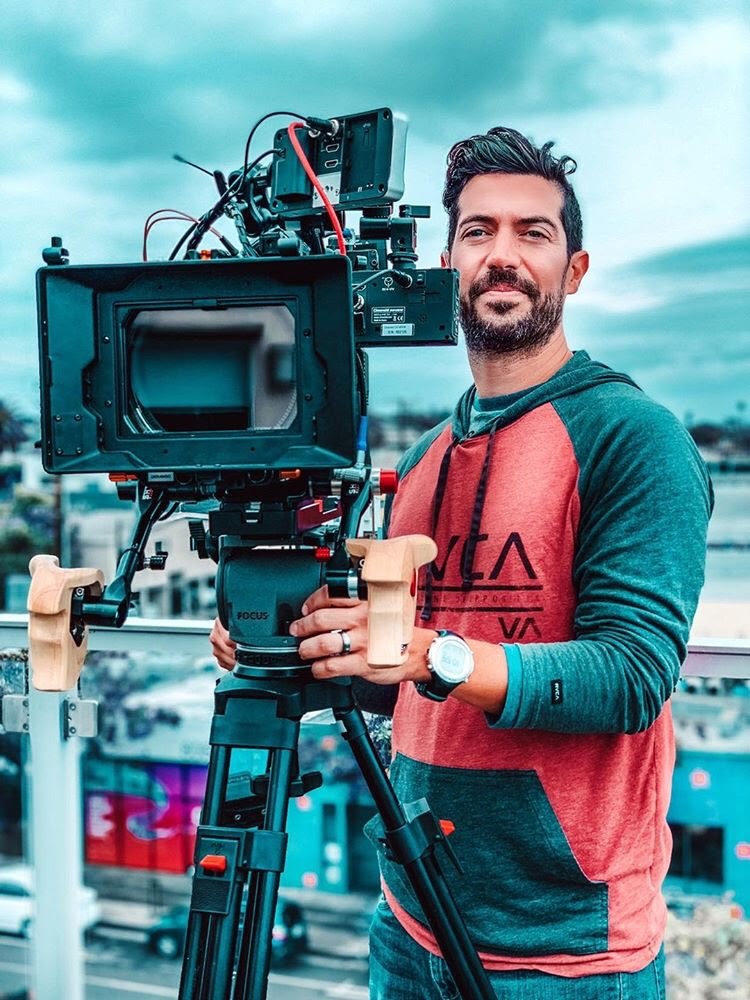 L.P: Sounds like a very for­tu­nate quirk of fate you and Eshom wind­ing up on the same set like that, a col­lab­o­ra­tion meant to be! But if I can go back to the very begin­ning, for a minute ‑where did you grow up, what sparked your inter­est in cin­e­ma, and were oth­er mem­bers of your fam­i­ly also involved in artis­tic fields?
J.D: I grew up in the small work­ing-class town of Peru, Illi­nois, pop­u­la­tion less than 10,000 peo­ple. My father is a prac­tic­ing den­tist and my Moth­er a nurse who gave up her career to raise four chil­dren and man­age my father's office. My broth­er is an optometrist, my sis­ter a hygien­ist and her hus­band an ortho­don­tist. Appar­ent­ly, I'm a bit of an aber­ra­tion in that sense, since most of my fam­i­ly falls more into the math and sci­ence cat­e­go­ry, but my youngest sis­ter and I grav­i­tat­ed towards the arts.
But, grow­ing up, cin­e­ma was my escape from every­day stress­es and pres­sures. I would sneak off to the video store every chance I got just to browse the aisles. Any­thing with a film fes­ti­val logo on it appealed to me and I'd lock myself in my room and watch two or three films back to back to back.
I absolute­ly LOVED film, but, grow­ing up in this small Illi­nois town, it nev­er crossed my mind that I could become a film­mak­er, I just incor­rect­ly assumed that I would have to pick a "real" job. So, when it came time to make a deci­sion on a career, hav­ing spent so much time watch­ing action films and detec­tive pro­ce­du­rals, I want­ed to pur­sue a career in crim­i­nal jus­tice and become a homi­cide detective.
When I told my par­ents my plans, they became fear­ful for my safe­ty and imme­di­ate­ly asked if there might be any oth­er career option that I'd be inter­est­ed in. I brought up film­mak­ing, and in what came as a com­plete sur­prise to me, they were incred­i­bly quick to sug­gest that I explore that option. So with my par­ents' unflinch­ing sup­port, I began attend­ing Colum­bia Col­lege Chica­go with plans to become a direc­tor. Soon after I got there, I met Ronn Pitts who would become my men­tor and change the course of my career. Through Ronn, I learned that telling a sto­ry with visu­als could be every bit as reward­ing as direct­ing the film itself. With Ronn's encour­age­ment, I fell in love with being behind the cam­era. He was and still to this day is the sin­gle biggest influ­ence on my career.
L.P: You have exten­sive expe­ri­ence work­ing both as a cin­e­matog­ra­ph­er and as a pro­duc­er ‑that's a fair­ly unusu­al com­bi­na­tion ‑could you tell us a lit­tle how this has come about?J.D: As a direc­tor of pho­tog­ra­phy, espe­cial­ly when first start­ing out, you end up pro­duc­ing a lot by default because you sim­ply have to wear many hats. But per­son­al­ly, through those expe­ri­ences, I found out that I tru­ly love pro­duc­ing, and I start­ed to focus on it more when I wasn't get­ting the kind of projects that I want­ed. By active­ly seek­ing out the mate­r­i­al, col­lab­o­ra­tors and projects that I want­ed to be a part of, and then help­ing to put all of the pieces togeth­er was some­thing that I not only enjoyed, it enabled me to more care­ful­ly craft the career I wanted.
In 2010, the Nelms Broth­ers, shared a script with me that they were try­ing to get off the ground. For the first time in my career, there was a project in front of me with film­mak­ers that I want­ed to work with, a script I believed in and the mak­ings of a cast I was excit­ed about – and an oppor­tu­ni­ty for me to con­tribute beyond just cin­e­matog­ra­phy. It was this per­fect storm that caused me to go out and raise a sig­nif­i­cant por­tion of the bud­get. The Broth­ers, fel­low pro­duc­er Michelle Lang and I set out to make the best film we pos­si­bly could. That film, "Lost on Pur­pose" (2013), would ulti­mate­ly become a call­ing card that opened up a lot of doors and land­ed the Nelms Broth­ers the film "Waf­fle Street" (2015). Their next film "Small Time Crime" (2017), was even more suc­cess­ful and helped them to final­ly bring "Fat­man", a script they had writ­ten 14 years pri­or, to the big screen.
L.P: With "Waf­fle Street" and now "Fat­man" you've come to work with both leads of the "Lethal Weapon" series! Dan­ny Glover has deliv­ered some great com­e­dy work over the years, not he least in "Be kind rewind" (2008)!
J.D: I love that you caught that! It's a bit of a dream to think that I have now worked with two actors whose films great­ly influ­enced and helped shape my love for cin­e­ma. I tru­ly feel blessed to say that I have worked with both Dan­ny Glover and Mel Gib­son. In both cas­es, my work­ing rela­tion­ship with them was wonderful.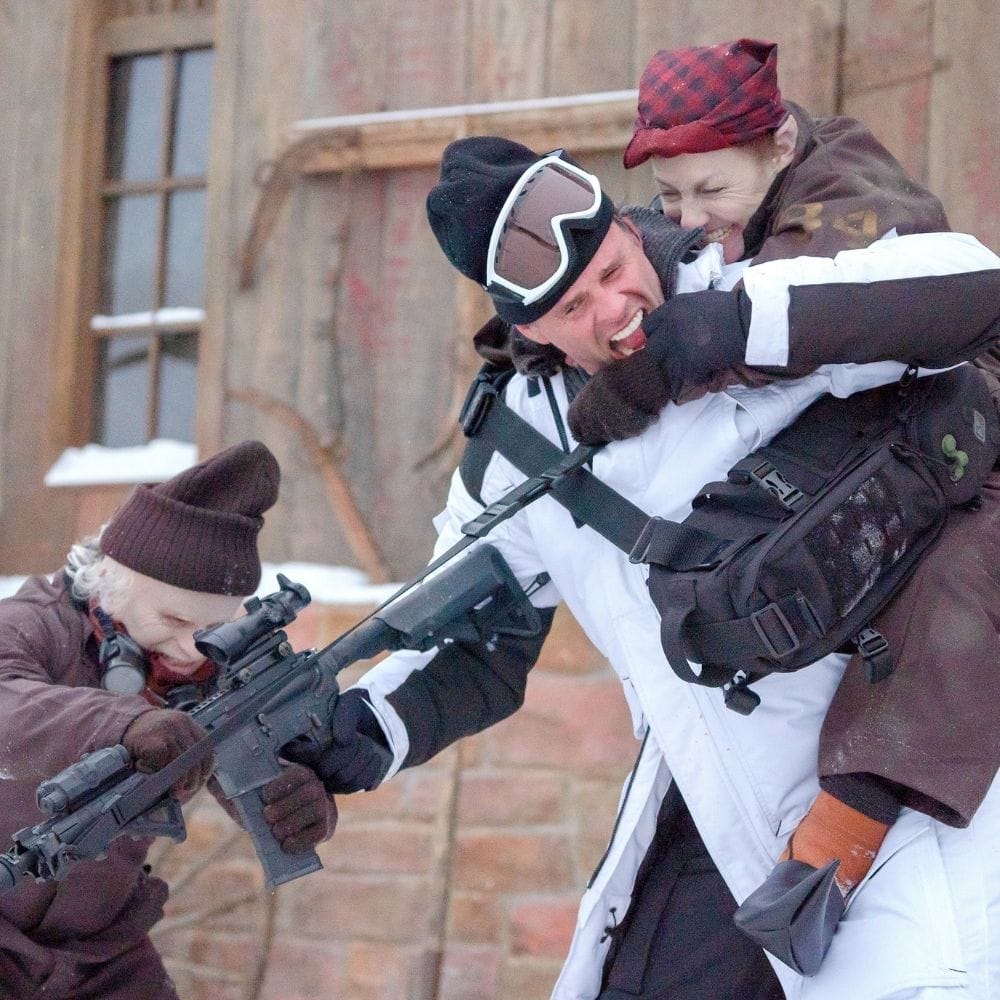 L.P: "Small Time Crime" was also the film which In 2018 land­ed you on the pres­ti­gious Amer­i­can Cin­e­matog­ra­ph­er Mag­a­zine annu­al list of The Top 12 Cin­e­matog­ra­phers from across the globe to watch for…
J.D: Being named one of ASC's Ris­ing Stars of Cin­e­matog­ra­phy was a sur­re­al expe­ri­ence. To be rec­og­nized for your work by the most pres­ti­gious cin­e­matog­ra­phy orga­ni­za­tion on the plan­et is an unpar­al­leled hon­or. For me, one of the most excit­ing parts was con­nect­ing with many of the oth­er DPs who were also on that list. It's some­thing that I didn't real­ize ear­ly in my career but, con­nect­ing with oth­er cin­e­matog­ra­phers, is a tru­ly impor­tant part of grow­ing as a DP. Hear­ing about oth­er cin­e­matog­ra­phers' career paths, process­es, suc­cess­es and fail­ures is invalu­able. Being a DP is such a soli­tary posi­tion that hav­ing oth­er cin­e­matog­ra­phers to exchange sto­ries with and bounce ideas off of is incred­i­bly helpful.
L.P: "Fat­man" sounds so fun­ny just read­ing the syn­op­sis, that I can hard­ly wait to watch this one. Wal­ton Gog­gins is one of those spe­cial actors who man­ages to instill a lit­tle humour into almost any parts he plays, no mat­ter how seri­ous, so It'll be great to see him in an all-out comedy.
Was "Fat­man" a fun movie to do, was there a lot of laugh­ter on set?
J.D: "Fat­man", as you'll see, is like no oth­er film that I've ever been a part of. The Nelms Broth­ers are mas­ters of shift­ing tone with­in a film and this is no excep­tion. The scenes weave seam­less­ly between action and seri­ous dra­ma to wit­ty humor. There was nev­er a dull moment!
L.P: What kind of films did you screen with Eshom and Ian in prepar­ing for "Fat­man"?
J.D: In prep­ping "Fat­man", we only looked at a hand­ful of films, and the one that we came back to the most was "No Coun­try for old Men" (2007). The stripped down visu­als and straight for­ward cin­e­matog­ra­phy of that film spoke to me. It was real­ly impor­tant to both the broth­ers and I, that the film stay ground­ed in the real world. Be it the pro­duc­tion design, wardrobe or my cin­e­matog­ra­phy, the direc­tive was to take this mytho­log­i­cal fig­ure and make him feel real. It was impor­tant to me to nev­er get car­ried away and push towards the leg­end that we are all so famil­iar with but, instead, ground him as some­one who audi­ences could tru­ly relate to – he is San­ta Claus but, ulti­mate­ly, he's a guy with a wife, a mort­gage, and a busi­ness he's try­ing to save.
L.P: Prep­ping for a project, do you get inspired by the var­i­ous loca­tions scout­ed in pre­pro­duc­tion? Do they give you ideas for shots, com­po­si­tions etc?
J.D: For me, inspi­ra­tion can come from so many dif­fer­ent places. As a DP, you have to keep your eyes open and con­stant­ly be look­ing at the world around you. Inspi­ra­tion can come from any­where, a pho­to on the cov­er of a mag­a­zine or on a walk you take to the store to clear your mind after a day of being in the office.
The same goes for loca­tions. Some­times, you walk into a space and see the way the light is play­ing nat­u­ral­ly and you fall in love. Some­times, it's a prac­ti­cal lamp that is already in a loca­tion that you can tell will make for an incred­i­ble sin­gle source. Oth­er times, such as in "Fat­man", I saw a door­frame that looked into Ruth and Chris' bed­room that I knew I HAD to shoot through.
In the final film, the door­way frames Chris as he tucks a box back under his bed after return­ing home on Christ­mas morn­ing. There were so many things going through my head the­mat­i­cal­ly when I saw it. We have a char­ac­ter who is lit beau­ti­ful­ly in what should be a safe space but is held cap­tive in a tight frame with­in a frame. He escapes it as the shot con­tin­ues on, enter­ing the hall­way cross­ing through dark­ness then emerg­ing into a lit room, where we see he's is worse for wear but going to car­ry on. To me, that sin­gle shot and what he goes through could sum up the entire film. It's moments like that which can real­ly shape a sto­ry through the visu­als. But, to your orig­i­nal point, that idea came from our orig­i­nal loca­tion scout where I could clear­ly see a pos­si­bly inter­est­ing shot – one that revealed a bit about the char­ac­ter's arc.
L.P: Light­ing-wise, do you pre­fer to "light the space", giv­ing the per­form­ers free­dom to move with­in the lit set, or do you pre­fer block­ing the scene out with the direc­tor and then light­ing it?
J.D: It's always a huge ben­e­fit to block out a scene with the actors and direc­tors so that we are on the same page and that there are no big sur­pris­es. I gen­er­al­ly try to keep as much of my light­ing out­side or off the floor when pos­si­ble. While my job is impor­tant, if an actor is restrict­ed in any way, that can affect their per­for­mance. I try to work with the actors in much the same way I do when work­ing with a direc­tor. I am there to sup­port their vision and give them every advan­tage I can to make the best film possible.
That said, I do tend to like to start with light­ing the space as much as pos­si­ble and then light the actors based on the block­ing. I like to light in lay­ers, build­ing up the back­ground and finess­ing the lights in the allot­ted time. It's always my aim to be ready before the AD is, when­ev­er possible.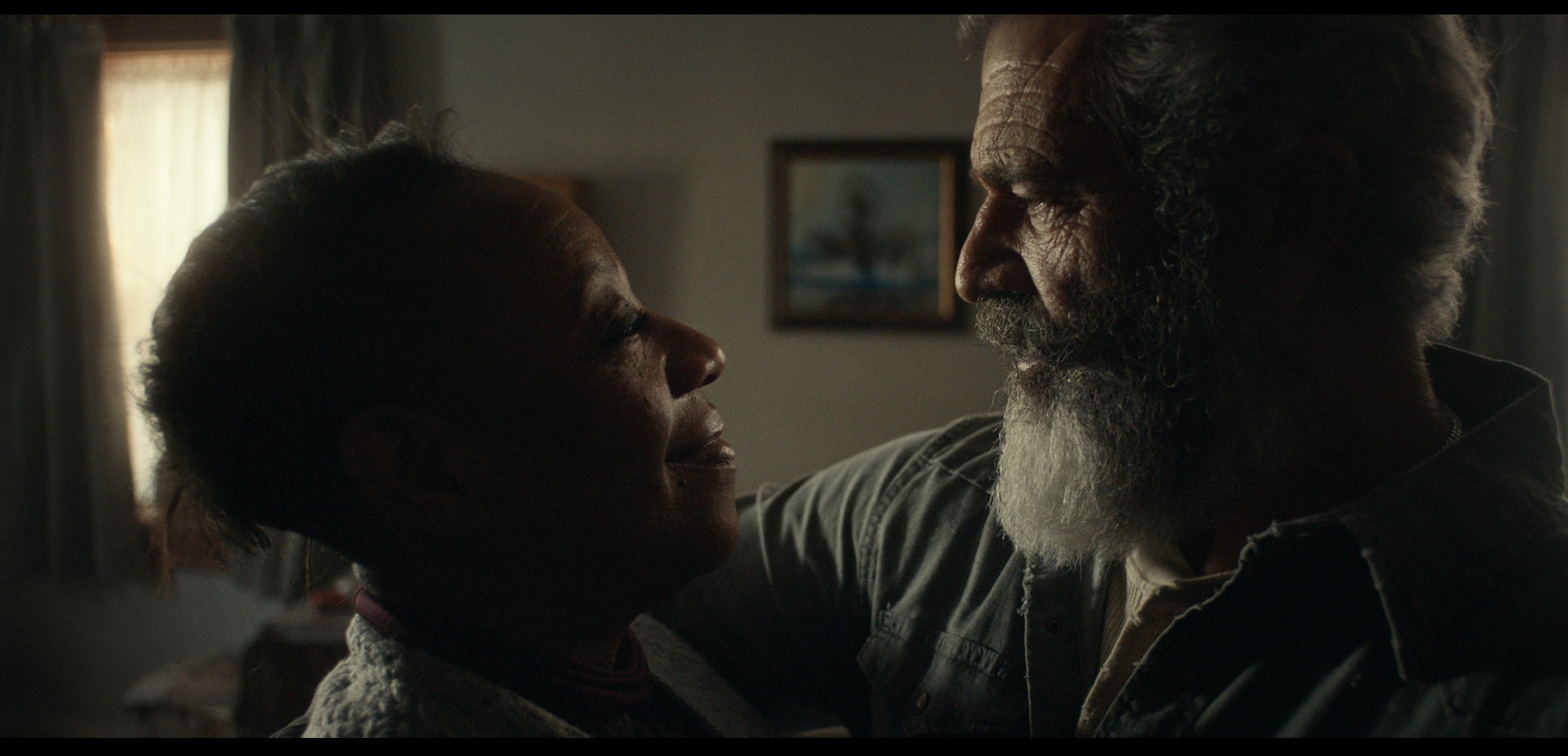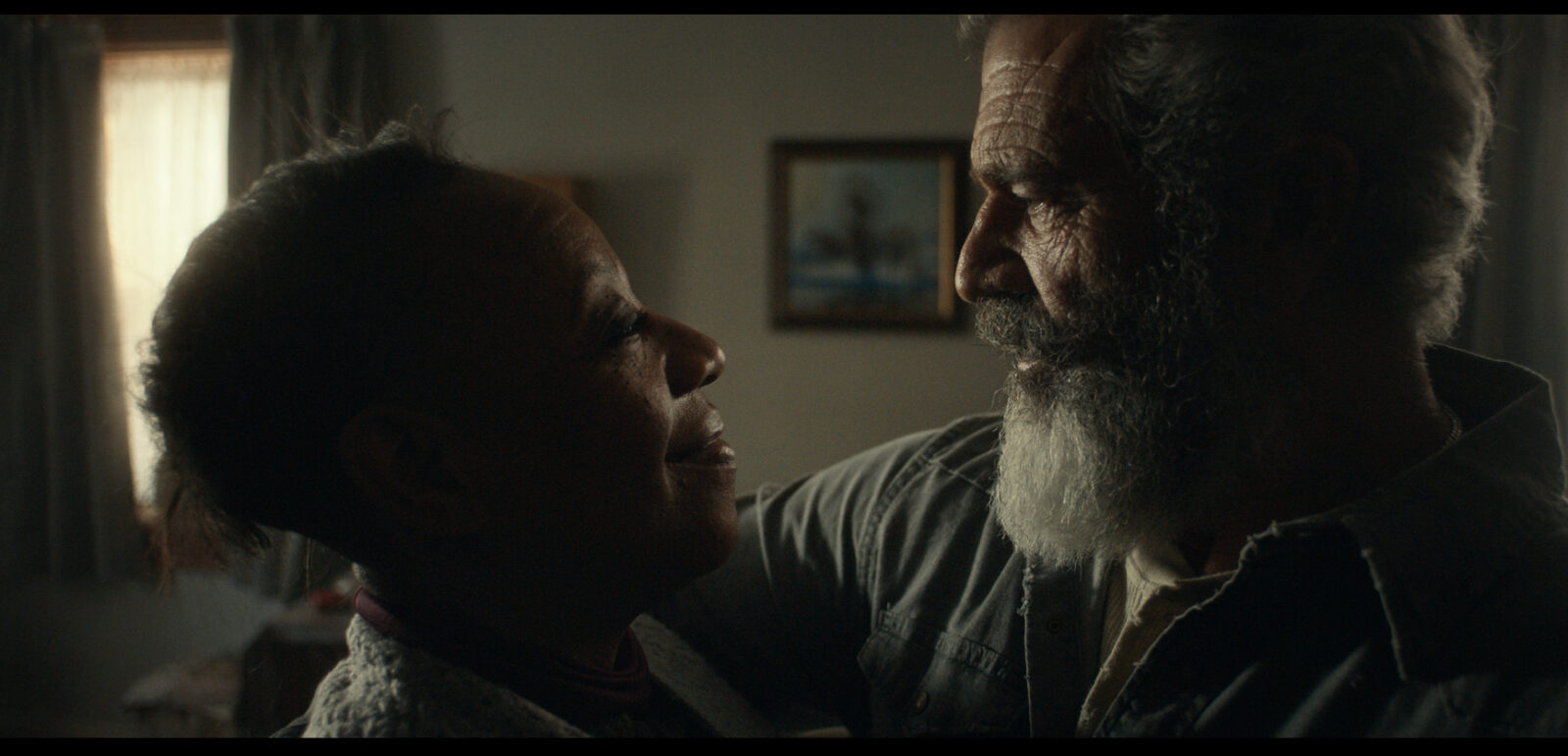 L.P: You're a DoP and a pro­duc­er, would you like to direct a film some­day yourself?
J.D: As I said ear­ly on, it was my orig­i­nal desire to be a direc­tor. How­ev­er, when I fell in love with cin­e­matog­ra­phy and began work­ing with oth­er direc­tors, I real­ized that I just did not yet have the life expe­ri­ences to tell a sto­ry that wasn't just a rehash of all the films/TV that I had seen. Over the years, I've been for­tu­nate enough to work with incred­i­bly tal­ent­ed direc­tors, such as the Nelms Broth­ers, Steve Hicks ("Fuzz Track City"), James Laf­fer­ty and Stephen Col­let­ti ("Every­one is Doing Great") and Kim Noo­nan ("Radio 88").
Through these expe­ri­ences, watch­ing their process and liv­ing anoth­er near­ly 20 years of life, I final­ly feel ready to take that step. It looks like I will have the oppor­tu­ni­ty to direct an episode of a series com­ing up in the near future, so stay tuned!
By Lars Pet­ters­son FSF