The IMAGO Com­mit­tee for social dia­logue and work­ing con­di­tions has been work­ing around issues con­cern­ing not only cin­e­matog­ra­phers but all film artists in the Audio­vi­su­al sec­tor. A few steps have been recent­ly taken.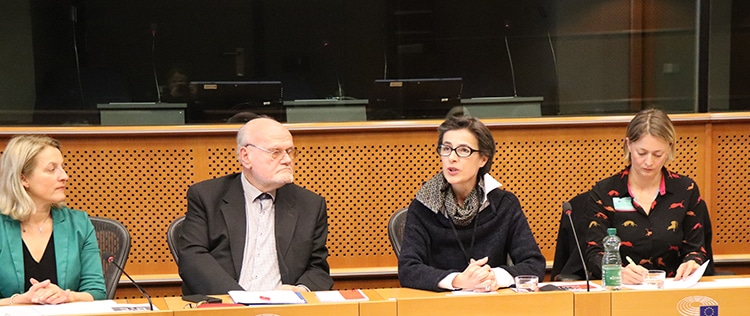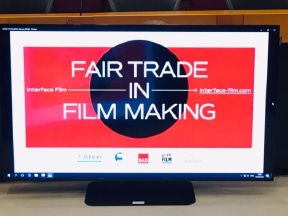 – EP event host­ed by MEP Eve­lyn Reg­n­er dis­cussing work­ing con­di­tions in the EU audio­vi­su­al sec­tor
1 April 2019
Inter­face Film – an ini­tia­tive of EU XXL – in part­ner­ship with FERA, IMAGO and YOUNION orga­nized a pan­el on work­ing con­di­tions in the EU audio­vi­su­al indus­try. The event was host­ed by Aus­tri­an S&D MEP Eve­lyn Reg­n­er and empha­sized the impor­tance of estab­lish­ing fair frame­work con­di­tions on a Euro­pean lev­el, regard­ing work­ing con­di­tions, social ben­e­fits, gen­der equal­i­ty, min­i­mum remu­ner­a­tion and dis­tri­b­u­tion net­works. It dis­cussed pro­pos­als and prac­ti­cal solu­tions to improve the dif­fer­ent nation­al sys­tems at a Euro­pean lev­el, which could be ground­break­ing in tack­ling unfair work­ing con­di­tions in the EU audio­vi­su­al indus­try as well as new social chal­lenges posed by the dig­i­tal era on the work­ing envi­ron­ment in general.
The pan­el took place on April 1st at the Euro­pean Par­lia­ment in Brus­sels and it fea­tured inter­ven­tions from speak­ers MEP Eve­lyn Reg­n­er, Mer­cedes Echer­er (EU XXL), Zora Brach­man (Inter­face Film), Pauline Durand-Vialle (FERA), Kurt Braz­da (IMAGO/ AAC) and Johannes Studinger (UNI MEI).
FERA pre­sent­ed the final results of the first-ever study on the remu­ner­a­tion and socio-eco­nom­ic pro­file of Euro­pean audio­vi­su­al authors, under­lin­ing indi­ca­tors of unpaid work, long hours, dif­fi­cul­ties in find­ing a work/life bal­ance, low pay, lim­it­ed access to social ben­e­fits as free­lancers, unsta­ble income and over­all unsus­tain­able careers.
FERA not­ed the impor­tance of pub­lic fund­ing as a vec­tor of fair­ness in the Euro­pean audio­vi­su­al sec­tor, and insist­ed on the need for more data on employ­ment in the sec­tor to raise aware­ness on work­ing con­di­tions with pol­i­cy-mak­ers, as well as the essen­tial impor­tance to ensure a prop­er right to rep­re­sen­ta­tion for cre­ative free­lancers in the sector.
FERA kind­ly thanks MEP Eve­lyn Reg­n­er for host­ing the event, orga­niz­ing part­ners Inter­face Film – EU XXL, IMAGO and YOUNION, and all speak­ers and par­tic­i­pants for their inter­est and involve­ment in the event.
It has been an ini­tia­tive of Inter­face Film to cre­ate a plat­form of dif­fer­ent sec­tors of cre­atives of audio­vi­su­al to claim bet­ter work­ing con­di­tions, of course pushed by Kurt Braz­da AAC. The goal with this first impor­tant step was to final­ize the "VIENNA DOCUMENTS", to devel­op solu­tion-ori­ent­ed pro­pos­als for improv­ing and net­work­ing the var­i­ous nation­al sys­tems at a Euro­pean lev­el, which are intend­ed to influ­ence shap­ing the Euro­pean Union's film pol­i­cy for the 2019 – 24 and onwards leg­isla­tive peri­ods. The VIENNA DOCUMENTS intends to improve the social sit­u­a­tion of the film artists by demand­ing new eco­nom­ic para­me­ters for filmmaking.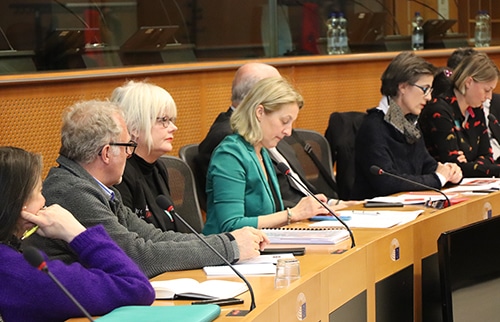 The Vien­na Con­fer­ence which was fol­lowed by oth­er pre­vi­ous meet­ings took place in the end of Jan­u­ary 2019, and con­sist­ed of, apart from rep­re­sen­ta­tives from FERA and IMAGO, also rep­re­sen­ta­tives from Euro­pean soci­eties of actors, pro­duc­ers, writ­ers, pro­duc­tion and cos­tume design­ers, edi­tors, financers and dis­trib­u­tors.
The wide vari­ety of par­tic­i­pants was use­ful to be able to gath­er as many views on as many chal­lenges as pos­si­ble, and to have one as broad plat­form of cre­atives group behind the propo­si­tions in order to have one voice to present in the EU par­lia­men­tar­i­ans. The orga­ni­za­tion and com­pi­la­tion of all doc­u­ments were tak­en by Mer­cedes Escher­er and her team and com­pa­ny EUXXL/Schnittstelle.
In con­se­quence of these meet­ings, IMAGO Work­ing Con­di­tions Com­mit­tee, led by Kurt Braz­da, along with oth­er rep­re­sen­ta­tives of IMAGO, EUXXL and FERA met EU Par­lia­ment min­is­ters and rep­re­sen­ta­tives, to present the con­clu­sion of the Vien­na Papers to the EU politi­cians, lob­by­ing to the EU Min­is­ters the neces­si­ty to seri­ous­ly take the Con­fer­ence con­clu­sions into con­sid­er­a­tion when the new Euro­pean Union media sup­port pol­i­cy soon is to be shaped for the 2019 – 2024 and onwards leg­isla­tive periods.
Below is the tran­scrip­tion of Kurt Braz­da'a speech address­ing to the EU par­lia­men­tary rep­re­sen­ta­tives con­cern­ing the work­ing con­di­tions of hun­dreds of Audio­vi­su­al work­ers in Europe. It is urgent to look at the pre­car­i­ous sit­u­a­tion of many work­ers and fam­i­lies in the field.
The con­clu­sions can be read HERE – The Vien­na Documents
Kurt Braz­da's chair­man of the IMAGO Work­ing Con­di­tions comit­tee speech in the EU Parliament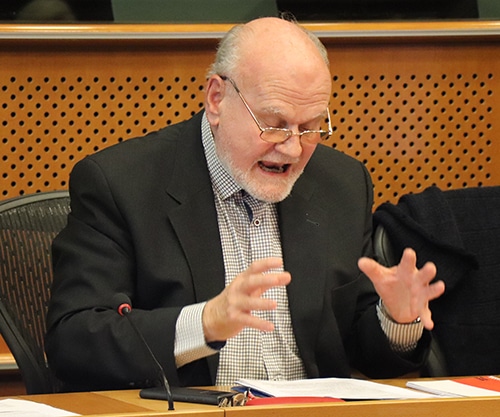 Ladies and Gen­tle­men!
Please imag­ine 3 real­i­ties of life of Euro­pean cit­i­zens.
1. A young man of North African descent liv­ing in a French sub­urb, work­less with­out any per­spec­tive.
2. A sin­gle moth­er some­where in Slo­va­kia, who has to feed her chil­dren and her­self with cumu­la­tion of pre­car­i­ous work or poor­ly paid 24-hour care for the elder­ly in Aus­tria.
3. An elder­ly man, long-term unem­ployed, who could no longer pay his rent and ends up home­less on the streets of a city some­where in Europe
Three des­tinies, to be found thou­sands in Europe. Do we real­ly believe that we can con­vince these three peo­ple of the mer­its and advan­tages of the Euro­pean Union?
At the moment we have no chance. It doesn´t work. Why: Because the EU lacks an effec­tive social agen­da. Accep­tance among the Euro­pean pop­u­la­tion there­fore leaves much to be desired. Leav­ing peo­ple behind cre­ates biotopes for pop­ulists who want to destroy Europe and its val­ues. I quote Eve­lyn Reg­n­er: Europe will be social or it will not be.
When we film­mak­ers address the bad work­ing con­di­tions of our indus­try here in the EU Par­lia­ment today, we know, that we have a lot of allies in many oth­er pro­fes­sions. The work­ing envi­ron­ment in film and audio­vi­su­al pro­duc­tion is the exact blue­print of a cur­rent and future work. As film­mak­ers, we also have a high degree of social respon­si­bil­i­ty towards the count­less oth­er vic­tims of an increas­ing­ly inhu­man world of work. We feel a sol­i­dar­i­ty with these peo­ple. We want to encour­age them to get up and, fol­low­ing our exam­ple, con­front the EU Par­lia­ment also with their unbear­able sit­u­a­tion.
What do we mean with UNBEARABLE?
The audio­vi­su­al indus­try is there­fore a kind of avant-garde in terms of the new world of work. For many years, we have expe­ri­enced what now spreads pan­dem­ic to all sec­tors: frag­men­ta­tion and hybrid work, flex­i­cu­ri­ty to self-aban­don­ment, self-exploita­tion at the expense of the fam­i­ly, gen­der gap, pre­car­i­ous­ness, mutu­al can­ni­bal­iza­tion. Poor insur­ance cov­er­age that cre­ates a dig­i­tal "Lumpen­pro­le­tari­at", which comes depen­dent on social assis­tance.
Espe­cial­ly trag­ic: It main­ly affects young peo­ple still part­ly in edu­ca­tion.
Get­ting hard­ly an unpaid Intern­ship, they know noth­ing about col­lec­tive agree­ments, labor rights and unions. They start their careers in com­plete free­dom, pure "bird free­dom". So, as things stand, they will nev­er reach those wait­ing peri­ods that fit into a social secu­ri­ty sys­tem. Result: slid­ing into col­lec­tive pover­ty! There­for we prac­tice a soci­ety that burns its youth on the altar of the mar­ket com­pe­ti­tion.
The work in the film busi­ness became more and more uncom­fort­able and undig­ni­fied. Sav­ings on sub­si­dies and broad­cast­ers are respon­si­ble for sen­si­tive bud­get cuts in pro­duc­tions and gen­er­ate work­ing hours of up to 72 hours per week. Sav­ings, whose real enti­tle­ment no one has yet ques­tioned.
At a time when audio­vi­su­al con­tent is in urgent need and immense mon­ey is earned, bud­get cuts can­not sim­ply be accept­ed as a nat­ur­al law. Resis­tance must lead to con­trol here.
A recent study on the work­ing and liv­ing con­di­tions of film­mak­ers in Aus­tria has shown that many team mem­bers remain sin­gles because work­ing con­di­tions and remu­ner­a­tion do not allow the found­ing of a fam­i­ly. If they get sick, they stay in the work­place for fear of los­ing their job.
First, we have to be aware of the fact, that the con­trol­ling instru­ments of the last cen­tu­ry are no longer func­tion­ing in this cen­tu­ry. We still have col­lec­tive agree­ments, but for how many are they still valid?
We now expe­ri­ence a blur­ring of dis­tinc­tion between sub­or­di­nate employ­ment and self-employ­ment. This bound­ary will prob­a­bly dis­ap­pear com­plete­ly in the future. A devel­op­ment. Ladies and Gen­tle­men, that needs urgent rethink­ing of labor and social secu­ri­ty leg­is­la­tion.
The clas­sic employ­ment is con­sid­ered an obso­lete mod­el, present and future are shaped by the "new depen­dence". But what are the "new self-employed"? Are these peo­ple entre­pre­neurs?
They are def­i­nite­ly NOT: Like employ­ees, they only mar­ket their skin, but with the dif­fer­ence, that they have no pro­tec­tion under labor law. It is a com­plete­ly new form of work, for which the rules of the 20th cen­tu­ry sim­ply no longer fit.
I call them the NEW DEPENDENTS because they share this depen­den­cy with all employ­ees and small and medi­um-sized com­pa­nies. Because in the present bru­tal econ­o­my, more and more peo­ple are becom­ing depen­dent on few­er and few­er con­trol­ling cor­po­ra­tions. How­ev­er, NEW DEPENDENTS also share the increas­ing ten­den­cy towards a pre­cari­at. If we exam­ine pre­cari­at to its lit­er­al mean­ing, then we get the fol­low­ing result: Peo­ple beg­ging to be paid at all, so that they can just sur­vive. Receiv­ing alms, noth­ing else! Should this mod­el become the pro­to­type of the work­ing envi­ron­ment in this cen­tu­ry?
Income of free­lancer and self-employed does often not allow for social secu­ri­ty cov­er­age (health, unem­ploy­ment and pen­sion) to the same extend
that employ­ees are cov­ered with­in the nation­al sys­tems. There­for EU should advo­cate for the need to focus on social secu­ri­ty in all mem­ber states but also tar­get a pan-Euro­pean social secu­ri­ty sys­tem that leaves no one behind!
We need min­i­mum social stan­dards all over Europe mon­i­tored by EU authorities.
Trade unions and work­ers' cham­bers must final­ly con­sid­er these new self-employed as their log­i­cal clien­tele. If they don´t, they lead them­selves into polit­i­cal insignif­i­cance. Exist­ing Col­lec­tive bar­gain­ing agree­ments must be sup­ple­ment­ed with enforce­able fee cat­a­logs for self-employed. For same work, the same min­i­mum wage has to be paid regard­less of the type of con­tract. But com­pe­ti­tion rules must not be applied here, because it´s about safe­guard­ing peo­ple with­out bar­gain­ing pow­er. Unions have to face up to this chal­lenge and to rethink. Polit­i­cal­ly, they have to be much more offen­sive than they are now. In our times of ruth­less economies, we need strong trade unions mak­ing pol­i­tics instead of man­ag­ing defects.
Unions have also to be pre­pared for the future work­ing real­i­ty of young peo­ple and make appro­pri­ate offers. I am not talk­ing about CONSULTATION but about real REPRESENTATION in all the hard­ships to which they are exposed
On the oth­er hand, in edu­ca­tion we need to alert young peo­ple to their right to orga­nize them­selves in unions. As teacher in my uni­ver­si­ty am doing so!
What is the ele­men­tary goal? It's about giv­ing the new depen­dents as well as the clas­si­cal employ­ees the bar­gain­ing pow­er they can nev­er devel­op alone against plu­to­crats like media com­pa­nies, pub­lish­ers, broad­cast­ers, Google, Face­book. The clas­sic front-line entre­pre­neur ver­sus employ­ee has long been obso­lete. As depen­dent work­er we all find our­selves in the same rough sea.
It's about extend­ing social and labor pro­tec­tion to all peo­ple, who have to mar­ket them­selves, wher­ev­er they are. It is also about them to take away the fear, if they want to stand for their rights. A fear that is cur­rent­ly more than jus­ti­fied by black-lis­ten­ing. Iso­la­tion is the most per­fid­i­ous method of dis­ci­plin­ing peo­ple and sep­a­rat­ing them from their rights.
Dur­ing our research at the con­fer­ence in Vien­na, we came across some "best prac­tice" mod­els of trade union rep­re­sen­ta­tions, which are ground­break­ing for the new world of work. The Com­mis­sion and Par­lia­ment must there­fore pro­mote these unions polit­i­cal­ly and eco­nom­i­cal­ly.
We film­mak­ers want to build a Euro­pean sol­idary com­mu­ni­ty for which we urgent­ly need you, ladies and gen­tle­men, because social issues can no longer be solved uni­lat­er­al­ly. In the paper we can present to you now you will find some clear demands, care­ful­ly con­sid­ered. Calls for Par­lia­ment and the Com­mis­sion not only to ensure a rich sus­tain­able film and cul­ture envi­ron­ment but also a social and human­i­tar­i­an Europe for all its cit­i­zens. The for­mer is not pos­si­ble with­out the lat­ter.
We stand for a new econ­o­my based on the com­mon good and human dig­ni­ty, which can only be real­ized by a strong Euro­pean com­mu­ni­ty. We do not just stay in the­o­ry, because our clear pro­pos­als are applic­a­ble also in many oth­er pro­fes­sions. Solu­tions found for our seg­ment could be fun­da­men­tal to the entire work­ing world. But we always have to make sure that nobody gets left behind. His­to­ry teach­es us, that this is the great­est dan­ger to social peace.
Clos­ing remarks:
Of course, uni­fy­ing Europe under social law will be a long way to go.
But couldn´t we take the dis­tance by small but pur­pose­ful steps?
Wouldn´t it be pos­si­ble first to put togeth­er regions with sim­i­lar social stan­dards?
Could that be a suit­able lab­o­ra­to­ry for a future pan-Euro­pean social union? Ladies and Gen­tle­men, what do you think about?
Europe is still a great vision, there­fore DO NOT shy away from vision­ary and even utopi­an solu­tions. Only if we look far enough ahead, we will mas­ter the work­ing worlds of the present and future in the sense of the Con­di­tio Humana. Please believe me:
Vision­ar­ies are the true realists!
Kurt Braz­da