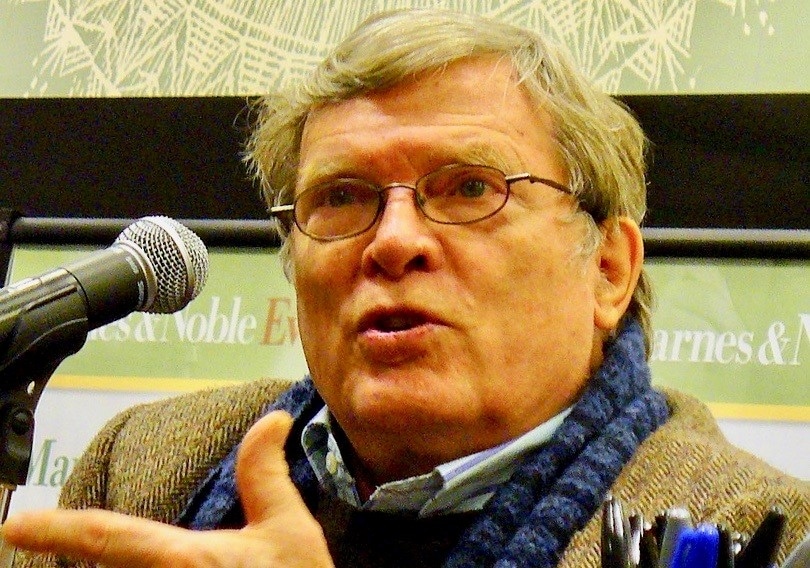 By Paul René Roestad
Pho­to: Donn Alan Pen­nebak­er ©David Shankbone/Wikimedia Commons
Some icons has had a rev­o­lu­tion­ary effect on cin­e­matog­ra­phy. Donn Alan Pen­nebak­er, cin­e­matog­ra­ph­er and doc­u­men­tary film­mak­er, was one of those. He great­ly influ­enced not only cin­e­matog­ra­phy, but also the way films were told.
In 1960 Pen­nebak­er part­nered with Robert Drew, Richard Lea­cock and Albert Maysles.
Togeth­er they devel­oped cin­e­ma ver­ité – or direct cin­e­ma, the visu­al style that influ­enced doc­u­men­tary film­mak­ing ever since.
For their projects, they need­ed a light silent cam­era that was light enough to be used hand held. There were none. Robert Drew, work­ing at the time in Life Mag­a­zine, man­aged to con­vince the Life Mag­a­zine man­age­ment to invest in devel­op­ing a light hand held silent 16mm cam­era. Drew brought in Richard Lea­cock and DA Pen­nebak­er, who again brought in Albert Maysles, and they start­ed to work on the project, based on rebuild­ing the Auri­con 16mm cam­era to a sig­nif­i­cant­ly lighter ver­sion.
They did, and the cam­era was used on the doc­u­men­tary "Pri­ma­ry", por­tray­ing John F. Kennedy´s pri­ma­ry elec­tion cam­paign in 1960 – the first direct sound cin­e­ma ver­ité doc­u­men­tary.
His­to­ry was made.
Still, in Amer­i­ca, no tv com­pa­ny would broad­cast the film, but the French loved it, and it was the French per­haps as much as the Amer­i­cans who devel­oped cin­e­ma ver­ité fur­ther. At the same time, in France, Éclair was on good way in their devel­op­ment of anoth­er hand-held cam­era, which in 1963 would be launched as the Éclair NPR. A leg­endary cam­era devel­oped by Éclair chief engi­neer André Coutant in coop­er­a­tion with amongst oth­ers Jean-Pierre Beau­viala, a cam­era that played a cen­tral role in the devel­op­ment of not only the French new wave, but in world-wide doc­u­men­tary films for a great num­ber of years.
And not least, Ste­fan Kudelski´s Nagra portable crys­tal-con­trolled sync sound recorder, intro­duced around the same time, made the cir­cle com­plete, and cin­e­ma ver­ité became the new style of inter­na­tion­al doc­u­men­tary film pro­duc­tion.
But very few has influ­enced the cin­e­mato­graph­ic style of film­mak­ing the way Pen­nebak­er and his part­ners did.
"You need to believe things will hap­pen, and if you are lucky it will hap­pen. It is like play­ing at a casi­no in Vegas, you must believe you have luck, or you won´t both­er. I knew I was lucky", Pen­nebak­er said. And he real­ly had the tal­ent to catch world his­to­ry with his cam­era. Pennebaker´s first and per­haps largest inspi­ra­tion was Robert Fla­her­ty, and espe­cial­ly the film "Nanook of the North". "Yes, I was inspired", Pen­nebak­er said. "But Fla­her­ty told noth­ing about how it was to be an Eski­mo in his film. What his sto­ry was about was how it was to be with an Eski­mo for a lit­tle while. This is the phi­los­o­phy I have tried to build my films on ever since".
D A Pen­nebak­er died on August 1st, 94 years old, while work­ing on his mem­oirs.
He is sur­vived by his wife and close part­ner, Chris Hege­dus, and 8 children.
Watch BBC doc­u­men­tary «The Cam­era that Changed the World» 2011 Direct­ed by Mandy Chang
https://vimeo.com/50533709