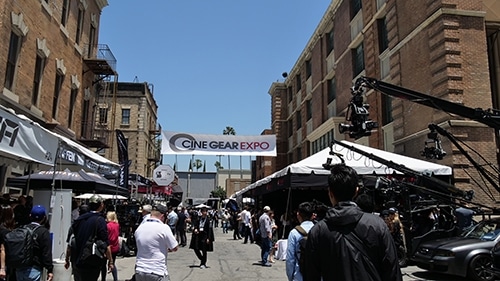 Uk has the BSC show, Italy, France and Spain their Micro Salon; Brazil: la Sem­ana de Cine, Colom­bia: SIL, el Salon de la Luz, Munich, CINEC; but Los Ange­les host CINEGEAR.
Nest­ed in two stages of Para­mount Stu­dios in Hol­ly­wood as well as in the back­lot of the New York Streets, CINEGEAR is huge and packed espe­cial­ly on the Friday.
For the first time, Ima­go attend­ed and was offered a booth, thanks to Juliane Grosso, between ACS (Aus­tralia) and BSC(UK). Per­fect­ly pro­tect­ed from the heavy Sun, on the shad­ow side of the street.
Paul René Roes­tad, Tony Cos­ta, Pre­drag Mabic SAS and Louis Philippe Capelle trav­elled 3 days ahead of the ICS (Inter­na­tion­al Cin­e­matog­ra­ph­er Sum­mit) to host the booth.
Many cin­e­matog­ra­phers vis­it­ing the show popped up, to enjoy the shad­ow and have a chat with us.
We had pres­ti­gious neigh­bors with Ron Johan­son ACS on our left with the ACS and Joe Dun­ton BSC, Nigel Wal­ters BSC, Ron Prince and Alan Lowne on our right togeth­er with the BSC and their mag­a­zine.
The show is spread on a vast area with almost all man­u­fac­tur­ers rep­re­sent­ed, some with a huge sur­face floor, espe­cial­ly in the 2 sound­stages were cam­eras and light­ing were dis­played. We are impressed and imme­di­ate­ly we under­stood this is where all hap­pen. This is Hol­ly­wood man!
We met many of our friends, all spon­sors of Ima­go: RED, Panav­i­sion, Arri, Ange­nieux, Schnei­der, P+S, K5600, Trans­video, Zeiss, CW Son­derop­tics, LCA '…to name a few.
To enjoy the fresh­ness, a smart drink and food at lunch, all VIP's gath­ered at the MBS-Pinewood bar locat­ed on the cor­ner of the main street. It is a great and qui­eter place to meet and have busi­ness talk.
So great oppor­tu­ni­ty and dis­cov­ery for us, def­i­nite­ly, we will be back….
CHECK NEWS ABOUT CINEGEAR
CINEGEAR Cat­a­logue
CINEGEAR REVIEW