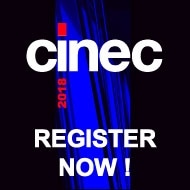 Only one month left: On 22nd Sep­tem­ber cinec will start again.
The field of exhibitors is focused, top-class, and high­ly inno­v­a­tive.
ARRI, PANASONIC, FUJI and SONY have booked their stands while RED, BLACKMAGIC, CANON, PHANTOM, MARSHALL, and more will be rep­re­sent­ed by promi­nent sys­tem houses.

Optics and lens­es are offered by Ange­nieux, ZEISS, Cooke, Leitz, Van­tage, P+S Tech­nik or Sigma.
The sup­port indus­try will also show­case at its best: From Cam­era Equip­ment, Light­ing, Stor­age, Edit­ing Sys­tems, Post Pro­duc­tion, Dol­lies, Grips and Drones to the prop­er soft­ware for Dig­i­tal Devices and VR-Solutions.
CINEC's Ancil­lary Pro­gram pro­vid­ing high-class first-hand infor­ma­tion will be orga­nized by FKTG.
Fol­low­ing top­ics will be pre­sent­ed: Record­ing, new tech­nolo­gies, File­for­mats and Work­flows for inno­v­a­tive productions.
Out­stand­ing inno­v­a­tive devel­op­ments of cine tech­nol­o­gy will be award­ed with the cinecAwards on 23rd Sep­tem­ber 2018.
Up close with the indus­try: Be part of it and make use of the oppor­tu­ni­ty to cul­ti­vate and inten­si­fy con­tacts to your clients and do busi­ness at this clear­ly focused trade fair.
Reg­is­ter now as exhibitor or vis­i­tor!
Give us a call at +49 – (0)89 – 27 29 48 20
or write us an email to
www.cinec.de/en
cinec 2018
12th Inter­na­tion­al Trade Fair for Cine Equip­ment and Tech­nol­o­gy
22. – 24. Sep­tem­ber 2018 | MOC München