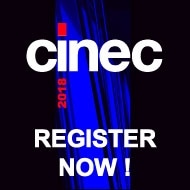 Only one month left: On 22nd September cinec will start again.
The field of exhibitors is focused, top-class, and highly innovative.
ARRI, PANASONIC, FUJI and SONY have booked their stands while RED, BLACKMAGIC, CANON, PHANTOM, MARSHALL, and more will be represented by prominent system houses.

Optics and lenses are offered by Angenieux, ZEISS, Cooke, Leitz, Vantage, P+S Technik or Sigma.
The support industry will also showcase at its best: From Camera Equipment, Lighting, Storage, Editing Systems, Post Production, Dollies, Grips and Drones to the proper software for Digital Devices and VR-Solutions.
CINEC's Ancillary Program providing high-class first-hand information will be organized by FKTG.
Following topics will be presented: Recording, new technologies, Fileformats and Workflows for innovative productions.
Outstanding innovative developments of cine technology will be awarded with the cinecAwards on 23rd September 2018.
Up close with the industry: Be part of it and make use of the opportunity to cultivate and intensify contacts to your clients and do business at this clearly focused trade fair.
Register now as exhibitor or visitor!
Give us a call at +49 – (0)89 – 27 29 48 20
or write us an email to
www.cinec.de/en
cinec 2018
12th International Trade Fair for Cine Equipment and Technology
22. – 24. September 2018 | MOC München