Since the auto­mo­bile is about as old as cin­e­ma itself, from the very begin­ning of motion pic­tures scenes have been staged in and around mov­ing cars.
In the cinema's infan­cy this was invari­ably done live and aid­ed by the fact that many cars were con­vert­ibles any­way. By the time sound came in and unwieldy blimped cam­eras became the norm clear­ly some­thing had to be done and var­i­ous stu­dio based rear pro­jec­tion tech­niques were invent­ed. Rear process shots from this era rarely seem con­vinc­ing to a mod­ern audi­ence today, but by the late 1950s rear pro­jec­tion in Hol­ly­wood fea­tures had reached a very high stan­dard of excel­lence, and Hitchcock's "Ver­ti­go" from 1958 is a good exam­ple of this.
But, in spite of this film­mak­ers began again in the late 1940s to exper­i­ment with shoot­ing car scenes in actu­al cars on loca­tion. A great exam­ple of this is the very influ­en­tial B‑movie "Gun Crazy" from 1950 which fea­tures very cre­ative car inte­ri­or shots, and by the 1970s shoot­ing car scenes for real pret­ty much became the norm for dis­cern­ing filmmakers.
So, through­out the his­to­ry of cin­e­ma we have gone from shoot­ing car scenes for real, to rear pro­jec­tion tech­niques in the stu­dio, and back to shoot­ing in actu­al vehi­cles on loca­tion… and now we have arrived at what appears to be the best of both worlds! Using a set up such as the one at Igelkott Stu­dios, a few miles north of Stock­holm Swe­den, car scenes can be staged with such real­ism that, look­ing at the fin­ished results, it's almost impos­si­ble to tell that this was shot in a studio.
A video shot at Igelkott Stu­dios can be seen by click­ing here.
Pro­jec­tion effects pro­duc­er Eric Has­so is the proud co-founder of Igelkott Stu­dios AB, and when we meet him he is stand­ing in front of a car pro­jec­tion set up which, when you look at the var­i­ous screens that sur­round us, could eas­i­ly be mis­tak­en for the real thing. The pro­jec­tors are from Bar­co and they are part of a col­lab­o­ra­tion between pro­jec­tion spe­cial­ist Vel­lo Her­man, Bar­co Swe­den and Igelkott Stu­dios AB.
"I start­ed Igelkott Stu­dios four years ago", Eric explains, "to take on the chal­lenge of per­fect­ing car scenes. The first TV show I worked on in that capac­i­ty was "Äls­ka Mig", star­ring Josephine Borneb­usch, and I've pro­vid­ed car scenes for a lot of pro­duc­tions since then. They've all used 4K 360°cameras, and that made me real­ize what would be expect­ed in terms of res­o­lu­tion in the near future, and there­fore back in 2020 I start­ed devel­op­ing a new 8K 360° cam­era for shoot­ing back­ground plates.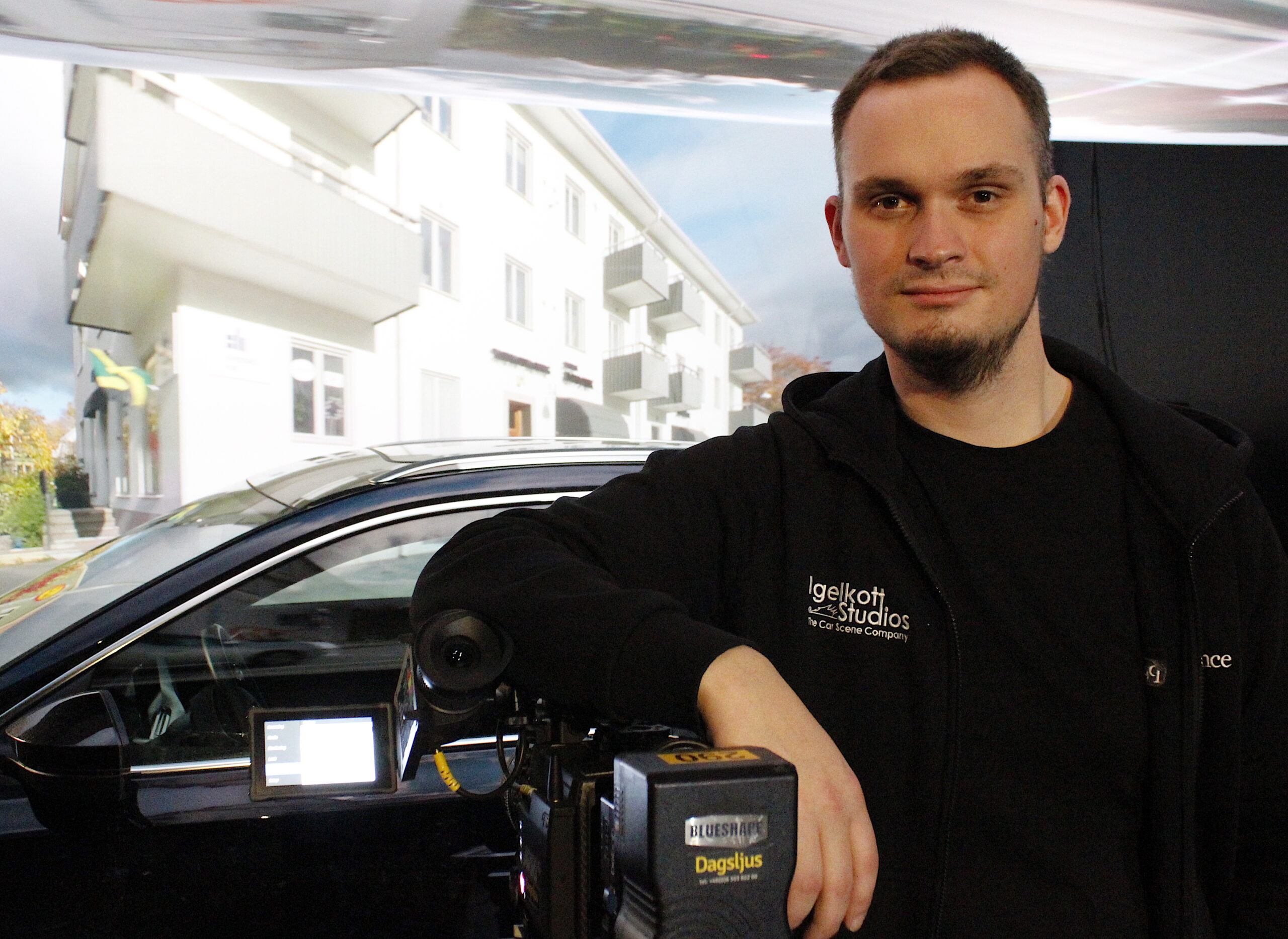 In the car set up we're stand­ing in front of here we are show­cas­ing the ARRI Mini LF from Dagsljus AB, and this cam­era fea­tures the synch-in port, that's an upgrad­ed gen­lock devel­oped in col­lab­o­ra­tion with Dis­ney on their pro­duc­tion "The Man­dalo­ri­an", enabling the cam­era to sync to screens in the studio".
"There are a lot of desir­able qual­i­ties that come from a 360° source", Eric con­tin­ues, "like uni­form white bal­ance and cor­rect per­spec­tive. And since our 360° source mate­r­i­al is equirec­tan­gu­lar ‑like a World map– we have to apply a lot of GPU "horse­pow­ers" to cre­ate flat plates from that source mate­r­i­al, and this is not a triv­ial task. It takes two weeks ‑from shoot­ing the plates to actu­al car work in the stu­dio- so it's nec­es­sary for the client to plan the pro­duc­tion sched­ule with this in mind.
We ren­der five view­ports from the processed 360° source in real time. That means the DoP can decide to shoot the car from anoth­er angle and we just change the direc­tion of the world we've built up here in the stu­dio and that's just a 20 minute change includ­ing the actors get­ting in and out of the car. So it's 20 min­utes from "cam­era rolling" to "cam­era rolling". And if you want to change vehi­cles that's a 30 minute deal", Eric says point­ing towards the oth­er end of the stu­dio: "In our stu­dio we have a large garage door which makes chang­ing vehi­cles a breeze".
"I'm aim­ing for cin­e­mat­ic, not pho­to real­is­tic, and togeth­er with the DoP we can cre­ate the sto­ry of dri­ving a car, with­out the lim­i­ta­tions of real­ly high con­trast or not being able to light the car prop­er­ly. The Gaffer can give me direc­tions if he wants any changes in the light­ing, like for exam­ple a more intense light from the sky. Our light sources are the same kind of RGB light sources like the big LED walls in a vir­tu­al pro­duc­tion stu­dio. So it's pos­si­ble for us to, let's say, sim­u­late the sun com­ing and going when you dri­ve past build­ings; that we can sim­u­late with a pre­ci­sion down to one frame of film.
Time is also an obvi­ous lim­i­ta­tion when you're on loca­tion, the sun comes and goes, you're not going to have those per­fect light­ing con­di­tions for as long as you like. But if you shoot with us here in the stu­dio it's evening until you're done or it's night until you're done. In fact, doing car scenes with us will give you an enor­mous sense of pres­ence which of course is a big plus for the actors because if they're on a process trail­er all they will see is the car tow­ing them in front…. Also our resets are so quick that the actor can stay in char­ac­ter through it and not have to go in and out of character".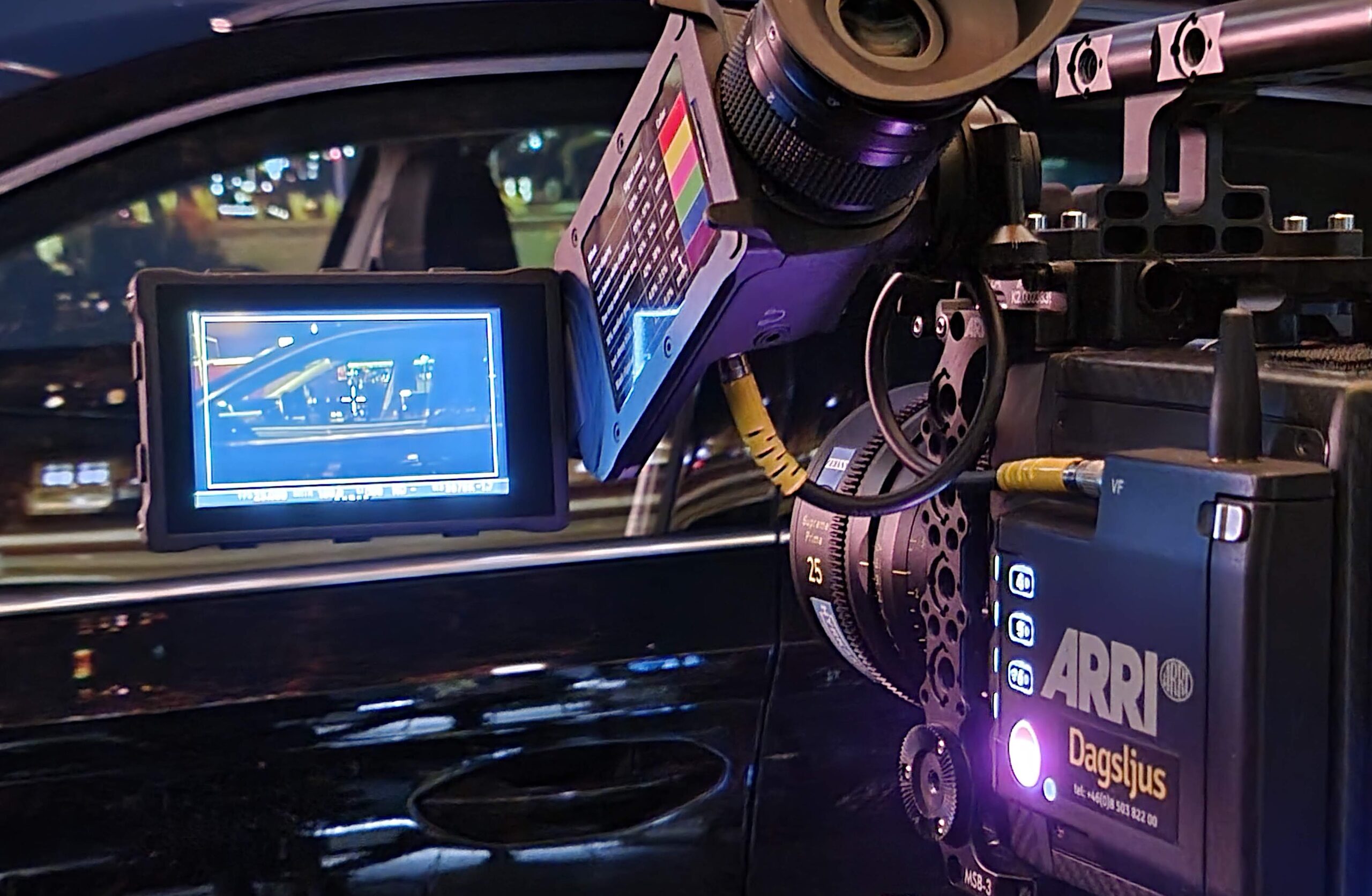 Now, this may seem far-fetched, but Eric's biggest chal­lenge is often the ini­tial script meet­ings with the Direc­tor and the DoP. "It's true" he con­fides, "their instinc­tive reac­tion is often 'I hate car scenes, I don't want to do it!' They think they're going to be deal­ing with work­ing on loca­tion on a process trail­er, so the scenes are cut from the script then and there. Unless it is a DoP I've worked with before, I have to show them how great shoot­ing car scenes in a stu­dio can be these days. There's an edu­ca­tion­al ele­ment involved here… They hear car scenes and process pho­tog­ra­phy and in their mind they see what that stuff used to look like in the 1980s".
Eric has an inter­est­ing fam­i­ly back­ground. His father was a pot­ter and used a hedge­hog (Igelkott in Swedish) as the com­pa­ny logo, so Eric also chose to use the same ani­mal for his com­pa­ny. Eric in fact some­times sports a hair­do along the lines of a hedge­hog, but "that hair­do comes and goes" he says with a laugh.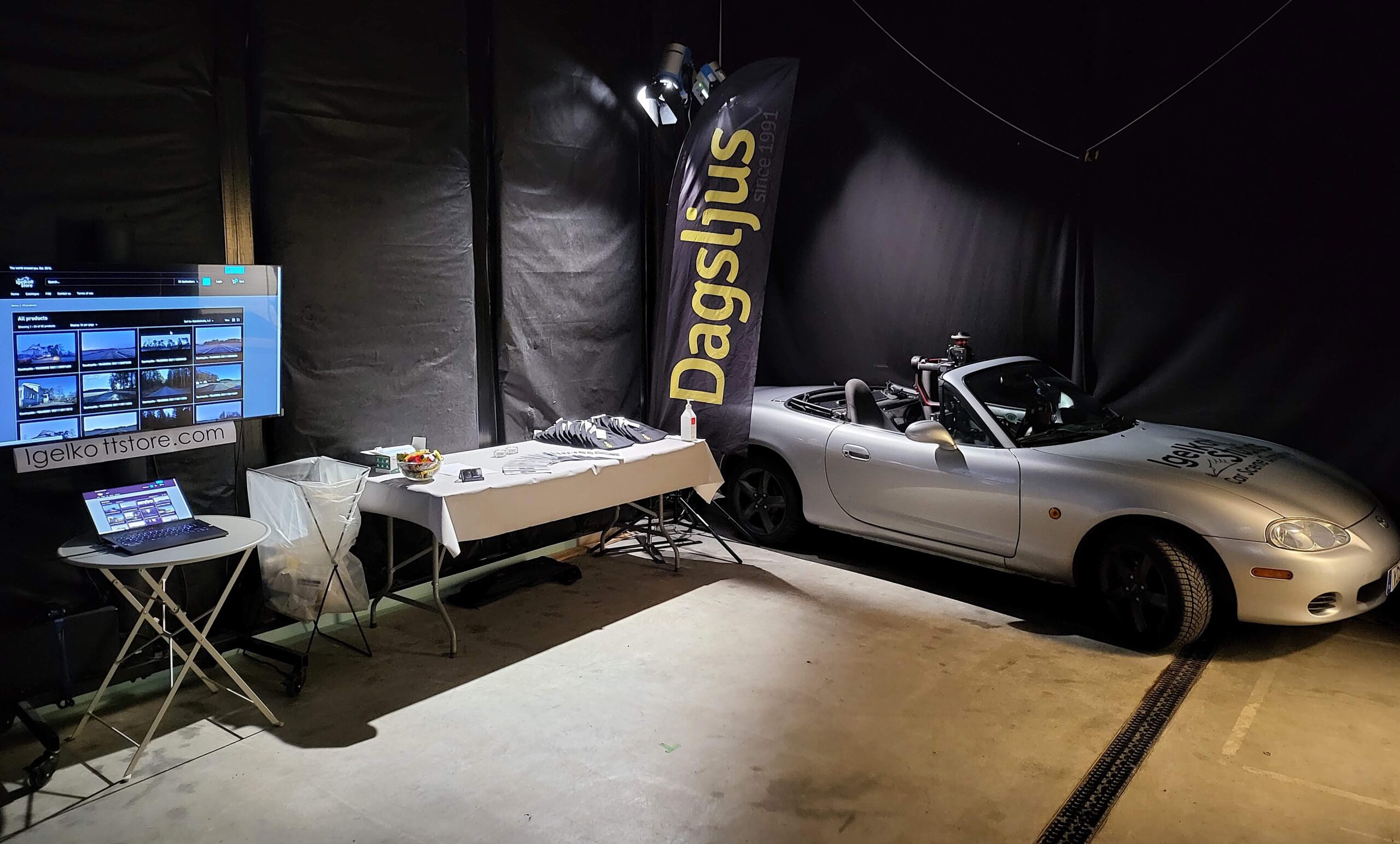 "Eric Has­so is a big fan of Mia­ta con­vert­ible Sports cars since they allow the 360° cam­era lens to be rigged only 140 cen­time­tres above the ground, which would be the eye lev­el of a per­son sit­ting in an ordi­nary car".
And Eric's grand­fa­ther was also in the movie busi­ness. His name was Har­ry Has­so and he was a very pro­lif­ic cin­e­matog­ra­ph­er in the 1930s and 40s. Born in 1904, he was a per­son­al friend of August Arnold and Robert Richter (the founders of ARRI) and worked all over Europe. He even­tu­al­ly set­tled in Swe­den, mar­ry­ing some of the most beau­ti­ful Swedish actress­es of the era, Signe Has­so, Vive­ca Lind­fors and Brit­ta Has­so. Har­ry Has­so loved mov­ing cam­era shots and actu­al­ly invent­ed a cam­era crane which was rev­o­lu­tion­ary in its day.
The engi­neer­ing tal­ent has clear­ly been passed on to Eric, who has always been intrigued by tech­ni­cal chal­lenges. When he was 13 he picked up his first cam­era, start­ed a pro­duc­tion com­pa­ny and nev­er looked back, so he's been shoot­ing con­stant­ly for two decades now.
"We're not lim­it­ed to only doing car work in our own stu­dio", Eric clar­i­fies. "We also have exten­sive expe­ri­ence cre­at­ing vir­tu­al worlds for clients at a loca­tion cho­sen by the pro­duc­tion. We've done work in oth­er stu­dios here in Stock­holm, in Gothen­burg and abroad".
Eric also men­tions one pro­duc­tion which was based in Lithua­nia but the sto­ry was sup­posed to take place in Malmö, Swe­den. So by hav­ing Eric shoot the car plates in Malmö the pro­duc­tion was able to con­vinc­ing­ly make Lithua­nia look like Malmö in the final movie.
"Our most ambi­tious project so far", he con­tin­ues, "was a Man­hat­tan, New York City, street cor­ner set. It was a big set exten­sion and, in addi­tion to an actu­al par­tial­ly built set in the mid­dle of the whole thing, we cre­at­ed a com­plete Man­hat­tan street cor­ner with 16 x 6 metre walls. Each wall had a 6K 40 000 Lumen pro­jec­tion and on that we front-pro­ject­ed 12 K plates of Man­hat­tan. We were able to con­ceal our pro­jec­tors in the space between the set and the screen, and this is also a big bonus using short throw pro­jec­tors. com­pared to tra­di­tion­al rear pro­jec­tion where you need an addi­tion­al 10 metres of stu­dio space behind the pro­jec­tion screen.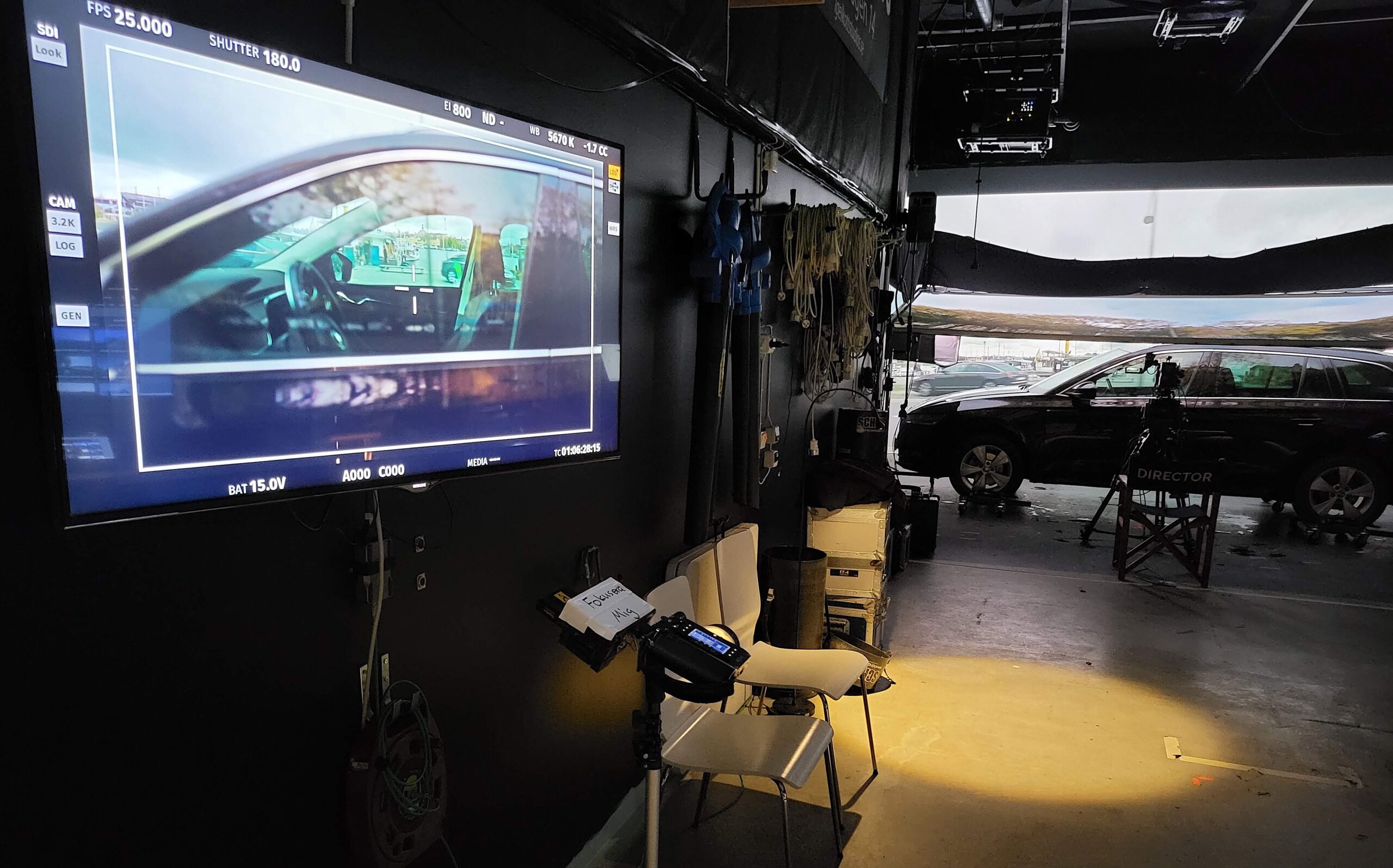 Using front pro­jec­tion we can retain more light (than with rear pro­jec­tion), retain the con­trast and also get bet­ter black lev­els because we use a spe­cial ground­break­ing paint which reduces the gain.
Insuf­fi­cient black lev­els is the last com­po­nent of fail­ure in any pro­jec­tion set up of this kind. If you don't have the black lev­els before you even turn on your 10Ks, or what­ev­er your light­ing is, you will not be able to cre­ate any­thing believ­able. If the shad­ow areas in your pro­jec­tion are above a cer­tain lev­el you can't save them in post".
"I would say 50% of my work con­sists of cre­at­ing the plates and the oth­er 50% is offer­ing the stu­dio for actu­al­ly shoot­ing the car scenes. Going the vir­tu­al pro­duc­tion route means putting up a lot of mon­ey upfront, because it involves a lot of expen­sive equip­ment and R&D. But to my mind the dif­fer­ence between expen­sive and inex­pen­sive is that expen­sive is when you're not get­ting what you're pay­ing for. I think a lot of pro­duc­tions have gone through the expe­ri­ence of rent­ing screens from one ven­dor, pro­jec­tors from anoth­er, soft­ware from a third and then they stand there try­ing to shoot the car scenes and face a lot of headaches. With my expe­ri­ence in shoot­ing and pro­cess­ing plates, and my cus­tomized stu­dio car rig, I can offer a stream­lined prod­uct where these headaches have been ironed out.
When you choose vir­tu­al pro­duc­tion here at Igelkott Stu­dios, you are get­ting min­i­mum twice the amount of mate­r­i­al for your edit­ing room as com­pared to if you were to shoot it in the tra­di­tion­al fash­ion, and when you're doing car scenes you're often get­ting three times the material".
Lars Pet­ters­son FSF