by Lars Pet­ters­son FSF
Between the 10th and 17th of Novem­ber the 26th edi­tion of the Camer­im­age Inter­na­tion­al film Fes­ti­val took place in Byd­goszcz, Poland. Boast­ing almost 300 film screen­ings and close to 100 sem­i­nars and work­shops, the Camer­im­age fes­ti­val is such an embar­rass­ment of rich­es for the cineaste that it is obvi­ous­ly impos­si­ble for one per­son to absorb it all. Here are some impres­sions and observations.
Dan Ham­mond, Panav­i­sion Hol­ly­wood, with vin­tage Ultra
Panav­i­sion prime lens
Opera Nova is the mag­nif­i­cent Opera House that hous­es at Camer­im­age and all its activ­i­ties, includ­ing the exten­sive manufacturers

The Panav­i­sion booth
exhi­bi­tion that fills the sec­ond floor to capac­i­ty – but the film fes­ti­val is also dis­trib­uted over many oth­er loca­tions all over Byd­goszsc! At Opera Nova there is furi­ous activ­i­ty spread out over sev­er­al audi­to­ri­ums where sem­i­nars, Q&As and Mas­ter Class­es are held.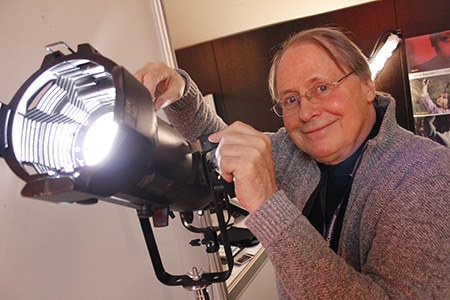 One such Mas­ter­class cen­ters on a pan­el dis­cus­sion fea­tur­ing
dis­tin­guished cin­e­matog­ra­phers from the AFC, the French Soci­ety of cin­e­matog­ra­phers.
It is mod­er­at­ed by renowned cin­e­ma jour­nal­ist Ben­jamin B – of www.thefilmbook.com.
who can be seen here demon­strat­ing a Jok­er 400⁄800 spot­light from french com­pa­ny
K5600
Anoth­er inter­est­ing sem­i­nar was host­ed by Sony – rep­re­sent­ed by Sebas­t­ian Leske – and Net­flix, and show­cased the Sony Venice cam­era and it's per­for­mance on the shoot of a recent Pol­ish TV pro­duc­tion as well as on a very spe­cial doc­u­men­tary shot by Nor­we­gian cin­e­matog­ra­ph­er Sven-Erling Bruslet­to in Green­land with Cooke anamor­phic lens­es. Bruslet­to had also used a Sony E‑mount 24 – 70 mm zoom on this doc­u­men­tary and it pro­duced stun­ning images while yet being very small and com­pact in size. One area in which the Sony Venice cam­era received a lot of praise was the fact that the cam­era is ready to record a mere 7 sec­onds after you flip it's main switch on – a very use­ful fea­ture when shoot­ing a documentary.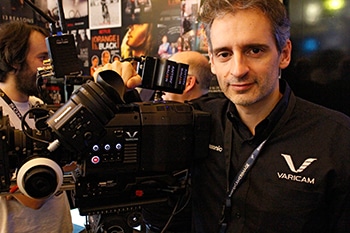 Luc Bara lean­ing on a Vari­cam Pure cam­era in the Pana­son­ic
booth. All posters in the back­ground are pro­duc­tions shot on
var­i­ous ver­sions of the Vari­cam (35, LT etc).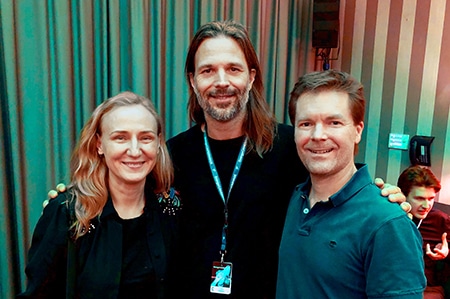 From Swe­den, Sophia Ols­son, FSF, Linus Sand­gren, FSF, and Alex Lindén, FSF. Linus
was here rep­re­sent­ing the film "First Man" in the main event com­pe­ti­tion, and Sophia
rep­re­sent­ed the film "The Charmer", com­pet­ing in the Baltic Cin­e­ma Review.
The Camer­im­age fes­ti­val was round­ed off with an impres­sive clos­ing cer­e­mo­ny on Sat­ur­day 17th, dur­ing which Marek Żydow­icz, the fes­ti­vals pres­i­dent, held a rous­ing and pas­sion­ate speech, stress­ing the mount­ing dif­fi­cul­ties that the arrangers face in putting togeth­er the fes­ti­val. The rever­ber­a­tions of this speech con­tin­ued to inspire fur­ther dis­cus­sion among the fes­ti­val guests as we all set out to return home to our respec­tive coun­tries, as keep­ing the Camer­im­age fes­ti­val healthy and run­ning well is a top pri­or­i­ty for the inter­na­tion­al com­mu­ni­ty of cinematographers.