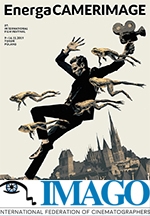 Text and pho­tos by Lars Pet­ters­son FSF.
At least two promi­nent fig­ures have helped mak­ing the beau­ti­ful medieval city of Torun in Poland famous: Nicholas Coper­ni­cus, renowned astronomer of the-earth-revolves-around-the-sun fame, and Marek Żydow­icz, Direc­tor of the Camérim­age Film Fes­ti­val! And between the 9th and the 16th of Novem­ber 2019, the 27th edi­tion of the Camérim­age Inter­na­tion­al Film Fes­ti­val ded­i­cat­ed to the Art of Cin­e­matog­ra­phy was held right here in Torun.

Torun
As is their habit, the arrangers of the fes­ti­val have lined up rough­ly a hun­dred sem­i­nars and work­shops and almost three times as many film screen­ings dur­ing this week, offer­ing vis­i­tors an almost dizzy­ing smörgås­bord to choose from. Sem­i­nars fea­tur­ing, or per­son­al appear­ances by, such cin­e­mat­ic lumi­nar­ies as Dar­ren Aronof­sky, Peter Green­away, Josh Hart­nett, Edward Nor­ton, Dan­ny DeVi­to and Richard Gere abound.
And the line­up of cin­e­matog­ra­phers reads like a Who's Who of cin­e­matog­ra­phy: Vit­to­rio Storaro, Oliv­er Sta­ple­ton, Stephen Lighthill, Rodri­go Pri­eto, Ed Lach­man, Lawrence Sher, John Bai­ley, Dante Spin­ot­ti, Chris Doyle, Rober­to Shae­fer and Caleb Deschanel are all here.
In fact, there are so many sem­i­nars and screen­ings here at the fes­ti­val that it's entire­ly pos­si­ble to pick almost any kind of view­point on the sub­ject of visu­al sto­ry­telling, depend­ing on one's wish­es. As fate would have it, I myself wound up get­ting a spe­cial-effects heavy per­spec­tive, attend­ing some fas­ci­nat­ing sem­i­nars on the subject.

The Jor­dan­ki Cul­tur­al and Con­gress Centre
Good News from the ASC
And get­ting back to the art of cin­e­matog­ra­phy – on Sat­ur­day Novem­ber 9th, dur­ing the open­ing cer­e­mo­ny of the fes­ti­val, ASC Pres­i­dent Kees Van Oost­rum was pre­sent­ed with a spe­cial award by fes­ti­val direc­tor Żydow­icz and orga­niz­er Kazik Suwala, com­mem­o­rat­ing the ASC's cen­ten­ni­al. Van Oost­rum took this oppor­tu­ni­ty to announce that the ASC will join IMAGO as an Asso­ciate Mem­ber, which need­less to say is won­der­ful news to the glob­al com­mu­ni­ty of cin­e­matog­ra­phers, as we will now all stand far stronger togeth­er in striv­ing to over­come the chal­lenges fac­ing us as inter­na­tion­al visu­al artists.
The 26th edi­tion of Camérim­age, held last year in the near­by city of Byd­goszcz, end­ed with a dra­mat­ic and rous­ing speech from fes­ti­val direc­tor Żydow­icz, stress­ing the mount­ing dif­fi­cul­ties which the arrangers face in putting togeth­er the fes­ti­val. Some even feared that last year's fes­ti­val might've been the last one ever!
But hap­pi­ly, the Camérim­age fes­ti­val is back, stronger than ever, and it's also back in the town where it all start­ed, Torun.
Impor­tant IMAGO Events
Check­ing the Pro­gramme, there are three impor­tant IMAGO events dur­ing this year's fes­ti­val. Two of them took place on Thurs­day 14th. First out was an ASC-IMA­GO-Net­flix sem­i­nar
focus­ing on cre­ative and tech­ni­cal chal­lenges, which was fol­lowed by, lat­er on the same day, an IMAGO Cen­tral Euro­pean Cinematographer's Con­fer­ence.
Dur­ing the third IMAGO event, held on Fri­day 15th and enti­tled "Diverse Voic­es Pan­el Dis­cus­sion ‑On the Neces­si­ty of Diver­si­ty in Film Pro­duc­tion", the audi­to­ri­um in screen­ing room num­ber 4 at Cin­e­ma City was packed to capac­i­ty. ESC Pres­i­dent and IMAGO Board Mem­ber Elen Lot­man ESC mod­er­at­ed a fas­ci­nat­ing con­ver­sa­tion among illus­tri­ous pan­elists Vir­ginie Sur­dej, Ed Lach­man, Natasha Braier, Brad­ford Young, Nina Kell­gren and Ula Pon­tikos.
Elen Lot­man deserves kudos for very capa­bly han­dling the debate, which cov­ered dif­fi­cult sub­jects and active­ly involved an audi­ence which offered ques­tions that would some­times fly off on tangents.

Clock­wise from left: Vir­ginie Sur­dej SBC, Ed Lach­man ASC, Natasha Braier ASC ADF, Brad­ford Young ASC, Nina Kell­gren BSC, Ula Pon­tikos BSC and Elen Lot­man ESC
Epic Spe­cial Effects
Neil Cor­bould
Any­one who dur­ing the last 30 years has glanced at the end cred­its of such block­buster movies as the James Bond films, "Sav­ing Pri­vate Ryan", "Glad­i­a­tor" or Chris Nolan's Bat­man films, may have noticed the name Cor­bould in the Spe­cial Effects cred­its. That's because the four broth­ers Chris, Ian, Paul and Neil Cor­bould have been heav­i­ly involved in the phys­i­cal effects work on those titles, as well as scores of oth­ers. And now Neil Cor­bould is here, at Camérim­age, giv­ing a sem­i­nar enti­tled Epic Spe­cial Effects which he kicks off with a king-sized showreel of some of his best effects work. We watch amaz­ing clips from "The 5th ele­ment", "Sav­ing Pri­vate Ryan", "Black Hawk Down", "Glad­i­a­tor" and many oth­ers.
Tak­ing the micro­phone, Neil thanks us for show­ing up. When he found out his sem­i­nar would be held simul­ta­ne­ous­ly as the per­son­al appear­ance by Edward Nor­ton in the audi­to­ri­um next door, he feared he'd not have much of an audi­ence… But he needn't have wor­ried, there's a size­able crowd here.
Neil explains that he works best off of ques­tions, and encour­ages us to ask any­thing we might won­der about. And one of the first sub­jects to pop up is the dif­fer­ence between visu­al effects and spe­cial effects. Basi­cal­ly visu­al effects means effects work done dur­ing post­pro­duc­tion in the com­put­er, where­as spe­cial effects means any­thing done on set, for real, and in camera.
Neil actu­al­ly has to explain this dis­tinc­tion to peo­ple on the var­i­ous pro­duc­tions he works on as well, his stan­dard line being "No, no, I'm the spe­cial effects super­vi­sor, I blow things up!"
And Neil blows a lot of things up in his day-to-day activ­i­ties, hav­ing had for instance the del­i­cate assign­ment of plac­ing 3 kilos of explo­sives close to Tom Han­ks on "Sav­ing Pri­vate Ryan"!
But by and large, phys­i­cal effects have had bit of a strug­gle dur­ing the last 25 years, as there isn't broad aware­ness out there how much stuff can actu­al­ly eas­i­ly be done for real in front of the cam­eras on a film set, and a lot of young visu­al effects super­vi­sors are keen on doing pret­ty much every­thing with CGI dur­ing post­pro­duc­tion. "I've been try­ing to keep spe­cial effects alive," Neil explains, and offers as an exam­ple a recent pro­duc­tion he worked on where the Visu­al effects super­vi­sor claimed he could do fire bet­ter than Neil, "which I found a bit odd, because I would have used real fire."
Neil is also fre­quent­ly asked to cre­ate rotat­ing rigs to sim­u­late an air­plane inte­ri­or for instance. For any rotat­ing con­struc­tion that's depen­dent on elec­tric­i­ty in all its parts, you need to solve the prob­lem of how to dis­trib­ute that elec­tric­i­ty. If you sup­ply the pow­er with cables you can only go around once ‑high­ly imprac­ti­cal for the tur­ret of a tank, for instance! In the tur­ret of tanks you have a mil­i­tary grade slip-ring, con­sist­ing of a giant cop­per ring and brush­es which guar­an­tee a steady sup­ply of pow­er regard­less how many times the tur­ret rotates. This is Neil's pre­ferred go-to solu­tion when cre­at­ing rotat­ing rigs, since of course numer­ous things on that set will need elec­tric­i­ty, from light­ing to sound, etc.
Spe­cial Effects and Stunts are the two depart­ments on a pro­duc­tion which run the great­est risk of get­ting peo­ple hurt. The small explo­sive charges used to sim­u­late a bul­let hit could cut a person's toe off, should an actor acci­den­tal­ly step on it. The 3 kilos of dyna­mite that are rou­tine­ly used to sim­u­late grenade hits could obvi­ous­ly kill sev­er­al peo­ple in a worst case sce­nario. Hap­pi­ly, the aware­ness of safe­ty issues is quite high on present day pro­duc­tions. Pro­duc­ers know, if any­thing hap­pens on a set, they're the ones who are going to have to face the legal consequences.
In the last few years, Neil decid­ed to give him­self a new chal­lenge and has tried his hand at direc­tion. Hav­ing had the oppor­tu­ni­ty of watch­ing both bril­liant –and some­times less than bril­liant- direc­tors at work, Neil felt he want­ed to have a go at it him­self. Round­ing off the sem­i­nar we are shown a short film direct­ed by Neil which was shot in Poland last year.
We watch breath­less­ly, as the sub­ject mat­ter is quite hor­rif­ic and, even more chill­ing­ly, it is based on actu­al events. Neil has bought the rights to the book on which the short film is based, and he is now aim­ing to get it made into a six part episod­ic TV series.
And the theme of Effects Work con­tin­ues as I enter anoth­er screen­ing room at Cin­e­ma City, where an in-depth report on the mak­ing of Disney's "The Lion King" (2019) is about to begin.
From Real­i­ty to Vir­tu­al to Real
Messieurs Rob Lega­to and Caleb Deschanel begin this lec­ture by explain­ing that a deci­sion was made at the Dis­ney stu­dios a few years back to fol­low up the high­ly suc­cess­ful CGI
Caleb Deschanel ASC
remake of "The Jun­gle Book" (2016) with an attempt at remak­ing "The Lion King" (1994) in the same vein. It was felt that both prop­er­ties shared sim­i­lar qual­i­ties and oppor­tu­ni­ties, rely­ing heav­i­ly on antropo­mor­phic ani­mals to pro­pel the narrative.
Messieurs Lega­to and Deschanel are both fas­ci­nat­ing peo­ple. Lega­to is some­thing of a visu­al effects leg­end, hav­ing super­vised the effects on "Titan­ic" (1997) and "the Avi­a­tor" (2004) among oth­ers. He has been nom­i­nat­ed for four Acad­e­my Awards and has won three. Deschanel is no less leg­endary him­self, hav­ing been nom­i­nat­ed for the Acad­e­my Award for Best Cin­e­matog­ra­phy a whop­ping six times(!) dur­ing a 50-year long stel­lar career full of such hits as "Being There" (1979), "The Right Stuff" (1983) and "Jack reach­er" (2012).
The mak­ing of this film was very spe­cial. Deschanel, Lega­to and a small skele­ton crew trav­elled to Africa for an inspi­ra­tional expe­ri­ence, vis­it­ing many of the same loca­tions which the ani­ma­tors of the orig­i­nal 1994 "Lion King" had vis­it­ed back in the day. Deschanel shot a lot of footage of typ­i­cal exte­ri­ors that might find their way into the fin­ished film.
After the African trip, the film­mak­ers set­tled in a not over­whelm­ing­ly large room, which became their work­place for the next year. In the room there was spe­cial­ly mod­i­fied cam­era equip­ment to per­form cam­era moves and focus pulls with. Using VR gog­gles, the team would then per­form take after take with this equip­ment, and the takes would be record­ed in real time as a very basic, spar­ing­ly detailed, shot fea­tur­ing the lead­ing char­ac­ters in the story.
Lega­to sums up suc­cinct­ly what the basic work con­sist­ed of on this project, "you make these cam­era move­ments in this VR envi­ron­ment, and only the approved takes will lat­er be ren­dered into fin­ished scenes in the film. One frame can take as much as a hun­dred hours to ren­der using ray tracing."
In the VR stu­dio it's pos­si­ble to make an infi­nite amount of shots, but you need clas­si­cal­ly trained film work­ers to pull them off, and only the shots deemed wor­thy of being in the movie will be ren­dered. In fact the small team went through sev­er­al dol­ly grips on the shoot, because the dol­ly grips just found it so tedious to per­form motions on the same few feet of tracks over and over ‑even though the shot may have been up the face of a cliff, or cov­er­ing sev­er­al miles across a savannah.
Lega­to makes two pre­dic­tions on what this might lead to in the future. 1) Gam­ing engines will become more pow­er­ful, so that the shot made by the crew in the VR stu­dio will be
Rob Lega­to ASC
ren­dered and ready to cut into the movie that same day ‑not months lat­er, as is the case today. 2) Some­one with the skill sets of Caleb Deschanel has honed those skills dur­ing thou­sands of hours of work on actu­al film sets. In the future those who so wish can hone their cin­e­mat­ic skills in a VR envi­ron­ment and can thus aquire con­sid­er­able skill at oper­at­ing, light­ing, pulling focus etc, which can then be applied on actu­al film shoots.
For­tu­nate­ly nei­ther Lega­to nor Deschanel feel this tech­nol­o­gy will threat­en the jobs of cin­e­ma indus­try work­ers, as you will still need qual­i­fied cin­e­matog­ra­phers, dol­ly grips, focus pullers, etc, for this kind of project. They do see an increased use of LED video walls on shoots, though, and it's safe to pre­dict that future film crews may trav­el less. Per­haps a crew will be based in a stu­dio work­ing on sets, and when they need to do inte­ri­or car shots, or one shot on an exot­ic loca­tion, that may be accom­plished with VR tech­nol­o­gy and the results put up on a video wall which actors can per­form in front of.
Clos­ing Thoughts
I men­tioned ear­li­er that Camérim­age is stronger than ever. It also seems to be big­ger than ever, and size doesn't nec­es­sar­i­ly mean an advan­tage in this case. One almost has the impres­sion of being inside a real­ly large machine, where parts are so far from each oth­er that it's dif­fi­cult to get a grasp on the sit­u­a­tion. The entire fes­ti­val is round­ed off with a gigan­tic clos­ing cer­e­mo­ny and par­ty for which peo­ple start­ed lin­ing up on the side­walk out­side the Jor­dan­ki Cul­tur­al and Con­gress Cen­tre a cou­ple of hours ahead of time.
A won­der­ful line-up of cin­e­matog­ra­phers are here, that's for sure, but they are not nec­es­sar­i­ly acces­si­ble. At, say, the BSC Expo or the ODCC you can just walk up to a promi­nent cin­e­matog­ra­ph­er and strike up a con­ver­sa­tion. At Camérim­age, the way things are now, this is not eas­i­ly done. Vis­it­ing the 27th Camérim­age fes­ti­val one can't help get­ting the impres­sion that it has grown in size to the point where it's just bare­ly with­in the arrangers' con­trol. We must there­fore hope and trust larg­er loca­tions can be found and estab­lished in Torun soon, so Camérim­age can have more room to accom­mo­date not only spon­sors and dig­ni­taries, but also cinematographers.
Sun­set over the riv­er Vis­tu­la, Torun