by Lars Pet­ters­son FSF
My God, has it been a year already? When the invi­ta­tions for the BSC Expo 2018 began to pile up in the in tray last fall, my first reac­tion was where did that year go? But once the ini­tial shock set­tled, we at the FSF began to focus on a strat­e­gy for the BSC Expo, and made the bold deci­sion to send two rep­re­sen­ta­tives – Alex Lindén, FSF, and myself- and to report not only in writ­ing but also with filmed inter­views. These can be found a bit fur­ther down this page.
Rumours had been cir­cu­lat­ing in Jan­u­ary that ARRI where in the works to intro­duce a brand-new cam­era, and that gave us some­thing to pon­der dur­ing the trip to Lon­don. Either ARRI would choose to intro­duce it here at the BSC Expo, or they would wait and do it at the NAB. In any case we had got­ten an invi­ta­tion to the ARRI 'spe­cial VIP par­ty' Fri­day night, so one pos­si­bil­i­ty could be that those invit­ed would get a sneak peek at the cam­era there.
We arrived at the Expo by dif­fer­ent air­lines ‑so it was­n't until just before lunchtime Fri­day when we reached Bat­tersea Evo­lu­tion in south­west Lon­don, that we even had a chance to fig­ure out a strat­e­gy for cov­er­ing the event.
That is, we did­n't even get that far before we were both swept up in the Gigan­tic Hap­pen­ing which the BSC Expo in fact is ‑Alex almost acci­den­tal­ly stum­bled upon a spe­cial ARRI-event which was arranged on a small pavil­ion upstairs from the main exhi­bi­tion. Try­ing to reach this pavil­ion I found myself at the foot of a stair­case where a super­vi­sor checked you against the guest list (for­tu­nate­ly we were both on it). Next to her was Robin Vid­geon, BSC, giv­ing me a hearty wel­come and assur­ing me that "this expo is the biggest and the best yet!"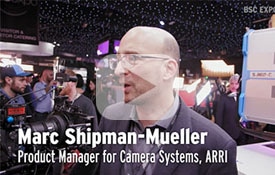 So what kind of an ARRI event might this be? Well it turns out the rumoured new cam­era is actu­al­ly here. 10 AM Green­wich Mean Time , fri­day, 2nd Feb­ru­ary 2018, ARRI unveil their new full for­mat cam­era Alexa LF (stands for Large For­mat). It's delight­ful and well-deserved for the BSC that ARRI ‑and indeed also Panav­i­sion with their DXL2- have cho­sen the BSC Expo to launch their brand-new cam­era mod­els.
This very pleas­ant gath­er­ing, com­plete with drinks and hors d'oeuvres, opens with dis­tin­guished Aus­tralian cin­e­matog­ra­ph­er Peter Han­nan, ACS BSC, receiv­ing a BSC Life­time Mem­ber­ship: an acknowl­edg­ment of his life's work, and a diplo­ma hand­ed over by Nigel Wal­ters, BSC.
And ARRI are real­ly going full throt­tle here, prac­ti­cal­ly all the top exec­u­tives of ARRI are here to intro­duce the cam­era, notably Milan Krsl­janin, Marc Ship­man-Mueller and Thorsten Mey­wald.
Briefly you could say that the ARRI LF resolves a num­ber of both­er­some prob­lems for ARRI in one fell swoop. The big mon­ey is in tele­vi­sion right now and Net­flix –obvi­ous­ly a major play­er there- have pre­vi­ous­ly pub­lished a set of spec­i­fi­ca­tions for their pro­duc­tions, stat­ing that all record­ed mate­r­i­al must be at least 4K. This has put ARRI cam­eras with a native res­o­lu­tion of 3,4K at a dis­ad­van­tage, but now with ARRI LF a true 4K cam­era, this prob­lem is resolved once and for all. And the impor­tance of the TV indus­try also makes itself felt in the LF form fac­tor which has a dis­tinct lean­ing towards an ENG-cam­era. The LF sen­sor actu­al­ly con­sists of two reg­u­lar Alexa sen­sors sand­wiched togeth­er side-by-side, accord­ing to the same prin­ci­ple used in the Alexa 65.
From the left to right: Marc Swadel NZCS, ACS,
Peter Hanan, ACS BSC
is award­ed a BSC hon­orary
mem­ber­ship by Nigel Wal­ters BSC and
for­mer IMAGO president.
Using adapters, pret­ty much any lens can be mount­ed on the ARRI LF, as the LF sen­sor is only 2⁄3 the size of its cousin in the Alexa 65. Actu­al­ly the range of lens­es you can mount on the Alexa 65 is some­what restrict­ed, there are obvi­ous­ly the two lens series that ARRI pro­duced espe­cial­ly for the cam­era, but out­side of those the pick­ings are fair­ly slim. Here the White­point primes from Fin­land offer an intrigu­ing alter­na­tive, but more about those later.
Last but cer­tain­ly not least, both the ARRI LF and the sig­na­ture series lens­es that have been devel­oped for it, are for sale. So, as opposed to the Alexa 65 which is only avail­able to rent through ARRI Rental, this new cam­era and these lens­es can be bought ‑pro­vid­ed of course you have suf­fi­cient­ly deep pockets.
Well, the FSF reporters were off to a fly­ing Start with this ARRI cam­era launch, and we decid­ed to use Fri­day to shoot our video inter­views.
The safe­ty mea­sures at the expo are rig­or­ous, there are uni­formed police­men out­side the build­ing, every­one in the exhi­bi­tion area must have ID-tags around their neck and every bag is thor­ough­ly searched through. Hap­pi­ly we get a clear­ance to bring our cam­era equip­ment into the exhi­bi­tion area, and once we have this per­mit we're not frisked quite as fre­quent­ly, which is a bless­ing.

This is the third year that the Expo is at Bat­tersea Park, and Rob Vid­geon is tru­ly right when he calls it the biggest yet ‑the amount of vis­i­tors is sim­ply stag­ger­ing: 5500 peo­ple, a 34% increase com­pared to last year.
Try­ing to maneu­ver around the exhi­bi­tion, you some­times feel like you're caught in the Tokyo sub­way dur­ing rush hour. Add all the hot movie lights to this equa­tion, and the expo well-nigh turns into a sauna.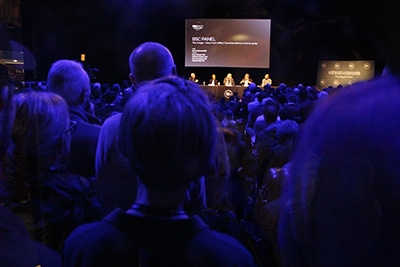 A hall­mark of the BSC Expo are the won­der­ful lec­tures ‑but this time around there 's no way we could attend those, only a frac­tion of the vis­i­tors will fit into the audi­to­ri­um. So we set our sights on the prod­ucts and the peo­ple rep­re­sent­ing them.
So what are the major trends at this year's expo? Large For­mat and large sen­sors absolute­ly, along with lens­es that can han­dle them. The lay­out of the exhi­bi­tion itself is sur­pris­ing­ly close to last year's ‑many com­pa­nies have their booths in exact­ly the same place. Maybe the answer is sim­ply that these are the best places ‑you want your cus­tomers to find you quick­ly. Over­all, you rec­og­nize many prod­ucts here from last year, but they've fre­quent­ly been the sub­ject of val­ue-adding improve­ments. The drones for instance have grown increas­ing­ly large, and the most mas­sive ones could eas­i­ly lift a young child.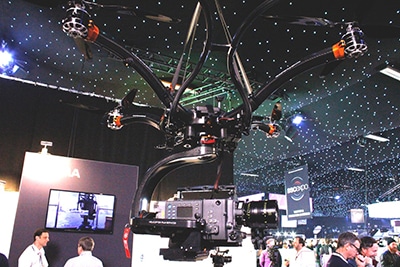 Well, run­ning around doing our inter­views, Fri­day after­noon evap­o­rates at an alarm­ing pace, and soon those of us invit­ed climb aboard the hired bus­es that bring us to the ven­er­a­ble ‑and five Star, thank you very much- May Fair Hotel close to Pic­cadil­ly Cir­cus, where ARRI are throw­ing their spe­cial VIP party.
This fash­ion­able hotel is real­ly some­thing else, or how about a lux­u­ri­ous 200 seat ‑oops sor­ry: leather arm­chair- movie the­ater with state-of-the-art 4K pro­jec­tion. But one thing at a time, first stop on the pro­gram is min­gling under a huge chan­de­lier, where the cham­pagne and hors d'oeuvres are served by a small army of wait­ers run­ning non­stop from an osten­si­bly inex­haustible bar.
It was under­stand­ably dif­fi­cult to tell how long we min­gled there under the chan­de­lier, but we said hel­lo to Paul René Roes­tad, FNF, and Richard Andry, AFC, pres­i­dents of the Ima­go and the AFC, respec­tive­ly. Also British D.o.P. and direc­tor Brett Dan­ton ‑who is cur­rent­ly get­ting a lot of praise for a Jaguar com­mer­cial shot on the Canon C200. We met Alek­sis Pil­lai and Jus­si Myl­lynie­mi from White­point optics, Helsin­ki, Fin­land, and actu­al­ly also a Swede in exile – Math­ias Julin is a UK based Swedish direc­tor spe­cial­iz­ing in commercials.

Spir­its are high, and I'm not quite sure if our eyes and brains are at the top of their game right now, but we even­tu­al­ly march along to the spa­cious cin­e­ma to wit­ness a series of very impres­sive films show­cas­ing what the ARRI LF is capa­ble of. Inbe­tween these films, the ARRI exec­u­tives deliv­er edu­ca­tion­al, enter­tain­ing ‑and actu­al­ly quite humor­ous- pre­sen­ta­tions. I did­n't see that one com­ing, the ARRI top exec­u­tives being such enter­tain­ers ‑is it pos­si­ble the cham­pagne had some­thing to do with it?
"Yours tru­ly" round­ed off the evening with an inter­est­ing odyssey back to the hotel. Friend­ly Lon­don­ers from all walks of life helped this ‑by now not entire­ly sober- Scan­di­na­vian find his way back to Sloane Square and the safe haven of the hotel.
While we're on the sub­ject of lodg­ing, the Sloane Square Hotel is real­ly the opti­mum Base Camp if you're vis­it­ing the BSC expo. My Sat­ur­day began with the hotel's gen­er­ous break­fast buf­fet and from your arm­chair you could lit­er­al­ly, straight through the win­dow, see the white shut­tle­bus leav­ing every 10 min­utes from the hotel entrance for Bat­tersea Evo­lu­tion. Just take the ele­va­tor down and hop onboard ‑very con­ve­nient and practical.
The BSC Expo began in 1993 as the BSC Equip­ment Show, held every year at a film stu­dio like Shep­per­ton, Elstree or Pinewood, where the very lat­est in cam­eras, lens­es and light­ing would be show­cased. The Expo became huge­ly pop­u­lar and had many fol­low­ers like The Paris Micros­a­lon and oth­ers. But the fact that it was held at a func­tion­ing film stu­dio meant that you could sel­dom have a longer lead time than about three weeks when arrang­ing it and in 2016 it was decid­ed to relo­cate to Bat­tersea and now sud­den­ly a lead time of over three months became pos­si­ble ‑sub­se­quent­ly you could begin adver­tis­ing the Expo much ear­li­er and attract even more exhibitors and visitors.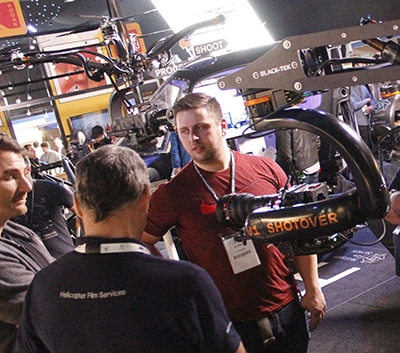 Open­ing hour for the Expo were always some­what short­er on Sat­ur­day, but this year this has been changed and it is a wise move since last year Sat­ur­day became quite hec­tic. But in spite of the pro­longed open­ing hours the Expo is so vast that you real­ly need to decide on a hand­ful of exhibitors and con­cen­trate on those, there isn't time for much else. So I take a stroll around the entire exhi­bi­tion to decide whom to talk to ‑and this brisk walk alone takes almost half an hour. I notice that Grip Fac­to­ry Munich are back, they've tak­en a rain check the last few years, so it's good to see them back and with a gen­er­ous­ly sized booth to boot.
Sud­den­ly I'm stopped dead in my tracks by some­thing irre­sistible: small booth, mas­sive drone and two charm­ing blondes
-"why it's the heli­copter girls!" It sounds a bit like the name of a chil­dren's car­toon show, but Emma Boswell and Katya Nel­hams-Wright (fit­ting name for a pilot, any rela­tion to Orville and Wilbur?) Have been fly­ing drones for film, tele­vi­sion and com­mer­cials since about 2009, the begin­ning of the drone indus­try. Emma and Katya orig­i­nal­ly have a doc­u­men­tary film­mak­ing back­ground, and they were mak­ing a film fol­low­ing street dogs and cats in Greece, and the ani­mals would go to a remote beach that the film­mak­ers could­n't access, so Emma joined a mod­el heli­copter club and learned how to fly a sin­gle rotor heli­copter to film the ani­mals, and right about that time the mul­ti-rotor drones arrived on the scene, so Katya and Emma built an octo­copter and their friends in tele­vi­sion would ask them to bring it to their shoots, and every time Emma and Katya would show up they'd go 'oh it's the heli­copter Girls!' So the com­pa­ny name was basi­cal­ly a giv­en.
The stan­dard pay­load is usu­al­ly an Alexa Mini and the drone in their booth is built by Freeflight who make the Movi gim­bal, it's deliv­ered ready to fly and can car­ry up to 18 kilos. There are 5 000 reg­is­tered com­mer­cial oper­a­tors in the UK, but 80% of those fly small­er machines so the extreme com­pe­ti­tion is in that seg­ment of the mar­ket and Emma and Katya are not in that any­more, as they don't have any small­er machines. They had 15 drones at one time, but they've whit­tled it down to just two large ones.
The com­pa­ny Shotover orig­i­nal­ly made gim­bals for full-scale heli­copters, but they recent­ly made a small­er gim­bal for drones, and their own mas­sive drone as well! The shot-over sys­tem is over 100 000 £ for the air­craft plus gim­bal and is pow­er­ful enough to han­dle an Alexa 65!
These brand-new minia­ture Shotover gim­bals are rapid­ly becom­ing very pop­u­lar mount­ed on cars too! Why? Because you basi­cal­ly get almost the same abil­i­ty to cre­ate excit­ing shots of vehi­cles mov­ing at high speed as you would with a Russ­ian Arm ‑but at a frac­tion of the cost!
Soon after I find Anders Johans­son from the com­pa­ny Medi­ateknik in the crowd. He's busy demon­strat­ing a 'rab­bit ears' rig to a curi­ous vis­i­tor and the fol­low­ing scene plays out. Anders and an asso­ciate join forces to dis­man­tle a large soft­box on the exhi­bi­tion floor, the asso­ciate goes 'how's our patient doing?' and Anders dis­plays a quick wit 'there's no heart­beat!' So what's a 'rab­bit ears' rig? Well, it's an inge­nious met­al frame which lets you com­bine any LED pan­el to a softbox.
Just across the aisle from this dra­mat­ic bit of surgery, is the booth belong­ing to Key Grip Sys­tems, of Bel­gium. They offer ele­gant ‑and hand­made- light­weight dol­lies, not too expen­sive either, about €5000 for a com­plete kit. Benoit The­unis­sen, the com­pa­ny rep­re­sen­ta­tive, explains that these dol­lies are pop­u­lar as Sec­ond unit-gear. They don't have a par­tic­u­lar­ly big foot­print either, which fur­ther explains their pop­u­lar­i­ty. Anders Johans­son was also impressed with the neat lit­tle dollies.
I absolute­ly want­ed to talk to the guys from White­point Optics again, and looked all over but final­ly found them in the booth belong­ing to British rental com­pa­ny Movi­etech, who are the proud own­ers of a set of White­point lenses.
So who are White­point Optics? Jus­si Myl­lynie­mi, Prod­uct Man­ag­er and Alek­sis Pil­lai, CEO, run this com­pa­ny based in Helsin­ki, Fin­land. They spe­cial­ize in large for­mat lens­es based on Has­sel­blad V‑series glass made in Ger­many, the same glass used for the lens­es in the Apol­lo moon flight project.
White­point Optics have only been in busi­ness for about a year, but have already been very suc­cess­ful. They showed their pro­to­types at Cinegear in Los Ange­les last sum­mer and got good response from the rental com­pa­nies and the top D.o.Ps there, so they began a col­lab­o­ra­tion with the rental hous­es in Los Ange­les and the New York area ‑a smart move since once you've estab­lished your­self in those two mar­kets, the rest of the world is a lot easier.
Jus­si explains that the sto­ry behind their suc­cess is a lit­tle pecu­liar, "I'm a marathon­er and did my first Marathon race in Stock­holm in 2005 togeth­er with an old friend, Timo Alatalkkari, who's a clas­sic stills pho­tog­ra­phy enthu­si­ast, he knows every­thing there is to know about Has­sel­blad and large for­mat stills pho­tog­ra­phy. So I asked him if he could re-house a lens for me, and that's how it all start­ed." Alatalkkari today is Chief Optics Tech­ni­cian at White­point Optics.
Alek­sis adds that these vin­tage Has­sel­blad lens­es usu­al­ly are in excel­lent shape because they were always used in a stu­dio envi­ron­ment, so they tend to be in good con­di­tion and there are plen­ty of these lens­es avail­able. The tech­ni­cians at White­point Optics take the lens­es apart com­plete­ly and only use the glass. White­point can even boast hav­ing a large for­mat swing-shift-lens, a very unique prod­uct. Their lens­es will even cov­er an IMAX neg­a­tive, should any­one feel intrigued by –or able to afford- the combination.
In the Movi­etech Booth we also find Fritz Heinz, Head of Mar­ket­ing, Otto Nemenz Inter­na­tion­al in Los Ange­les. Recent­ly hav­ing bought a set of these lens­es, Fritz has noth­ing but praise for White­point Optics. He explains to us that the White­point lens­es, along with the Leica Thalias and ARRI Rentals own Alexa 65 lens­es, are among the few that ful­ly cov­er the Alexa 65 sen­sor, and also the RED Mon­stro sen­sor, the two largest sen­sors in the mar­ket­place right now. Fritz also tells us that Otto Nemenz has over 3000 lens­es ‑one of the largest col­lec­tions in the world. "Otto is a true Hol­ly­wood leg­end" con­cludes Fritz Heinz with a smile.
In a mas­sive booth crammed with light­ing equip­ment, we find Jonas Elmqvist from BB&S Light­ing Inc, and he demon­strates a few inter­est­ing new prod­ucts to us from the com­pa­ny's port­fo­lio. "These new LED fix­tures offer a lot of con­trol­lable fea­tures" he explains, "and these can be run by remote con­trol. Back in the day, when an actor got to close to a light, you had to put scrims into the fix­ture, now you can con­trol that from a con­sole." Jonas pro­duces a con­sole no larg­er than a box of cig­ars, and con­tin­ues "this is a wire­less con­sole from the Lon­don-based com­pa­ny Cinelex, and you can con­trol just about every­thing with it. Do you want to change the inten­si­ty, change the colour, maybe add some magen­ta? Using DMX I can con­trol ten fix­tures from just one chan­nel."
DMX is a light con­trol sys­tem, and a so called 'DMX Uni­verse' con­sists of 512 chan­nels, so there is a lot of capac­i­ty to con­trol all avail­able func­tions on the var­i­ous lights. "You could assign 25 chan­nels to a Sin­gle ARRI sky­pan­el if you felt like it" Jonas mus­es, "you could even con­trol the fans in it." As we're talk­ing, I notice some­thing else too. While we five-some­thing-thou­sand well-behaved Expo vis­i­tors wear our ID-tags like canines at a Dog Show, Jonas has stuck his in his back pock­et!
And there's more on the shelves of this 'toy store'. "Effects Mas­ter DMX is a very advanced flick­er gen­er­a­tor designed by a Ger­man gaffer" Jonas explains, and you quick­ly real­ize this next gad­get spells Doom to any­one prone to epilep­sy! "Here you have pre­pro­grammed Flames, can­dle light, old-school TV set" Jonas con­tin­ues enthu­si­as­ti­cal­ly and saves his per­son­al favorite for last "flick­er­ing flu­o­res­cent tube! The Cinelex and the effects mas­ter DMX get along great, so you can hook them up togeth­er and be free to move any­where you like on the set. Togeth­er they can con­trol any­thing, an 18 kilo­watt HMI if you like, any­thing that can be con­trolled by DMX."
Jonas leads the way to a booth at the oth­er end of the expo, where the com­pa­ny Lumi­nous demon­strate their 1.5 kilo­watt LED fix­tures that can mim­ic light­ning among oth­er things. This is the same com­pa­ny respon­si­ble for The Light­ning Strikes, which were clas­sic xenon tubes for large night shoots capa­ble of pro­duc­ing very real­is­tic light­ning and oth­er effects like the muz­zle flare from a gun­shot for instance. "You sub­ject a xenon tube to about 300 times what it can han­dle con­tin­u­ous­ly" Jonas smiles, "we're talk­ing like 300 Ampères. But regard­less of whether you want to light a city block (with the xenon ver­sion) or work in the stu­dio with the LEDs, you can cre­ate flash­es of light­ning that last 6 – 8 frames, instead of wind­ing up with half-exposed frames, which you're like­ly to do with reg­u­lar flash­light equipment."
As we're stand­ing talk­ing next to this 1.5 kilo­watt LED equip­ment, it flash­es a cou­ple of times to demon­strate it to a cus­tomer ‑and I think I get my sinus­es cleared to last a life­time. If any­one remains in doubt I can per­son­al­ly assure that the lumi­nous pow­er of this unit is just insane.

"Lars do you want a beer?"
We're off to a very promis­ing start in the Cinelab booth! But, after all, it's Sat­ur­day evening. Hand­ing over the ice-cold bot­tle ‑a true bless­ing as the sauna-hot Expo starts down the home stretch- is Adri­an Bull, Man­ag­ing Direc­tor of Cinelab Lon­don. Last year Nigel Horn told me what a roller­coast­er the sit­u­a­tion had been for film labs in the UK in recent years. Adri­an, with more than 25 years of expe­ri­ence work­ing for labs like DeLuxe and Tech­ni­col­or, explains why the sit­u­a­tion five years ago became so extreme­ly dra­mat­ic. As late as 2010 the demand for pho­to­graph­ic film in the motion pic­ture indus­try was huge, for the last entry in the Har­ry Pot­ter series 20 000 prints were struck ‑for just that one title alone! Three years lat­er every cin­e­ma screen was dig­i­tized and the decline in film print­ing was prac­ti­cal­ly in a free fall. And the prints rep­re­sent­ed the big mon­ey, it might have been 0,5 mil­lion dol­lars of rev­enue for a lab to have a film shot on film, but it could be 20 mil­lion dol­lars of rev­enue on the prints! The sit­u­a­tion became unten­able for the big labs like DeLuxe and Tech­ni­col­or, which both shut down their UK oper­a­tions.
In a series of bold moves, Adri­an acquired a small lab called Bucks which pri­mar­i­ly made trail­er prints for the cin­e­mas, and estab­lished Cinelab in june 2013 to cre­ate a niche film lab to sup­port the film­mak­ers and also aim­ing to sup­port the archives who have a hun­dred years of film in their vaults. The main pro­cess­ing machines were not up to good stan­dards, so in spite of the world of pho­to­chem­i­cal film­mak­ing in a free fall around them, Cinelab installed a brand new Pho­tomec devel­op­er. They now have a very strong line­up, offer­ing cus­tomers a HD Spir­it, an ARRISCAN, a 4k Scan­i­ty, a Gold­en­eye III and a Gold­en­eye IV which does 65mm also. So Cinelab sup­port every­thing from 8mm to 65mm, they're the only lab in the world to do that.
And the risk-tak­ing has paid off, Cinelab made 157 com­mer­cials dur­ing 2017 shot on film, H&M of Swe­den is one for exam­ple. The year pri­or to that it was some­thing like 30 com­mer­cials shot on film. They've also man­aged to pick up fea­tures from all over Europe. Mod­ern film pro­duc­tion is time crit­i­cal and Cinelab offer very advanced ser­vices along those lines; you go from devel­op­ment to scan to deliv­er­ing proxy files elec­tron­i­cal­ly any­where in the world with­in a short time frame. Adri­an sees the amount of fea­tures shot on film in 2018, and com­ing his way, about equal to the 2017 level.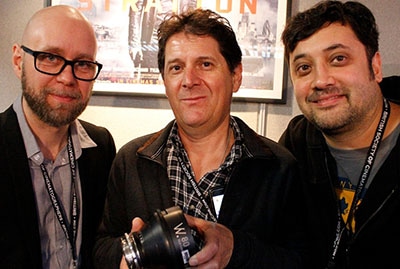 And now we're real­ly under the gun, it's rapid­ly approach­ing five o'clock, bet­ter hur­ry up! "Film is a pre­mi­um prod­uct" says Anto­nio Rasura, Direc­tor EI Ser­vices at Kodak UK, "but we want it to be acces­si­ble to every­one. Kodak has a glob­al foot­print, you can get film any­where in the world. We've seen a huge resur­gence in pro­duc­tions shot on film. The days of com­par­ing film to dig­i­tal are over ‑they exist side by side now. We see com­mer­cials com­ing back to film, some brands want to be con­nect­ed to film. There's a strong audi­ence now who want to see films also pro­ject­ed as film prints, it becomes a spe­cial occa­sion. There's also a resur­gence in 65/70mm right now."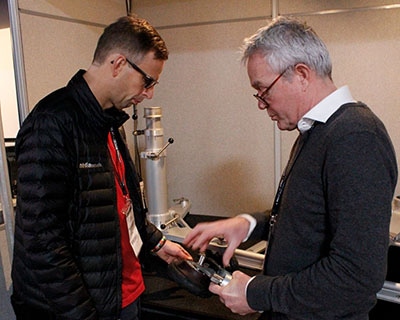 Just as last year the Kodak booth is some­thing of a vil­lage, shared with oth­er com­pa­nies that are active in the ana­log niche, but it's also embell­ished with appe­tiz­ing eye can­dy like an ARRI 765 and the Panav­i­sion 16mm 'Elaine'. The ARRI 765 is a real audi­ence mag­net and many want to take a Self­ie next to it, but a few feet behind it in the booth is a brand-new piece of 65 mm film equip­ment, a 'Scansta­tion 65' film scan­ner, chug­ging away mer­ri­ly at its 5‑perf images.
Matt Waghorne from the com­pa­ny Dig­i­tal Orchard proud­ly demon­strates it ‑actu­al­ly this machine from Laser­graph­ics Inc in Cal­i­for­nia is the only one of its kind in the world! It was designed by Ste­fan Dim­itro­vs­ki, "a spec­tac­u­lar­ly intel­li­gent man" Matt empha­sizes. It scans 15 frames per sec­ond at 5K, 16 bit dpx-files and will spit out a prores proxy file con­cur­rent­ly. It pro­duces 50 meg per frame, so 1 GB of hard­disc space will accom­mo­date a whop­ping 0,8 sec­onds! For watch­ing dailies, the choice seems obvi­ous, "let's get the prores-file".
The clock strikes five and even a few min­utes past as we're talk­ing. The loud­speak­ers come alive and there's hec­tic activ­i­ty every­where. It's a strug­gle to stay focused with all this in your periph­er­al vision and ring­ing in your ears, but we man­age to round off the interview.
"There's a lot more infor­ma­tion than that in 65 mm film" Matt com­ments, adding "you want to scan 65mm at 10K opti­mal­ly". Dig­i­tal Orchard invest­ed in this scan­ner to cre­ate a sub­stan­tial­ly faster work­flow for 65/70mm pro­duc­tions than what has pre­vi­ous­ly been avail­able. The lab I‑Dailies was bought in 2017 by Kodak and moved to Pinewood Stu­dios, and "a very fast 65mm proces­sor is being installed there right now as we speak". As the Scansta­tion 65 is also a faster Scan­ner than what has pre­vi­ous­ly been avail­able, the com­bi­na­tion makes 65/70mm pro­duc­tion all the more viable.
"There is def­i­nite­ly a green­lit project ahead that's going to be shot on 65 mm" Matt smiles and turns his atten­tion to dis­as­sem­bling his equip­ment. I head for the exit through a sur­re­al­is­tic spec­ta­cle of men, women and even teenagers who tear down the exhi­bi­tion at break-neck speed, and as I board the bus and it pass­es the huge car­a­van of trucks wait­ing out­side I real­ize I'm for­tu­nate to be able to return to the hotel. For the many exhibitors there remains sev­er­al hours of hard labour before the mas­sive Bat­tersea Evo­lu­tion build­ing has been vacat­ed and they can return safe­ly to their respec­tive com­pa­nies.
Lars Pet­ters­son