Steen Dalin DFF reports from the IMAGO Sym­po­sium in Vien­na 25 – 27th of Jan­u­ary 2019
Cov­er print by Wim Wen­ders from the exhi­bi­tion in Metro Kinokul­turhaus titled:
Air­plane in Mon­u­ment Val­ley – 1977
Pho­to Cred­it: © Wim Wen­ders Cour­tesy of the artist and Blain | South­ern Lon­don / Berlin
Vien­nese Waltz – Can not Always be a Dance on Ros­es
"We have enough inspi­ra­tion to last us for…? For­ev­er! – This has been the best Mas­ter Class Inspi­ra­tion – ever!" These were pret­ty much the words by which IMAGO Pres­i­dent Paul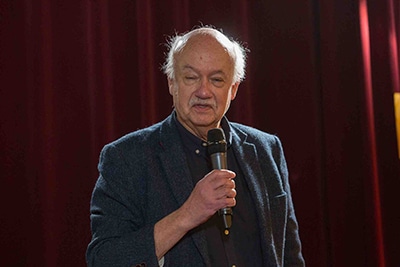 IMAGO Pres­i­dent Paul René Roes­tad wel­come Vien­na Inspiration
René Roes­tad FNF summed up the IMAGO event which took place at the start of this year. It was met with applaus­es from the tight­ly packed hall of Euro­pean cin­e­matog­ra­phers (two of them respec­tive­ly of Chi­nese and Brazil­ian ori­gin, though). As usu­al, the Dan­ish del­e­ga­tion of DFF con­sti­tut­ed the largest nation­al group of for­eign guests, only sur­passed by the local Aus­tri­ans. Per­haps the excite­ment also reflects the fact that the Mas­ter Class Com­mit­tee had engaged three Euro­pean and one Aus­tralian cin­e­matog­ra­ph­er, all hav­ing made a career in Hol­ly­wood. Three of them made it to the semi-final – which is a nom­i­na­tion for the Acad­e­my Awards – and prob­a­bly as close as you can get to an Oscar for Best Cin­e­matog­ra­phy with­out actu­al­ly win­ning it. How­ev­er, for the first time, not one sin­gle Amer­i­can was on stage. That is, just apart from Maryse Alber­ti, who was born and raised in France. She went as a teenag­er to the Unit­ed States and had her entire career across the Atlantic. She was the only one pre­sent­ed at this event with­out an Oscar nom­i­na­tion, but indeed a cin­e­matog­ra­ph­er with an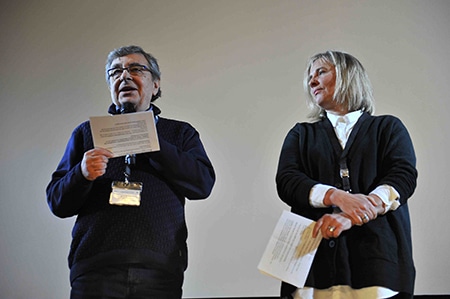 Jan Weincke and Astrid Ver­schu­ur rep­re­sent the IMAGO Mas­ter Class
Com­mit­tee
impres­sive back­list and one of the few women, whom Jan Weincke wel­comed in his open­ing speech and expressed grat­i­tude at their increas­ing num­bers. This year the event was ful­ly booked: 160 del­e­gates dis­trib­uted between 25 coun­tries – and a long wait­ing list, you might add. Through­out the ten-year life­time of the com­mit­tee, four sim­i­lar events have been held: One in Ams­ter­dam, two in Copen­hagen and final­ly this one was the sec­ond time in Vien­na. In addi­tion to Jan Weincke DFF, the Mas­ter Class Com­mit­tee con­sists of Her­man Ver­schu­ur NSC, Ron Johan­son ACS and our Aus­tri­an host Astrid Heubrandt­ner Ver­schu­ur AAC, who con­clud­ed her wel­come speech with some nasty news that tor­ment­ed her. At the same time as our event, the extreme right-wing forces in Vien­na held their annu­al Akademiker­ball (Aca­d­e­mi­cians' Ball, being in the home­land of Johann Strauss). Demon­stra­tions against the Ball could be expect­ed, and the police had closed off a larg­er area sur­round­ing the Hof­burg Palace, just a few hun­dred meters from our event. Indeed, those of us at the pres­ti­gious Hotel Asto­ria hav­ing win­dows fac­ing the street, could­n't help but to be awak­ened both nights by the brawl among the 3000 guests to the Ball and the approx­i­mate­ly 8000 oppo­nents. It was a per­son­al mat­ter for Astrid to inform us that only three days ear­li­er, one of these extreme politi­cians, Min­is­ter of the Inte­ri­or, pub­licly attacked the Euro­pean Con­ven­tion on Human Rights. "Just imag­ine this", she said: "Try­ing to make it social­ly accept­able to ques­tion human rights." She was deeply shocked and con­tin­ued: "This is not only hap­pen­ing in Aus­tria, it is the case all over Europe and the rest of the world. In times where we have to face these kinds of move­ments, all artists like us cin­e­matog­ra­phers have to stand up against this insan­i­ty which is grow­ing everywhere."
Wen­ders & Müller – the Dynam­ic Duo
Wim Wen­ders at the inau­gu­ra­tion of the exhibition
Four years ago, the IMAGO Inspi­ra­tion took place in the Stadtki­no im Kün­stler­haus, near to the Metro Kinokul­turhaus where we were stay­ing now. But at that time the res­i­dence could not house Inspi­ra­tion, due to exten­sive restora­tion. But now this mag­nif­i­cent Kinokul­turhaus has reopened, host­ing a Cin­e­math­eque, a Film Archive and two floors of state-of-the-art Exhi­bi­tion Halls. It pre­sent­ed a ret­ro­spec­tive exhi­bi­tion on Wim Wen­ders, which he him­self per­son­al­ly inau­gu­rat­ed only a fort­night pri­or to our arrival. The entire exhi­bi­tion glit­ters in all its whitened puri­ty, dis­play­ing the direc­tor's own pre­ferred polaroids and his black and white pho­tographs along with quotes from his diary of the var­i­ous film record­ings – every­thing resem­bling pieces of con­tem­po­rary art. An exhi­bi­tion that could eas­i­ly take place in many Euro­pean art gal­leries and muse­ums. His dis­tinc­tive images describe the twen­ty years of film­mak­ing with Rob­by Müller NSC, which start­ed very ear­ly in the 70s pro­duc­ing titles such as: Alice in den Städten and my absolute favourite, the black and white, three-hour-long Im Lauf der Zeit, fol­lowed by Der amerikanis­che Fre­und, until the part­ner­ship end­ed mis­er­ably in 1991 with Bis ans Ende der Welt. At that time their friend­ship had dete­ri­o­rat­ed and they split once and for all to go sep­a­rate ways. Wim Wen­ders con­tin­ued his cin­e­mato­graph­ic expe­di­tions around the world, while Rob­by Müller joined forces with Jim Jar­musch and Lars von Tri­er among others.
Exhi­bi­tion Halls at the Film Archive
All of this and even more were con­firmed in the cin­e­ma on Fri­day night, when the above-men­tioned Astrid Ver­schu­ur had Claire Pij­man NSC in the 'hot seat' for a con­ver­sa­tion before the screen­ing of her doc­u­men­tary Liv­ing the Light. Since the pre­mière in Venice last year it has toured at numer­ous fes­ti­vals and film schools in Europe, includ­ing our own in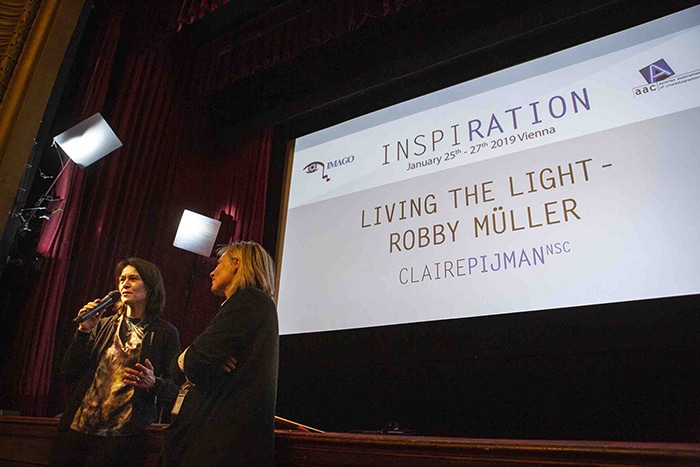 Copen­hagen in col­lab­o­ra­tion with DFF last Novem­ber. Right now, Claire Pij­man and her entourage are "pray­ing for a good Amer­i­can pre­mière," as she puts it. Rob­by Müller was liv­ing his life through the lens of a film cam­era. When he was­n't work­ing pro­fes­sion­al­ly, he com­pen­sat­ed using his video cam­era. He sim­ply filmed EVERYTHING: His par­ents, his girl­friends, his dogs and his daugh­ter, who in Claire's doc­u­men­tary seemed pret­ty fed up by always watch­ing her father on the oth­er side of a cam­era. But in his stud­ies of hotel rooms, of the street down­stairs, of the Edward Hop­per-like urban land­scapes in the Unit­ed States – and out­side in the wild: Birds in flight trans­form­ing into light reflec­tions and with­ered leaves in flow­ing water – in those videos you get to know his search for scenes and moods. Lat­er they appear in the movie clips Claire Pij­man quite intel­li­gent­ly had select­ed and merged with the end­less Hi8 record­ings that she got access to with his per­mis­sion. Rob­by Müller died in April last year, but he got to expe­ri­ence the exhi­bi­tion Mas­ter of Light at EYE in Ams­ter­dam 2016, and also had the oppor­tu­ni­ty to watch the doc­u­men­tary sev­er­al times accord­ing to Pij­man, which is either iron­ic or just mirac­u­lous, as he would nev­er even watch his own video footage – he was just filming.
1977_Airplane in Mon­u­ment Val­ley.
Pho­to Cred­it: © Wim Wen­ders Cour­tesy of the artist and Blain|Southern London/Berlin
Two British Pho­tog­ra­phers – and Ken Loach
Back to the Metro Kinokul­turhaus, on the ground floor in the heart of the build­ing the space opens up to a won­der­ful care­ful­ly restored Baroque the­atre dat­ing back to 1840. First man on stage was Bar­ry Ack­royd (mod­er­at­ed by Volk­er Gläs­er AAC) who in 2014 took over the post as Pres­i­dent of the British Fed­er­a­tion BSC. He turned out to be a very pleas­ant and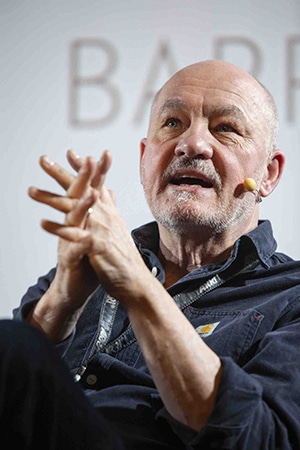 Bar­ry Ack­royd BSC
charm­ing man with a low-key Eng­lish humour. Char­ac­ter­is­tics that he attrib­uted to his direc­tor over many years, Ken Loach. In the same spir­it, but rather unusu­al in such mas­ter class­es, he start­ed a selec­tion of three clips from films he had NOT pho­tographed him­self: First of all, Kes (Ken Loach 1969), this 16mm grained clas­sic brought tears in the eyes of the old­er seg­ment of the cin­e­matog­ra­phers. Then The Killing Fields (Roland Jof­fé 1984) and final­ly The Mis­sion (Roland Jof­fé 1986). All three films pho­tographed by Chris Menges BSC, who had sup­port­ed Ack­royd in the leap from doc­u­men­tary to fea­ture film. He also made Ack­royd join the British Soci­ety of Cin­e­matog­ra­phers and, in gen­er­al, served as his men­tor and source of inspi­ra­tion. One day Ack­royd received a phone call from Ken Loach him­self: "He's a hum­ble man and said: "You're prob­a­bly very busy, you prob­a­bly don't want to work with me." My answer was: "I do – I do!" This result­ed in the first film Riff Raff (1991) togeth­er with his idol and fur­ther­more in a 25-year long col­lab­o­ra­tion over 12 films. It was a con­tin­u­ing learn­ing process at the 'Ken Loach Uni­ver­si­ty' that he would nev­er for­get. There was a rea­son for every­thing Loach did: The observ­ing, the long lens­es and the doc­u­men­tary style that Loach him­self admit­ted hav­ing learned from Chris Menges. When Bar­ry one day ven­tured to bring a lamp into a loca­tion, Ken Loach exclaimed: "Oh, it's very bright isn't it! Do you think the actors would like that?" Their last film togeth­er was The Wind That Shakes the Bar­ley (2006) which Ack­royd con­sid­ers to be Ken Loach's masterpiece.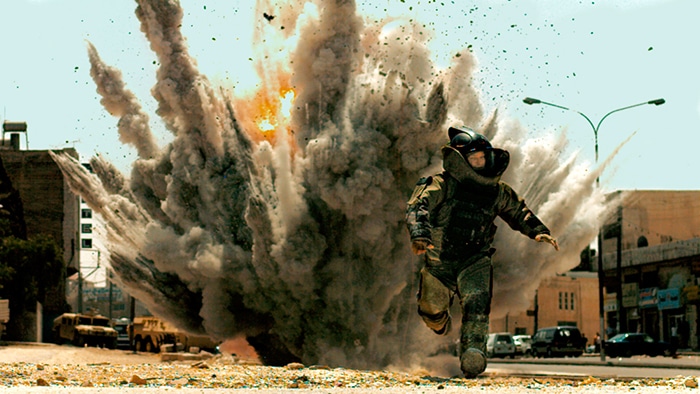 The Hurt Lock­er – first Oscar to a female director
But the inspi­ra­tion he got from Ken Loach and Chris Menges became the foun­da­tion stone, upon which he lat­er built his entire career in col­lab­o­ra­tion with many direc­tors: Paul Green­grass, Sean Penn and Kathryn Bigelow, who was the first female direc­tor to win an Oscar in 2009 for The Hurt Lock­er. The film also brought a per­son­al Acad­e­my Award nom­i­na­tion to Bar­ry Ack­royd. In these lat­er films, you clear­ly trace his devel­op­ment of the Ken Loach tech­niques, now with 3 or 4 dig­i­tal cam­eras cross-cov­er­ing the scene. Each cam­era oper­a­tor has full free­dom to impro­vise and to zoom at will – no use of fixed (and locked) optics. The method has both advan­tages and dis­ad­van­tages, he believes, but the lim­i­ta­tion always lies in the amount of equip­ment that you car­ry to the set. He described how he always places the cam­eras out­side the cir­cle formed by the actors. Inside the cir­cle they have full free­dom to move around. When shoot­ing out­door he moves with the sun dur­ing the day, so that the actors always are lit from behind.
Towards the end Bar­ry Ack­royd moved into philo­soph­i­cal con­sid­er­a­tions about the cin­e­matog­ra­phers' choice of films. "You're stuck with a bunch of man­u­scripts think­ing: "They have sent me twen­ty scripts – Why? I have no idea!" You have to choose your movies with care and for the right rea­sons. He believes that movies are a very strong polit­i­cal medi­um and there is a clear dif­fer­ence between Hol­ly­wood and the Euro­pean approach. He clas­si­fies the Euro­pean style as sim­ply 'films' while the Amer­i­can 'movies' pri­mar­i­ly are enter­tain­ment. "Hol­ly­wood will make it into some­thing I would not like to see myself." Encour­aged by the audi­ence, he admit­ted that the action film he made with Paul Green­grass in 2016, Jason Bourne, which was the fourth out of a series of swash­buck­ler movies with Matt Damon – indeed was one of these kind of Hol­ly­wood 'movies'.
Dan­ish Delight
Sat­ur­day morn­ing was the mas­ter class which was antic­i­pat­ed with excite­ment by the group of DFF, name­ly the Mas­ter Class with Dan Laust­sen ASC DFF. Astrid Verschuur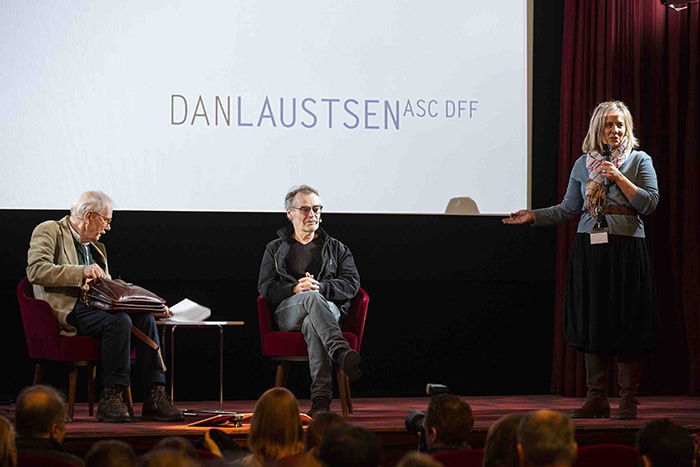 Astrid Ver­schu­ur AAC intro­duc­ing Andreas Fis­ch­er-Hansen DFF for­mer IMAGO
pres­i­dent and Dan Laust­sen DFF
intro­duced Andreas Fis­ch­er-Hansen DFF as his mod­er­a­tor and was delight­ed with the fact, that Andreas had also been Dan's teacher at the Film School. It took off quite well. Togeth­er they had pre­pared an infor­ma­tive and humor­ous con­ver­sa­tion that Andreas began by say­ing: "Yes, I've known Dan for quite a few years. He came to the film school as a still pho­tog­ra­ph­er and was­n't very inter­est­ed in film, but he thought – let's give it a try! Or maybe he was inter­est­ed but he was­n't very keen. And now he's one of the great cin­e­matog­ra­phers of our time. He was very young – and so was I – in fact – more than 40 years ago." All to a lot of smiles and a great applause from the audi­ence, after which Dan con­tin­ued telling that as a 22-year-old young­ster he had trained him­self to be a fash­ion pho­tog­ra­ph­er and real­ly had no idea what to do next.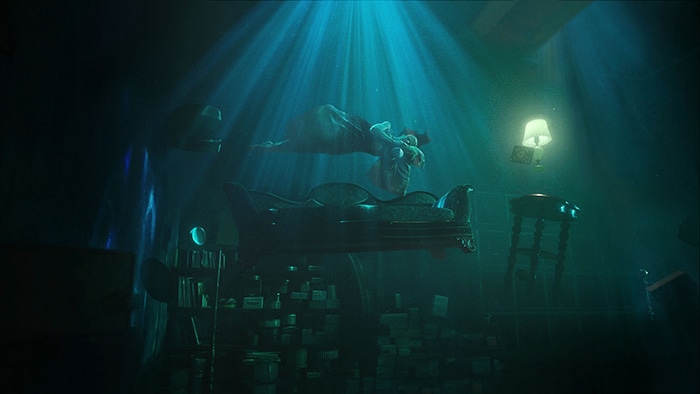 Not one drop of water in this scene from The Shape of Water
His old­er sis­ter had just read about the Film School in the news­pa­per and urged him to apply. For the inter­view he did­n't under­stand the top­ics put to him by the teach­ers were all about. He was unaware of Bertoluc­ci and Storaro and had nev­er looked through the viewfind­er of a film cam­era: "I did­n't know what they were talk­ing about, but then I got a let­ter say­ing "Wel­come to the Dan­ish Film School" and that was my start but I was total­ly lost. Andreas added that at the time it was very dif­fi­cult to get close to film equip­ment, so at the Film School they focused large­ly on still images in the process of select­ing can­di­dates.
Dan con­tin­ued: "Then I shot some fea­tures in Den­mark and some fea­tures in The Unit­ed States and then I shot a movie called John Wick…" – "You shot quite a few films in Den­mark?" Andreas inter­rupt­ed, but unfor­tu­nate­ly, we did not get to see any clips from Dan's mul­ti­ple Dan­ish pro­duc­tions with Søren Kragh-Jacob­sen, Rum­le Ham­merich, Åke Sand­gren, Olé Bornedal, Lisa Ohlin and many, many oth­ers. It would have been inter­est­ing to watch a his­tor­i­cal cross sec­tion in which one could have sensed the devel­op­ment of his work.
A Voice in the Dark
Instead, we watched a clip from John Wick. An Amer­i­can fran­chise (i.e., a con­tin­u­ing series of films) cre­at­ed by the two part­ners Chad Sta­hel­s­ki and Derek Kol­stad, who served as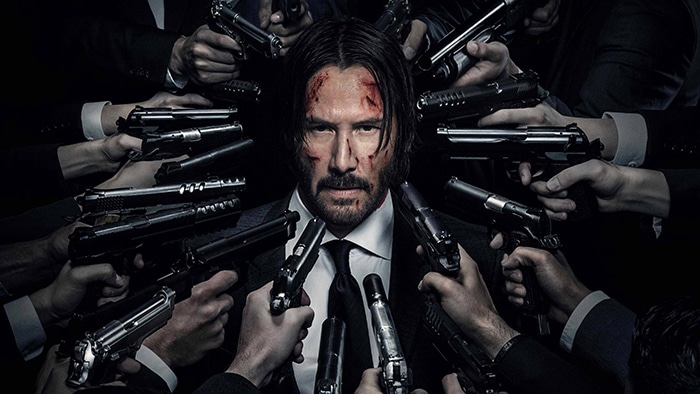 John Wick – lots of guns and not that much dialogue
stunt dou­bles for Keanu Reeves in The Matrix Tril­o­gy. In 2014 they brought the same Keanu Reeves to the first John Wick movie that Dan did NOT shoot. But Reeves also holds the title role in the next two films with Dan Lausten. Then two more clips from John Wick was shown in con­tin­u­a­tion. They were immense action with a lot of vio­lence, guns, stunts and not much dia­logue – in fact, no dia­logue at all, except for the last clip when a voice out­side the frame sneered some­thing in French, which in an Amer­i­can movie often points to the vil­lain.
I was strug­gling to put some words togeth­er in Eng­lish for the Q&A, when sud­den­ly a voice rose from the audi­ence: "Using the skills of cin­e­matog­ra­phers in sto­ry­telling – the inspi­ra­tion looks to me inspired by Leni Riefen­stahl. We see every day prob­lems in the news of crim­i­nal action. Now, are we as cin­e­matog­ra­phers help­ing these things to be accept­ed on a social lev­el?" Dan quick­ly respond­ed: "Of course you're total­ly right. But it's a very long dis­cus­sion. Some of the movies you're doing are from your heart and some of them are like… " The voice from the dark con­tin­ued: "Sure, but it is also a ques­tion of respon­si­bil­i­ty. We are mak­ing films for peo­ple who are watch­ing them in cin­e­ma, and they might be fan­tas­tic from a tech­ni­cal point of view, although I got the impres­sion that the mes­sage is just – how can I show bru­tal­i­ty?"
Dan replied: "For me it's not bru­tal­i­ty – for me it's just like a kind of car­toon. Peo­ple are get­ting killed but noth­ing hap­pens. It's not like you're see­ing peo­ple in close up get­ting smashed – I think John Wick has that – it's kind of a car­toon, every­thing can hap­pen. But I under­stand what you're say­ing and I respect that, but it's not the way I live my life. I like these kinds of movies and I think it's great to do." Sure­ly Dan might have a point: John Wick is a car­toon char­ac­ter. Those repeat­ed­ly vio­lent fights have the char­ac­ter of a bal­let, and the many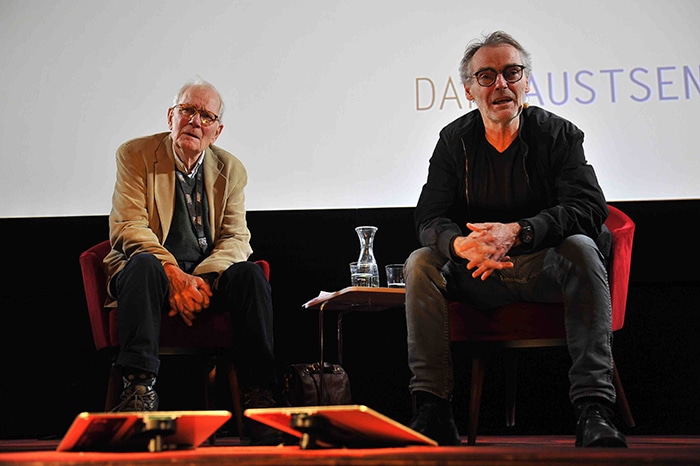 fre­quent homi­cides by firearms have the resem­blance of boy­ish pranks in the school­yard: "Bang-bang, you're dead," rather than real­is­tic, blood-drip­ping sce­nar­ios.
Dur­ing the break I sought out the mys­te­ri­ous voice, which belonged to Frédéric-Gérard Kaczek AAC. He is well known in the inner cir­cle of IMAGO and talked to me about the pos­si­bil­i­ty of cre­at­ing some form of eth­i­cal com­mit­tee with­in IMAGO that could address the issue. And that is indeed an exem­plary moti­va­tion: Does­n't film and tele­vi­sion con­tribute to legit­imize the increas­ing use of vio­lence and firearms in schools and gang con­flicts by expos­ing the vio­lence so much? You can also turn the issue upside down and ask the cin­e­matog­ra­ph­er: "Which offer would you rather turn down – a film of vio­lence or a porn movie?" If choos­ing the lat­ter, we may be head­ing towards Amer­i­can stan­dards where guns are social­ly more accept­able than the naked breast of Janet Jack­son. Any­way, the dis­cus­sion had the side effect that Frédéric-Gérard was sub­se­quent­ly sub­ject­ed to friend­ly bul­ly­ing each time a clip con­tain­ing vio­lence was dis­played: "Sor­ry Fred­dy, but there will be some vio­lence in the next clip."
Mex­i­can Water
After the break, the mas­ter class of Dan and Andreas was saved in the nick of time – by Guiller­mo del Toro, with whom Dan Laust­sen has made three films: Mim­ic (1997), Crim­son Peak (2015) and The Shape of Water (2017). The last film lit­er­al­ly vac­u­um­ing the Acad­e­my Awards for Oscar nom­i­na­tions in 2018, with a total of 13 nom­i­na­tions of which the nom­i­na­tion for Best Cin­e­matog­ra­phy includ­ed Dan Laust­sen. With the Mex­i­can direc­tor we went into a com­plete­ly dif­fer­ent ball game of poet­ic sto­ry­telling. The clips from those last two films dis­solved the cramped mood in the audi­ence into an excit­ing applause that fell like redeem­ing rain. Espe­cial­ly the open­ing sequence of The Shape of Water was remarkable.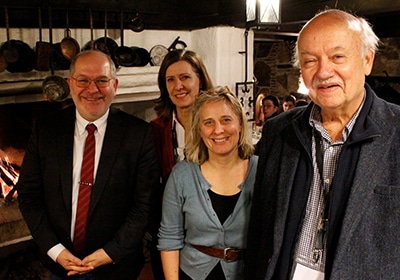 Omar Al-Rawi from the May­or's office and Mar­i­jana Stoisits from the
Vien­na Film Com­mis­sion invit­ed to Heuri­gen­restau­rant. Flanked by
Astrid and Paul René
It looks like a track­ing shot through an apart­ment filled with water, the entire inte­ri­or, chairs, tables, a clock and a table lamp, even the sleep­ing woman on her sofa, floats dream­ing­ly around in the room. Dan revealed that not a sin­gle drop of water was involved. It was a steadicam with 48fps slow motion and all of the fur­ni­ture and the woman was sus­pend­ed in wires. The wav­ing light reflec­tions were made by video pro­jec­tors and only the fish and the hair of the pro­tag­o­nist are made with CGI. Take a moment and enjoy the clip on YouTube:
https://www.youtube.com/watch?v=CcX_UO-wKZo
Sim­i­lar to some of the oth­er cin­e­matog­ra­phers, Dan point­ed to the impor­tance of gen­er­at­ing as much as pos­si­ble in the cam­era, instead of leav­ing it to the com­put­er guys lat­er. It is part of the process of con­trol­ling the image. The tex­ture of water was made of smoke, which cre­at­ed a hor­ri­ble work­ing envi­ron­ment for the crew, Dan added. The major prob­lem dur­ing film­ing was Guiller­mo del Toro's ten­den­cy to record every­thing in con­ti­nu­ity, result­ing in a con­stant brake down and rebuild­ing of the sets, as well as the need for relight­ing the scene after each take.
It was real­ly quite remark­able how many of the non-Dan­ish del­e­gates present, who repeat­ed­ly asked for film clips from Dan and Olé Bornedal's TV series 1864 (the year of an armed con­flict between Den­mark and Ger­many). This was a major pro­duc­tion in Den­mark, which in Dan's Hol­ly­wood optic was a low bud­get tele­vi­sion show. But appar­ent­ly the Euro­peans knew it from Net­flix. In the absence of clips from 1864, Dan offered any­body inter­est­ed to watch a trail­er on his iPhone dur­ing the break.
Maryse Alber­ti and Claire Pij­man on stage
The after­noon was devot­ed to an excur­sion, a walk­ing tour sight­see­ing at the cen­tre of Vien­na – a bit dis­ap­point­ing in pour­ing rain! The many impos­ing cas­tles and man­sions reflect a not so dis­tant past, when Vien­na was the cen­tre of the mighty Aus­tri­an-Hun­gar­i­an Empire. The trip end­ed at the Hof­burg Palace, where the night­ly fights took place and where Hitler from a bal­cony in 1938 held his vic­to­ry speech after the Anschluß – the annex­a­tion of Aus­tria in the Third Reich. In the evening, the May­or and the Vien­na Film Com­mis­sion invit­ed the whole group of cin­e­matog­ra­phers for a din­ner at a tra­di­tion­al restau­rant locat­ed in Neustift am Walde, a bit up the wood­ed moun­tains sur­round­ing the city. This was a won­der­ful oppor­tu­ni­ty to social­ize and to get acquaint­ed with the oth­er del­e­gates from many countries.
Waltz – with Wrestlers
The first two days went quick­ly with only one mas­ter class per day, where­as the Sun­day in con­trast con­sist­ed of two large 'class­es.' To start Maryse Alber­ti, who was the only one of the four pro­tag­o­nists, that did­n't have her name pro­vid­ed with three let­ters, indi­cat­ing an asso­ci­a­tion. When inquired, she excused her­self from not hav­ing had the time – that it's quite expen­sive with a mem­ber­ship of the ASC, and in addi­tion she lives in New York – very far from Hol­ly­wood. But dur­ing the Sat­ur­day night par­ty, Dan Laust­sen almost con­vinced her in join­ing the ASC. This time Claire Pij­man appeared in the role as her mod­er­a­tor. As a 19-year-old girl, Maryse Alber­ti went from France to the Unit­ed States. She was hop­ing to expe­ri­ence Jimi Hen­drix live, but rather unfor­tu­nate­ly he deceased pri­or to her arrival. Instead, she made the 'clas­sic' pil­grim­age 'go-west' trav­el, hitch­hik­ing for three years with a Kodak Insta­mat­ic cam­era. When she final­ly returned to New York, a hand­ful of these insta­mat­ic images turned into an exhi­bi­tion. In the 70s, the city was a pret­ty "crazy place" on the art and rock scene. With a gift from her boyfriend, a Nikon, she began pho­tograph­ing good friends and rock bands. That led to a job at the New York Rock­er mag­a­zine, for which she pro­vid­ed pho­tos of Lou Reed, Iggi Pop, Frank Zap­pa and many oth­ers. Through a friend she obtained a paid job as a pho­tog­ra­ph­er on X‑rated films. "It was my first entrance to the world of film: Two years with Rock & Roll and X‑rated! That was my film school, because at the set I met a lot of stu­dents from NYU and Colum­bia University."
A break in the sched­ule. Maryse Alber­ti and Dan Laustsen
Then in 1990 she got hold of a 16mm cam­era and with her friend Stephanie Black, they made the doc­u­men­tary H- 2 Work­er about the exploita­tion of Jamaican guest work­ers at the cane plan­ta­tions in Flori­da. The film made it to Sun­dance and won prices for best doc­u­men­tary and best cin­e­matog­ra­phy. Now she was on the map and con­tin­ued the next 15 – 20 years mak­ing sev­er­al doc­u­men­taries and some low bud­get fic­tion films. When you take a look at her back­list, it looks like a bal­lot paper for the par­lia­men­tary elec­tion in Den­mark (lots of par­ties and can­di­dates). Among the heap of titles some names stand out: Todd Haynes, Richard Lin­klater, Mar­tin Scors­ese and Lau­rie Ander­son. Her break­through in Hol­ly­wood was with The Wrestler (2008) by Dar­ren Aronof­sky. It won a Gold­en Lion in Venice and went vic­to­ri­ous­ly around the world to final­ly end up with two Oscar nom­i­na­tions. Mick­ey Rourke, who pre­vi­ous­ly had a box­ing career, fits per­fect­ly into the envi­ron­ment of hard-boiled Amer­i­can wrestlers as a has-been fight­er. The cin­e­matog­ra­phy of Maryse Alber­ti con­tributed to the authen­tic­i­ty of the film, with­out big bud­get arti­fi­cial light­ing and with her 16mm cam­era con­stant­ly fol­low­ing Rourke. Espe­cial­ly dur­ing the tur­bu­lent scenes in the ring, when the cam­era moves close up in a float­ing bal­let between the com­bat­ants. Claire Pij­man asked her if the expe­ri­ences from mak­ing doc­u­men­taries was an advan­tage in her shift to fic­tion: "It is essen­tial, you real­ly learn to react to some­thing that is in front of you, and in doc­u­men­tary you don't have time to think. Work fast and know where to be with the cam­era. The cam­era move­ments, the cov­er­age – all that can be applied to fic­tion."
The suc­cess of the film wheeled into anoth­er Oscar nom­i­nat­ed pro­duc­tion in the same cat­e­go­ry (curi­ous­ly none of them received a nom­i­na­tion for best cin­e­matog­ra­phy, though). After 30 years and six films with Sylvester Stal­lone per­form­ing the role of Rocky Bal­boa, the series suf­fered from dis­tinct met­al fatigue. But in 2015, direc­tor Ryan Coogler breathed new life and blood into a sequel: Creed (both he and the pro­tag­o­nist Michael B. Jor­dan being African Amer­i­cans). Sylvester Stal­lone reap­pears in a sup­port­ing role as a coach to Jor­dan. The cam­era of Maryse Alber­ti cer­tain­ly con­tributed to the dra­mat­ic look of the film, reviewed by the crit­ic as the best Rocky movie ever. Hav­ing seen some exam­ples, we were treat­ed to clips from her lat­est pro­duc­tion Chap­paquid­dick, sup­pos­ed­ly only to be seen on Net­flix but not in cin­e­mas. In the UK it was renamed into The Sen­a­tor, obvi­ous­ly because it is a tale about the Ted Kennedy scan­dal in 1969, when the youngest and sur­viv­ing Kennedy broth­er drove his Oldsmo­bile off a small wood­en bridge. He escaped the scene only to leave a young woman to her death by drown­ing, thereby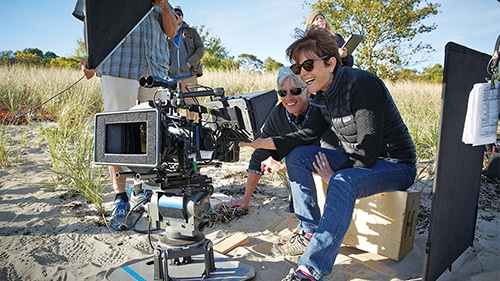 Maryse Alber­ti and the direc­tor John Cur­ran at Chappaquiddick
caus­ing hav­oc to his pres­i­den­tial ambi­tions. For these Hol­ly­wood pro­duc­tions, Alber­ti gen­er­al­ly had to use cam­era oper­a­tors, being in the dri­ver seat as a DOP. When teased by crew mem­bers for being a petite woman work­ing in a phys­i­cal­ly demand­ing job, she is quot­ed for reply­ing: "The lit­tle lady does­n't car­ry the big lights. She points and the big guys car­ry the lights."
Waltz­ing Matil­da – in the Light of LED
Last MAN on stage was Greig Fras­er, mem­ber of both ASC and ACS. His medi­a­tor Ben­jamin B is quite dif­fi­cult to Google, but when you dis­cov­er the sur­name Bergery a ver­sa­tile man emerges, affil­i­at­ed to sev­er­al asso­ci­a­tions (AFC, FSF and NSC), orga­niz­er of numer­ous mas­ter class­es, blog­ger at The Film Book and cor­re­spon­dent at Amer­i­can Cin­e­matog­ra­ph­er. Hence the Aus­tralian was in good hands. How­ev­er, or maybe it's just me, but it was some­what annoy­ing that they con­tin­ued their talk dur­ing the movie clips – it's like hell to take notes in the cin­e­ma dark­ness! Like Bar­ry Ack­royd, Fras­er too worked with Kathryn Bigelow, but it was five years ear­li­er on Zero Dark Thir­ty, about the CIA's hunt for Osama Bin Laden. The aes­thet­ic of the film reveals that it now has become tech­ni­cal­ly pos­si­ble to film in almost total dark­ness and thus increase real­ism. Both of them thought that there is a ten­den­cy in the film indus­try to down­grade the tech­nique. But cin­e­ma sure is a tech­no­log­i­cal art form. Admit­ted­ly, film stock and devel­op­ment are no longer work tools, but nev­er before have the pos­si­bil­i­ties been so ver­sa­tile. So many dig­i­tal cam­eras exist and so do an abun­dance of dif­fer­ent lens­es like nev­er before. Not to men­tion the devel­op­ment of LED lights. "Things in the last five years have just jumped so far ahead, that ten years ago, if you were talk­ing about RGB coloured LED that can light up an entire Star Wars movie – it would have been like: "Stop – you're crazy. There's no way you can use LED to shoot a big bud­get movie." But that was exact­ly what Greig Fras­er did on Rogue One: A Star Wars Sto­ry just three years ago, but more on that lat­er.
Sud­den­ly the entire sem­i­nar theme, Inspi­ra­tion, was turned into a ques­tion of anti-inspi­ra­tion: Not to let your­self be dis­tract­ed by exter­nal influ­ences. The good advice was: "Stop watch­ing movies – it's not gonna help you." Then they intro­duced a rather com­pre­hen­sive show­case: "The pro­gram is going to be pret­ty tough. It turns out, it's a bunch of films about the Unit­ed States of Amer­i­ca. And it's also about vio­lence. So I have to warn you guys: There will be vio­lence! I'm cer­tain­ly going to hear from cer­tain mem­bers in the audi­ence about this," which caused many laughs and much applause from the audi­ence, because this was just a final allu­sion from the 'teacher' to our all-time 'Fred­dy' – just like in the child­hood school classes.
Dances with Bul­lets
The first (vio­lent) film clip was Killing Them Soft­ly (2012), an Amer­i­can neo-noir-action-thriller-crime-movie by Andrew Dominik and star­ring Brad Pitt. "A sto­ry about Amer­i­ca, the mafia, busi­ness – and the busi­ness of killing," Greig Fras­er added. A film depict­ing the death of polit­i­cal ide­al­ism in Amer­i­ca that rather let a quick-wit­ted Don­ald Trump gov­ern than an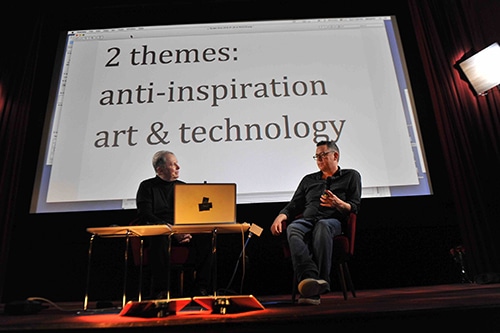 Ben­jamin Bergery mod­er­at­ing Greig Fras­er ACS ASC
irres­olute Barack Oba­ma – four years before it actu­al­ly hap­pened. The film was made at the end of the cel­lu­loid era and his own favourite raw stock was 5230. Unfor­tu­nate­ly, Kodak had stopped pro­duc­tion, but Greig phoned a NYU stu­dent whom he at one point had giv­en some left­over rolls. This guy only found a piece of 15 meters among the veg­eta­bles in his freez­er. It was sent to Kodak in San Fran­cis­co and, based on its com­po­si­tion analy­sis, the lab­o­ra­to­ry man­aged to recre­ate a 5230 film stock from its DNA so now the stock once again is avail­able – a sto­ry vir­tu­al­ly torn out of Juras­sic Park. Most remark­able was the scene of Brad Pitt shoot­ing a vic­tim through a car win­dow. The direc­tor gave him the task: "Please pan the cam­era with the move­ment of the bul­let." Some among the audi­ence would like to know whether it was CGI or not, but appar­ent­ly it was real life cin­e­matog­ra­phy. The solu­tion was a 'cam­era' with a rotat­ing mir­ror, which beams the image on a piece of film fixed in a cen­trifuge that spins at a stu­pen­dous speed obtain­ing 500,000 fps. The C4 Rotat­ing Mir­ror High Speed Cam­era was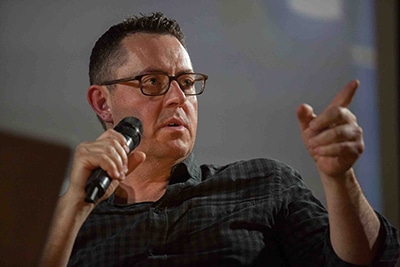 Greig Fras­er ACS ASC
orig­i­nal­ly devel­oped dur­ing the 1950s to record exper­i­ments with nuclear blasts. Once again it was an exam­ple of the effort to do as much as pos­si­ble in the cam­era, per­haps using glass plates and oth­er old-fash­ioned tech­niques. "I feel there is an over­whelm­ing move back to real shoot­ing, and I help push as much as we can, because CGI is a mar­vel advance, but I still believe – if it looks like CGI it has failed."
He brought this con­cept fur­ther to Rogue One: A Star Wars Sto­ry (2016). The land­scapes were shot with paint­ed can­vas­es in the back­ground, just as it was done in the old times of silent movies. "Instead of using black back­grounds and then have visu­al effects to fix every­thing." Greig Fras­er added. It was with some nerve he accept­ed a Star Wars movie, part­ly because they were the great adven­tures of his child­hood, and part­ly because he mem­o­rized the shiny hel­met of Darth Vad­er with fear: "As a stu­dent when I was learn­ing the tech­nic of light­ning, I was think­ing: Thank good­ness I did­n't have to do this guy – it's a pain in the ass. He's black and he's got reflec­tions every­where." But when he found him­self on set in the stu­dio sur­round­ed by X‑wing fight­ers, he felt like a 4‑year-old kid again.
The entire group from DFF in front of Metro Kinokulturhaus
Well, now I have to skip sev­er­al movies and fin­ish off with Lion. The debut movie of direc­tor Garth Davis that obtained six Oscar nom­i­na­tions in 2017, includ­ing one to our pro­tag­o­nist cin­e­matog­ra­ph­er. He and the direc­tor were intro­duced in their youth at a stu­dio in Mel­bourne "by a Dan­ish gen­tle­man called Leif Schiller." In addi­tion, Greig's upcom­ing wife had worked in India for sev­er­al years, so it was a sen­ti­men­tal jour­ney to both of them return­ing to Cal­cut­ta. "Is it cor­rect that you mar­ried in a heli­copter?" Ben­jamin B asked. "Yes we did. At the same time I faced two of my great­est fears: Com­mit­ment & Heights!" Get­ting back to the movie: It unfolds around a four-year-old Indi­an boy (the title per­son Lion) who inad­ver­tent­ly gets away from his fam­i­ly and ends up alone in a train head­ing to Cal­cut­ta. He is lat­er adopt­ed by an Aus­tralian fam­i­ly (David Weham and Nicole Kid­man) and does not reunite with his Indi­an fam­i­ly until he is an adult. It is an adap­ta­tion of a real-life sto­ry – A Long Way Home – writ­ten by Saroo Brier­ley, the actu­al Lion. "The Indi­ans have a very long his­to­ry of mak­ing movies, but they do it in such a big way. They use the lack of phys­i­cal resources by hav­ing lots of peo­ple. That's kind of the antithe­sis to how we want­ed to work: Quite nim­ble and small – not to be bucked down in equip­ment." They shot the entire start of the movie of the lit­tle boy run­ning through the Indi­an crowd of peo­ple with only three LED dig­i­tal spots (brand new at the time).
We missed the rest of the movie – and Nicole Kid­man – as time was up and every­one was prepar­ing to go home. Ben­jamin B com­plet­ed the IMAGO Sym­po­sium with a sim­ple ques­tion to the audi­ence: "Is the cin­e­matog­ra­ph­er an artist? Yes or no?" There was no doubt about the out­come and in a final wrap up, all of Euro­pean cin­e­matograp­ers were por­trayed in the ancient cin­e­ma. The only thing left to do was the oblig­a­tory group pho­to of the Dan­ish DFF del­e­ga­tion in front of the Metro Kinokul­turhaus. Yes, and then Den­mark won the World Hand­ball Cham­pi­onship by beat­ing Nor­way on our way back home.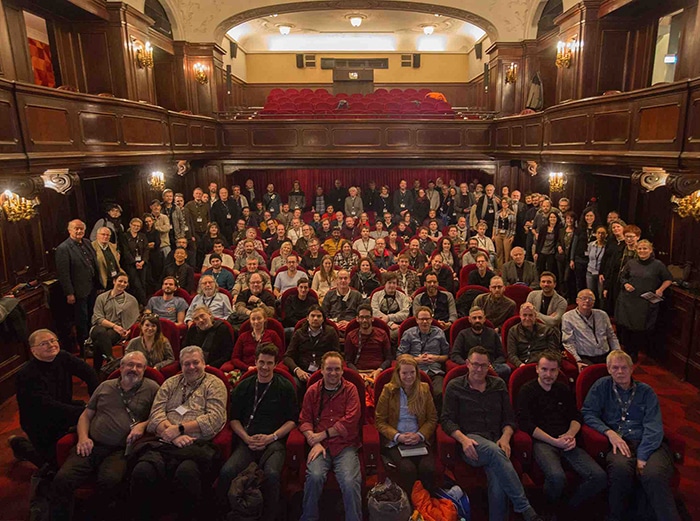 The cin­e­matog­ra­phers gath­ered in the the­ater at Metro Kinokulturhaus
Pho­to cred­its:
Front Page Pho­to Cred­it: © Wim Wen­ders Cour­tesy of the artist and Blain|Southern London/Berlin
Wim Wen­ders exhi­bi­tion: FOTOS: @ FILMARCHIV AUSTRIA / SEVERIN DOSTAL
Pho­to by Fran­cois Duhamel – © 2011 Warn­er Bros. Enter­tain­ment Inc.
IMAGO pho­tog­ra­phers: Bet­ti­na Fren­zel / Rein­hard Mayr AAC
DFF pho­tog­ra­ph­er: Poul Lystrup Thom­sen
Edi­to­r­i­al:
Edit­ing & trans­la­tion: Steen Dalin
(with a lit­tle help from friends)